This curried shakshuka, a healthy one-pan dish with poached eggs in a flavorful tomato sauce, comes together quickly and can be served any time of the day!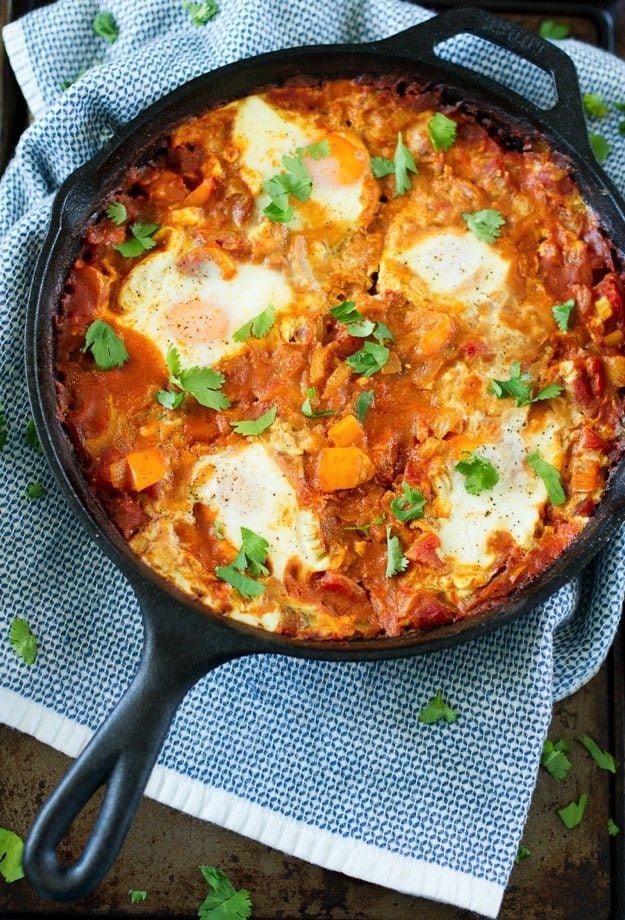 I don't think I know a single person that doesn't love easy, one-pan meals. What's not to love — cooking everything in one dish not only makes the prep super simple, but you're also cutting way back on the amount of dishes you have to wash. Less dishes = winning!
If you're a one-pan meal lover today is your lucky day because I'm teaming up with my fav blogging buddies to bring you SIX healthy, easy and flavorful meals that require only one pan. How's that for a Wednesday? 🙂
Ready to see them all? Let's do it:
This Lemon Garlic Chicken Skillet is an easy and delicious one-pan dinner! It's the perfect meal that's loaded with creamy flavors, plenty of leftovers and none of the clean up!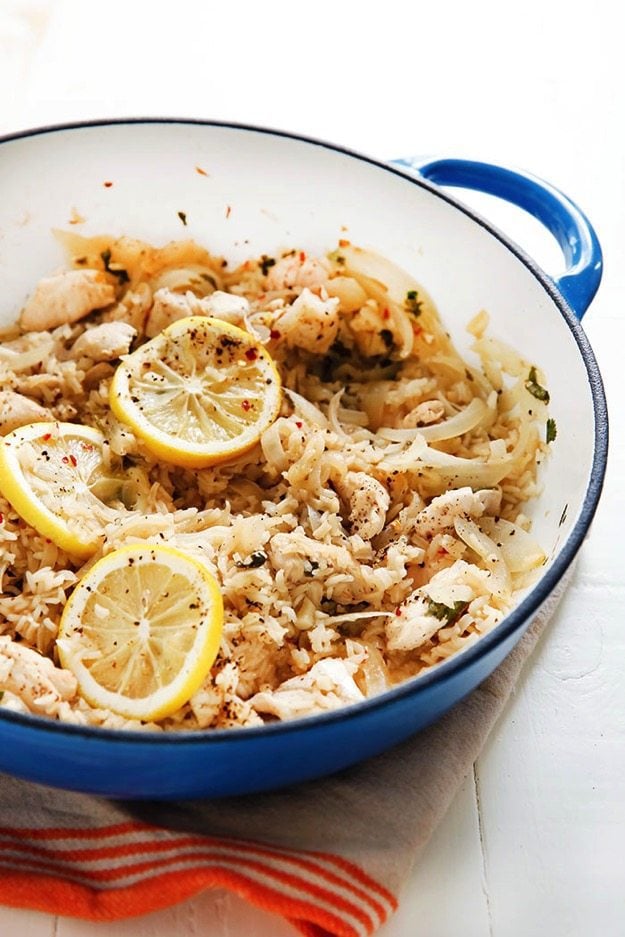 Looking for a high-protein, low-carb dinner? Make these Thai Chicken Lettuce Wraps in under 30-minutes!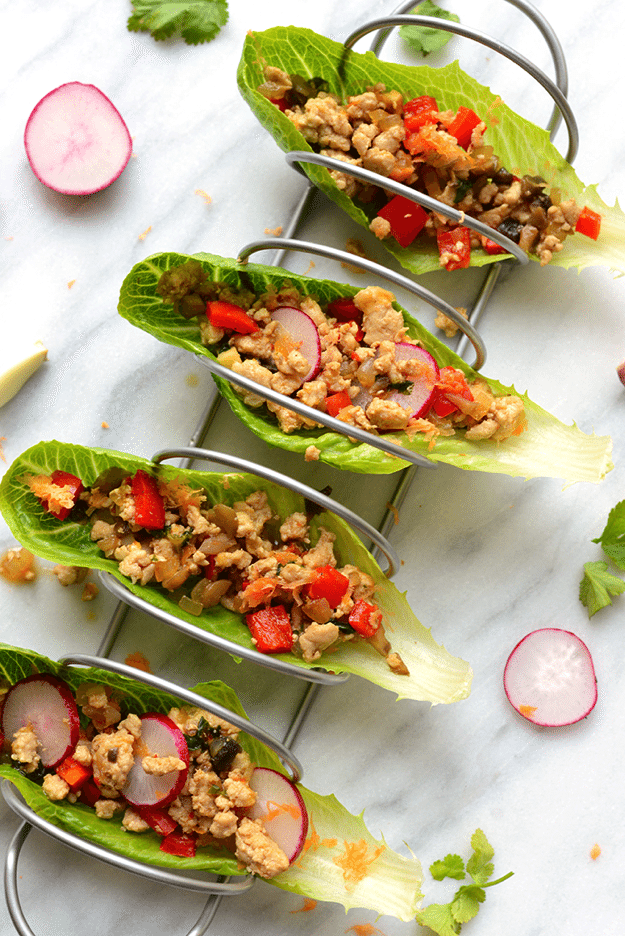 Swap the rice noodles for sweet potato in this healthy Sweet Potato Noodle Pad Thai. This tangy and spicy thai recipe makes an easy 30-minute, one-pot meal for weekday dinners!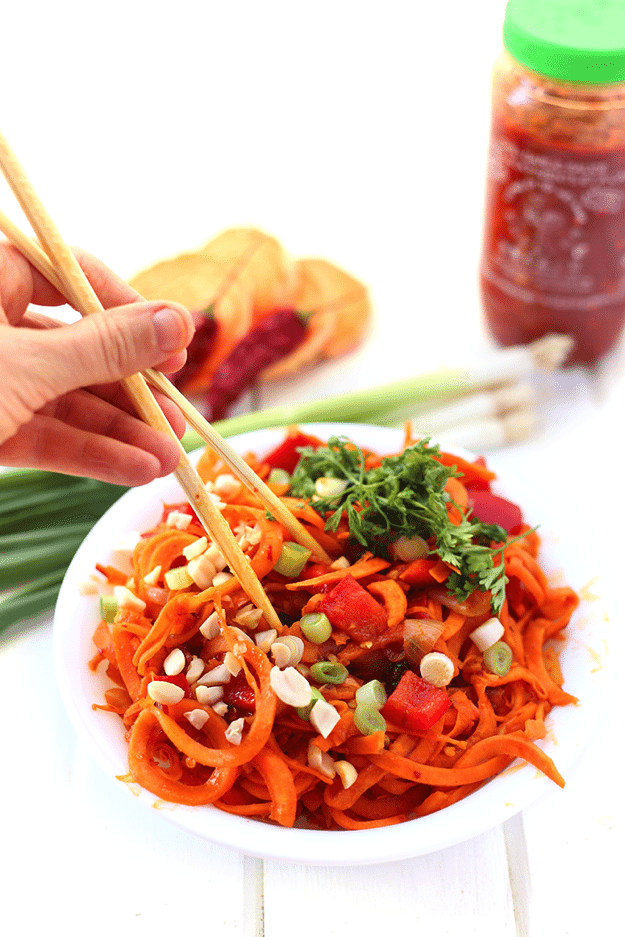 This quick and easy one-pan, 30 minute Moroccan chicken skillet is LOADED with spicy-sweet flavor and crunchy pistachios. It's a gluten free, whole30 compliant AND paleo friendly weeknight dinner!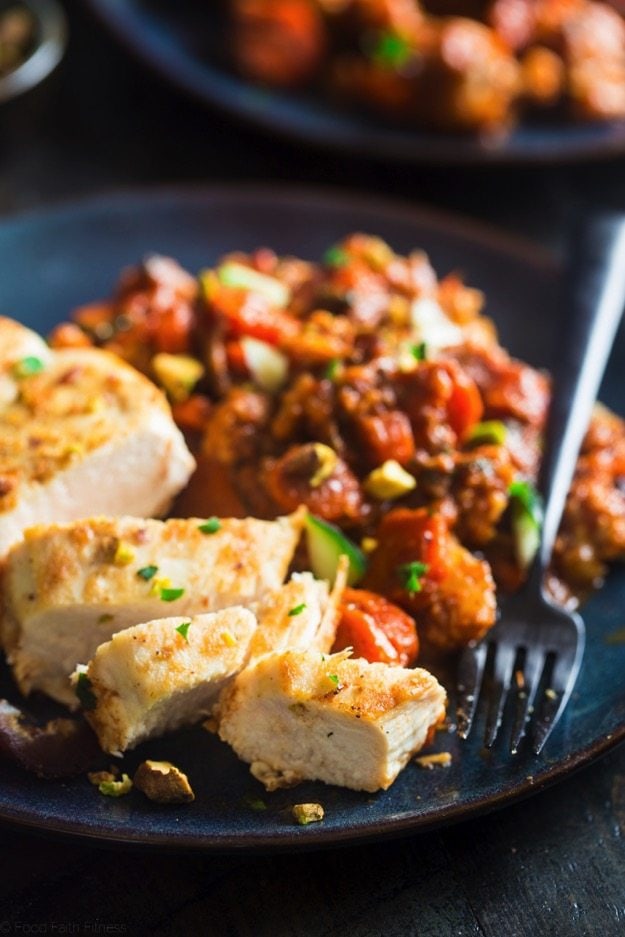 This smoky steak potato and pepper skillet is an easy one-pan dinner, ready in just 40 minutes. Toss everything together in the skillet, stick it in the oven and forget about it!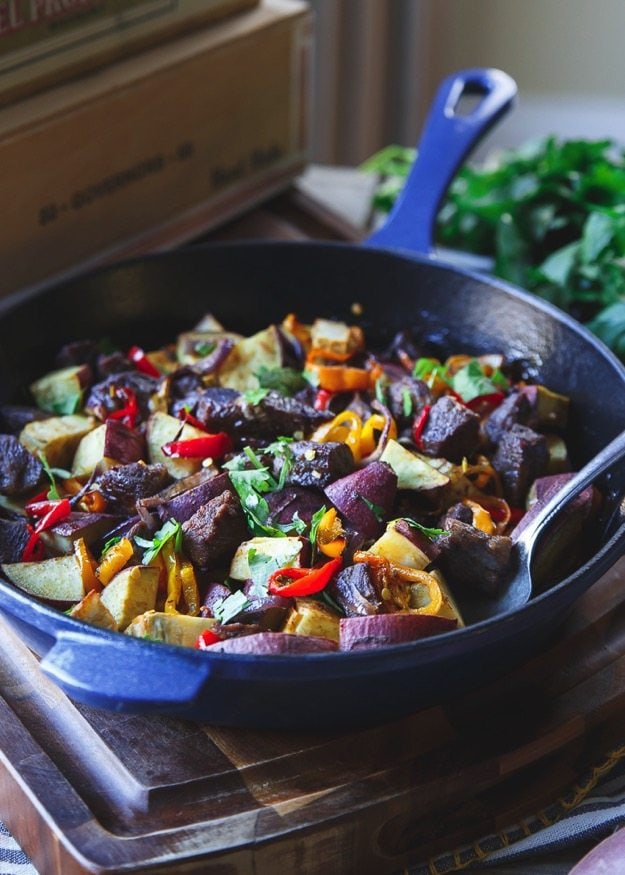 My contribution is a curried shakshuka recipe. Since making shakshuka for the first time a few months ago, Isaac and I have become obsessed. We've tried it a couple different ways, but I think this version with bell pepper, feta and curry spices is my absolute favorite. Y'all know how I feel about curry! 🙂
Since the main protein source for this dish is eggs, you can serve it for just about any meal — breakfast, brunch, lunch or dinner. It comes together quickly and works great as a fast weeknight dinner option. Plus, you can reheat the leftovers for breakfast.. score!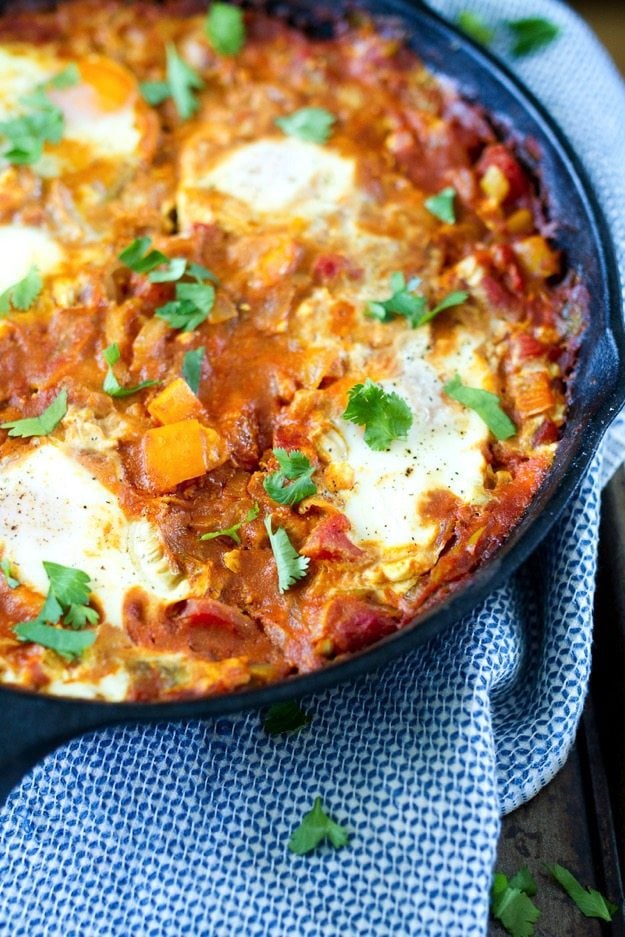 If you're new to the dish, don't be scared away by the name. It's way easier to cook then it is to pronounce. Just kidding, it's pretty easy to pronounce as well… I'm no expert, but here's how I think it's supposed to be pronounced: shack-shoo-kah.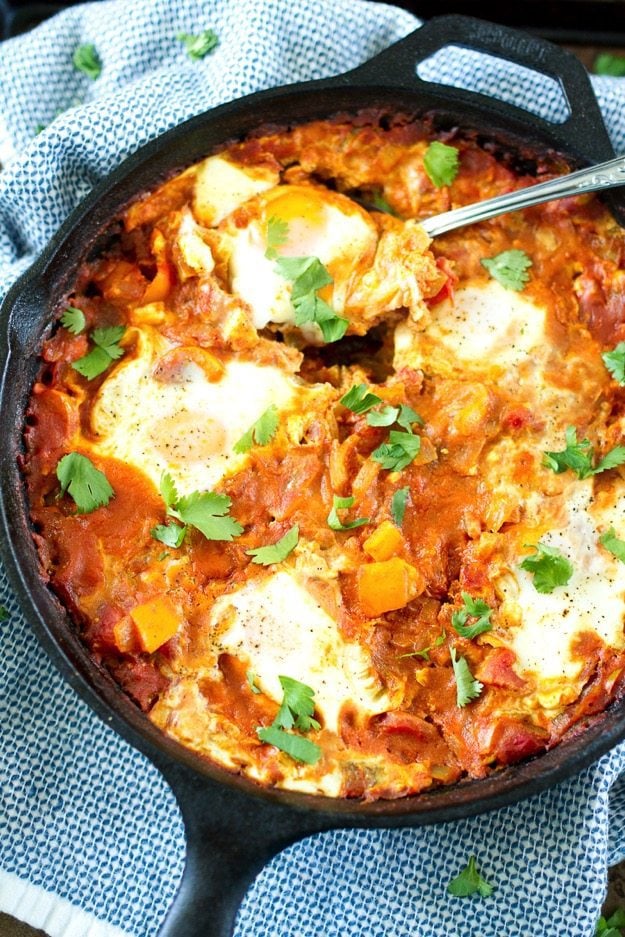 I should note that the feta adds a lovely creaminess to the dish, but if you're dairy-free or paleo you can easily leave the cheese out.
One Pan Curried Shakshuka
4
adjust servings
Ingredients
2

Tablespoons olive oil

1

large onion, chopped

1

orange bell pepper, chopped

4

cloves garlic, minced

1/2

teaspoon cumin

1/2

teaspoon paprika

1/4

teaspoon cayenne pepper

1-2

teaspoons curry powder

1/4

teaspoon turmeric

1/2

teaspoon sea salt

1/4

teaspoon ground pepper

28

ounce can diced tomatoes

4-5

eggs

1/2

cup feta cheese

fresh cilantro and parsley, for serving
Instructions
Heat oil in a large skillet over medium heat. Add onion, bell pepper and garlic to the skillet and cook until onions are soft and fragrant — about 5 to 10 minutes.
Add cumin, paprika, cayenne, curry, turmeric, salt and pepper. Give the mixture a stir and cook for about 1 minute more. Add diced tomatoes to the skillet and bring sauce to a boil. Reduce heat to a simmer and cook until the sauce thickens up a bit, about 10 minutes. Add feta cheese to the tomato mixture and stir.
Crack eggs into tomato sauce. You should be able to fit 4-5 eggs in a large skillet. Cover and let the eggs cook for about 5 minutes, or until the egg whites are completely cooked through. Remove skillet from heat, uncover and let sit for a 1-2 minutes before serving.
Spoon 1-2 eggs along with a big serving of tomato sauce on to each plate. Garnish with extra feta cheese and fresh cilantro and parsley. Serve with toast, veggies or over a whole grain like quinoa or brown rice for a complete meal.
Do you make one pan meals often? Do you have a favorite recipe?