This one-pan roasted chicken and vegetable dish makes for an easy and incredibly flavorful weeknight meal. It will quickly become a household favorite.
I never thought I liked chicken thighs (or dark meat in general) but this recipe has me hooked. I made it for the first time a couple weeks ago and Isaac and I fell in love. We've already made it a total of three times!! Not only do the chicken and roasted veggies taste delicious, but the prep and clean-up are amazingly simple because the whole meal is roasted on one baking sheet.
I don't know about you, but whenever I can limit the amount of dirty dishes I have to do after a meal I'm stoked. There's nothing worse than finishing a delicious dinner and quickly realizing you have a mountain of dishes to do. Especially on a weeknight.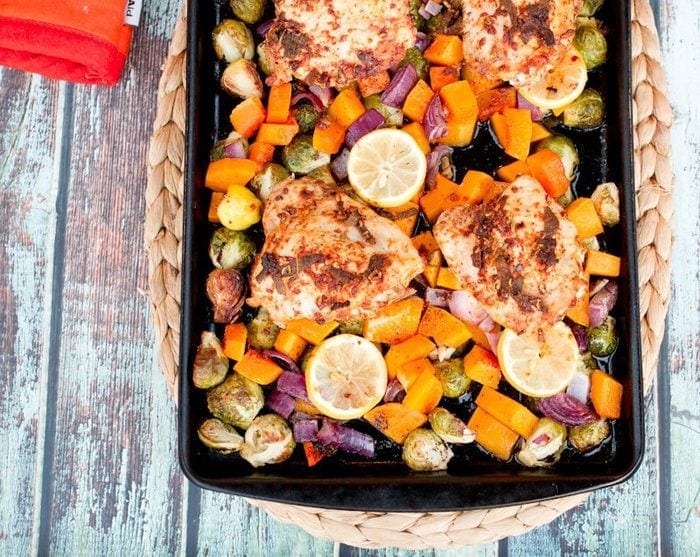 So this dish… it's got multiple layers to it. The first is a base of balsamic roasted butternut squash, brussels sprouts and red onion. Butternut and sprouts go great together — especially after roasting because they're extra sweet and delicious. I could seriously eat a whole plate of them on their own, but we gotta have some protein so the marinated chicken is baked to perfection on top of the veggies. The chicken is coated in a variety of spices to add flavor to the meat while the vinegar and lemon slices add just a hint of acidity to everything. I think the secret spice here is the fennel seed. I've been using these little seeds a ton lately and love the sweet, licorice flavor they lend.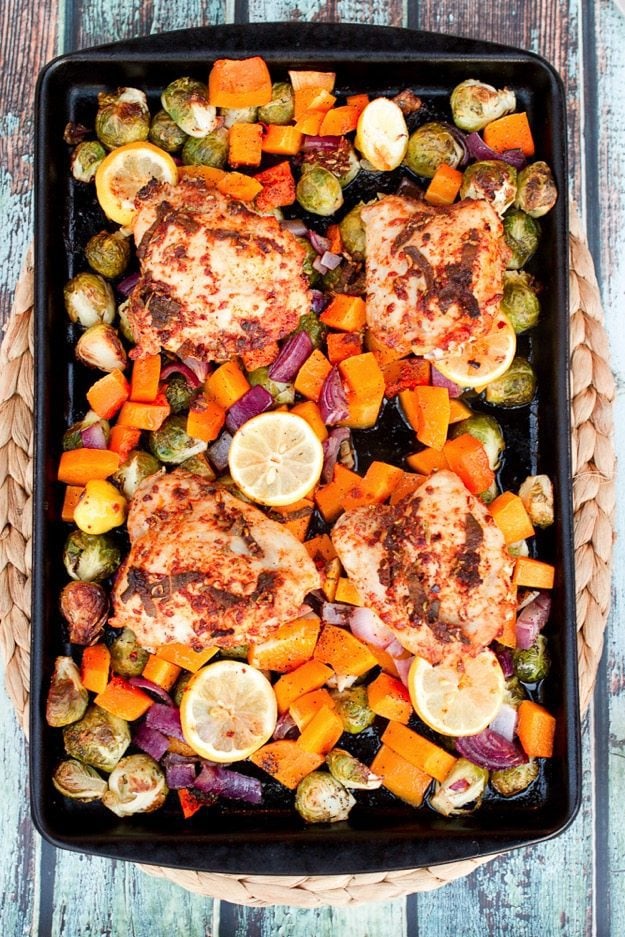 Once cooked the two layers are plated side-by-side and make for a flavorful and filling meal. If you feel you need extra carbs, you can always add in a side of quinoa or brown rice. What I love about the recipe is that it's easily customizable. You can use whatever vegetables you like and if you're not a meat eater you can easily use tofu or tempeh in place of the chicken.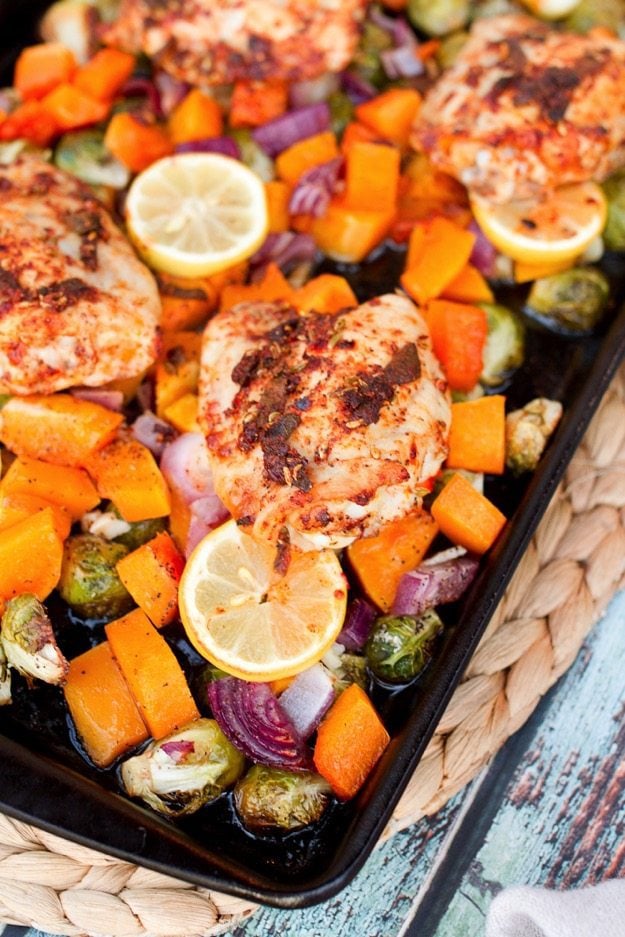 I can't take credit for this recipe as it's inspired and adapted from this recipe from Rachel Ray. She really is the queen of quick and easy meals!  I only made a few small changes, which I've included in the recipe below. I hope you enjoy this recipe as much as we do. Happy Wednesday!
One-Pan Roasted Chicken and Veggies
4
adjust servings
Ingredients
1

lb. Brussels sprouts, trimmed and halved

1

lb. butternut squash, cut into bite-sized pieces

1/2

red or yellow onion, chopped

1

lemon, thinly sliced

3

large cloves garlic, minced

2

Tablespoons olive oil

2

Tablespoons balsamic vinegar

1

teaspoon sea salt

1

teaspoon ground pepper

pinch of freshly grated nutmeg

4-6

chicken thighs (bone-in or boneless)

2

Tablespoons olive oil

1

Tablespoon apple cider vinegar

1

teaspoon fennel seeds

1

teaspoon crushed red pepper

1

teaspoon ground paprika

1

teaspoon garlic powder

1/2

teaspoon sea salt

1/2

teaspoon pepper

4

fresh sage leaves, chopped
Instructions
Preheat oven to 450°F. Combine the Brussels sprouts, squash, onion, lemon slices and minced garlic in a large bowl, add 2 tablespoons of oil, balsamic vinegar, salt, pepper and nutmeg and toss to combine. Spread veggie mixture onto a large baking sheet.
Combine 2 tablespoons olive oil, apple cider vinegar, fennel seeds, red pepper, paprika, garlic powder, sea salt, pepper and sage in a small bowl. Coat chicken with the marinade and arrange chicken on top of the Brussels sprouts and squash mixture. Bake for 30-40 minutes or until both the veggies and chicken are cooked through. Portion onto plates, squeeze any remaining juice from the lemon over each serving and enjoy!