Snack healthy with these high protein snacks! I'm sharing tons of recipes, each with at least 5g of protein per serving and some of my favorite store-bought snacks that are high in protein as well.
Snacks tends to get a bad rap, mostly because a lot of snack foods aren't super healthy.
But snacking can actually be a great way to keep hunger at bay and help with weight loss (or weight maintenance). It's all about choosing the right snacks… ones that are satisfying and filling.
The key = make sure your snacks are high in protein!
I've found that high protein snacks are the best option when it comes to snacking because they keep me feeling full… not running back to the cabinet for more like some snacks tend to do. I'm looking at you chips and crackers.
For this reason I'm always on the hunt for protein-rich snacks and wanted to create this resource as an easy guide.
Why is Protein Important?
If you've been reading the blog for awhile, you know how much I stress the importance of protein! I specifically aim to have a balance of protein, fiber and healthy fats for every meal and snack. But why? Protein helps stabilize your blood sugar and keeps you feeling fuller, longer.
It helps satisfy cravings, helps with weight loss (or weight management) and has so many important functions within the body, including muscle repair. So while the mainstream media messaging might be that protein is only important for athletes and body builders, I'm here to let you know that protein is important for everyone!
High Protein Snack Recipes
All of these snack recipes have at least 5 grams of protein per serving! Enjoy!
Smoothies and Shakes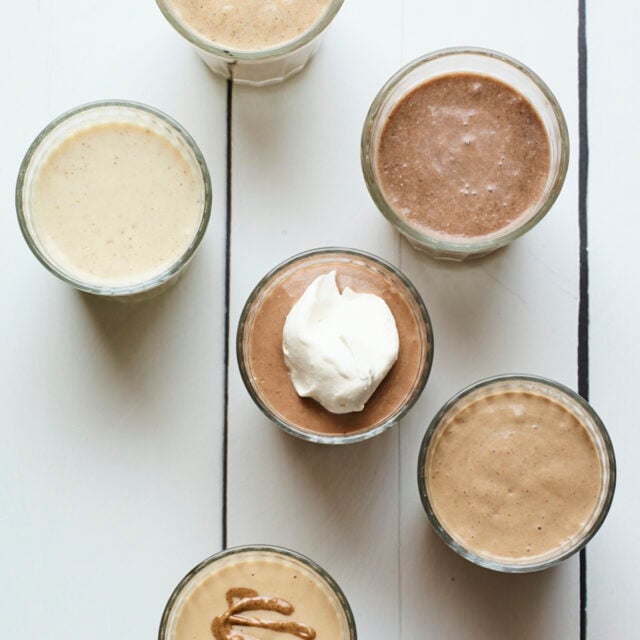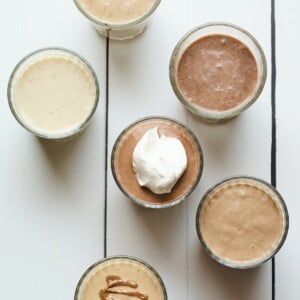 How to Make a Protein Shake
Protein shake 101! Everything you need to know about making a protein shake, the difference between shakes and smoothies, why protein shakes are good for weight loss and six protein shake flavors.
View Recipe
Protein Bites, Balls and Bars
Protein Muffins + Pancakes
Protein Snack Bowls
Granola + Trail Mix
Savory Snacks
High Protein Dips
The Best Store-Bought High Protein Snacks
Now more than ever, I'm relying on quick grab-and-go snacks because I'm so busy running after a toddler! I've found a great selection of healthy store-bought snacks for when I'm on the road or when I don't have time to prep something. Here are the high protein snacks I recommend:
More Recipes and Collections You Might Enjoy
Be sure to check out all my popular protein recipes here.