Protein Muffins
28
Published Aug 10, 2022, Updated Sep 27, 2023
These flourless protein muffins are made with banana, almond butter and protein powder. They come together quickly in a blender and are oil-free, gluten-free, dairy-free and have 11 grams of protein in each muffin.
Lately I've been trying to find more creative ways to sneak in protein. And what better way than a tasty chocolate chip muffin?! Not only are these muffins packed with 11 grams of protein each, but they are seriously so quick and easy to whip up.
I was all prepared to make protein muffins with flour, but then I remembered how well almond butter works as a flour substitute like in my healthy zucchini muffins and flourless pumpkin muffins, so I ended up using almond butter as the base in this protein muffin recipe.
And let me tell ya, these muffins turned out so good — they're so fluffy and soft and the flavor is spot on! Not only does the almond butter add extra protein, but it keeps these muffins oil-free, gluten-free and grain-free.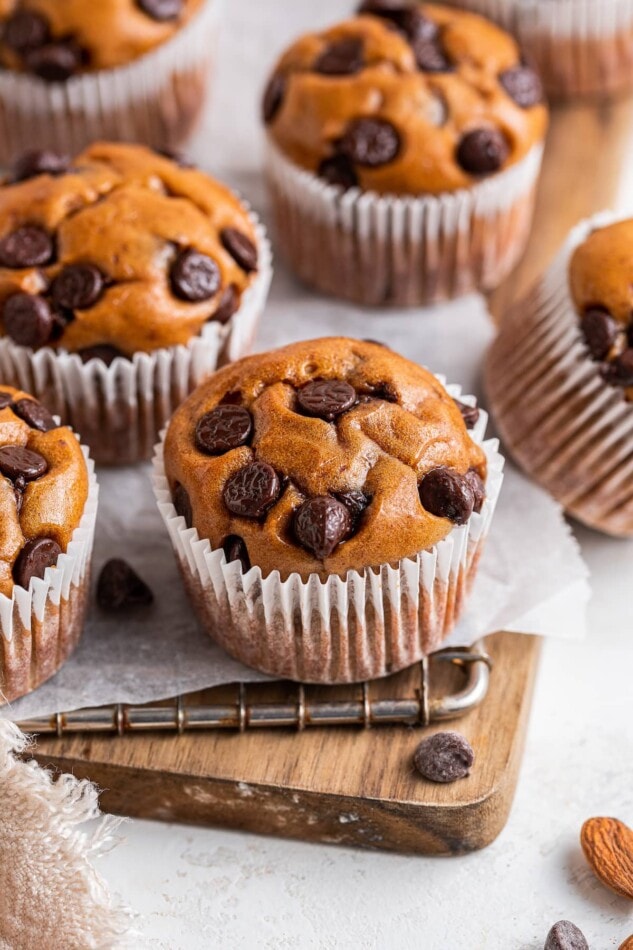 Why You'll Love These High Protein Muffins
They come together in minutes in your blender!
They're gluten-free, grain-free, dairy-free and oil-free!
One muffin has 11 grams of protein, so you'll feel full and satisfied after.
They're perfect for a grab-and-go healthy breakfast, snack, post-workout treat or even dessert.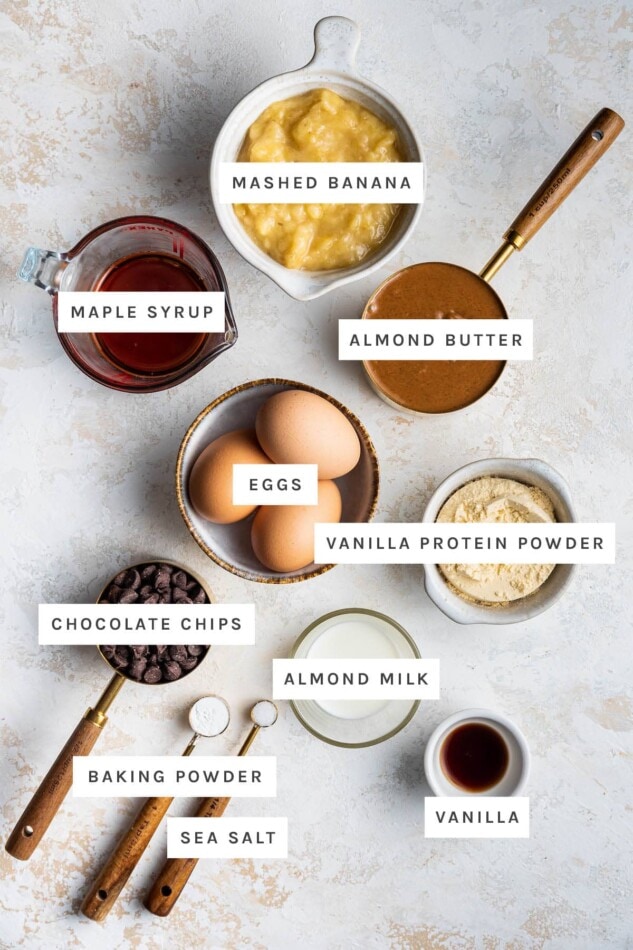 Ingredients Needed
bananas – about 2 large very ripe bananas are what you'll need. Bananas add nutrition, a delicious flavor and help keep the muffins light and moist without any added oil.
eggs – these muffins don't use flour so you need eggs to help the muffins rise and create the fluffy texture. Because there are quite a few eggs needed, I don't recommend trying to replace these with an egg replacer.
maple syrup – one of my favorite natural sweeteners. Just be sure to use pure maple syrup, not the artificial kind labeled "pancake syrup" and made from corn syrup… NOT the same!
almond butter – instead of flour and oil we're using almond butter! Check the ingredient label to make sure the only ingredient is almonds (or almonds and salt). I used Wild Friends almond butter, but I also like the natural store brands from Trader Joe's and Whole Foods. You'll just want your almond butter to have a drippy consistency rather than super thick.
almond milk – you can substitute with your favorite nut milk or cow's milk. Try making your own almond milk!
vanilla extract – a flavor enhancer.
vanilla protein powder – I used the Sun Warrior Vanilla Warrior Blend for this recipe, which worked great! It's vegan, soy-free, sugar-free and doesn't taste chalky at all! Another fave of mine is the Nuzest protein powder. It's plant-based, has a short ingredient list and great nutrition facts! Use my code eatingbirdfood for 15% off your order.
baking powder – helps the muffins rise.
sea salt – to bring all the flavors together. Skip if your almond butter is salted.
chocolate chips – I really like Lily's chocolate chips because they're dairy-free, lower in sugar and still have a great flavor. I also like the Enjoy Life dark chocolate chips which are vegan + allergen-friendly.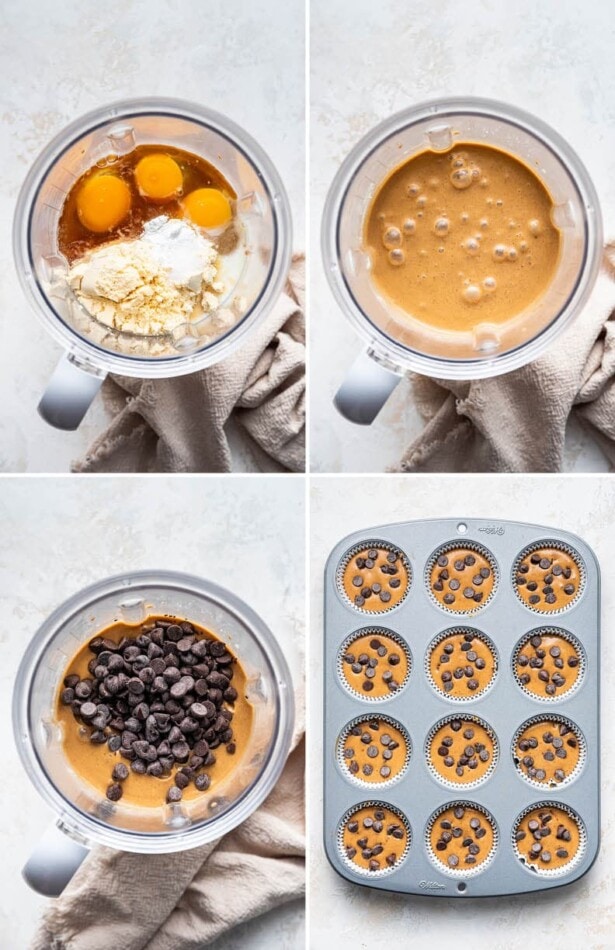 How to Make
These banana protein muffins are so quick and easy to make! Here's all you need to do:
Step 1: Add all ingredients (except for the chocolate chips) into a high-speed blender and mix until smooth and creamy – about 1 minute.
Step 2: Fold in chocolate chips and divide batter evenly into a 12 muffin pan lined with paper or silicone liners. Top muffins with extra chocolate chips.
Step 3: Bake at 350ºF for 18-20 minutes or until a toothpick inserted into the center of the muffin comes out clean. Let the muffins cool for a few minutes in the pan and then let cool completely on a wire rack.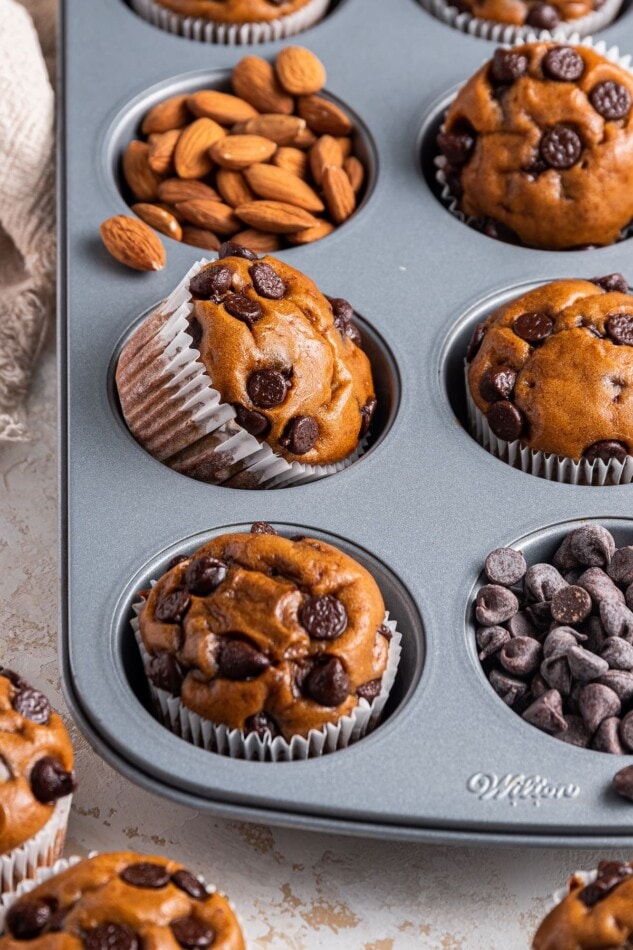 Substitutions & Notes
almond butter – want to swap the almond butter for a different nut or seed butter? Go for it! Any natural creamy nut or seed butter will work. Peanut butter, cashew butter or tahini would be great options.
maple syrup – you can swap the maple syrup with any liquid sweetener like agave, honey, monk fruit maple, etc. I don't recommend swapping the liquid sweetener for a dry sweetener like coconut sugar or cane sugar as it will likely change the consistency of the muffins.
protein powder – these muffins haven't been tested with anything besides protein powder, so I don't know what a good substitute would be. If you're looking for a chocolate chip muffin recipe that doesn't call for protein powder, I suggest making my healthy chocolate chip muffins, chocolate chip yogurt muffins or oatmeal banana muffins instead.
eggs – as I mentioned before, I don't recommend swapping the eggs with a vegan replacement as the eggs are needed to help the muffins rise and create a fluffy texture since we're not using any flour.
chocolate chips – feel free to swap the chocolate chips with another mix-in of choice like raisins, shredded coconut or chopped nuts (like pecans or walnuts).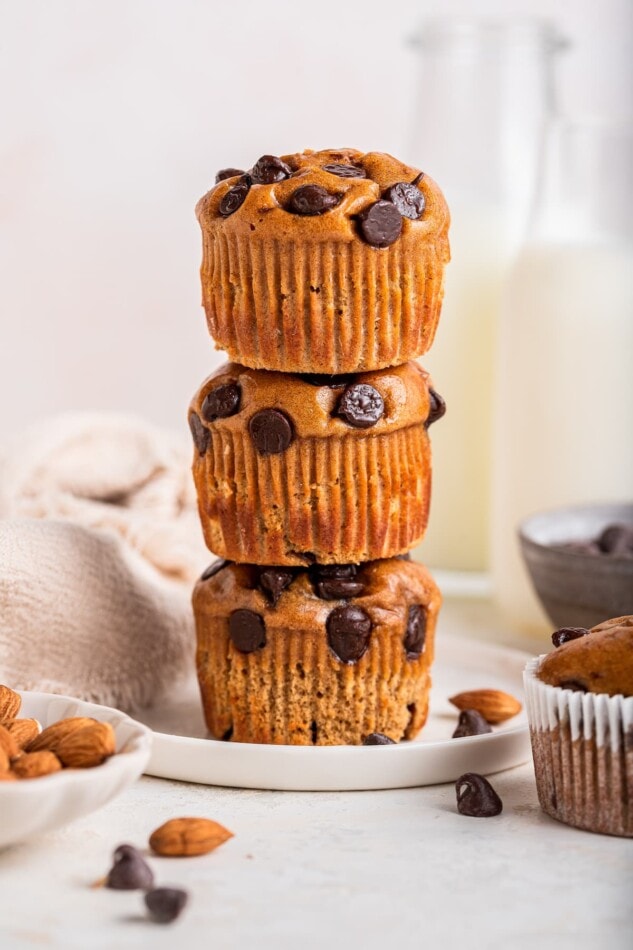 How to Store
After allowing the muffins to cool completely, you can store them in an airtight container at room temperature for 3-4 days.
For longer storage, you can store them in the fridge for up to one week and freezer for up to 3 months. If you freeze the muffins, just make sure you use a freezer-safe container and let them thaw before enjoying them!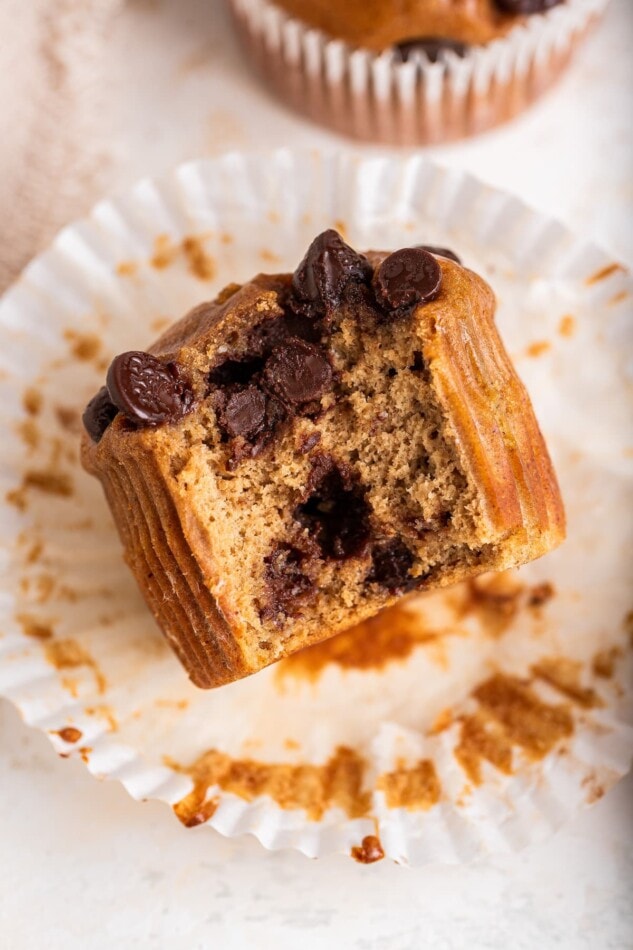 FAQ's
Can I make these muffins without a blender?
If you don't have a blender, no worries! You can use a food processor or mix everything up in a large bowl. Just combine both the dry ingredients and wet ingredients in a large mixing bowl and whisk until combined and the batter is smooth.
Are these protein banana muffins healthy?
Yes! These muffins are made with minimal, good-for-you ingredients and have no refined sugar or artificial preservatives. With 11 grams of protein each, they can help balance your blood sugar and leave you feeling satisfied instead of hungry for more.
Can you bake with protein powder?
Definitely! Adding protein powder to your baked goods is a great way to make certain baked goods more filling and add more protein to your diet. I bake with protein powder all the time and have so many protein recipes here on EBF. 
How much protein is in each muffin?
This recipe makes 12 muffins and each muffin has 11 grams of protein. This will likely vary depending on the protein powder you use. 
Are protein muffins good for weight loss?
When people ask about certain foods or recipes being "healthy" the follow-up question is "will this food help me lose weight"? In general, I don't think there are foods that should be designated as weight loss foods. Having said that, following a balanced diet with high protein and plenty of fiber generally does help with weight loss and prevent mindless snacking.
When should you eat protein muffins?
These healthy protein muffins could be a breakfast replacement if you don't have time for a full meal or are a great snack option. I like to have one as an afternoon snack… you know, when that 3:00 PM hunger rolls around! But they're also a great post-workout snack as well. The protein helps repair and rebuild your muscles!
What type of protein powder is best?
I recommend using a plant-based protein powder with minimal ingredients. I used the Sun Warrior Vanilla Warrior Blend protein powder for this recipe, but I also love Nuzest protein powder. Both don't have a chalky taste and the ingredient list is minimal. You really can't taste the protein powder in these muffins at all and they have a great texture! 

I haven't tested these muffins with a whey protein powder or hemp protein so I'm not sure if the consistency would change at all. Let me know if you try any of these options in the comments below!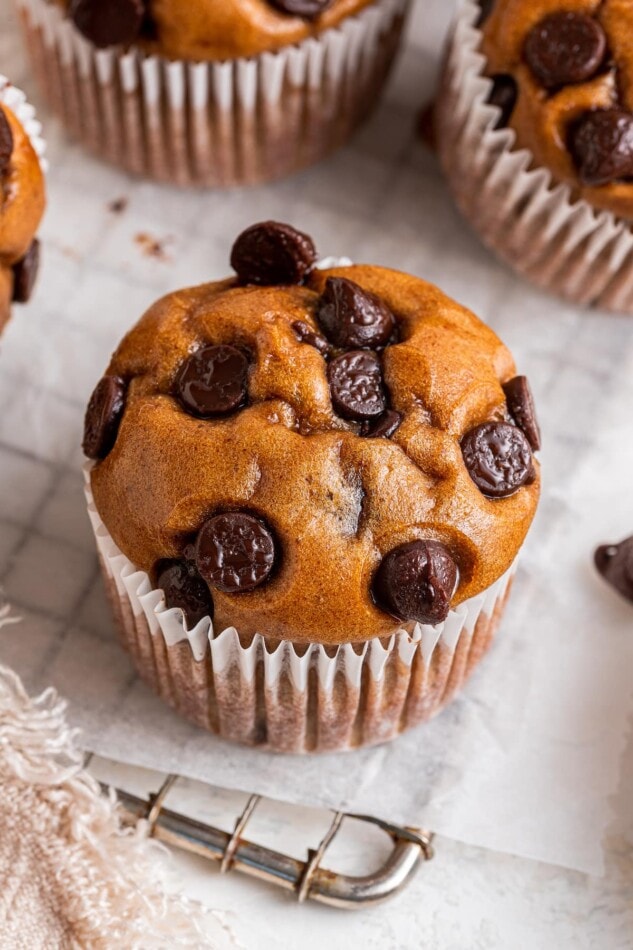 More Muffin Recipes to Try
More Protein Recipes to Try
Be sure to check out all of my muffin recipes and the full collection of protein recipes here on EBF!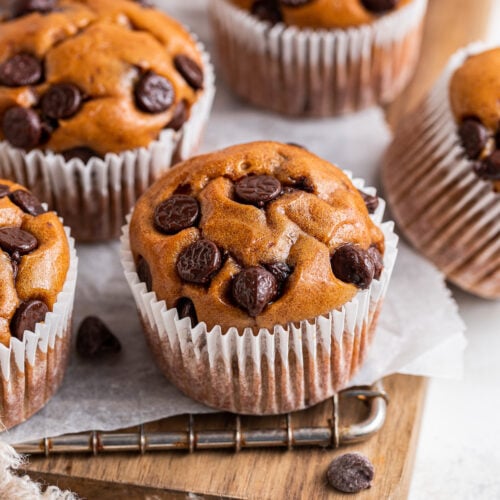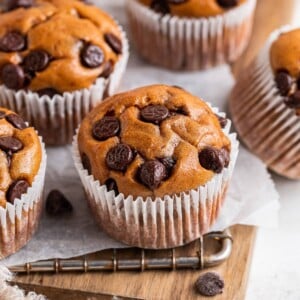 Protein Muffins
These flourless protein muffins are made with mashed banana, almond butter and protein powder. They come together quickly in a blender and are oil-free, gluten-free, dairy-free and have 11 grams of protein in each muffin.
Instructions
Preheat oven to 350°F. Prepare muffin tin by spraying well with cooking spray, or line the tins with paper muffin liners or silicone liners. Set aside.

In your blender add all ingredients (except the chocolate chips) and blend on high-speed until creamy, about 1 minute.

Stir in chocolate chips with a spatula.

Fill each muffin cavity about 3/4 full with the muffin batter. Top each muffin with chocolate chips.

Bake for 18-20 minutes, or until the tops are set and a toothpick inserted into the center comes out clean.

Allow muffins to cool for 5-10 minutes or until they are firm and cool enough to handle. Remove from tin and let cool completely on a wire rack.
Nutrition
Serving:
1
muffin
|
Calories:
255
kcal
|
Carbohydrates:
21
g
|
Protein:
11
g
|
Fat:
16
g
|
Saturated Fat:
3
g
|
Cholesterol:
47
mg
|
Sodium:
146
mg
|
Potassium:
104
mg
|
Fiber:
3
g
|
Sugar:
12
g
Nutrition information is automatically calculated, so should only be used as an approximation.