Healthy Oat Bran Muffins
93
Published Jan 06, 2020, Updated Mar 11, 2022
These healthy oat bran muffins are made with oat bran cereal and whole wheat flour. They're moist, delicious and perfect for a quick on-the-go breakfast.
I feel like most people think about bran muffins and immediately turn up their nose. They assume that bran muffins will be dry, dense and flavorless… almost like eating cardboard in muffin form. Well folks, I'm here to prove you wrong! Oat bran muffins can be healthy AND taste good and the recipe I'm sharing today proves it!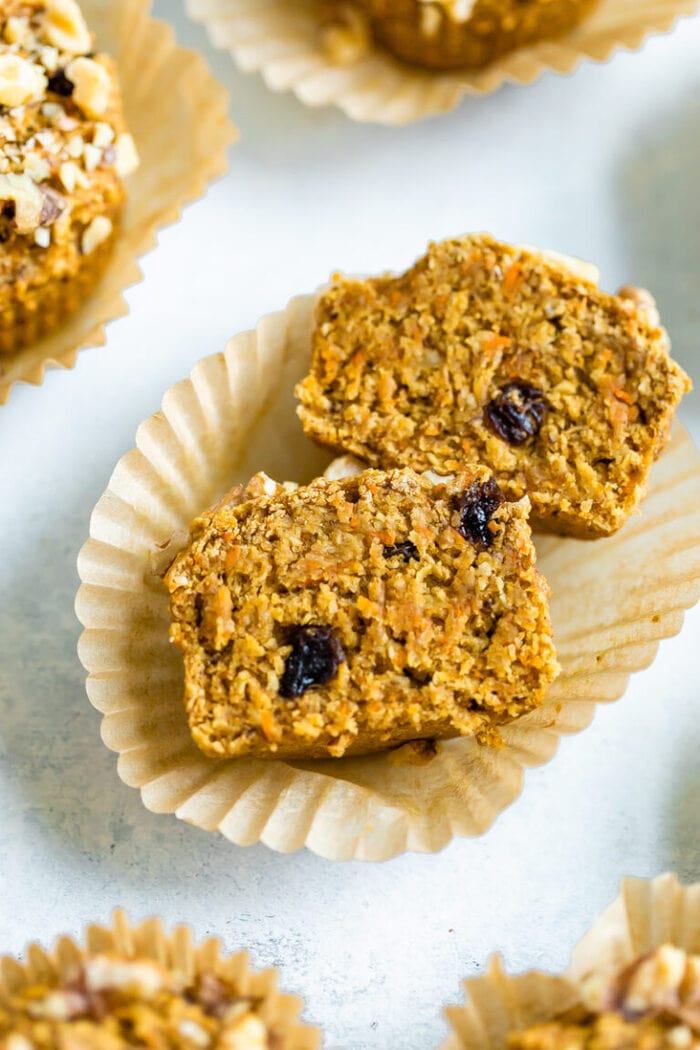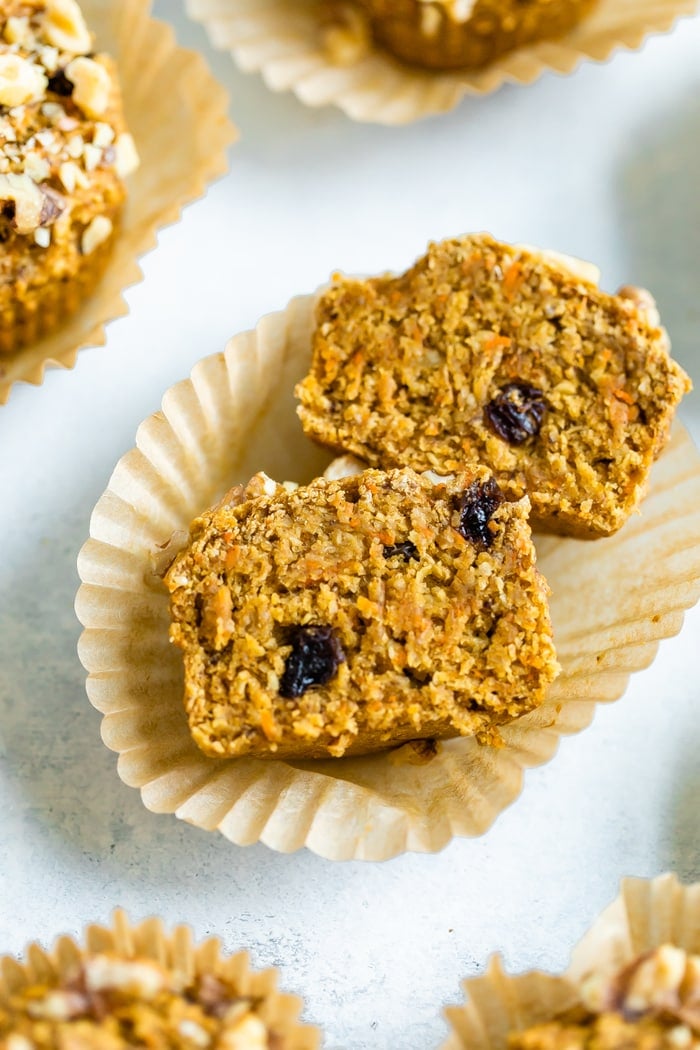 Before getting into the details of this oat bran muffin recipe, let's discuss what oat bran is and why it's so healthy.
What's the Difference Between Oat Bran and Oatmeal?
Ready for a little science lesson? A grain has three parts: the germ, the endosperm and the bran. The germ is the innermost part, the endosperm wraps around that and the bran surrounds both. With the oat grain, the hull is removed and what's left is the oat groat. With rolled oats (or oatmeal) you're consuming the entire oat groat (including the bran), but if you purchase oat bran cereal you're just getting the outermost part of the oat groat that has been ground into a fine powder.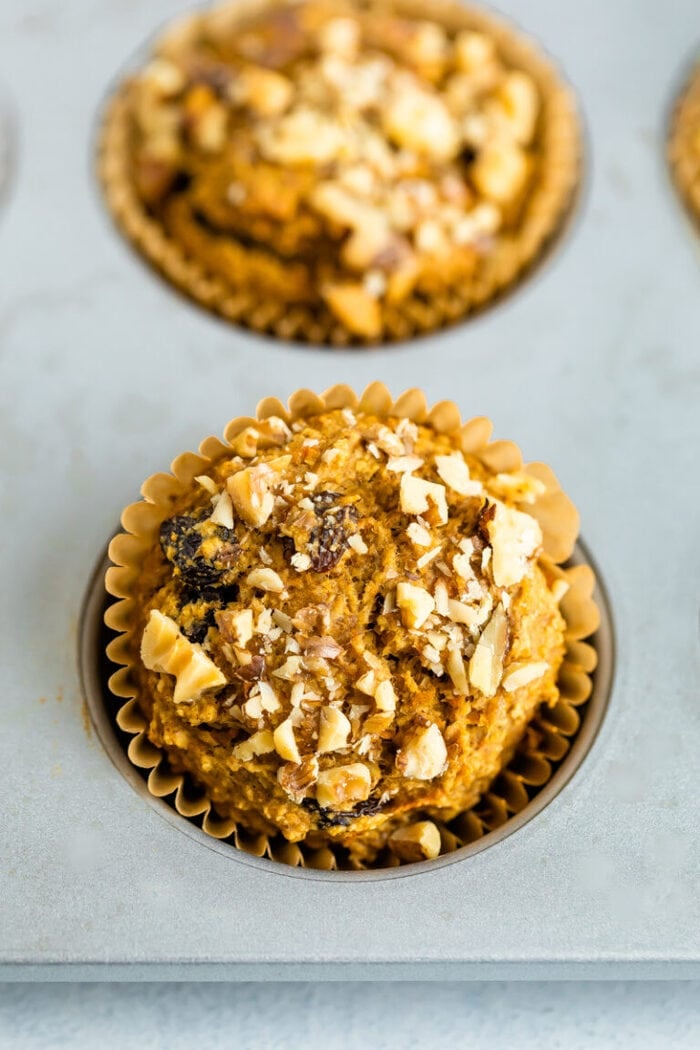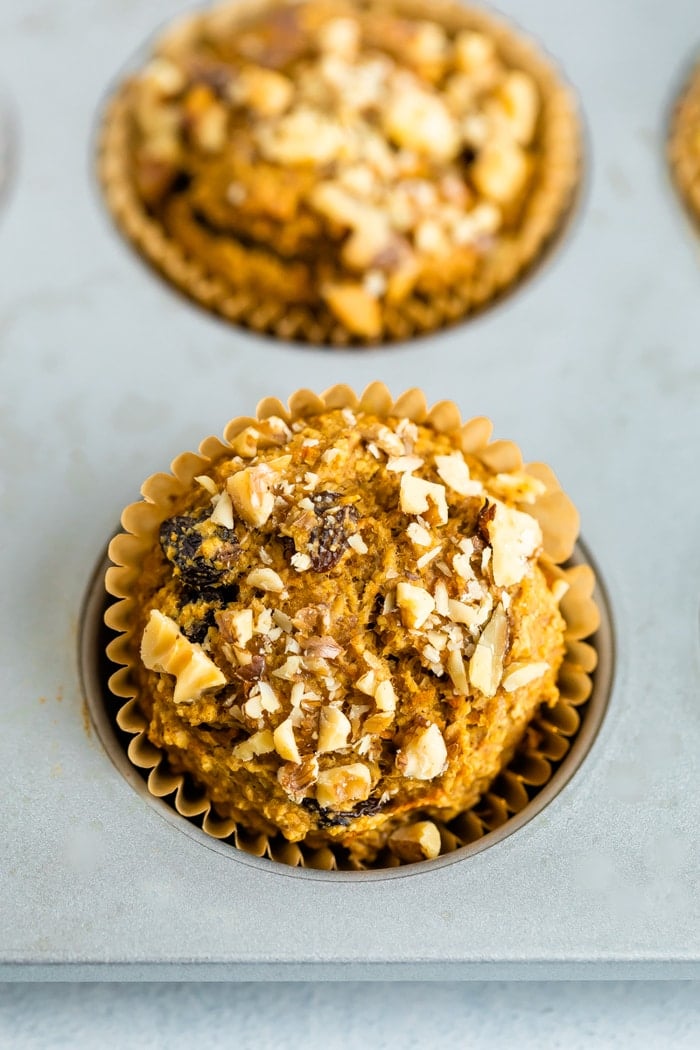 Health Benefits of Oat Bran
According to Healthline, oat bran has similar amounts of carbs and fat as rolled oats (or oatmeal), but more protein and fiber and significantly less calories. It's also high in beta-glucan, which is a type of soluble fiber that's linked to improving cholesterol levels and boosting heart health. Soluble fiber may also help control blood sugar levels and help with digestion.
What Can You Make With Oat Bran?
Oat bran is so nutritious and surprisingly versatile! In my opinion, oatmeal tastes much better than oat bran cereal if you're planning to whip up a hot bowl of grains for breakfast. Oat bran can also be used to thicken soups or stews or added to yogurt bowls and baked goods (like these muffins). The oat bran adds extra fiber and protein.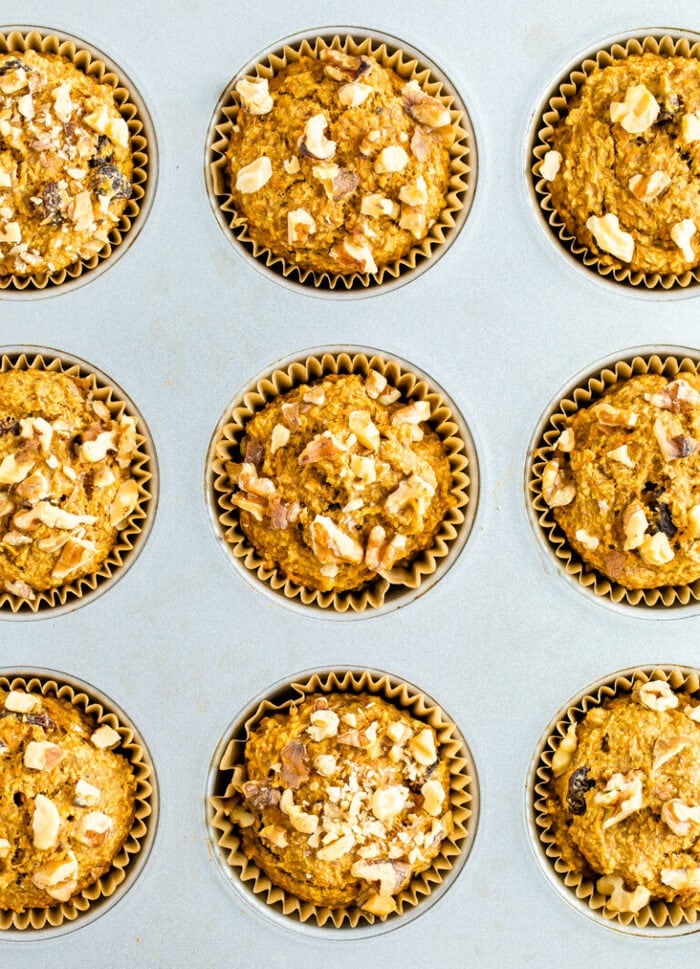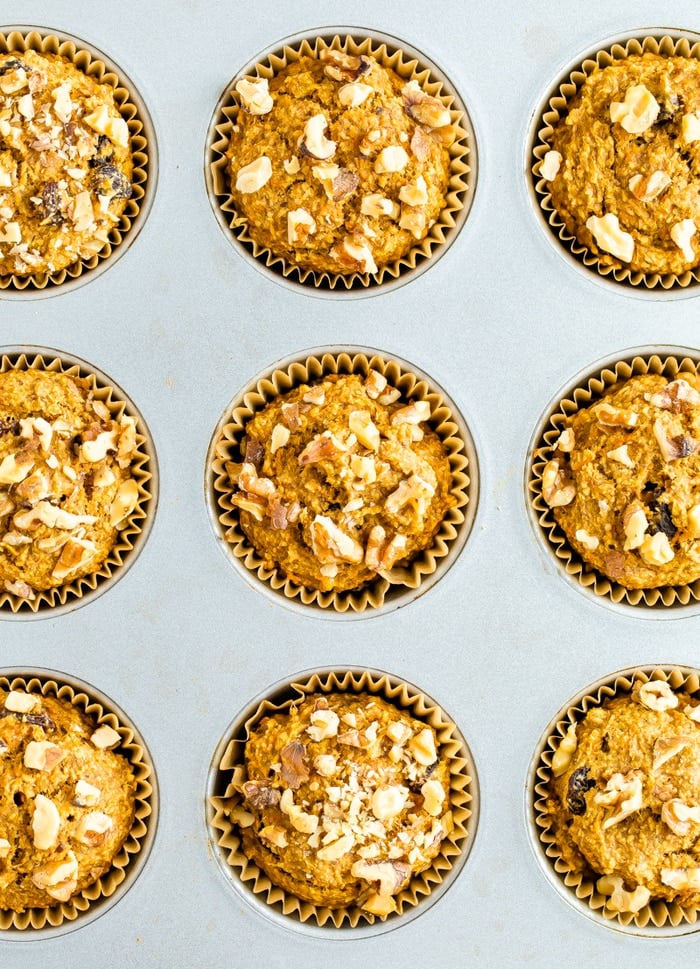 A Healthy Take on Oat Bran Muffins
Despite oat bran itself being super healthy, traditional oat bran muffins aren't. They're typically loaded with lots of sugar (a mix of brown sugar and white sugar) and vegetable oil. Naturally, I decided to put a healthy spin on these muffins by using better-for-you ingredients!
Whole wheat pastry flour

– I swapped in whole wheat pastry flour for white flour for the added nutrition benefits, but also to keep the texture lighter!

Bananas and maple syrup – I skipped the brown and white sugar and used a blend of mashed bananas and maple syrup to sweeten the muffins. These natural sweeteners add plenty of sweetness to the muffins and a little extra nutrition.
Coconut oil

– Instead of vegetable oil, I upgraded for a healthier option: coconut oil. I love the slightly sweet flavor and healthy fats this oil adds to the muffins!

Flaxseed egg

– To keep these muffins vegan, I used a flaxseed egg (a mixture of ground flaxseed and water) in place of an egg.

Oat bran

– As you know, oat bran packs a punch when it comes to protein and fiber. It also adds a nice mild oaty flavor.

Carrots and raisins

– I added shredded carrots and raisins for texture, flavor and nutrition! Veggies in muffins? Yes, please!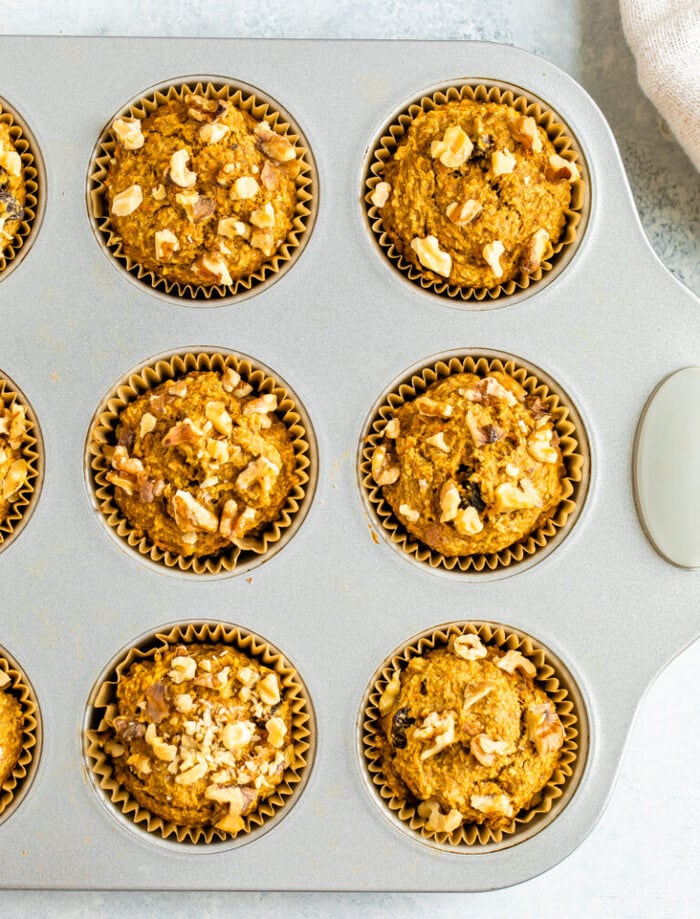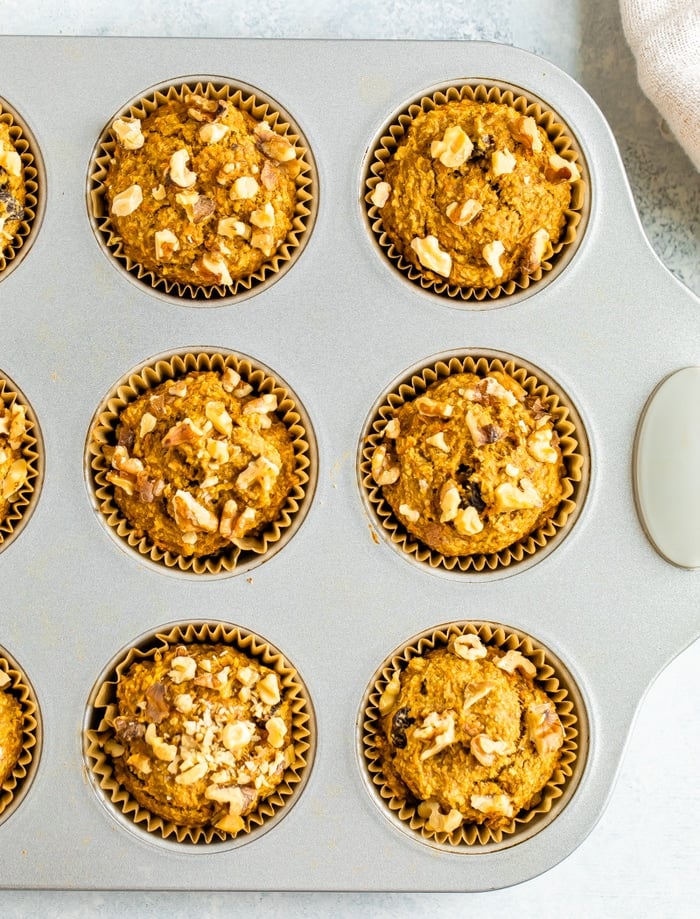 I personally think these muffins are so tasty and can't wait to make another batch soon. They're great to prep on the weekend for a portable and easy breakfast on the go. You can pair one with a hard boiled egg or yogurt for a complete breakfast with protein, carbs and healthy fat!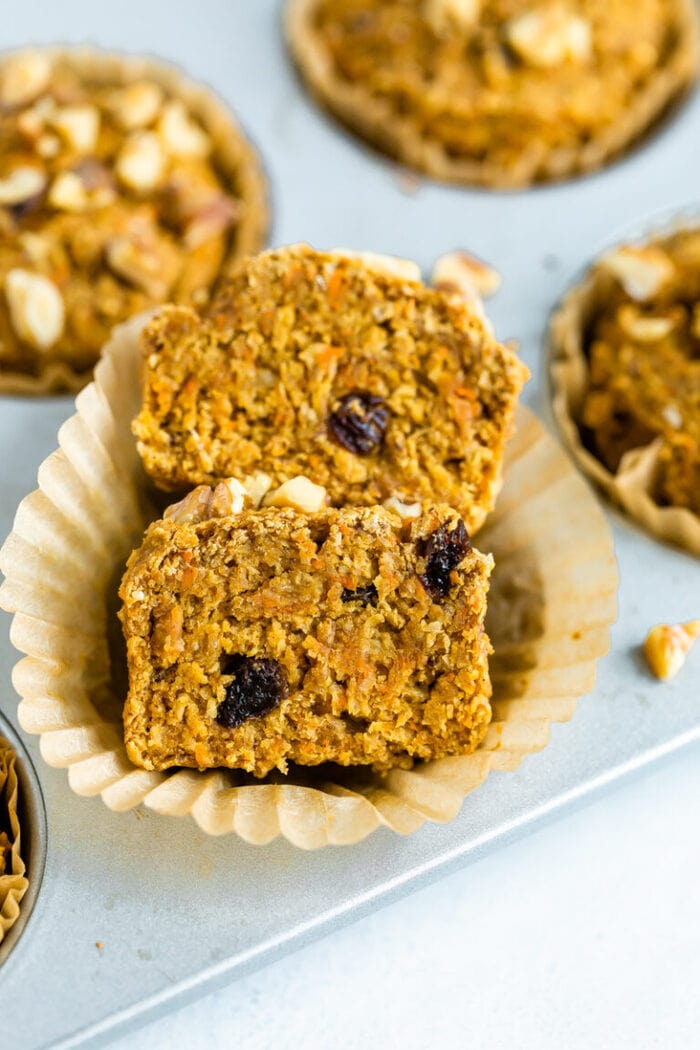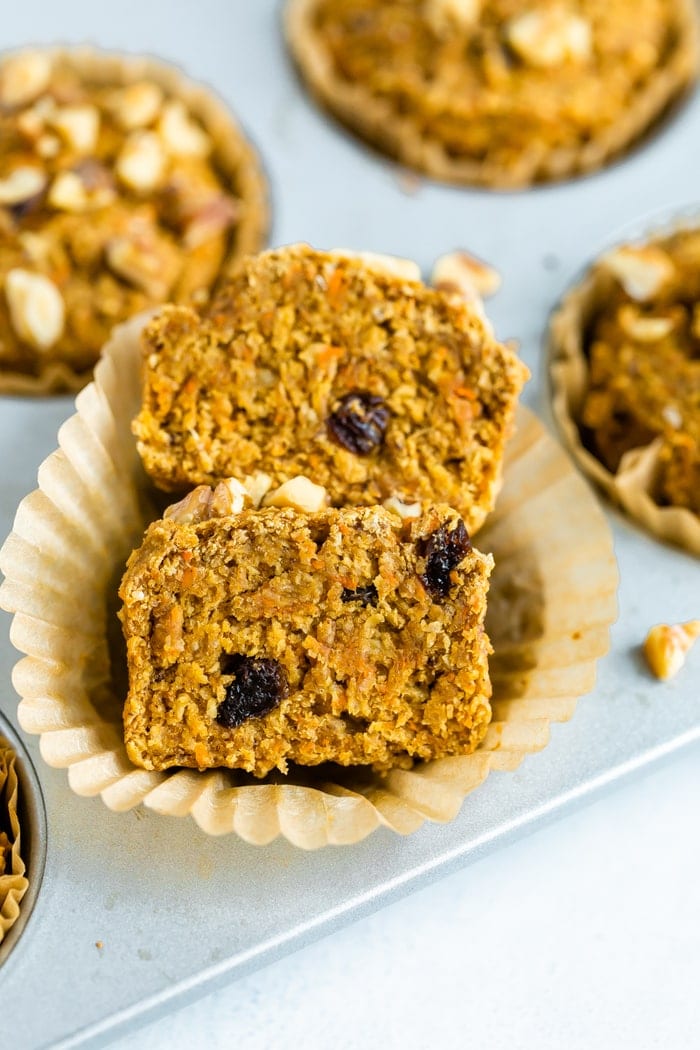 Want More Delicious Muffin Recipes?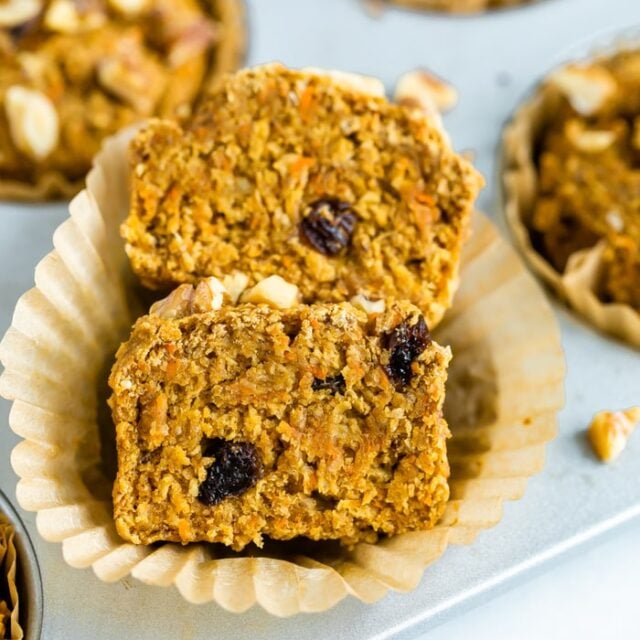 Oat Bran Muffins
These healthy oat bran muffins are made with a mix of oat bran cereal and whole wheat flour. They're moist and delicious and perfect for a quick on-the-go breakfast.
Instructions
Preheat oven to 375°F.

Line muffin tin with paper or silicone liners or coat well with cooking spray.

Make flaxseed egg by whisking flaxseed with 3 Tablespoons in a small bowl. Set aside.

Combine flour, oat bran, cinnamon, baking soda and salt in a large bowl.

Mash bananas in a bowl and add flaxseed egg, coconut oil, maple syrup, vanilla, carrots and raisins.

Pour wet ingredients into the bowl with the dry ingredients and mix until just combined. Be careful not to over mix.

Fill each muffin cup 3/4 of the way full, sprinkle chopped walnuts on top of each muffin (if using) and bake for 20-25 minutes or until a toothpick comes out clean when inserted into the middle of a muffin.

Remove from oven and let cool completely before enjoying.
Notes
I've found that whole wheat pastry flour or whole wheat white flour keeps the texture lighter for these muffins. You can use regular whole wheat flour, but they will be a bit more dense.
Nutrition
Serving:
1
muffin without walnuts
|
Calories:
137
kcal
|
Carbohydrates:
25
g
|
Protein:
2
g
|
Fat:
4
g
|
Saturated Fat:
3
g
|
Fiber:
2
g
|
Sugar:
12
g
Nutrition information is automatically calculated, so should only be used as an approximation.