Last week Isaac went to Carter Mountain Orchard with his class and brought home three big bags of local apples.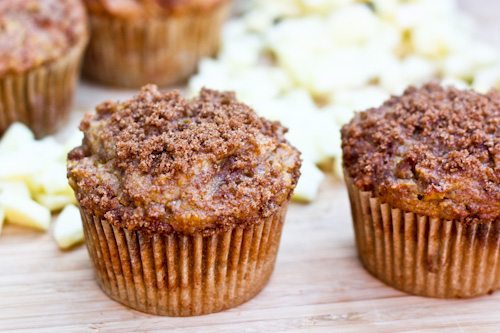 Despite the fact that I eat a ton of apples and could have easily plowed through the bags in no time flat, I felt compelled to use a few in some sort of delicious baked good. Apple muffins were the first thing that popped into my mind so I made a batch and brought them for the ladies that attended my bachelorette party. Everyone loved them!
Isaac tasted one and said they were his favorite baked good I'd made in a while!! With a comment like that, I pretty much had to make another batch for him this week.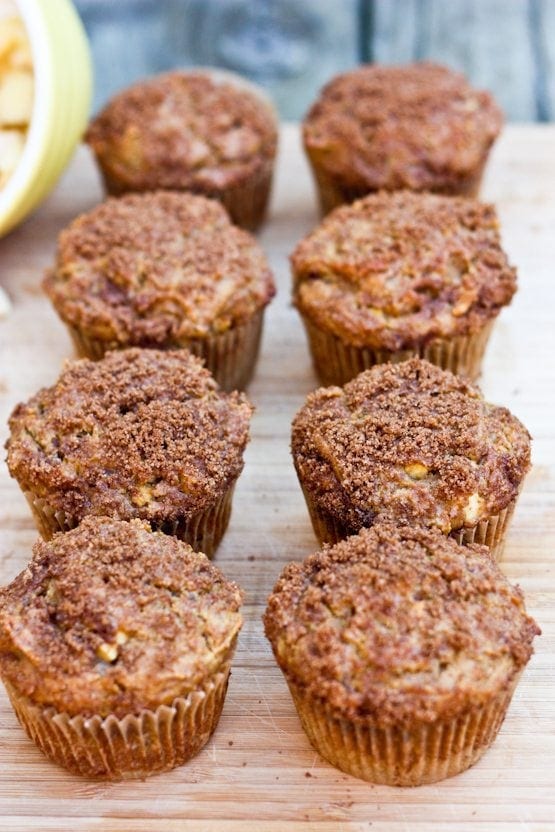 These muffins are hearty, moist and have with the perfect amount of sweetness from the brown sugar and apple chunks. As with most muffins, they're great paired with a cup of coffee on a chilly fall morning.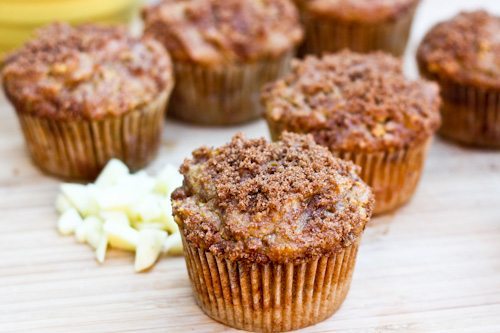 In addition, they're much healthier than your average muffin with all-natural ingredients like quinoa flour, whole wheat flour, plain Greek yogurt (Chobani), fresh apples and flaxseed. I also used canned pumpkin in the recipe so I could cut back the amount of butter. You could certainly use 3/4 cup applesauce or go the decadent route and use the extra 1/4 cup (1/2 stick) of Earth Balance or butter instead of the pumpkin. You all know I love my pumpkin so obviously it makes sense that I like the pumpkin version best – even if you can't really taste it in this recipe.
Print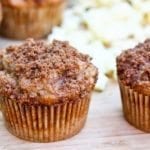 Healthy Apple Cinnamon Muffins
Author:

Prep Time:

15 mins

Cook Time:

35 mins

Total Time:

50 mins

Yield:

12
---
Ingredients
1/4 cup (1/2 stick) Earth Balance Buttery Stick or butter, softened
3/4 cup sucanat or dark brown sugar
3/4 cup plain non-fat Greek yogurt
3/4 cup pumpkin (roasted or canned)
2 Tablespoons ground flaxseed + 6 Tablespoons water
1 teaspoon vanilla
1 cup quinoa flour or all-purpose flour
1 cup whole wheat flour
1 teaspoon baking powder
1 teaspoon baking soda
1/2 teaspoon cinnamon
1/4 teaspoon sea salt
1 1/2 cups peeled and finely chopped apple pieces (about 2 apples)
Topping
2 Tablespoons sucanat or dark brown sugar
1 teaspoon cinnamon
---
Instructions
Preheat oven to 350°. Line a muffin pan with cupcake liners or coat with cooking spray.
In a small bowl, whisk together the 2 tablespoons of ground flaxseed with the 6 Tablespoons of water and let sit while you start preparing the other ingredients.
In a small bowl, mix together the topping – 2 tablespoons of sucanat with 1 teaspoon cinnamon.
In a medium bowl, whisk together the quinoa and whole wheat flour, baking soda, baking powder, cinnamon and salt.
In a large bowl, mix the 3/4 cup sucanat with the softened butter until combined. Add the flaxseed/water mixture, pumpkin and vanilla. Stir in yogurt.
Fold the flour mixture into the wet mixture. Gently stir in the apple chunks.
Pour the batter into the prepared muffin pan and sprinkle with the brown sugar topping. Bake for 30 to 35 minutes or until a wooden pick inserted in center of 1 of the muffins comes out clean.
Let cool on a wire rack for 15 minutes. Store any leftover muffins in the refrigerator for up to 2 days.
---
Nutrition
Serving Size:

1 muffin

Calories:

185

Sugar:

13g

Fat:

5g

Carbohydrates:

31g

Fiber:

4g

Protein:

5g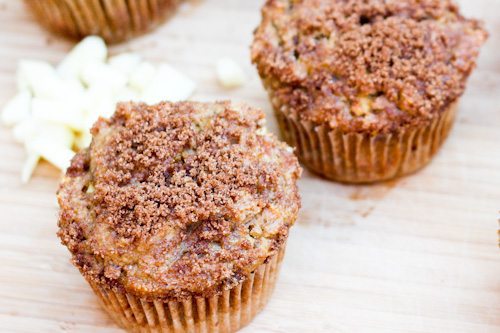 Believe me when I say that the tops are the best – so sweet and cinnamony. Hopefully you all love them as much as we do here at casa de EBF.