This baked steel cut oatmeal recipe is a lovely make-ahead breakfast option for busy mornings. Studded with sweet apple chunks, raisins and cinnamon, these oats will satisfy your taste-buds and keep you feeling full all morning. 
Morning friends! How's your weekend going? Ours has been full of snow — piles of it! Flakes started falling on Friday morning and didn't let up until late Saturday. At one point I didn't think it would ever stop. We're hunkered down, spending a lot of time inside getting cozy and a little time outside playing.
The cold weather has me on a warm breakfast kick and my favorite as of late has been baked oatmeal. After making this Maple Pecan Baked Oatmeal Isaac requested a version without nuts so I started brainstorming. He loves raisins so I took that idea and ran with it.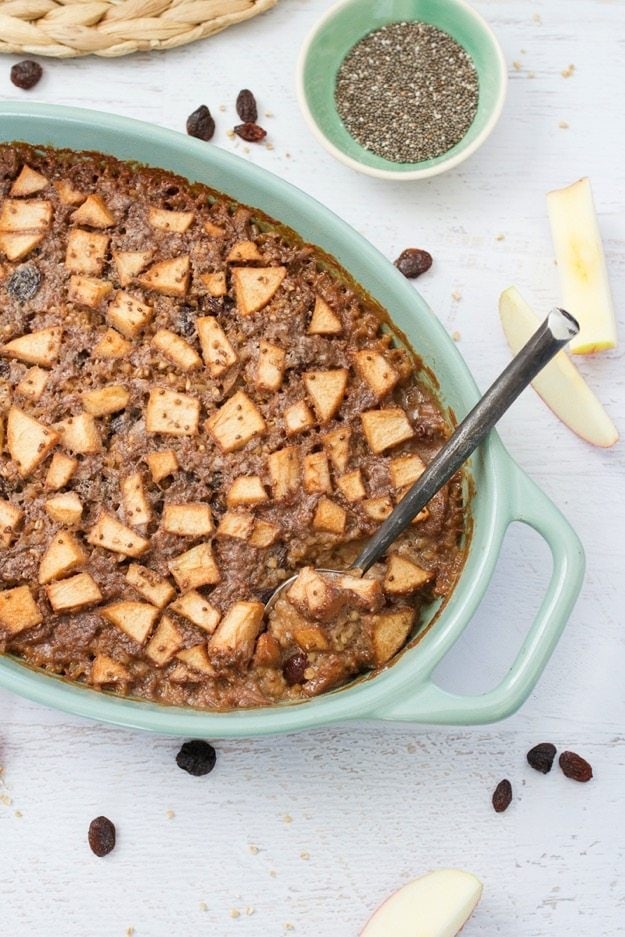 The result was a baked oatmeal with apple chunks and plump raisins nestled throughout. Doesn't it look pretty with all the apple bites and chia seeds on top?
The combo of oats, apples, raisins, a little maple syrup and a dash of cinnamon makes for a naturally sweet and delicious healthy oatmeal bake. This version is particularly nutritious because I used steel cut oats. They're the least processed of all oats and have an awesome chewy texture.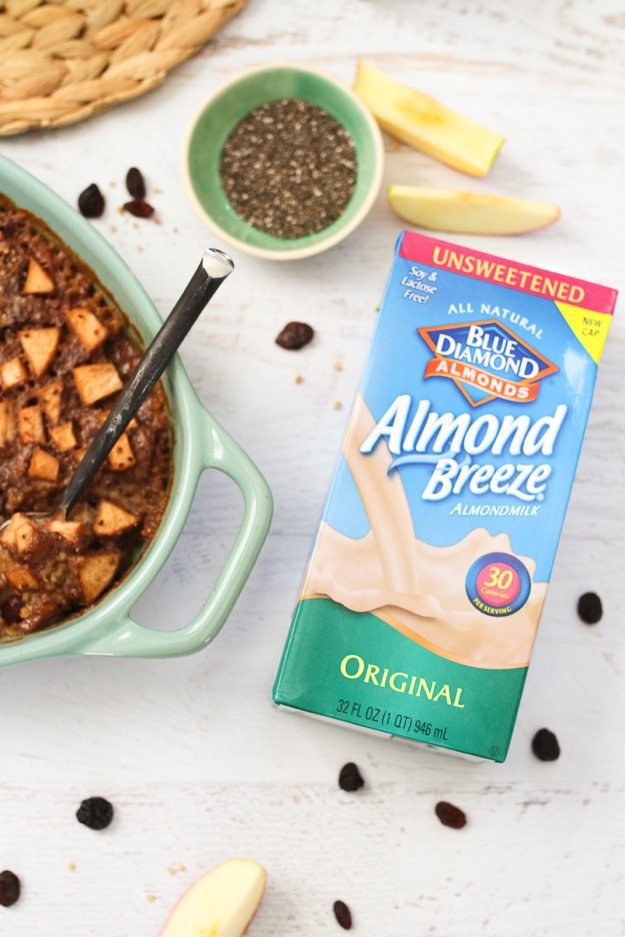 Other healthy ingredients include chia seeds, coconut oil and almondmilk, which makes the recipe vegan and gluten-free!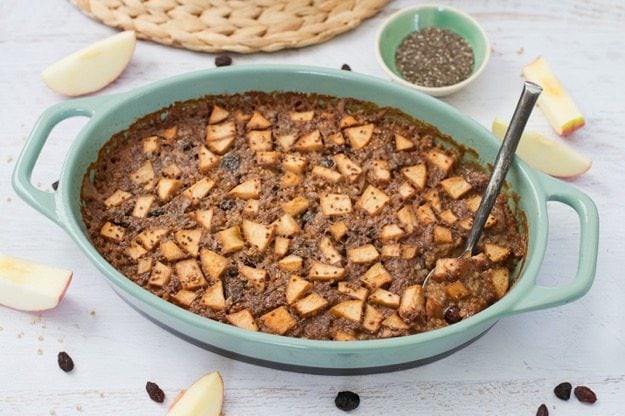 If eating a healthy breakfast was one of your New Year's resolutions this baked oatmeal is pretty much the perfect fit. You can make a batch over the weekend and you'll be set with an easy breakfast for the week (or at least most of it).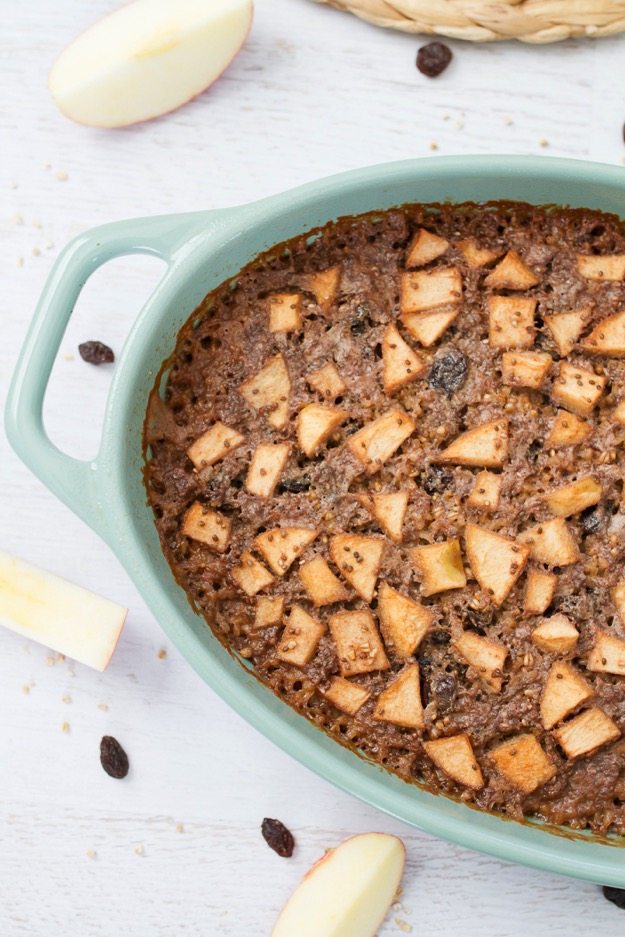 Reheating the baked oatmeal is a breeze, either using the microwave or stove-top. Although I have to tell ya, I've found that the oats are really good eaten cold as well. I just add an extra splash of almond milk and eat them like overnight oats or muesli. Yum!
If you're a baked apple lover you will adore this baked oatmeal. Trust me on this one. The apples get extra sweet, soft and are coated with cinnamon. It reminds me of apple pie, which is perfection because apple pie is my fav.
Isaac absolutely loved this version and thought the sweetness was perfect. If you're trying to cut back on sugar or just prefer things mildly sweetened, you can easily reduce the maple syrup and raisins a bit. It won't affect the end result, the oats will just be a little less sweet. Enjoy!
Apple Cinnamon Baked Steel Cut Oatmeal
4
adjust servings
Ingredients
1

cup steel-cut oats

1/4

cup maple syrup*

1

Tablespoon chia seeds + 3 Tablespoons water

2

Tablespoons coconut oil, melted

1

teaspoon cinnamon

1

teaspoon vanilla

1/4

teaspoon sea salt

1

apple, peeled and chopped

1/2

cup raisins*
Instructions
Pre-heat oven to 375°F.
Combine chia seeds with water to make a chia egg and let sit for a few minutes.
In a large mixing bowl combine oats, maple syrup, chia egg, coconut oil, cinnamon, vanilla and sea salt. Stir well to combine. Add in almond milk, apple chunks and raisins. Stir everything together once more.
Place oatmeal mixture into a greased baking dish (an 8x8 square baking dish or something similar). Bake in the oven for 50-60 minutes or until oatmeal is golden brown and the center is cooked through. Remove from the oven, let cool and enjoy. Place any leftovers in a sealed container in the fridge. Reheat later and enjoy.
Recipe Notes
*Feel free to reduce the amount of maple syrup and raisins for a version with lower sugar.
If you happen to try the recipe please let me know how it turns out in the comment section or better yet, share a photo via social media. Don't forget to tag me (@eatingbirdfood) so that I see it. 🙂