This Maple Pecan Baked Oatmeal is filled with wholesome oats, studded with chopped pecans and lightly sweetened with pure maple syrup. Fancy enough to serve for brunch, but awesome as a make-ahead breakfast for the week as well. 
The Monday after Christmas is always hard, but thankfully another holiday is just around the corner. Are you ready for 2016? Any big New Year's Eve plans? Are you setting any resolutions for yourself?
I am ready! We don't have any big plans for New Year's Eve, which I'm totally fine with. Actually I think staying at home with Isaac, sipping a glass of champagne and working on an inspiration board for 2016 sounds like the perfect way to ring in the new year. I have a feeling Isaac won't agree so I'm sure we'll do something. 🙂
As for resolutions, I don't normally set any but I do have a running list of things I'd like to do in 2016. I already have a feeling it's going to be a big year for us.
Taking it back a few days, I promised I would share the oatmeal bake recipe I made for Christmas morning brunch so here it is.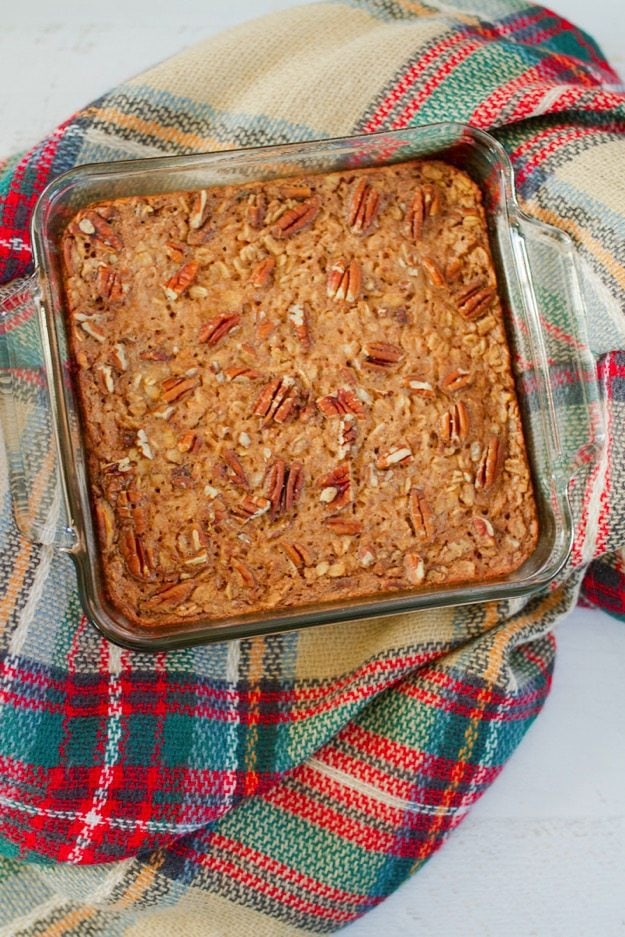 Isn't it pretty? Luckily it tastes just as good as it looks.
The oatmeal bake was the perfect dish to accompany the egg dishes that we're also served and my family loved the maple pecan flavor.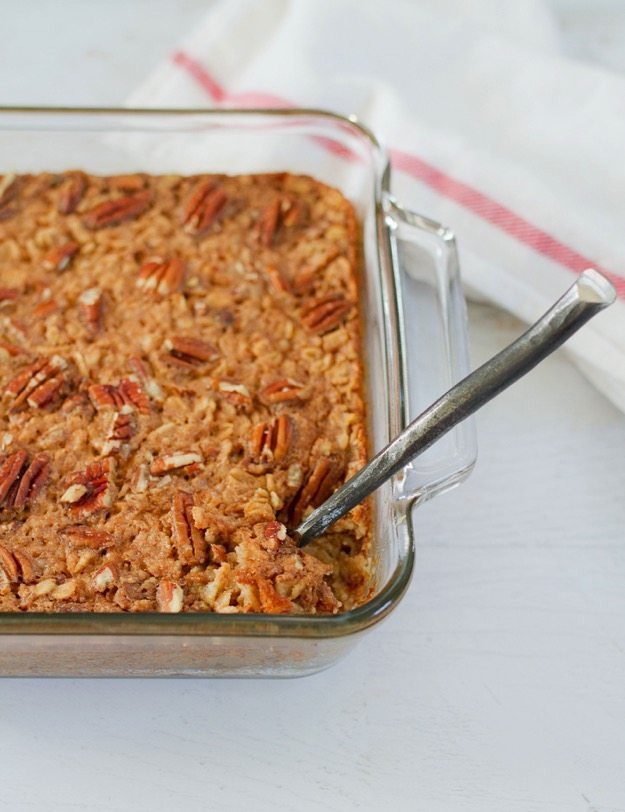 I've always been a stove-top oats kind of girl, but after this recipe I may be a baked oatmeal convert. Two reasons. 1) As someone who loves all things crispy and crunchy baked oatmeal is where it's at. The top layer gets golden brown and has a little crunch to it — especially when you get a bite with a pecan in there. Yum! 2) The leftovers are awesome. You can eat them cold straight from the fridge or reheat them. Either way, the leftover baked oatmeal makes for a quick and easy breakfast option. I can totally see myself making a batch on Sunday for the week.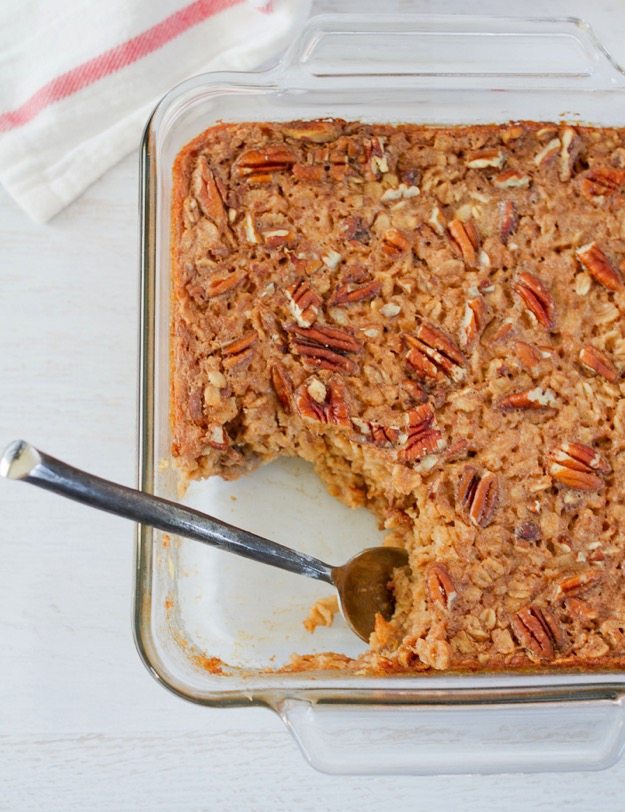 The maple pecan flavor combo is rich, nutty and sweet. It kind of reminds me of maple & brown sugar instant oatmeal packets I used to eat all the time growing up. Although, this version is a bit healthier and more filling with whole grain rolled oats, healthy fat (from coconut oil and the pecans) and pure maple syrup which has over 54 antioxidants and a boost of minerals such as iron and manganese.
Just be sure to use pure maple syrup, not the artificial kind labeled "pancake syrup" and made from corn syrup… NOT the same!
Whether you're serving brunch to a crowd or just doing a little meal-prep for the week, I hope you enjoy this oatmeal bake as much as we do.
Maple Pecan Baked Oatmeal
4-8
adjust servings
Ingredients
2

cups rolled oats

1/2

cup pecans, chopped and divided

1/4

cup pure maple syrup, plus more for serving

1

teaspoon aluminum-free baking powder

1 1/2

teaspoons ground cinnamon

Scant 1/2 teaspoon fine-grain sea salt

2

cups unsweetened almond milk

1

large egg (or 1 Tablespoon flaxseed)

2

tablespoons coconut oil, melted

2

teaspoons pure vanilla extract

2

ripe bananas, sliced

cooking spray
Instructions
Preheat the oven to 375°F.
Spray an 8-inch square baking dish with cooking spray.
In a large bowl, mix together the oats, half the pecans, baking powder, cinnamon, and salt.
Add in the milk, maple syrup, egg, coconut oil, vanilla and bananas. Stir well to combine.
Carefully pour oatmeal mixture into the prepared baking dish.
Scatter the remaining pecans across the top.
Bake for 35 to 40 minutes, until the top is nicely golden. Remove from the oven and let cool for a few minutes. Portion and serve. Drizzle each portion with maple syrup if you want it a bit sweeter.
If you decide to try this recipe, please let me know how it turned out in the comments or share a photo on social media. Just remember to tag me @eatingbirdfood so that I see it!
This post is part of a partnership with Pure Canada Maple. Maple syrup is one of my favorite natural sweeteners and as always, opinions are my own.