Hi from up in the air! I'm headed to CA for work where I'll be doing the convention thing, eating out for almost every meal (I did end up packing some breakfast items) and enjoying the warm weather.
Of course, I didn't forget my promise of another pumpkin recipe…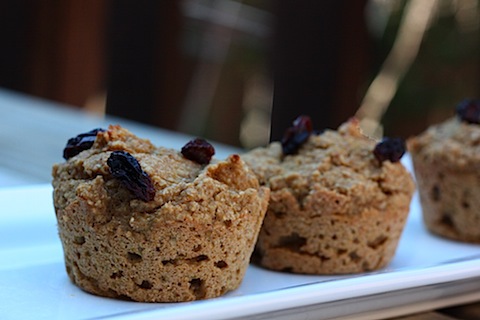 [print_this]
Pumpkin (Raisin) Oat Bran Muffins
Yield: 10 muffins – adapted from this Taste of Home Recipe
Ingredients:
1-1/2 cups Oat Bran
1/4 cup All-purpose Flour
1/4 cup Spelt Flour
1/2 cup Brown Sugar (I used Organic Sucanat)
1 tsp Pumpkin Pie Spice
1/2 tsp Sea Salt
1/4 tsp Ground Nutmeg
2 large Egg Whites
1 cup Cushaw or Pumpkin, Cooked (or Canned)
1/2 cup Unsweetened Almond Milk
2 tbsp Pure Canola Oil
1 tsp Pure Vanilla Extract
1/4 – 1/2 cup Raisins (optional)
Directions:
Combine the first seven ingredients in a small bowl.
In another bowl, whisk the egg whites, cushaw/pumpkin, milk, oil and vanilla until well blended.
Stir wet ingredients into dry ingredients just until moistened. Gently stir in raisins, if using.
Coat muffin cups cooking spray or cupcake liners cooking spray; fill half full. Bake at 400° for 20 minutes or until a toothpick inserted near the center comes out clean.
Cool for 5 minutes before removing from pan to a wire rack.
Serve warm and enjoy!
Nutrition facts for per serving with raisins (1 muffin): Approximately 170 calories, 4g fat, 31g carbs, 5g protein.

[/print_this]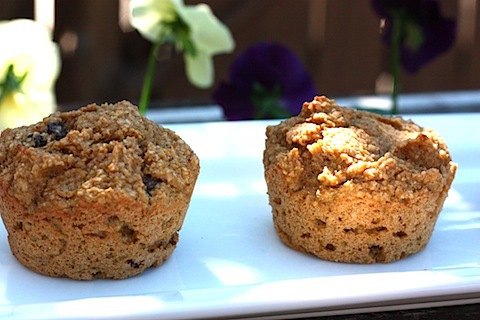 These muffins turned out great, but as expected with a muffin made primarily of oat bran, they are hearty! If you're looking for a light and airy muffin, this would not be a good recipe for you, but on the other hand, if you're looking for a healthy, hearty, nutrient dense pumpkin muffin – this would be a great choice!! I've been enjoying the muffins with a spread of almond butter for breakfast. I left a few for Isaac to eat while I'm away and packed a couple to snack on while traveling. Hooray for portability.
As mentioned above, I used cushaw, a green and white striped squash primarily grown in the south, that can be substitute for pumpkin in most recipes. My boss actually bought the cushaw, cooked it and gave me some of her bounty. I was excited to put it to good use and so far I've tasted it plain, used it in the muffins and made a pumpkin spice smoothie with it! I'm not sure if cushaw is always sweet or if it has to do with the fact that it was freshly cooked, but it's much sweeter than canned pumpkin and doesn't have any bitterness to it – I'm definitely a fan! Too bad I don't have the means to cook fresh cushaw every week to feed my pumpkin obsession. 😉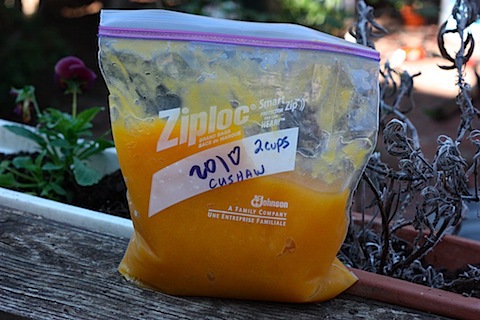 For all you pumpkin lovers, be sure to check out my pumpkin recipes, which I've conveniently linked in the left-hand side bar. Or try out these delicious looking pumpkin recipes from FOOD & WINE.
Pumpkin Bread
Pumpkin Bread Pudding with Caramel Rum Raisin Sauce
Pumpkin Cheesecake with Butter Brown Pears
Chocolate Swirled Pumpkin Pie
—–
As part of my participation in the FOOD & WINE Blogger Correspondent program, FOOD & WINE is giving away a year-long subscription to a lucky reader from Eating Bird Food. Click here to enter and read official rules here.
This post is part of a series featuring recipes from the FOOD & WINE archive. As a FOOD & WINE Blogger Correspondent, I was chosen to do four recipes a week from FOOD & WINE. I received a subscription to FOOD & WINE for my participation.