You're going to love these mini strawberry protein muffins! They're great for a breakfast on-the-go or a quick and easy snack.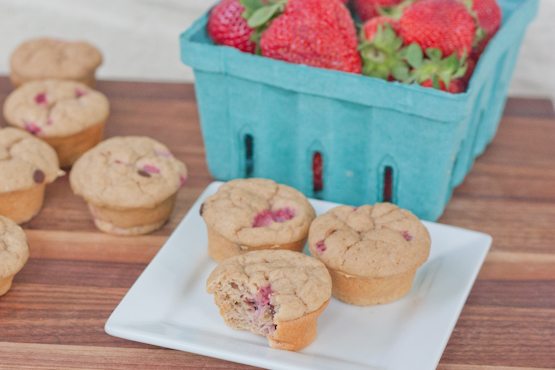 Last weekend I bought two containers of strawberries from the farmers market. I was only going to get one but Isaac convinced me to get two, which is fine because I love fresh berries. They're the perfect snack and also great as a topping for things like yogurt, salads, cereal, oatmeal, cottage cheese, pizza… the list goes on.
All that said, I still felt like we had too many strawberries for two people to eat in a week so I decided I needed to bake something with them. That something turned out to be these strawberry chocolate chip protein muffins.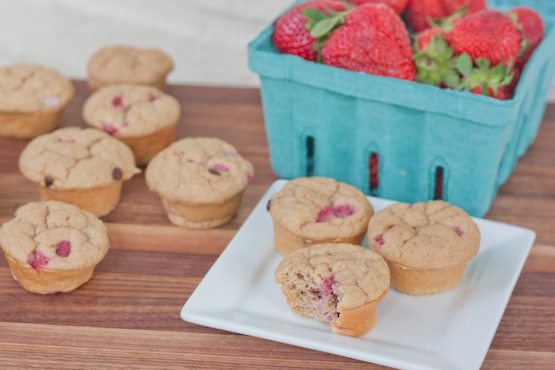 I actually made two batches on Friday night when I was testing the recipe — one with chocolate chips and one without. Isaac says the chocolate chips make the muffins so I'm sharing that version of the recipe with you all today.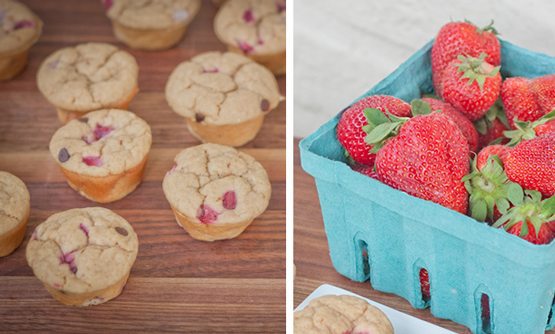 Truth be told, I think these muffins might be the best protein baked good I've ever made. They're light and fluffy, you can't taste the protein powder at all and the strawberries and chocolate chips add the perfect amount of sweetness.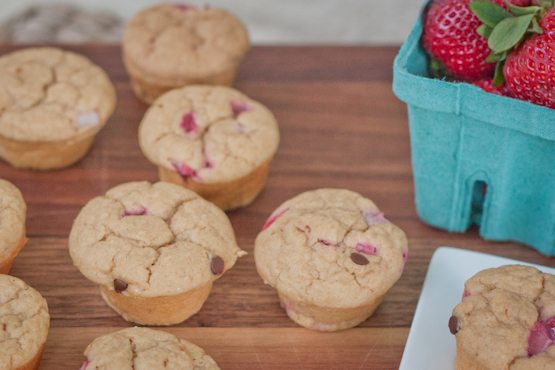 I wanted to try to make these sugar-free, besides the berries and chocolate chips, so I used stevia. If you don't have this blend you can always use packets of stevia or another sweetener of choice. As for the oat flour, you can make your own by processing raw oats or just buy it. I used Bob's Red Mill.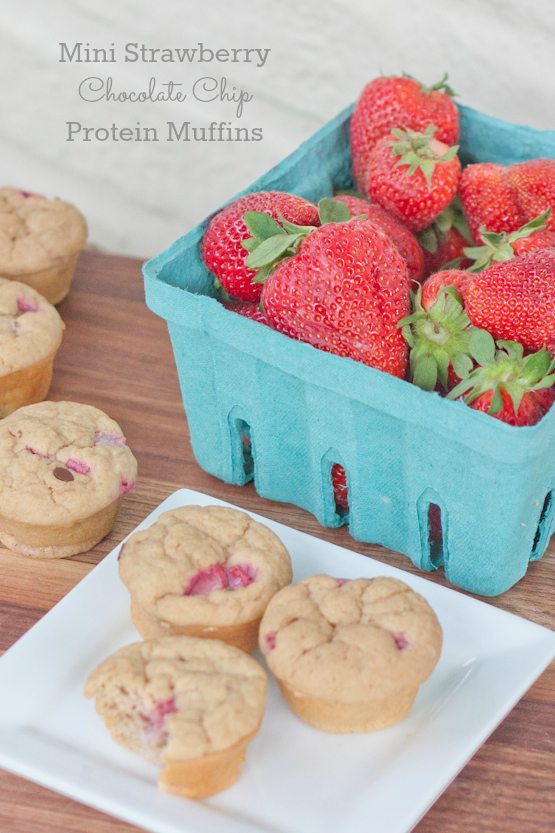 Mini Strawberry Chocolate Chip Protein Muffins
22
adjust servings
Ingredients
1

cup oat flour

1/4

cup vanilla protein powder

1

Tablespoon lemon juice

Zest of 1/2 a lemon

2

Tablespoons NuNaturals More Fiber stevia baking blend ( or 6-8 packets of stevia)

1/2

teaspoon baking soda

pinch sea salt

pinch cinnamon

1

Tablespoon coconut oil, liquid

3/4

cup egg whites

1/2

cup unsweetened vanilla almond milk

1/2

cup plain non fat greek yogurt

1

teaspoon vanilla extract

1/2

cup strawberries, chopped into tiny pieces

1

1/2 Tablespoon mini chocolate chips
Instructions
Preheat oven to 350.
Mix all dry ingredients together, except chocolate chips. Then mix in all wet ingredients, expect strawberries and chocolate chips. Stir until smooth and blended, then lightly stir in strawberries.
Spray muffin tin with cooking spray or grease with coconut oil. Make sure you do this well or the muffins will stick.
Place batter evenly into mini muffin tin. The batter should fill 22 muffins. Drop 3-5 mini chocolate chips in each muffin cup.
Bake for 20 minutes or until the edges are brown and the muffins are baked through
Remove from the oven, lets muffins sit for 5 minutes, then use a knife to go around the edge of each muffin and gently remove them from the tin and place on a flat surface to cool. I used a cooling rack but that put dents on the bottom of the muffins so maybe a paper towel would work best. The muffins are pretty fragile until they cool so remove them carefully
Once they cool, they'll be firm and ready to eat! Place in a sealed container and store in the fridge.