Strawberry Overnight Oats
66
Published Apr 06, 2016, Updated Jul 06, 2022
These strawberry overnight oats are so easy to meal prep and taste like strawberry shortcake! It's like having dessert for breakfast.
All it took was one 70 degree day for me to jump back on overnight oats breakfast wagon. I've been eating a few different combos over the past couple weeks and this one stood out as a true favorite. I think in part because the strawberries I picked up from the grocery were perfectly ripe and sweeter than any berry I've tasted this year.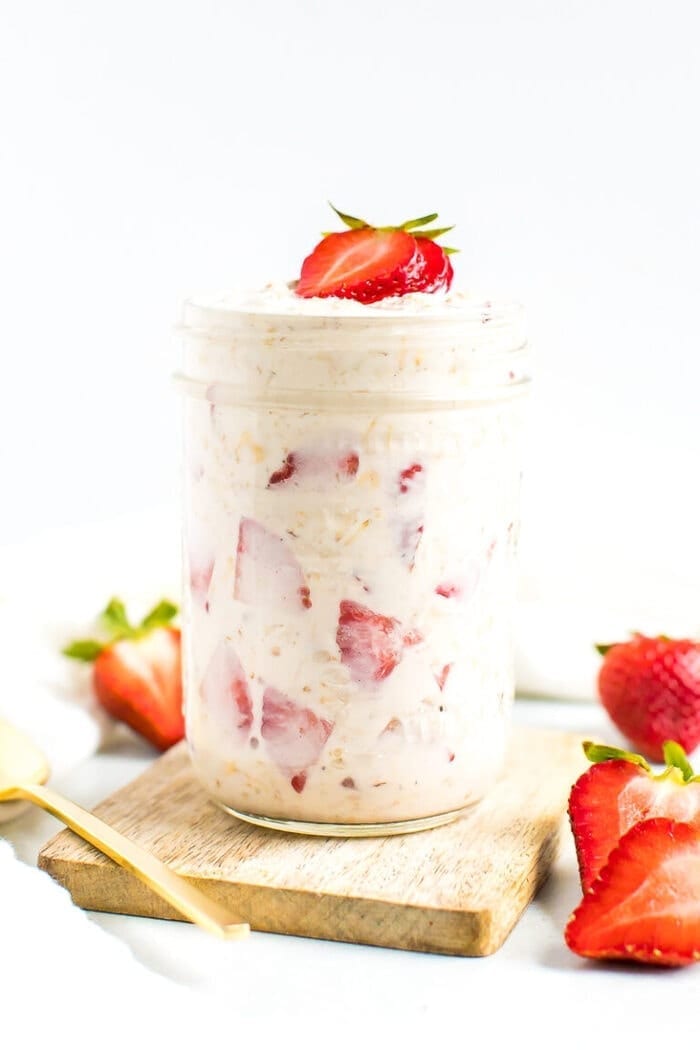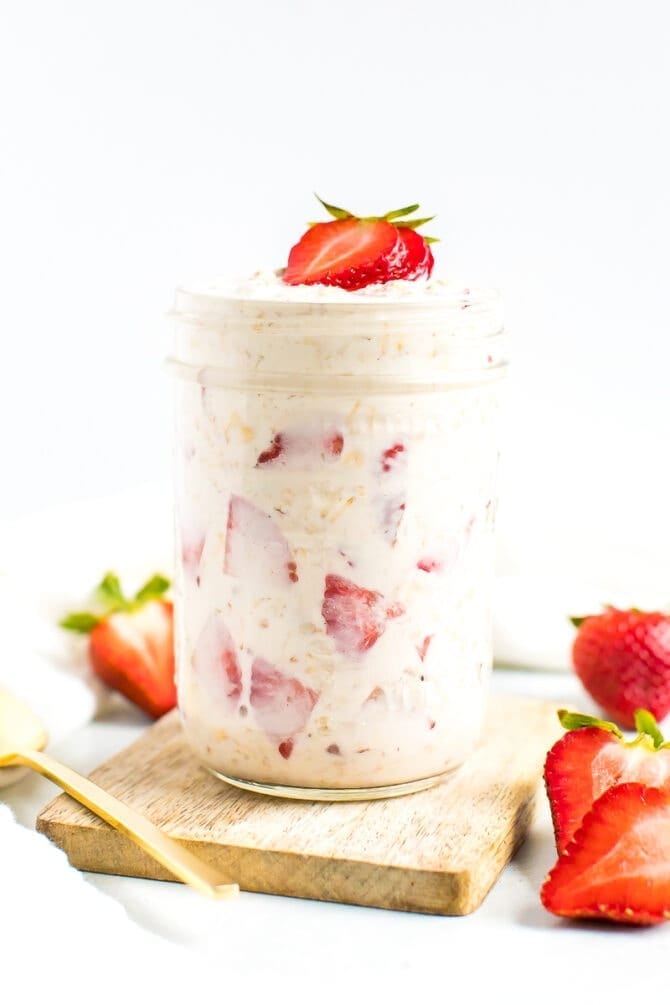 One bite and I was quickly daydreaming about spring and summer produce. Asparagus, berries, zucchini, fresh corn on the cob… literally CAN NOT WAIT. In the meantime, I'm just going to enjoy the massive container of strawberries I have in the fridge by making these overnight oats all week.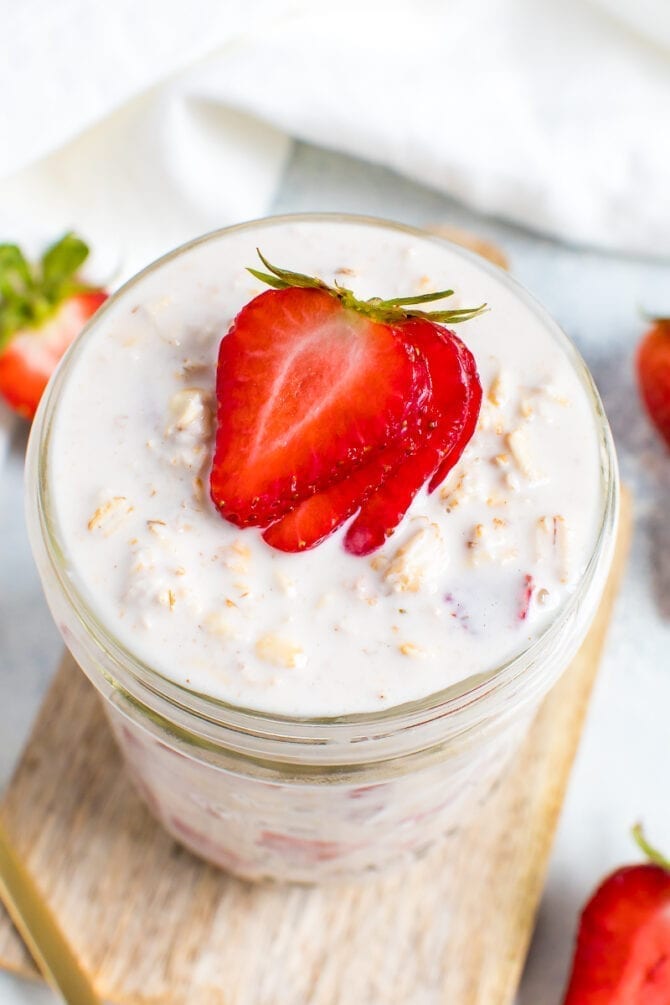 Oats That Taste Like Strawberry Shortcake
Strawberry shortcake is the quintessential summertime dessert and has been a favorite of mine since childhood so when I was brainstorming strawberry overnight oat recipes it immediately came to me.
I used my Strawberry Shortcake Quinoa Parfait recipe as a guide, tried a couple test batches and finally found the perfect combo that was reminiscent of strawberry shortcake. Obviously it doesn't taste 100% like the dessert, but it does have the same flavors. I think the key is using sweet, ripe strawberries, as well as, almond and vanilla extracts. The extracts give the oats that pound cake flavor, while the strawberries and honey bring the perfect amount of sweetness.
Ingredients for Strawberry Overnight Oats
old fashioned rolled oats – rolled oats are the best for overnight oats. Instant/quick oats and steel cut oats don't work well because they don't absorb liquid the same way rolled oats do
almond milk – I like using unsweetened vanilla almond milk, but any type of milk will work
Greek yogurt – yogurt gives overnight oats an extra creamy texture while adding a bit of protein. I personally like using plain Greek yogurt since it's the highest in protein and lowest in sugar. To make this recipe vegan or dairy-free you can use a non-dairy yogurt or skip the yogurt all together and use additional milk
honey or maple syrup – pure maple syrup is the perfect natural sweetener to use because it's liquid so it blends in nicely with the oat mixture and I personally love the flavor. Honey or another natural liquid sweetener will work here. If you want to reduce the sugar in this recipe, feel free to use a sugar alternative like stevia or monk fruit
vanilla extract and almond extract – if you don't have almond extract in your pantry, it's totally worth picking up a small bottle for this recipe. It's what gives the recipe a "cake-like" flavor!
sea salt – a pinch of sea salt is the perfect flavor enhancer and brings out the nutty flavor of the oats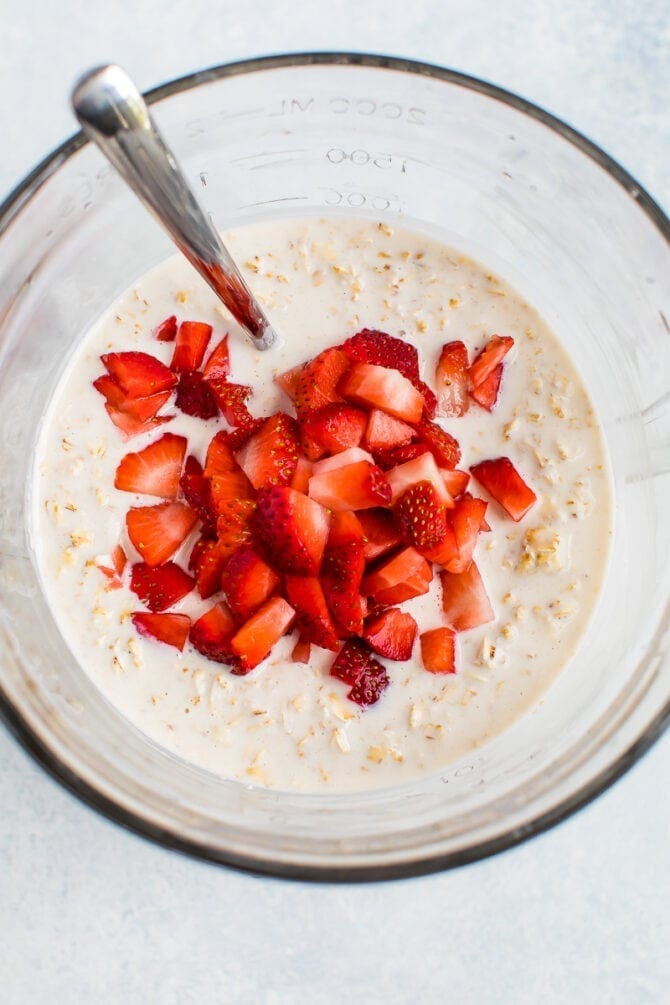 Combine the strawberry and cake flavors with the creaminess of almond milk and Greek yogurt and you've got yourself a bowl of oats that tastes pretty similar to strawberry shortcake, yet still healthy enough to serve for breakfast! Plus it's gluten-free, portable and perfect for warm mornings when hot oats aren't appealing.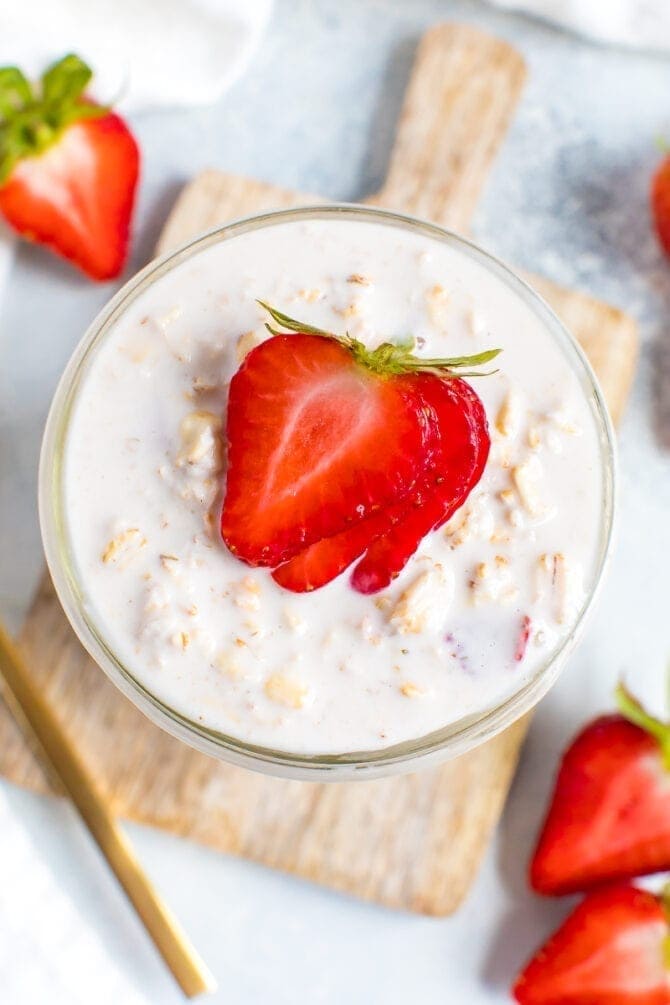 Overnight Oats Ratio
The base "recipe" for overnight oats is so simple! The hardest part is getting the right ratio of oats to liquid. I aim for a 1:1 ratio of rolled oats to milk, plus half as much yogurt. So for 1/2 cup of oats, I use 1/2 cup of milk + 1/4 cup of yogurt (or an additional 1/4 cup of milk). This seems to give the oats the perfect consistency, not too thick, but not soupy. For the liquid, I usually go for non-dairy milk like almond milk, but you can use whatever milk you have on hand and if you really want to experiment you can try using different liquids like fruit juice.
How Long Do Overnight Oats Need to Soak?
Given the name, you'd assume overnight oats need to soak overnight, but you can actually make them in 2-4 hours if you're in a rush. While it does take some time for the oats to absorb the liquid, they don't necessarily have to be soaked overnight. I recommend at least 8 hours for true overnight oats, but there have been mornings where I decide I want overnight oats for breakfast even though I didn't prep them the night before. When this happens I'll make them the morning of and let the oats soak for just 2-4 hours. With this quick soak, they're not as soft as overnight oats that have soaked longer and they're a bit more liquidy, but they're still delicious.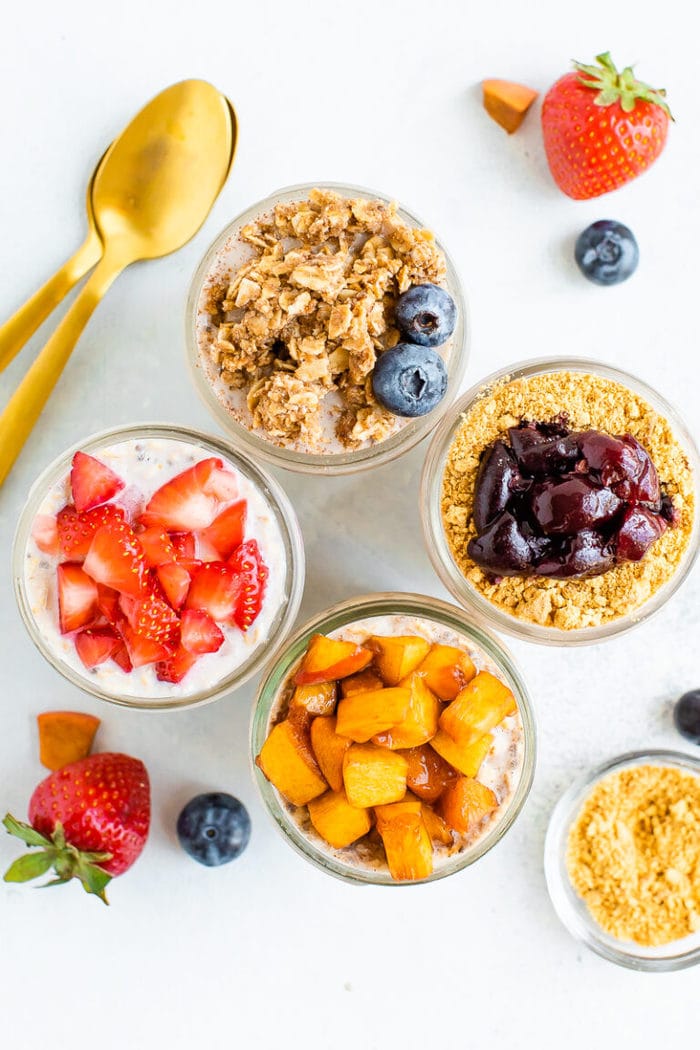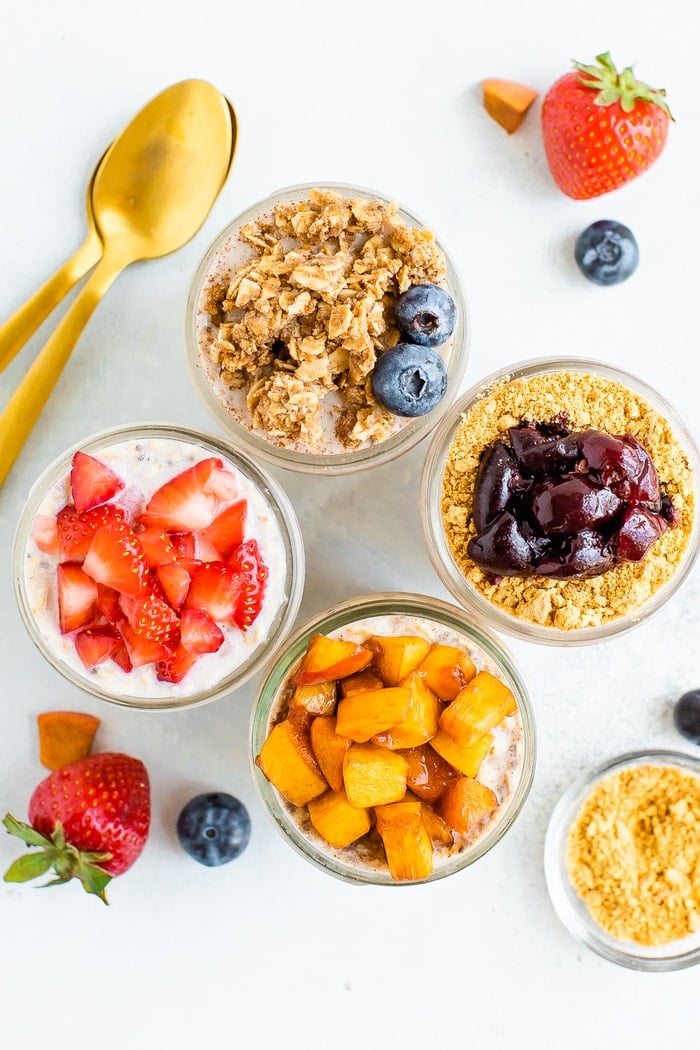 How Long Do Overnight Oats Last?
When stored in an airtight container in the fridge overnight oats should last for up to 5 days. They will soften more the longer they sit so I find they're best on days 1-3, but they're still safe to eat on days 4 and 5. With this said, overnight oats are great for meal prep. Feel free to make a whole batch for the week on Sunday. I like prepping them in wide mouth 16 oz mason jars.
Can You Eat Overnight Oats Hot?
Short answer, yes! You can definitely warm up overnight oats, but the whole point of overnight oats is to eat them cold like muesli. Even if you think cold oats sound strange, I recommend giving it shot before you write them off. Of course, if you simply can't do the cold oats you can always heat them up. Just pop the overnights oats in your microwave, cooking in 30 second increments until the oats are warm throughout and enjoy.
More Strawberry Recipes
More Overnight Oat Recipes
Check out all of the overnight oats recipes as well as the full collection of oatmeal recipes on EBF!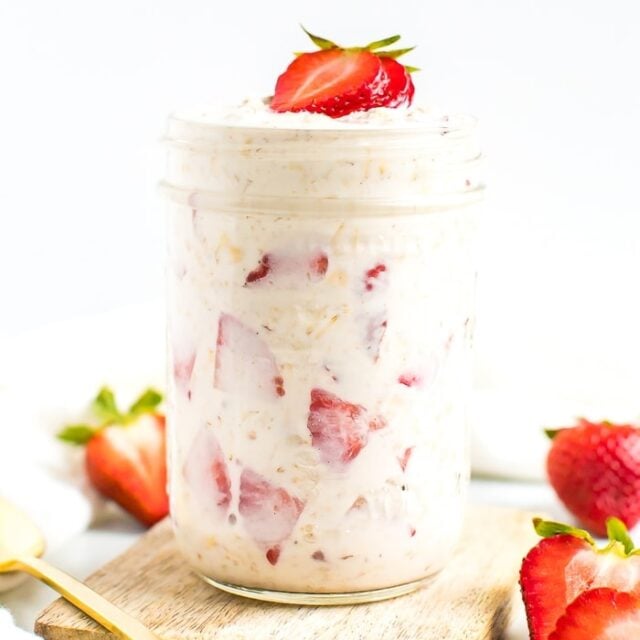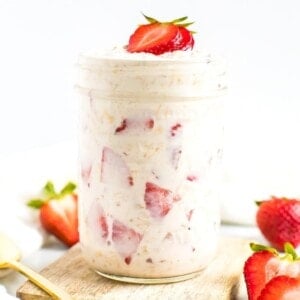 Strawberry Overnight Oats
These strawberry overnight oats are so easy to meal prep and taste like strawberry shortcake! It's like having dessert for breakfast. 
Instructions
Place all ingredients in a container and stir until well combined. Seal with a lid and place in the fridge overnight (or at least a couple hours).

Bring out of the fridge in the morning and stir. You'll notice that the oats soak up a lot of the liquid so you may want to add a little more almond milk before serving. Top oats with additional chopped strawberries and serve.

Overnight oats will keep for up to 5 days in the fridge in a sealed container.
Nutrition
Serving:
1
|
Calories:
236
kcal
|
Carbohydrates:
40
g
|
Protein:
9
g
|
Fat:
4
g
|
Fiber:
6
g
|
Sugar:
11
g
Nutrition information is automatically calculated, so should only be used as an approximation.