Chocolate Banana Overnight Oats
57
Published Jun 16, 2020, Updated Apr 12, 2023
These chocolate banana overnight oats bring together oats, banana and chocolate protein powder to make a quick and easy breakfast option that tastes like dessert.
If you've been reading EBF for awhile you'll know that throughout the summer months (and occasionally in the winter) I'm all about overnight oats. They're cool, creamy and so easy. I love that I can whip up a batch before bed and wake up to a healthy and delicious breakfast without having to cook anything.
I've made (and shared) so many different overnight oat variations, but this one is a little different because there's chocolate involved! It's like dessert for breakfast, only healthy and packed with protein, healthy fats and smart carbs.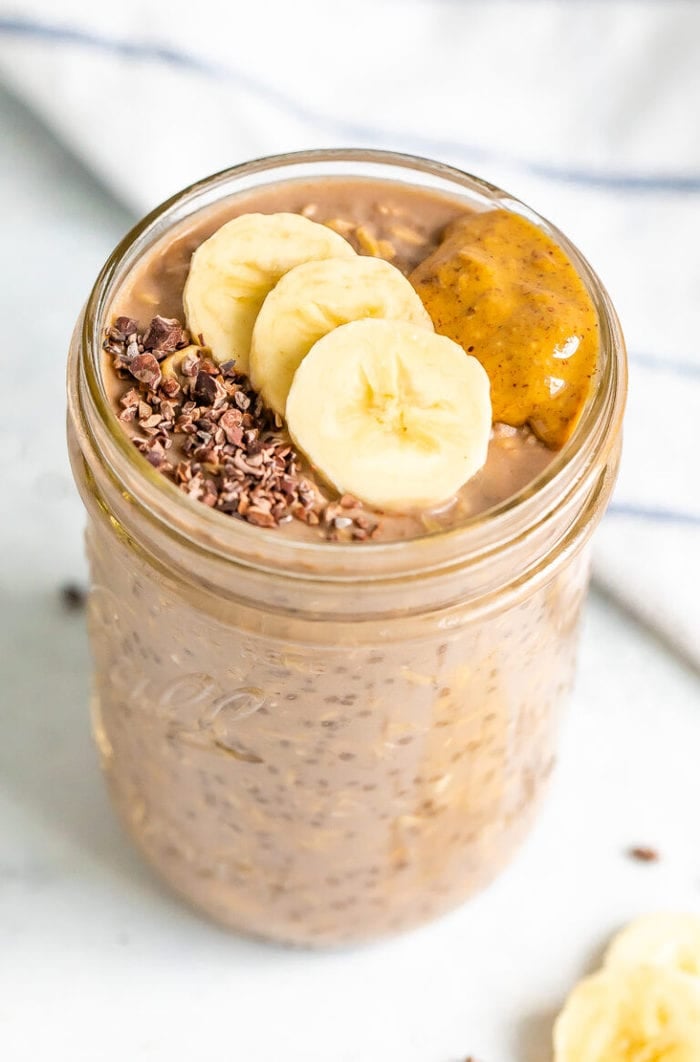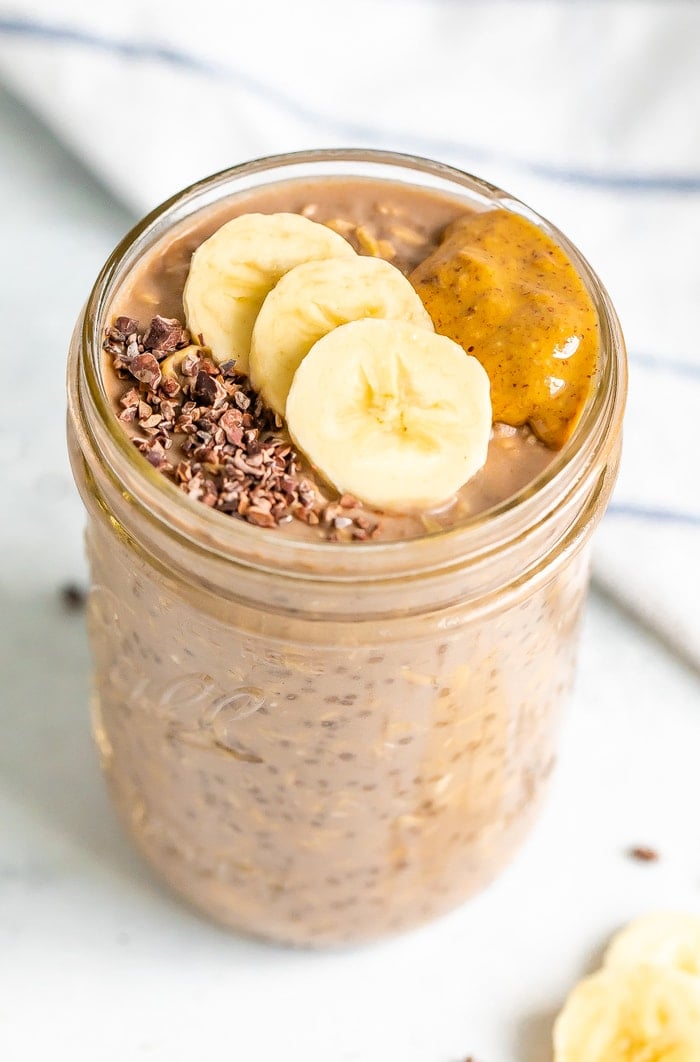 Per the usual with overnight oats, the process is quite simple. Simply add your oats, protein powder, mashed banana, chia seeds and almond milk into a bowl. Stir, stir, stir… until all the protein powder has dissolved. Then put the mixture in the fridge overnight and let the oats do their thing.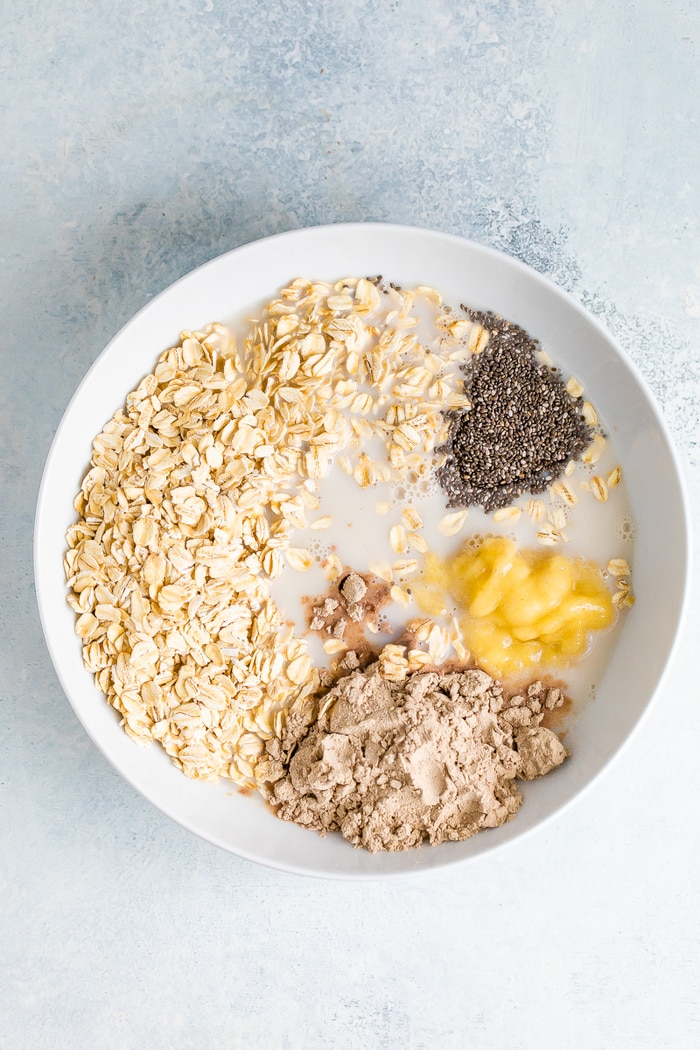 Ingredients Needed for Chocoalte Banana Overnight Oats
old fashioned rolled oats – rolled oats are the best for overnight oats. Instant/quick oats and steel cut oats don't work the same because they don't absorb liquid like rolled oats do
banana
almond milk – I like using unsweetened vanilla almond milk, but any type of milk will work
chocolate protein powder – this is what gives the overnight oats their chocolatey flavor. I use a plant-based chocolate protein powder that is sweetened with stevia. If your protein powder isn't sweetened, you'll likely want to add a little sweetener
chia seeds – these little seeds add a bit of fiber, protein and omega-3 fatty acids and they help absorb some of the liquid which gives the oats a thicker consistency
cacao nibs – I love the crunch that cacao nibs add! You can also add chocolate chips if you don't have cacao nibs on hand
almond butter – this is the perfect nut butter to use as a topping, but peanut butter would work great too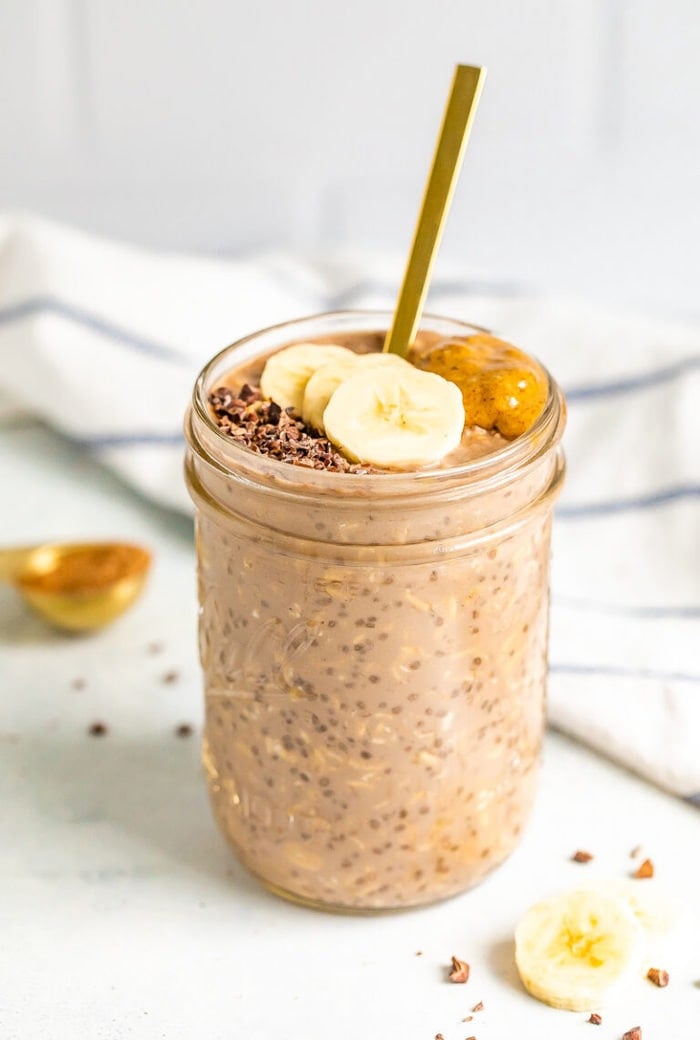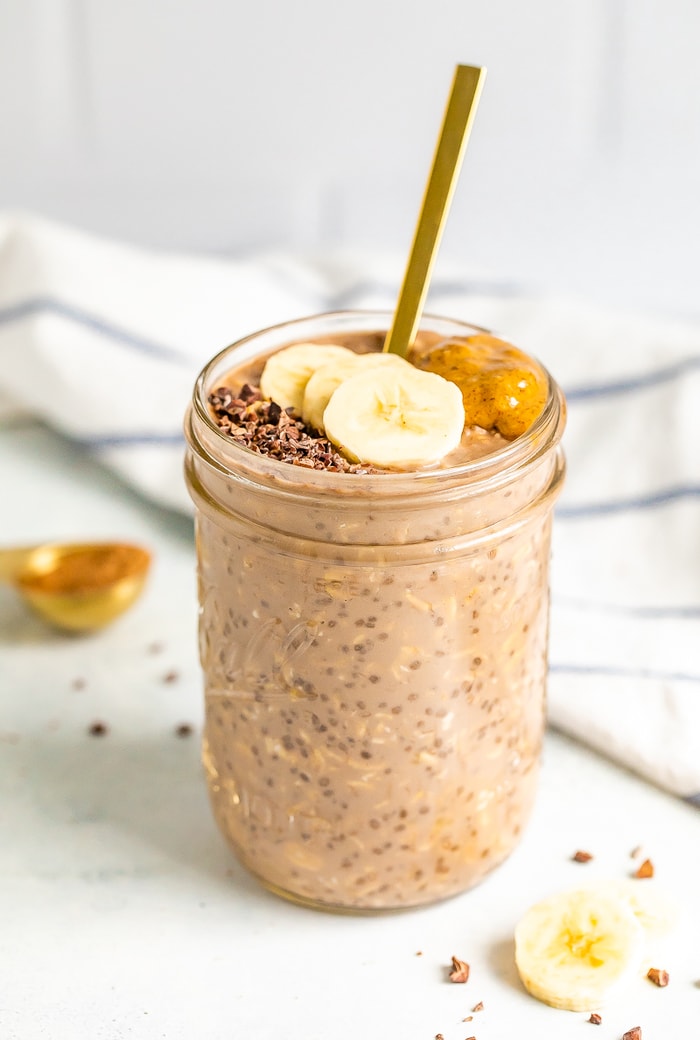 Overnight Oats Ratio
The base "recipe" for overnight oats is so simple! The hardest part is getting the right ratio of oats to liquid, but if you follow my recipes you'll be set!
I aim for a 1:1 ratio of rolled oats to milk, plus half as much yogurt. So for 1 cup of oats, I use 1 cup of milk + 1/2 cup of yogurt (or an additional 1/2 cup of milk). For this recipe, I'm skipping the yogurt and using the extra milk. This seems to give the oats the perfect consistency, not too thick, but not soupy. For the liquid, I usually go for non-dairy milk like almond milk, but you can use whatever milk you have on hand and if you really want to experiment you can try using different liquids like fruit juice.
How Long Do Overnight Oats Need to Soak?
Given the name, you'd assume overnight oats need to soak overnight, but you can actually make them in 2-4 hours if you're in a rush. While it does take some time for the oats to absorb the liquid, they don't necessarily have to be soaked overnight. I recommend at least 8 hours for true overnight oats, but there have been mornings where I decide I want overnight oats for breakfast even though I didn't prep them the night before. When this happens I'll make them the morning of and let the oats soak for just 2-4 hours. With this quick soak, they're not as soft as overnight oats that have soaked longer and they're a bit more liquidy, but they're still delicious.
How Long Do Overnight Oats Last?
When stored in an airtight container in the fridge overnight oats should last for up to 5 days. They will soften more the longer they sit so I find they're best on days 1-3, but they're still safe to eat on days 4 and 5. With this said, overnight oats are great for meal prep. Feel free to make a whole batch for the week on Sunday. I like prepping them in wide mouth 16 oz mason jars.
Can You Eat Overnight Oats Hot?
Short answer, yes! You can definitely warm up overnight oats, but the whole point of overnight oats is to eat them cold like muesli. Even if you think cold oats sound strange, I recommend giving it shot before you write them off. Of course, if you simply can't do the cold oats you can always heat them up. Just pop the overnights oats in your microwave, cooking in 30 second increments until the oats are warm throughout and enjoy.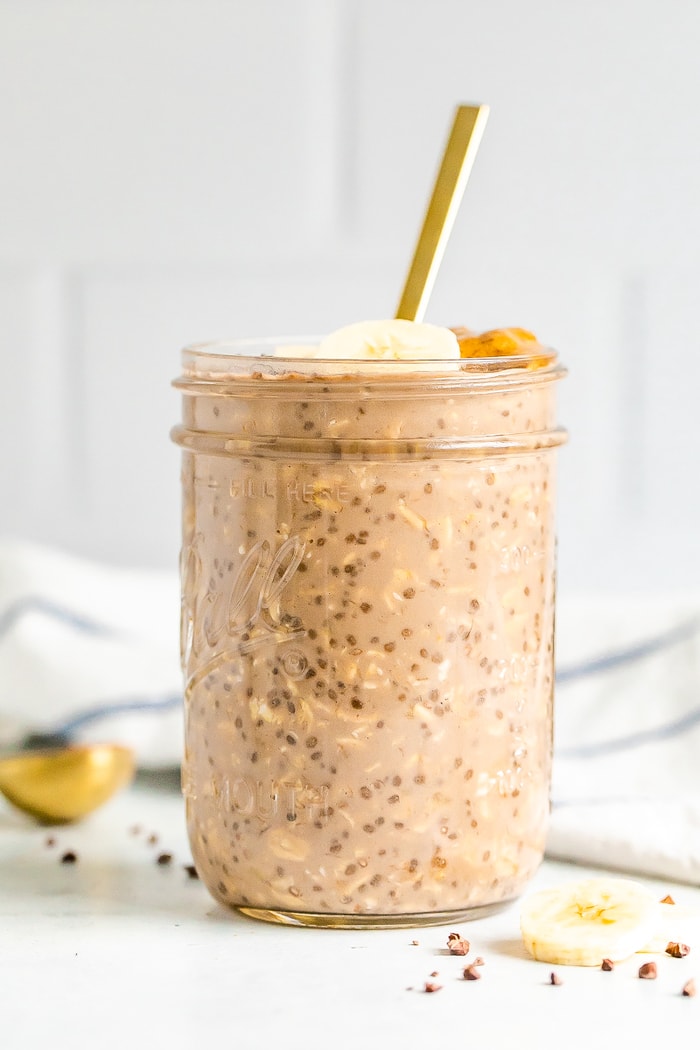 After letting your overnight oats soak overnight (or at least a few hours), take the oats out of the fridge and top with banana slices and cacao nibs. Add a big spoonful of almond butter… if you please. It's never a question for me. If I'm having oats, there's going to be a spoonful of nut butter involved. That's it. Time to dig in!
More Oatmeal Recipes to Try
More Overnight Oats Recipes
Check out all of the overnight oats recipes as well as the full collection of oatmeal recipes on EBF!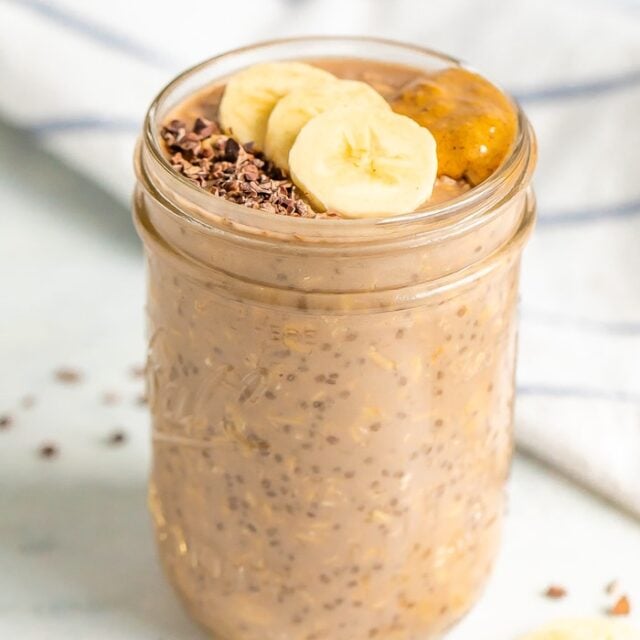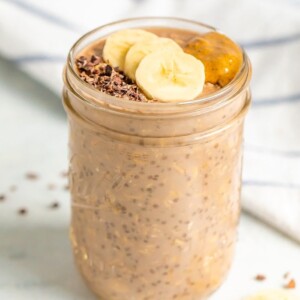 Chocolate Banana Overnight Oats
These chocolate banana overnight oats bring together oats, banana and chocolate protein powder to make a quick and easy breakfast option that tastes like dessert.
Instructions
Cut one half of your banana in slices and mash the other half.

Add mashed banana, oats, almond milk, protein powder and chia seeds into a bowl. Stir well to combine, until all the protein powder has dissolved. Divide oat mixture into two containers (I like using mason jars), seal with a lid and place in the fridge overnight.

Take one container out of the fridge the next morning and stir the mixture. You'll notice that the protein powder, oats and chia seeds soak up a lot of the liquid so you may want to add a little more almond milk before serving.

Top with banana slices, cacao nibs and almond butter (if using) and enjoy!

Overnight oats will keep for up to 5 days in the fridge in a sealed container.
Nutrition
Serving:
1
serving
|
Calories:
324
kcal
|
Carbohydrates:
49
g
|
Protein:
19
g
|
Fat:
7
g
|
Fiber:
11
g
|
Sugar:
9
g
Nutrition information is automatically calculated, so should only be used as an approximation.
More Overnight Oats Recipes: