You'll love waking up to these peanut butter and jelly overnight oats with protein-rich peanut butter and chia seed jam. 
I've been making and enjoying overnight oats for years but I feel like I've never been able to get a good picture of them. I usually mix them in a plastic container in a rush before heading to bed. Nothing against Tupperware but it's just not that cute.
This week my overnight oats got an upgrade. From Tupperware to Weck jars and they're (wait for it…) Valentine's Day themed. I've always loved Valentine's Day. LOVE, hearts, flowers, chocolate, pink… everything about it. It also happens to be my birthday so even when I didn't have a romantic interest, it's always been a fun day for me. <3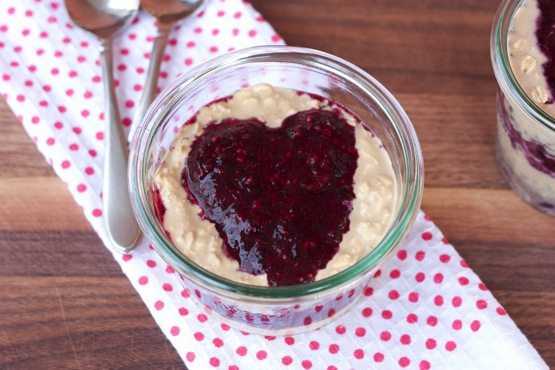 Okay so back to these oats. They're peanut butter and jelly flavored, delicious and topped with a heart. I used a little peanut butter and Perfect Fit protein powder to amp up the protein and a batch of homemade chia seed jam for a boost of fruity flavor and heart-shaped pop of color.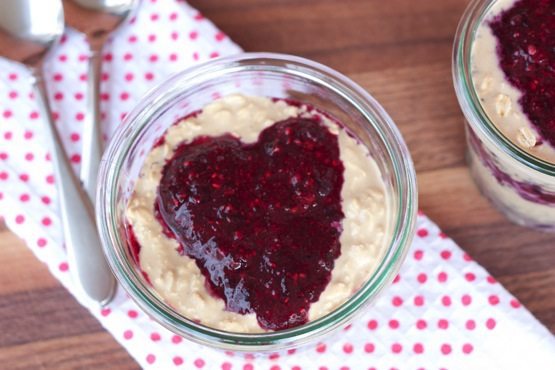 They're pretty easy to throw together and would be such a cute breakfast to serve your sweetheart or little ones on Valentine's Day for breakfast. Because I thought this would be a fun recipe to share with loved ones, the portions are meant to serve two people. 🙂 Enjoy!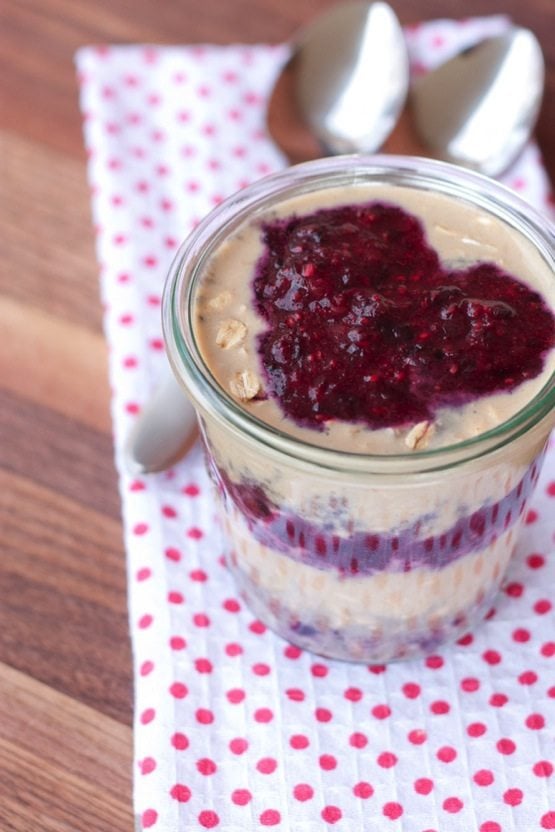 Print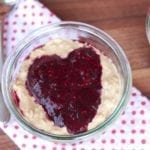 Peanut Butter & Jelly Overnight Oats
Author:

Prep Time:

10 minutes

Cook Time:

1-2 hours

Total Time:

1-2 hours + 10 minutes

Yield:

2
---
Description
You'll love waking up to these peanut butter and jelly overnight oats with protein-rich peanut flour and chia seed jam.
---
Ingredients
1 cup old fashioned oats
1 1/2 cups almond milk
2 Tablespoons peanut butter (or 4 Tablespoons peanut flour)
1 scoop vanilla protein powder
dash of cinnamon
1 batch of berry chia jam (I used Trader's Joe's Very Cherry Berry Blend instead of frozen strawberries for this batch)
---
Instructions
Make a batch of berry chia jam following the recipe for my strawberry chia seed jam.
In the meantime, put oats, almond milk, peanut butter, protein powder and cinnamon in a bowl and gently stir them together until the protein powder has dissolved. It's okay if the peanut butter is a little clumpy. Cover the bowl and put it in the fridge for 1-2 hours, or overnight.
Once the overnight oats have set up (and absorbed most of the almond milk) you're ready to serve them!
You can simply separate the overnight oats into two containers and use the berry chia jam as a topping. Carefully add it to the top in the shape of a heart if you want to have the heart on top.
Or you can create a layered version. To make the layered version simply place 1/4 of the overnight oats in a container, place 1/4 of the berry chia jam on top, cover with another 1/4 of the overnight oats and top with more berry chia jam (shaped in a heart, if desired). Use remaining oats and chia jam to make a second bowl of layered overnight oats and serve.
---
Notes
If you don't want to use protein power, simply add a couple tablespoons of Greek yogurt in place of the protein powder or omit the powder completely.
---
Nutrition
Serving Size:

1/2 of recipe

Calories:

402

Sugar:

8g

Fat:

14g

Carbohydrates:

55g

Fiber:

17g

Protein:

19g