Easy no bake protein bites made with peanut butter, dried strawberries, oats and chocolate chips. 80 calories and 4 grams of protein each!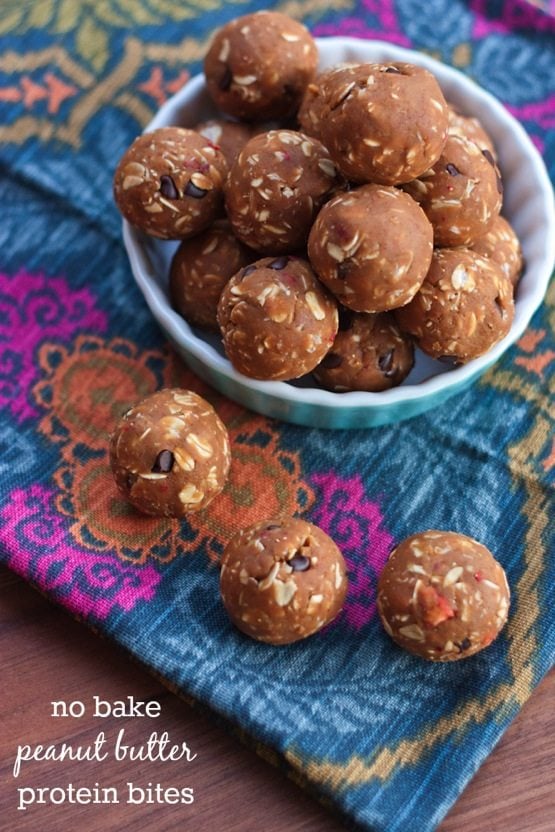 I'm going to start by saying that these are first treat I've made with protein powder that Isaac has tried and loved! He usually always has something to say about the texture or the flavor. Not this time — he's been eating one or two a day and repeatedly telling me how tasty they are. That's a good sign… well for you guys — not so much for me because my supply of afternoon protein bites is diminishing rather quickly. 😉
It's okay, though. I've made four batches in the past week (just to be sure the recipe is spot on) so I have plenty to share.
The idea to make these bites came from my cousin's wife, Samantha. She's a bikini competitor and she's always posting about clean recipes on Facebook. A few weeks ago she posted about these chocolate strawberry protein balls and I knew I wanted to make something similar.
Around that same time I was also contacted by Santa Cruz Organic about creating a recipe to enter into a blogger recipe contest so I decided to use their creamy peanut butter and applesauce to make a homemade, organic peanut butter protein treat of my own.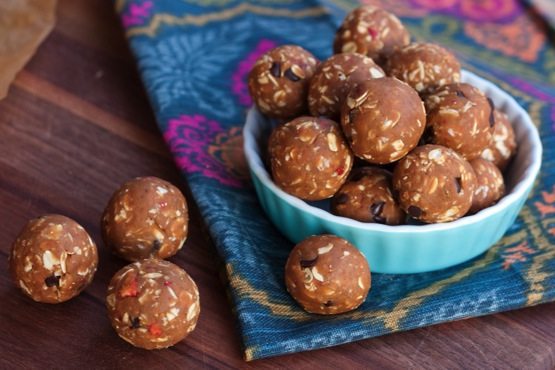 Sticking with the organic theme, all the ingredients in these bites are organic or natural including Perfect Fit protein powder, which is organic, vegan and gluten-free.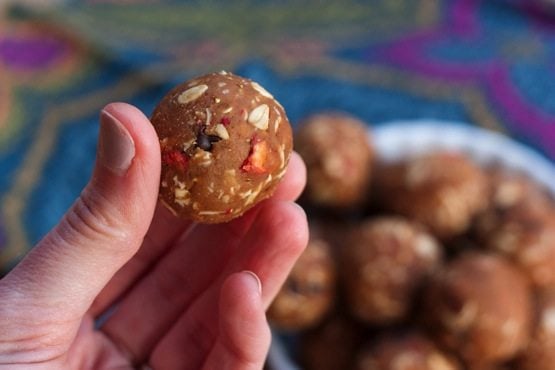 I also used organic freeze-dried strawberries. I haven't done much baking or cooking with freeze-dried fruit before, but I think I might need experiment more now. I really like the berry flavor and crunchy texture the freeze-dried strawberries add to the bites and the fact that they contain less sugar than most regular dried fruit.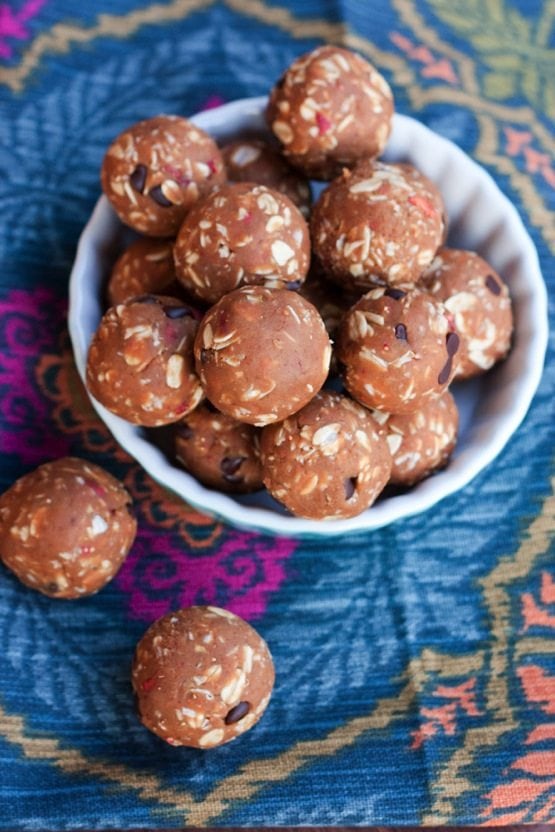 These little bites contain a good amount of protein, taste delicious and work great for breakfast, an afternoon treat or as a pre or post-workout snack. I've been eating them for all of the above. They also take almost no time to make — I like to make a batch while doing my food prep on Sunday so I have a portable snack for the rest of the week.
We are absolutely loving this recipe and hope you all enjoy it as much as we do. For those of you that requested the protein cookie, don't fret! I'll be sharing the cookie version in the next couple days.
Print
No Bake Peanut Butter Berry Chip Protein Bites
Author:

Yield:

18
---
Ingredients
1 cup old fashioned oats
2 scoops of organic vanilla protein powder (I used Perfect Fit)
heaping 1/2 cup creamy peanut butter
1/4 cup unsweetened apple sauce + 1-2 Tablespoons more, if needed
1/2 cup organic freeze-dried strawberries
2 Tablespoons honey or maple syrup
2 Tablespoons mini chocolate or carob chips (optional)
---
Instructions
Place oats, protein powder, freeze-dried strawberries and chocolate chips into a small bowl and stir to combine.
In a separate bowl mix together the peanut butter, applesauce and honey. Pour the wet peanut butter mixture over the dry mixture and stir well. Combining this mixture will take a little stirring power and it may seem a little crumbly at first. I used my hands to knead the dough near the end and that seems to help. If it's too crumbly, you can add an extra tablespoon of applesauce to moisten it.
Once combined, start forming the the dough into one inch balls.
Store in a covered container in the fridge or freezer.
---
Nutrition
Serving Size:

1 bite

Calories:

80

Sugar:

3

Fat:

4

Carbohydrates:

8

Fiber:

1

Protein:

4