These Thin Mint Protein Balls taste like the girl scout cookie we all love, but are packed with good for you ingredients like dates, cashews and chocolate protein powder. Vegan and gluten-free. 
Minty things, even if they're not green, totally work for St. Patrick's Day, right? I think so, but if you're not so convinced you can always make a green salad (I've got plenty of those for ya), a green detox smoothie or use sunflower butter to make these flourless zucchini muffins and they'll turn out green. <– Trust me, it works!
No but really you should just make these Thin Mint Protein Balls because they're pretty amazing.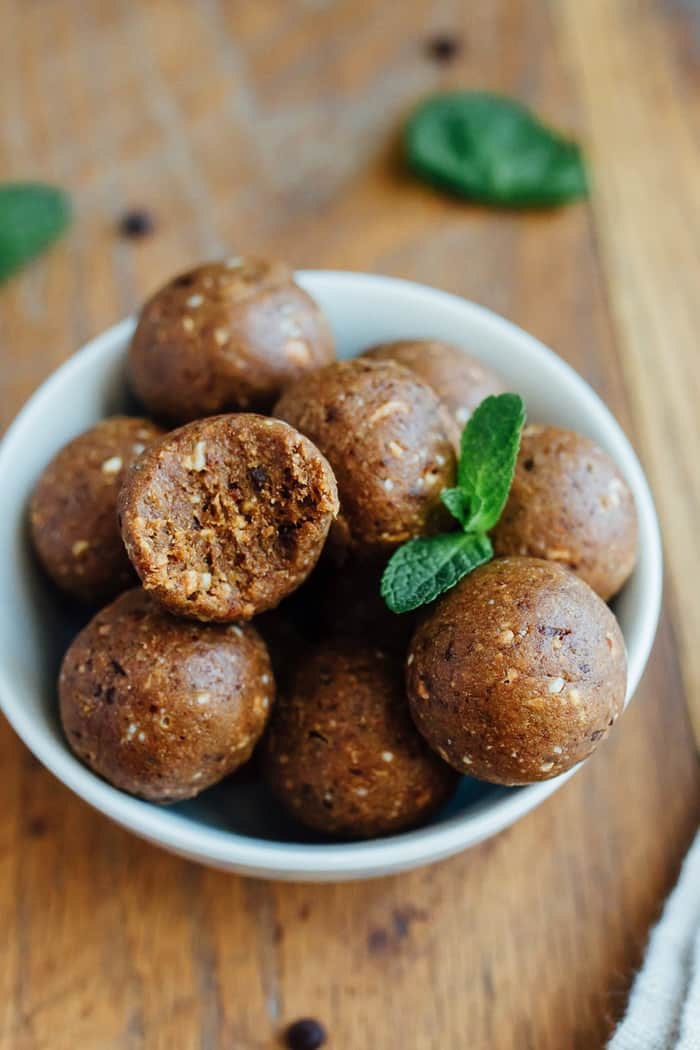 Typically I don't spend a ton of time in the kitchen on the weekends for work stuff, but this past weekend I was inspired and went a little ball crazy. I made a batch of my sinless samoas, chocolate almond crispy bites and these thin mint protein balls.
I'm most excited about the thin mint balls because now I finally have a healthy alternative for both of my favorite girl scout cookies.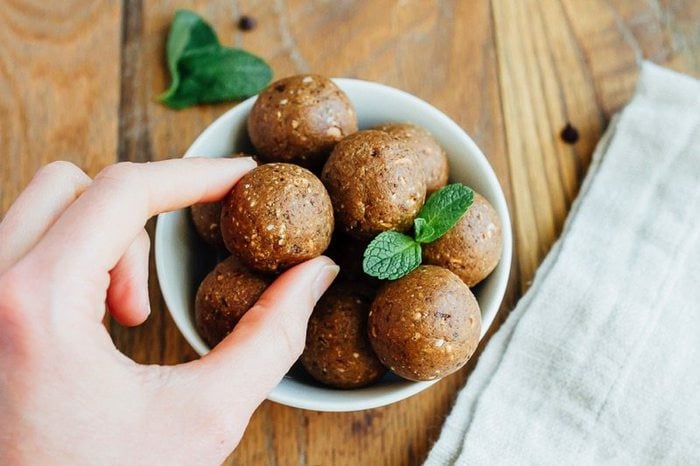 These babies start with a base of fresh medjool dates that are processed with raw cashews and chocolate protein powder. There's peppermint extract to give the balls a minty flavor, but what really makes these balls taste like thin mint cookies is the chocolate crispy rice cereal. It gives them the perfect amount of crispy, cookie crunch.
I've been eating these little protein balls as a snack on the daily and they're so good! Perfect as a pre or post workout snack or an energy booster in the middle of the afternoon. Did you know that peppermint has uplifting, energizing properties? Yup, even just taking a whiff of peppermint can help with anxiety and increase concentration. I have a bottle of peppermint essential oil that I keep on my desk for this very purpose. It's awesome for helping to ease headaches too.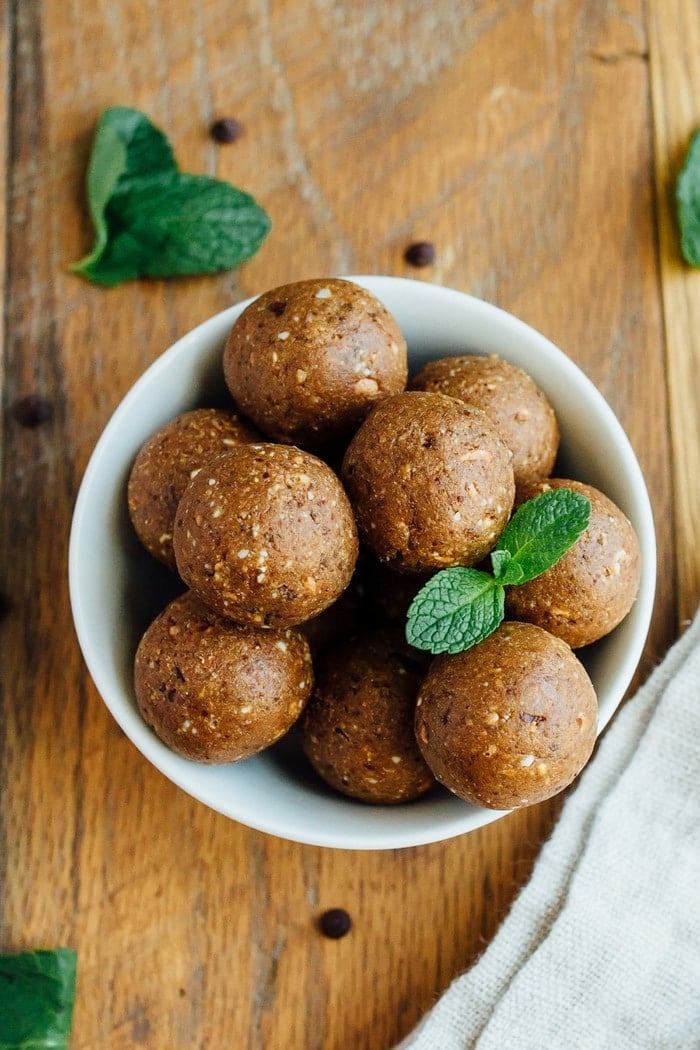 I took a sample plate with balls and bites to The Veil on Saturday — some for a surprise party Alyssa hosted for her fiancee and another plate to share with the staff. I went home empty handed so I guess that means they were a hit. I hope you all like these Thin Mint Protein Balls as well.
Print
Thin Mint Protein Balls
Author:

Yield:

13
---
Ingredients
1 cup (12-13) pitted dates
1/2 cup chocolate crispy rice cereal (I used Koala Crisp)
1/4 cup raw cashews
1 Tablespoon vegan mini chocolate chips (I used Enjoylife)
1/8 teaspoon peppermint extract
3 Tablespoons vegan chocolate protein powder
1/4 teaspoon sea salt
1 teaspoon water
---
Instructions
Add dates, 1/4 cup crispy rice cereal, protein powder, cashews, chocolate chips, peppermint extract and water into a food processor and process until combined. A large ball of dough will likely form. Separate the dough, add remaining rice cereal and pulse until just combined. (You want these to be broken up, but not completely crushed into flour.) It's okay if a few rice cereal pieces fall out of the dough, you can press them in as you roll the dough.
Scoop about 1 Tablespoon of dough at a time and roll into balls. Place balls on parchment paper as you roll them and then place in the fridge until ready to enjoy.
---
Nutrition
Serving Size:

1 ball

Calories:

99

Sugar:

16g

Fat:

2g

Carbohydrates:

21g

Fiber:

2g

Protein:

3g