Hey guys! I hope you all had a great weekend and Happy Labor Day to those in the US of A. This weekend I've spent a lot of relaxing, taking long walks with Olive and cooking up some tasty eats.
One thing in particular, which I alluded to in my last post, was made with apples and made the house smell amazing. Some of you already guessed it, but for those of you still wondering, it was homemade apple butter!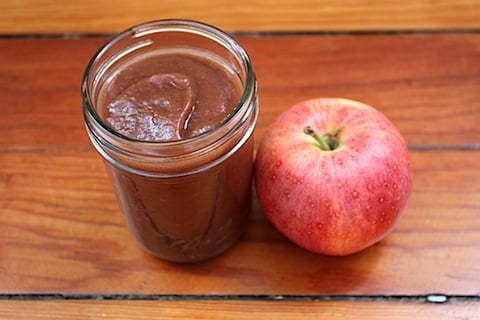 Although I'm not one to spread regular butter on my toast, I tend to love anything with butter in name – apple, pumpkin, almond, sunflower seed, peanut… I don't discriminate. Turns out that sugar is often added to all of these butters when commercially produced (check your labels)!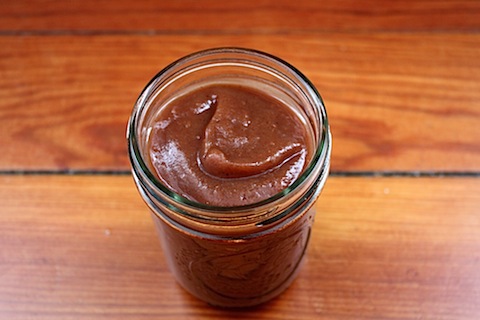 I've already made my own pumpkin butter before so I figured this year I would experiment with apple butter. Apples are surely sweet enough on their own so I decided to try my hand at a no sugar added apple butter and guess what? It turned out sweet!!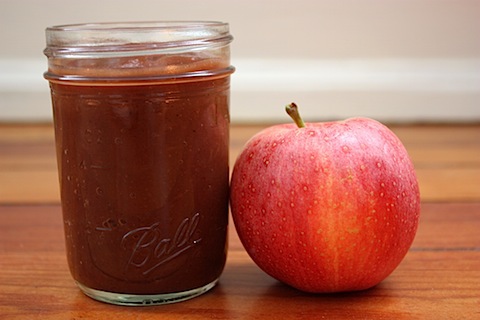 Lean on me.
Of course, I've already sampled the apple butter – several times actually, and it's delicious, perfectly sweet, and naturally healthy. If you're looking for a way to use up quite a few apples, a low sugar version of your favorite apple butter or a homemade gift idea, here's your recipe. 😉
Print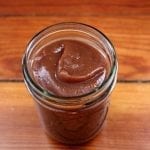 Healthy Homemade Apple Butter
---
Ingredients
10 medium sized apples (choose a sweet variety like Red Delicious or Gala)
2 cups of unsweetened apple juice or approximately 5 apples juiced
1/4 cup water
1/4 cup apple cider vinegar
1 T cinnamon
1/2 t pure vanilla extract
1/4 t ground cloves
1/4 t ground nutmeg
pinch of sea salt
---
Instructions
Place cored and sliced apples (not peeled) into a large crock-pot / slow cooker.
Juice apples and pour juice on top of sliced apples. Add water, apple cider vinegar and spices. Stir all ingredients together, cover pot and let it cook for 15 hours on low.
The liquid will reduce and the apples will be very soft, darker in color, and smell lovely. Turn the crock pot off and let the apples cool down a bit (about 30 minutes), then transfer the mixture into a blender (or use a hand/stick blender) and blend until completely smooth.
Let the apple butter cool and then transfer into storage containers. It should store well in the fridge for about 3 weeks, however I filled 8, 1/2 pint freezer-safe canning jars, put the lid on, let them cool and then placed all the jars (besides one) into the freezer. Now I have one jar to eat and some homemade Christmas gifts!!
---
Nutrition
Serving Size:

1 oz / 2T

Calories:

16

Sugar:

3.5g

Carbohydrates:

4g