Looking for healthy breastfeeding snacks? Here you'll find 18 easy recipe ideas, as well as, nutritious snacks you can pick up at the store.
People joke about pregnancy cravings and the fact that pregnant women are eating for two, but no one warns you about the hunger that comes on with breastfeeding! The body burns around 500 extra calories a day by producing milk so it's no wonder nursing mamas are so hungry.
While nursing and/or pumping for Olivia I was ravenous 24/7, especially in those early months. I felt like I could eat a huge breakfast and need a snack only 10-20 minutes later. Luckily I was prepared for this and had a ton of snacks on hand to keep my body fueled and those hunger pangs at bay.
What Makes a Good Breastfeeding Snack?
When it comes to choosing healthy breastfeeding snacks, the guidelines are super similar to choosing healthy snacks when you're not nursing. You want something with a good balance of macronutrients (protein, fat and healthy carbs). And more often than not you want to choose whole foods that are nutrient-dense – this mean as many nutrients with not a lot of calories. Vegetables, fruits and whole grains are all great nutrient-dense foods. Since you're caring for a little one, I also deem "one-handed snacks" to be good breastfeeding snacks! New moms, embrace this season of life with the one-handed snack.
Foods That Help Increase Milk Supply
While there's no magic foods to help keep your milk supply up when nursing, there are certain foods that are known to help with milk production. It's helpful to keep a mental list of these because many of them are easy to incorporate into your daily meals, but simply fueling your body with enough food (and water) will help immensely.
Oats – One of the reasons for decreased milk supply is low iron levels. Oats are super high in iron so some studies have shown that oats help with milk production. See all of my recipes with oats for inspiration.
Barley – Whole barely is the richest dietary source of beta-glucan, a polysaccharide that has been shown to increase prolactin (aka the breastfeeding hormone).
Brewer's yeast – It is packed with vitamin B, iron, zinc, magnesium and potassium. It has a lot of benefits, but you should check with your doctor before adding brewer's yeast to your diet. It can interact with a variety of medications and can cause some unwanted side effects. You can learn more about brewer's yeast in my lactation bites post.
Flaxseed – Flaxseed is high in omega-3 fatty acids (which are great for baby) and it also contains phytoestrogens that can influence breast milk production.
Fennel – Like flaxseed, fennel and its seeds contain phytoestrogens, which are known to help with milk production. If you're looking for ways to include whole fennel in your diet, I love these recipes: crackling cauliflower, fennel salad and orange tofu with fennel.
Fenugreek seeds – another seed that is known to boost milk supply. Both fenugreek seeds and fennel can be found in Mother's Milk tea.
Don't Forget to Hydrate!
I mentioned this above, but it deserves its own section to emphasize! Staying hydrated while breastfeeding is so important. If your milk supply is dropping, make sure you're getting enough water first and foremost! The recommendations for how much water you need to drink varies so just fill up a big reusable water bottle and make sure it's a priority for you.
18 Make Ahead Snacks for Breastfeeding Moms
Cookies + Bites
Having bite-sized snacks on hand saved me as a new mama. I loved having a sweet treat that was packed with nutritious ingredients. These can all be easily prepped ahead of time and stored before baby arrives.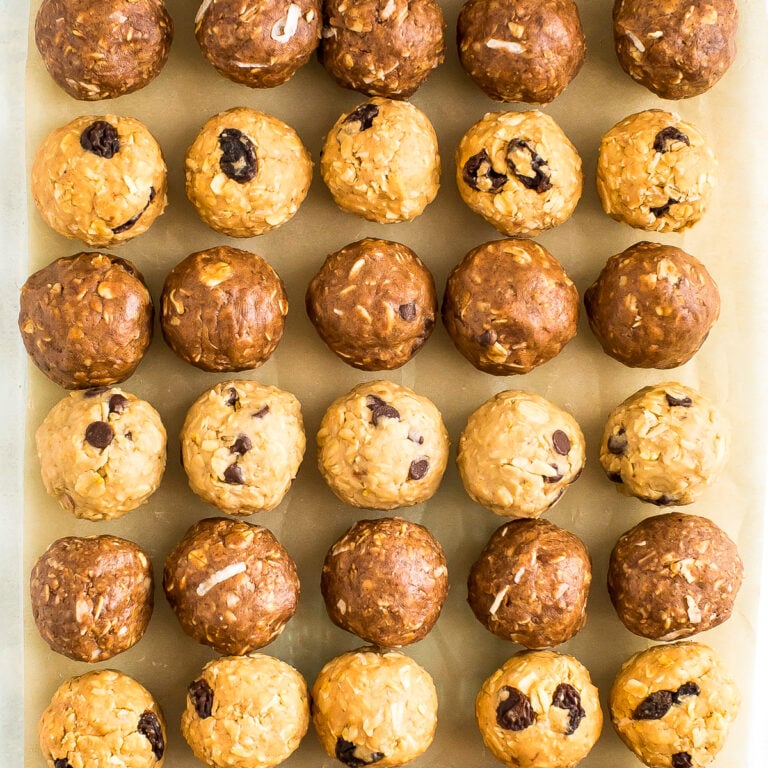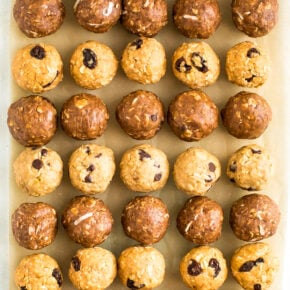 No Bake Protein Balls
The easiest no bake protein balls on the internet with four different flavors – chocolate peanut butter, tahini chocolate chip, cinnamon raisin and almond joy. Take 10 minutes to whip up a batch of these protein balls and snack healthy all week long! 
View Recipe
Smoothies
Smoothies are such an easy snack idea for new mamas, especially if you need a snack while baby is eating! They take only minutes to make and you can sip a smoothie while feeding your babe without worry about spilling on them. Here are six tasty smoothies to choose from, but you can also check out all of my smoothie recipes.
Savory Snacks
Sweet snacks are lovely, but sometimes you might be craving a salty snack like crackers or chips! Here are some healthy make-ahead options!
Store-Bought Breastfeeding Snacks
If you're a new mama that is thinking, "the last thing I have time for is making snacks for myself!" I've got a great list of healthy store-bought snacks that are perfect for this season of life!
Lactation protein powder – I was sent this Majka protein powder when I was breastfeeding and actually really liked it! It supports postpartum and boosts breastmilk production.
Lactation bites – I created my own version of lactation bites so I didn't try these Majka lactation bites but they would be so nice to have on hand when you need a quick snack.
Milkful Nursing Bars – while I haven't tried these nursing bars, I wish I knew about them when I was breastfeeding! They're made with clean ingredients and packed with ingredients that promote breastmilk production. Plus, who doesn't love just grabbing a granola bar instead of having to whip up a snack?!
Bananas – did you know that vitamin B6 is important for maintaining healthy weight gain and growth in babes?! Bananas are a great source of vitamin B6. I like to eat with a little nut butter or handful of nuts to balance out the snack.
Meat sticks – I always stock up on Chomps for an easy, protein-packed snack. They are perfect for eating with one hand while holding your babe and are made with high quality ingredients.
Greek yogurt – I always like to keep Greek yogurt in my fridge for a simple snack option. My fave brands are Stonyfield Organic Greek yogurt or Fage. It's a great snack on it's own but you can also add volume and nutrients by topping with nut butter, granola and/or berries. If you have a few more minutes to prep, I love my whipped yogurt bowl!
Cottage cheese – I love keeping cottage cheese on hand to add protein to oatmeal and pancakes but it's also a great snack on its own! Want to add a little more flavor? Make my roasted strawberry cottage cheese bowl… so good!
Nuts or trail mix – check the ingredient list when buying store-bought trail mixes and nuts to make sure there isn't a ton of sodium, oil and sugar added! When it comes to nuts I like to stick with lightly salted and roasted or raw and for trail mix I like to stick to mixes that are just nuts and dried fruit. Back to Nature has some great options with minimal ingredients. If you're feeling overwhelmed by the choices out there, I promise you can't go wrong with just a handful of almonds and cashews!
Protein Bars – RX Bars these are my go-to store bought granola bars because their ingredient list is so minimal. They have a ton of flavor options, but my personal favorite is the chocolate sea salt.
Nut butter packs – have you seen those little squeeze packs of almond or peanut butter? They're a great way to easily add protein to snack! Enjoy on their own or pair with oatmeal or sliced fruit. I love Artisana because their nut butters are raw and have no added sugar or oil.
Hummus – I have a homemade recipe for hummus but there's no shame in grabbing store-bough! I love Cedar's and Cava but also buy Sabra sometimes. Dip fresh veggies, crackers or pita chips for a quick, easy snack.
Wild Planet tuna – This canned tuna is a true staple for my pantry. It's wild-caught and tastes so much better than other canned tuna I've tried. Eat it on it's own or mix with mashed avocado, hummus or even chopped apples for a delicious, protein-packed snack.
Roasted Chickpeas – these Biena chickpea snacks are super crunchy and made with minimal ingredients – just roasted chickpeas, sunflower oil and sea salt. They satisfy my salty chip cravings and are packed with protein and fiber.
Crackers – I skip the crackers that are high in sodium, loaded with refined grains and have a lack fiber. These flax seed crackers are great because they're loaded with 8 grams of fiber and 6 grams of protein per serving. Another great store-bought cracker option is these Back to Nature whole lotta seeds cracker. They have a whopping 7 grams of protein per serving thanks to the natural protein found in the four seeds (flax, chia, poppy, and hemp) and the addition of a plant-based pea protein powder. I also LOVE the Simple Mills almond flour crackers!
Easy Breastfeeding Snack Recipe
Last but not least, here's one of my favorite homemade snacks to enjoy while breastfeeding, besides my lactation cookies, which I'm obsessed with… are lactation bites. They're so easy to make and taste delish. Here's the recipe:
More Collections and Recipes You Might Enjoy