Postpartum Essentials
0
Published Dec 18, 2019, Updated Dec 12, 2022
Caring for a newborn is hard work, but you can't forget about yourself! Here I'm sharing my fave postpartum essentials that every new mama should have on hand. This post is sponsored by New Chapter.
It's hard for me to believe that Olivia is almost 6 weeks old. It's been a whirlwind since her birth (read the full story here) and the time has flown by. She recovered like a little champ from her open heart surgery and we were able to be discharged from the hospital the day before Thanksgiving. At this point we're enjoying being at home and working diligently on her feeding skills so she can hopefully come off the feeding tube soon.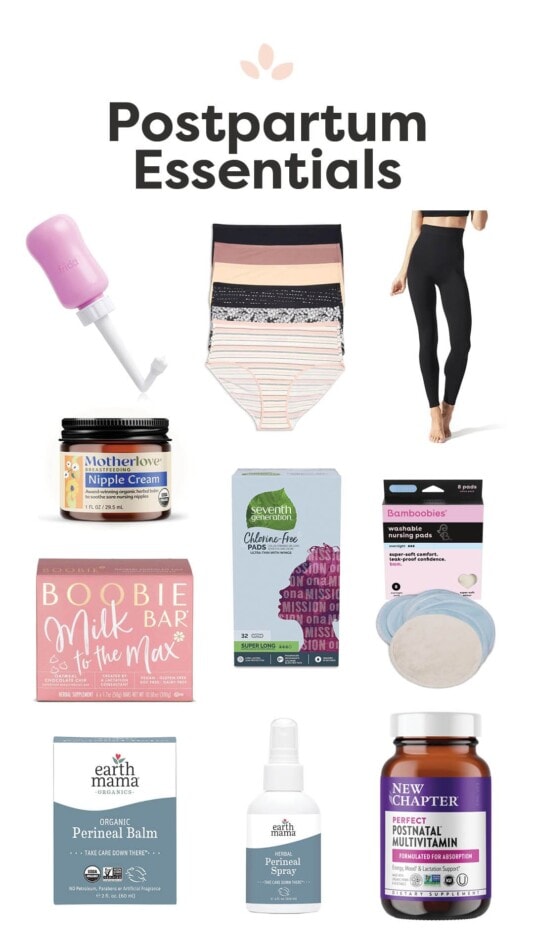 A couple weeks ago, while I was in the midst of recovery from birth and spending 16+ hours at the hospital during Olivia's recovery from surgery, I put together a list of my must-have items that have made postpartum life a little easier for me.
Every new mom is constantly thinking about what the baby needs while also shuffling around in a diaper of their own. It's certainly not easy, but there are a few things to have on hand (either in your hospital bag or waiting at home) that will certainly help ease the discomfort that comes along with childbirth and the postpartum period.
Nutrition
Labor is called labor for a reason… it's an insane amount of work. One study has shown that giving birth is harder on the body than running a marathon. Yup, and just like with running a marathon, fueling your body afterward is key. Eating nutritious food and getting in all the right nutrients will not only help your body recover and heal, it will also give you energy for all those middle of the night feeding sessions.
Of course, you can plan ahead and meal prep healthy food options before the baby arrives or set up a meal train so your friends and family can bring you meals, but it's also important to keep up with your vitamin routine.
Some doctors recommend that women continue taking their prenatal vitamins, which is totally fine, but I opted to switch to a postnatal vitamin after Olivia arrived. I'm taking New Chapter's Perfect Postnatal Multivitamin, which is similar to their Perfect Prenatal, but with additional ingredients to help with lactation, as well as energy and mood support for the postpartum period.* It's also fermented for better absorption.
Along with the Perfect Postnatal, I'm continuing to take the Wholemega for Moms and the Seed Daily Synbiotic Probiotic that I took during my pregnancy. The Wholemega supplement includes Omega-3s that support healthy brain and eye development for baby (through breastfeeding), as well as, positive mood and heart-health for mom.* And the probiotic provides good bacteria for both gut and vaginal health.*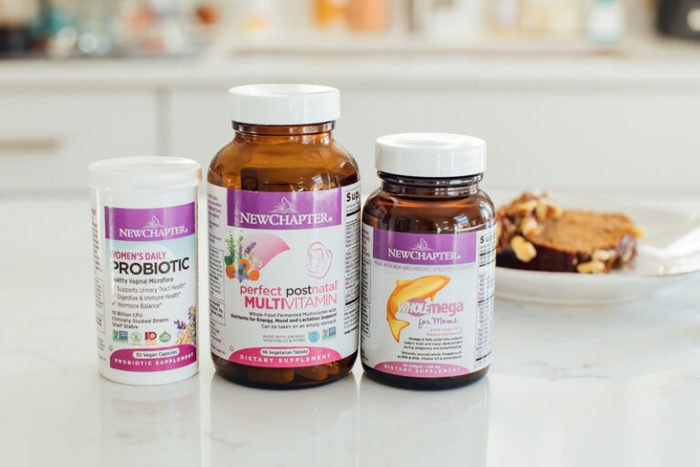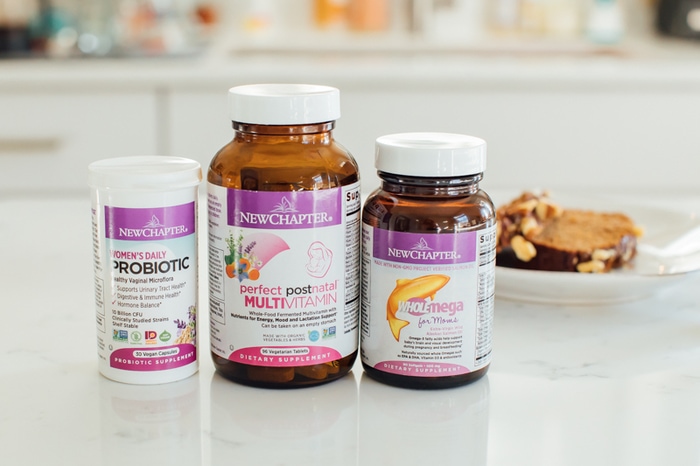 I shared more details about New Chapter and why I love their vitamins in my pregnancy supplements post, but in short New Chapter's vitamins are made with whole-food ingredients, non-gmo verified and fermented so they're easier to absorb. Plus, I feel really good when taking them and at the end of the day, that's the most important thing, in my opinion.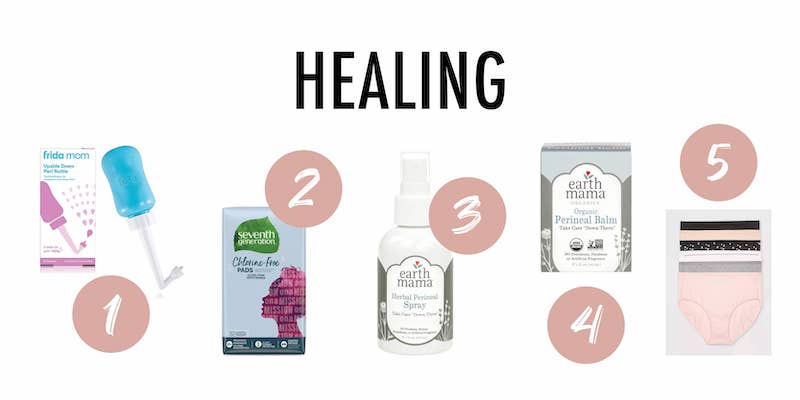 Postpartum Healing
Oh my gosh… I don't why this isn't talked about more often, but there's a lot going on in your nether regions after a vaginal birth. The hospital gives you the essentials, but there are some better options out there, especially if you want to use more natural products.
Peri bottle – This bottle is like a portable bidet to keep your under bits clean (and helps with stinging when you pee) after birth. The hospital gives you a squirt bottle, but this is way better because you can squirt it upside down. Also, it works great as a water sprayer for newborn baby baths too.
Thin pads – The pads the hospital gives you are super thick, which is fine for the first day or so, but after that you'll want thinner pads that don't feel like a diaper. I found these pads that are chlorine free, extra long and have wings to keep them in place.
Perineal spray – This natural cooling spray helps to ease discomfort and swelling — it's similar to the Dermoplast that the hospital gives you, but natural. It has witch hazel, lavender and peppermint. Added bonus… it smells really good. I would literally use it as a room spray!
Perineal balm – Another product for cooling and healing the perineal area after a vaginal birth. I like that this balm is free of petroleum, paraben and artificial fragrances. It also helps with hemorrhoids. I've used it every day since delivery.
Brief undies – High waisted cotton brief undies are essential, IMO! I got this pack from Target and they've been awesome. They do run small so I ended up sizing up!
Nursing/Pumping Essentials
If you're planning to breastfeed or pump, I can't recommend these products enough!
Nursing/Pumping Bras – I bought my first nursing bra while I was pregnant when my regular bras stopped fitting, but since Olivia was born I've basically been exclusively pumping and regular nursing bras aren't the best if you want a hands-free pumping experience. A good friend recommended this hands-free pumping bra before Olivia was born and I'm so glad I brought it with me to the hospital because it has been a life-saver. While wearing it, you can pump both sides at the same time and still use your hands! Plus, it's comfortable enough to sleep in. I bought another brand to try and this one is hands-down my favorite. I now have it in three different colors.
Nipple Cream – I've tried a ton of different nipple creams and the Motherlove nipple cream is hands-down my favorite. It's nursing friendly, organic, goes on smooth and doesn't feel tacky like other brands.
Breast Pads – Once your milk comes in, leaky boobs are a real thing. Breast pads are awesome to keep from leaking all over the place. You can certainly buy disposable pads, but I personally love Bamboobies because they're washable! They were also great while we were in the hospital because after wearing one all day I'd could leave it in the bassinet Olivia so she would be comforted by my scent when I wasn't there. This was a tip from one of my friends who is a NICU nurse.
Lactation Treats – I highly recommend making a batch of my lactation cookies or lactation bites to help with your milk supply and also provide a quick and easy snack during all those feeding sessions. Breastfeeding hunger is crazy and even more intense than pregnancy hunger, IMO. Check out all my favorite breastfeeding snacks! No time to make your own snacks? You can buy lactation bars too!
Comfy Clothes
At this point I'm back in my stretchy pre-pregnancy jeans, but I totally lived in maternity jeans and leggings for the first couple weeks after giving birth. I also found that large, flowy tops are great for pumping because I can easily hide all the pumping parts under them. Here are a few of my favorite postpartum clothing items.
Maternity Jeans – After delivery, you'll likely still wear maternity pants for the first few weeks… maybe longer. I personally really liked wearing these "under the bump" waistband maternity jeans because the full belly panel seems unnecessary without an actual bump and I like the fact that they have real front pockets, something most maternity jeans don't have.
Leggings – My favorite leggings throughout pregnancy and postpartum have been the Lululemon Align leggings! I packed four pairs for our hospital stay and they're basically all I wanted to wear. That said, I also bought a pair of these Blanqi high-waisted postpartum/nursing leggings and they definitely came in handy the first couple days after birth.
More Collections and Posts You Might Enjoy
I hope this post is helpful. For all my mamas, let me know in the comments if there are any essentials that made the postpartum period easier for you.
*These statements have not been evaluated by the Food and Drug Administration. This product is not intended to diagnose, treat, cure, or prevent any disease.