How I'm Meal Prepping Before Baby
14
Published Oct 28, 2019, Updated Nov 30, 2023
Getting ready for your baby's arrival? Here are some healthy meals and snacks that you can prep and freeze in advance to make those first few weeks a bit easier!
Holy cannoli, I felt like baby girl was going to be here any minute back in August, but now it's really here! I'm 39 weeks so she might make her arrival at any second. Besides working my buns off to get ahead on blog content so you all won't miss me while I'm on maternity leave, I'm also prepping my freezer so Isaac and I have plenty of meals and snacks when we get home from the hospital.
This is similar to my meal prep philosophy, but for my baby prep I am focusing on breakfast, dinner and snacks. In general, I can throw together a healthy lunch pretty quickly or eat leftovers, but if I don't have breakfast or snacks ready to go, I tend to reach for less healthy choices. Same goes for dinner… I know that if we don't have something planned, we'll end up ordering takeout or swinging by one of our local go-to spots for a prepared meal, so I'm getting ahead of the game!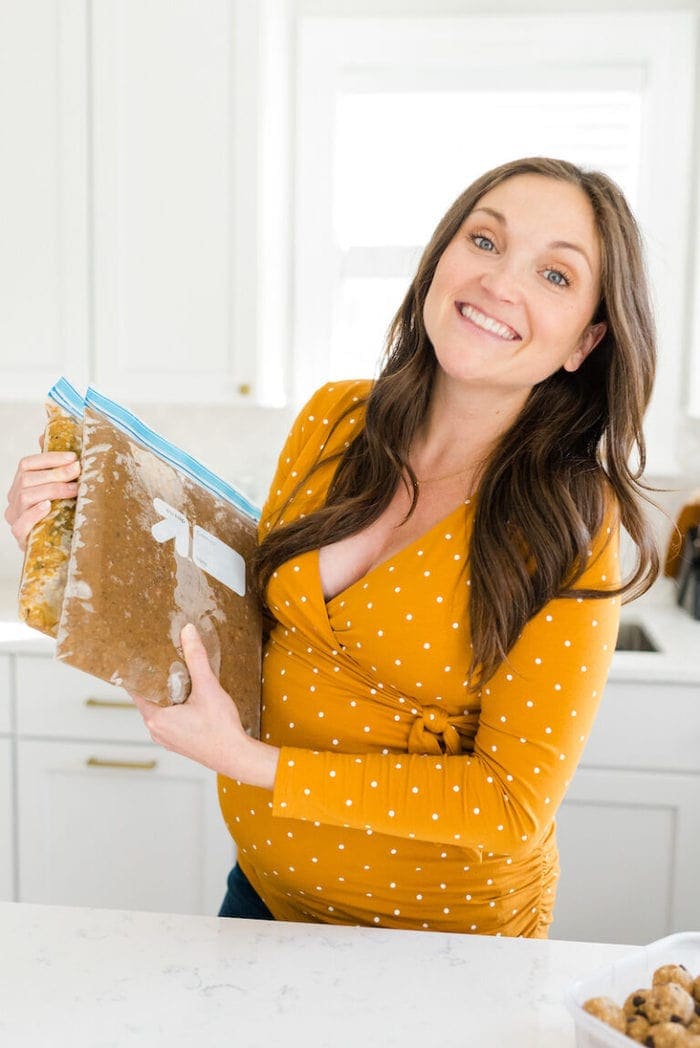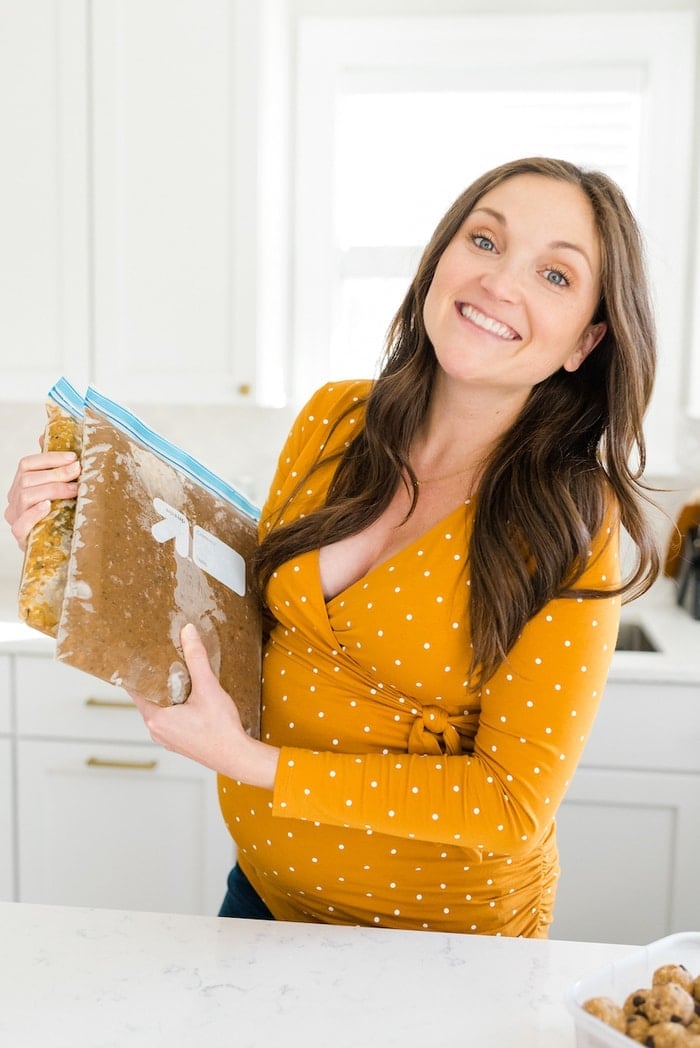 Since we don't know exactly when baby girl will arrive and because I don't want to head to the kitchen to meal prep when I feel the first contraction (LOL can you imagine? I'm not that much of a meal prep lover…) I am mainly focusing on making things that I can prep in advance and freeze. We don't have a huge freezer so I'm also just planning out ideas of items that I want to keep on hand for easy meals and snacks.
Luckily, we live in an area where we can get groceries delivered so I know we will continue doing that as well. I already place an order each week for recipe testing, but I feel like online grocery shopping is going to be my BFF once the babe arrives.
Here's my Pre-Baby Meal Prep Plan
Since I was already writing ideas and figuring out my meal prep strategy for when the baby arrives, I figured it would be helpful to share it here for those of you who are expecting as well. I could also see these ideas being helpful for someone who is planning to have a surgery or knows that they have an extremely busy time coming up in their life. Meal prep like this can be a game-changer!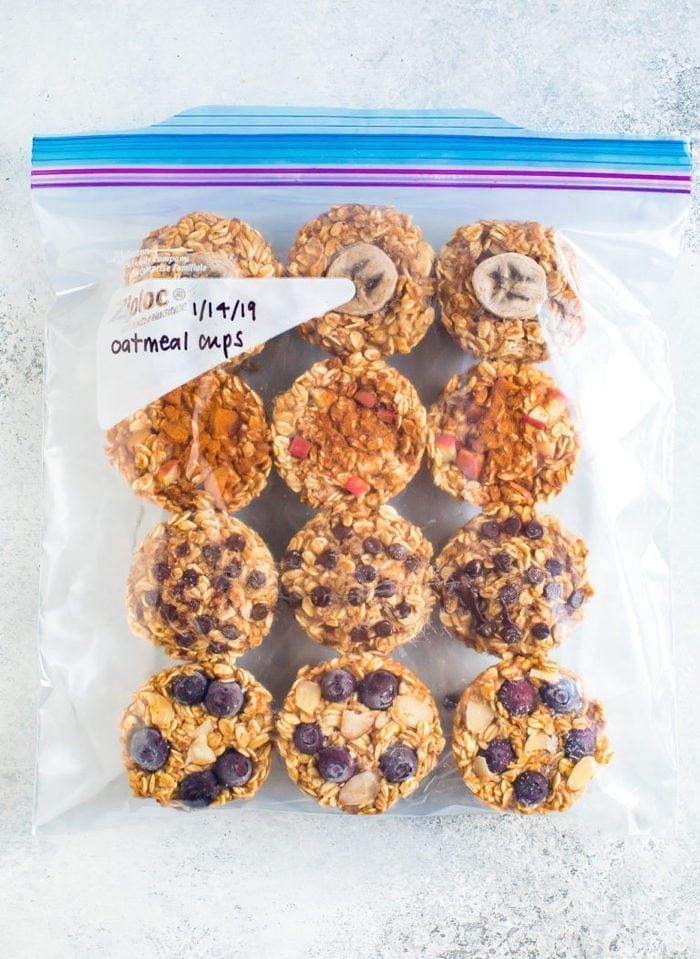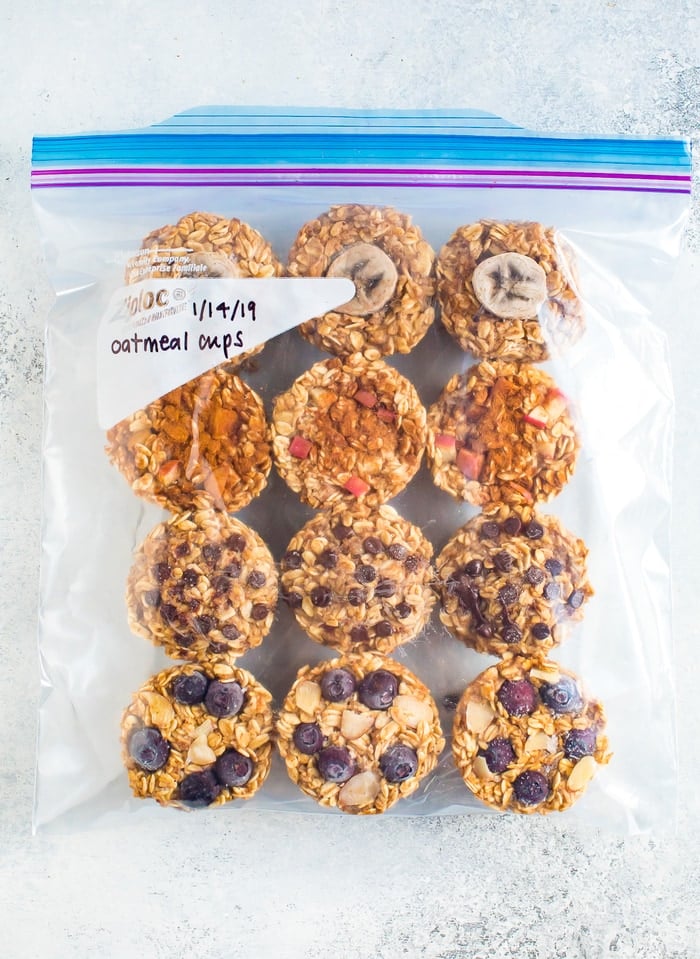 Breakfast Meal Prep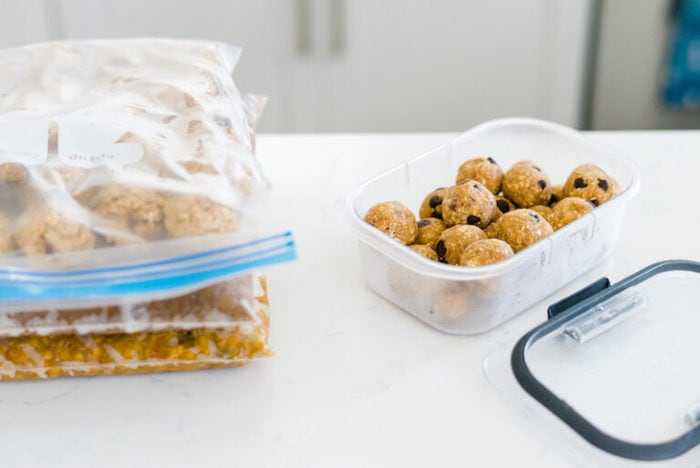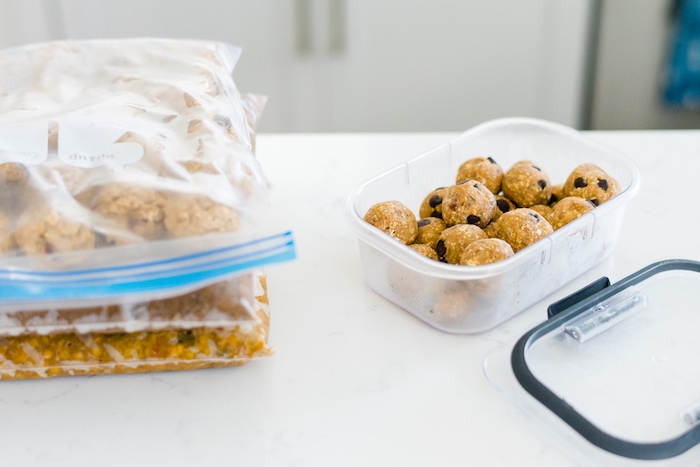 Other Quick and Easy Breakfast Ideas
In addition to the freezer meals, I've been brainstorming other breakfast ideas that are quick and easy to prep, but don't require freezing. These are things that I can easily throw together and eat with one hand (apparently this is really handy when you have a newborn). Some ideas include:
Overnight Oats – I've made these so many times, I can basically make them in my sleep! I love these as a quick breakfast option because they're so easy to prep the night before, but you can also double/triple the recipe to make a big batch that will last all week.
Chia Seed Pudding – With such simple ingredients and minimal prep work, I know that chia pudding is something I'll easily be able to prep for breakfast (and snacks) once the baby arrives.
Smoothies – I'm going to make sure that I have all my typical smoothie items on hand, including frozen fruit (and veggies), protein powder, chia seeds, hemp seeds, etc. I'm sure I'll have this health nut smoothie on repeat. I didn't plan this far in advance, but you could also make and freeze smoothie packs that you can simply dump into the blender with liquid!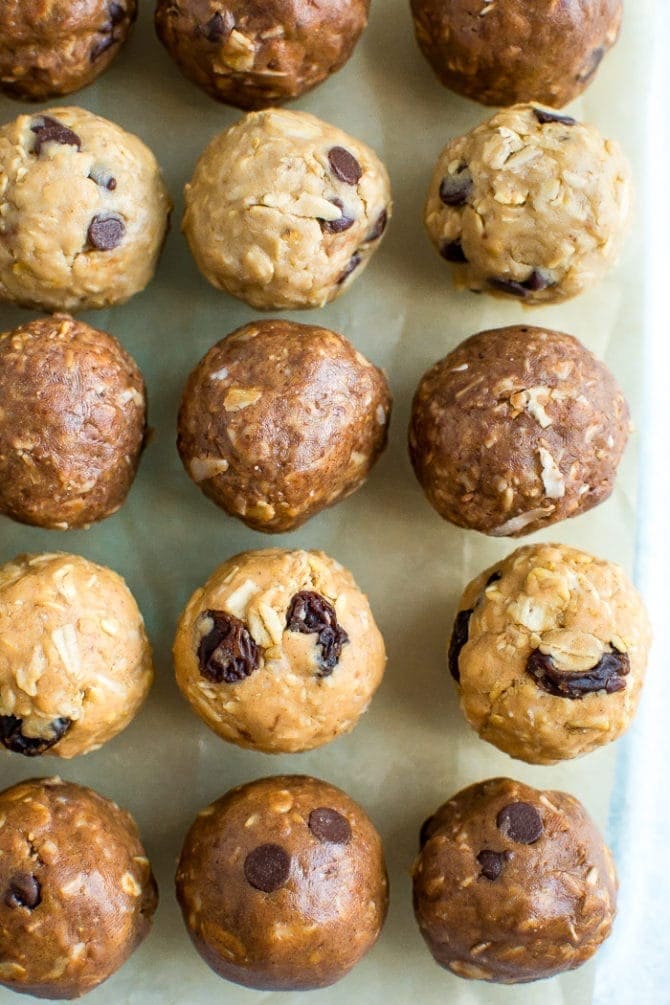 Snack Meal Prep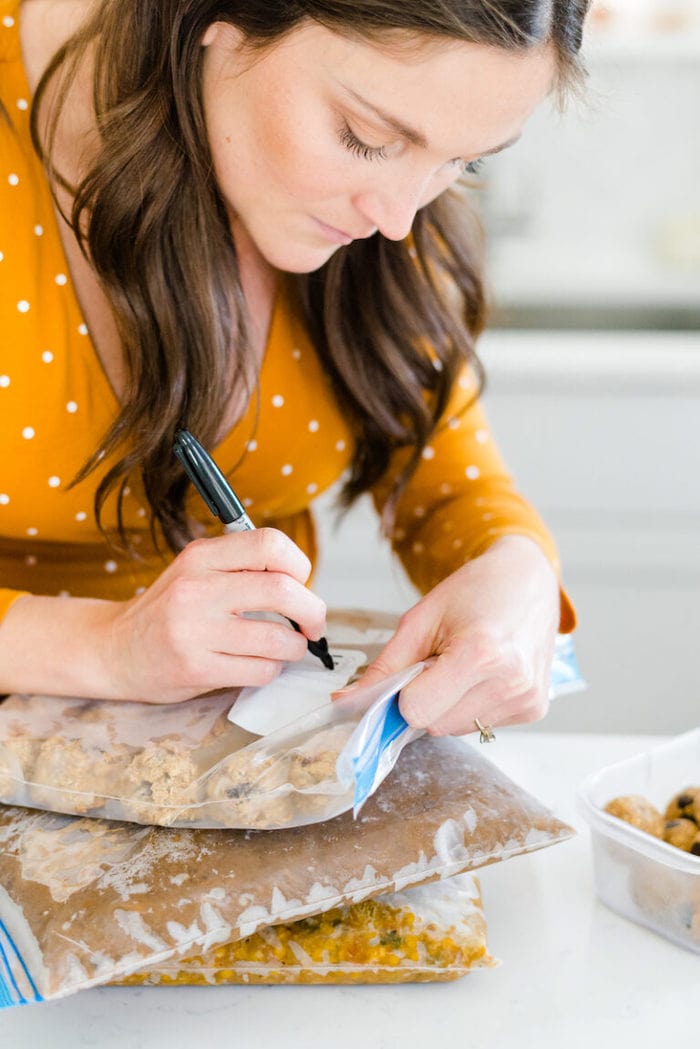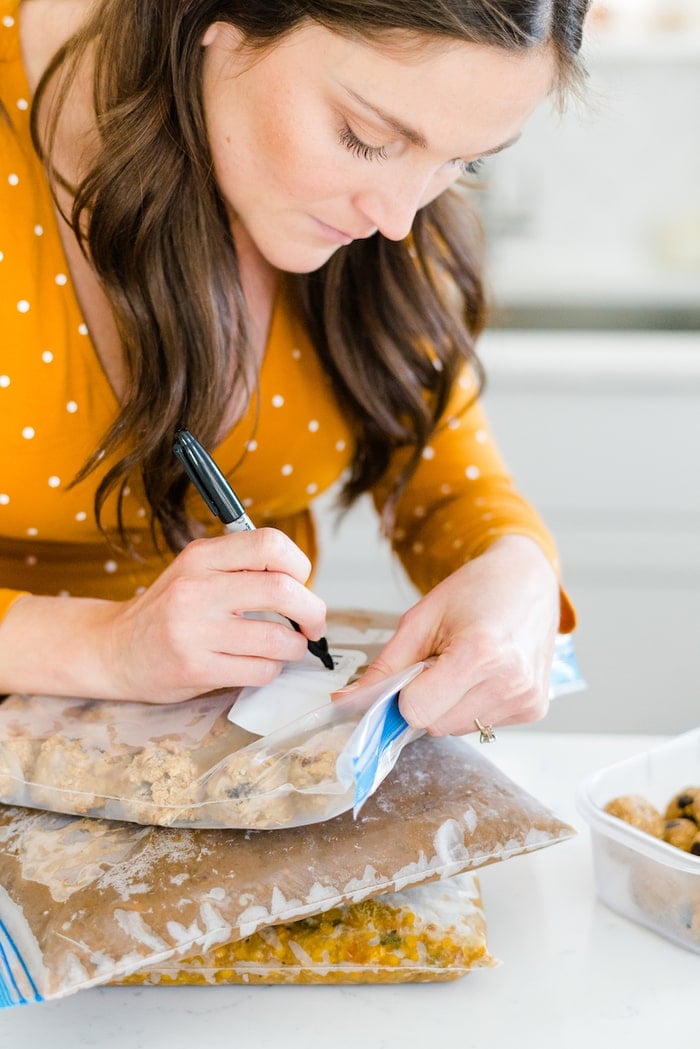 Fresh Snacks to Have on Hand
In terms of perishable snacks that I plan to keep on hand, here's what I'm thinking:
apples or bananas and nut butter
hummus and veggies (buy them pre-chopped for ease)
hummus and almond flour crackers (I love Simple Mills almond flour crackers too)
hard-boiled eggs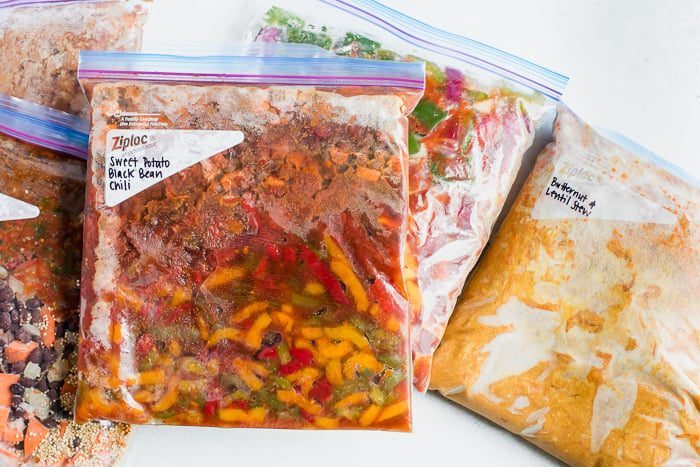 Healthy Dinner Meal Prep
For dinners, I want to make a variety of meals that we can easily heat up without any extra prep or thought. Isaac actually knows his way around the kitchen, but I know we'll both have to adjust to taking care of a new human in our home, so I'm doing my best to keep meal prep simple for both of us!
There are two types of freezer meals when it comes to dinner: you can prep the entire meal, bake it, let it cool and then freeze it OR you can meal prep the meal, freeze it and then bake it for the first time when you're ready to enjoy it. I personally prefer the second option – the textures and flavors are usually better – but there are some cases where it makes sense to prep and freeze the full meal.
Here's what I'm thinking:
Vegetarian Slow Cooker Freezer Meal Prep – In this post I have four different vegetarian recipes that are easily prepped in freezer bags, so all you have to do is throw the ingredients into your slow cooker. They're all awesome, but I especially love the red lentil stew with butternut squash, cheesy Mexican quinoa and sweet potato chili. I'm definitely prepping the cheesy Mexican quinoa!
Black Bean Soup – Soups are such a great option and this black bean soup is delicious and freezes well. I already have a bag of it in the freezer.
Falafel – These baked falafels are super easy to whip up and can easily be frozen.
Black Bean Burgers – Of course you can buy packaged frozen veggie burgers, but I love making my own and freezing them. For these black bean burgers I would recommend cooking them, letting them cool and then freezing. For reheating, let them thaw in the fridge and then reheat on the stovetop or in a toaster oven.
Teriyaki Chicken – I'm going to prep all the ingredients (raw chicken + the marinade) in a freezer bag so I can thaw and toss this in the slow cooker for an easy meal.
Sweet Potato and Black Bean Freezer Burritos – I haven't tried this recipe yet, but they seem delicious and like a great option to prep and freeze.
Freezer Friendly Chicken Marinades – I haven't decided which of these I want to try, but I'm going to pick two and make them!
Egg Casserole – Egg casseroles and frittatas can be frozen for 2-3 months. I might freeze these in individual servings so they're easy to thaw and reheat when we need them.
Quick and Easy Dinner Ideas
Pasta with Sauce – This is a pantry staple recipe that we fall back on when we're in need of a quick and easy meal. I like to keep the pantry stocked with a couple packs of dry pasta and a couple jars of sauce. I really like using legume-based pastas for extra protein and that way I don't feel the need to add an additional protein source. Lots of times I'll just roast broccoli to pair with the pasta and we'll top it with a little cheese.
Cauliflower Fried Rice – I always have a couple bags of cauliflower rice and stir-fry veggies in the freezer so whipping up cauliflower fried rice is a breeze. The only other things needed are eggs and ingredients to make the sauce, like tamari and sriracha.
Breakfast for Dinner – Whenever I have no idea what to make for dinner I know I can fall back on breakfast for dinner. Usually I'll just cook up 2 eggs and make a batch of roasted sweet potatoes to have on the side or make a slice of avocado toast with 2 eggs.
Stir-Fry – Sometimes I'll follow a recipe for this, but it's essentially just veggies, protein of choice and teriyaki sauce (homemade or store-bought) stir-fried. Serve over whatever rice you like.
Grain Bowl – Farro, quinoa or rice, mixed veggies (these roasted root veggies are great) and protein of choice (I love my apple cider vinegar chicken). I like to keep frozen quinoa and rice on hand for easy bowl meals like this.
Meal Sized Salad – Greens topped with chopped veggies (whatever you have in the fridge), protein of choice, 1-2 Tablespoons of cheese, avocado and dressing of choice. If there's no time to make a homemade dressing, I'll purchase one of my favorite healthy store-bought salad dressings to have on hand.
Sheet Pan Meals – I have a ton of sheet pan meals that are super easy to whip up and don't require much in the way of clean up. This chicken sausage sheet pan meal, these sheet pan shrimp fajitas and this vegetarian sheet pan meal with butternut squash and tofu are my favorite sheet pan meals at the moment.
What More Baby Meal Prep Ideas? Check Out These Posts:
More Interesting Articles: