Top Healthy Store-Bought Salad Dressings
13
Published Dec 13, 2017, Updated Aug 16, 2021
No time to make a homemade salad dressing? I've got you covered! Here are my favorite healthy store-bought salad dressings made with clean ingredients.
It's no surprise that I love salads. I'm always coming up with new salad recipes and making homemade salad dressings. Homemade dressings are relatively easy and they're usually healthier than store-bought, but sometimes you simply don't have time to make a dressing from scratch and I totally get that.
Which is why I want to share my favorite healthy store-bought salad dressings with you. These dressings are the ones I buy and use on the regular… when I'm not using one of my homemade salad dressings. I legit have every single one of these in my fridge right now!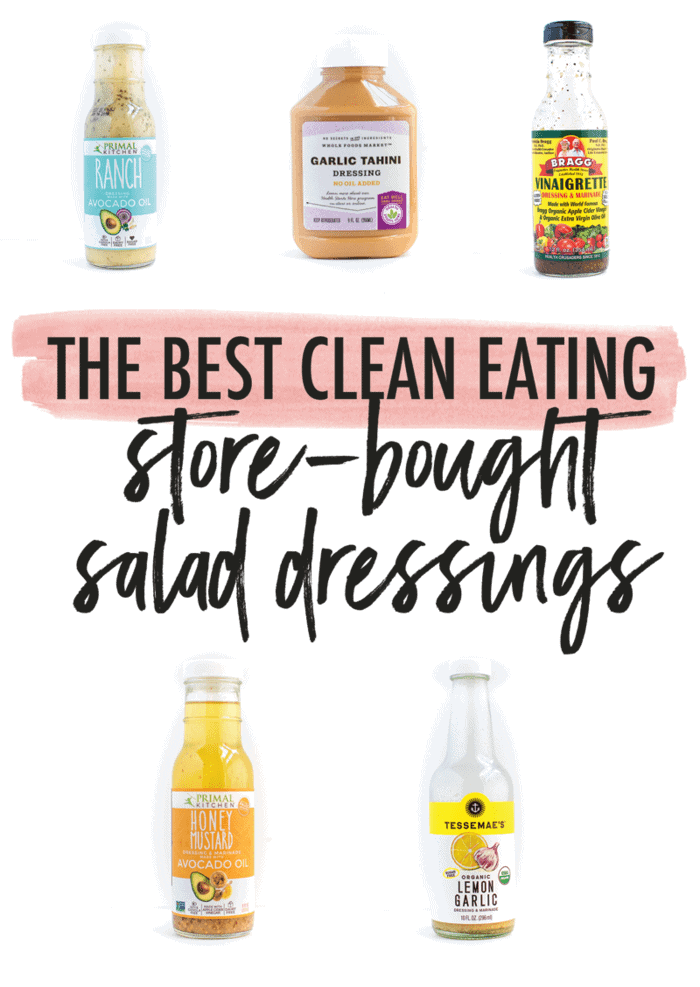 How to Spot a Healthy Salad Dressing
Read Those Labels — Typically the shorter the ingredient list, the better. Look for clean ingredient lists without cheap, hydrogenated oils, HFCS, tons of additives, food coloring and thickeners. Once you've looked at the ingredient list, check out the nutrition facts so you know exactly how much is a serving, usually 2 Tablespoons but sometimes it will differ depending on brand). For instance, I know Tessemae's dressings are 1 Tablespoon per serving instead of 2. Look at the sugar content and be mindful about how many calories are in a serving.
Skip Fat-Free Dressings — Healthy fats are good for us and research shows pairing a salad with a little fat can help our bodies absorb all the nutrients in those veggies. Whenever a packaged item (like salad dressing) says "fat-free" it usually means that the item is loaded with extra sugar to make up for the lost favor from fat. No bueno!
Skip the Vegetable Oils — Most vegetable oils (including soybean, cottonseed, canola, corn and plain vegetable oil) are highly processed, usually made from GMO crops and rich in omega-6 fatty acids, which can contribute to inflammation when consumed in access. While both omega-3 and omega-6 are essential fatty acids the ideal omega-6:omega-3 ratio is 4:1, but with the Standard America Diet our ratio is much higher (about 16:1). Studies show that diets high in omega-6 fatty acids are pro-inflammatory while diets high in omega-3 fatty acids are anti-inflammatory. See my post on cooking oils for more info on this.
Look at the Sugar Content — Most salad dressings have a little sugar to balance everything out, but some bottled dressings are loaded with way too much. My recommendation is to look for a dressing that has less than 3 grams of sugar per serving.
Measure — When it comes time to use salad dressings it can be really helpful to measure. Most healthy dressings are anywhere from 50-200 cals per serving and if you pour them on without measuring you can easily stack up a ton of extra calories without realizing it. A little goes a long way.
My Favorite Healthy Store-Bought Salad Dressings
1. Whole Foods' Garlic Tahini Dressing (vegan, sugar-free, oil-free) — If I had to pick a favorite dressing this would probably be it. Tahini is the best and I love it combined with lemon and garlic for a zesty light dressing that's oil-free, low in calories and sugar, but still tastes rich. This is the dressing that Whole Foods uses for their garlicky kale salad. Don't have a Whole Foods nearby or what to make it yourself? I have a copy-cat garlic tahini dressing recipe here.
Ingredients: Filtered Water, Roasted Garlic Puree (Garlic, Citric Acid), Sesame Tahini (Ground Sesame Tahini (Ground Sesame Seeds), Apple Cider Vinegar, Soy Sauce (Water, Wheat, Soybeans, Salt, Alcohol (to retain freshness), Vinegar, Lactic Acid), Dried Yeast, Lemon Juice Concentrate, Non-GMO Corn Starch, Xanthan Gum.
Nutrition: 2 Tablespoons = 45 cals, 2.5g fat, 96mg sodium, 4g carbs, 1g fiber, 0g sugar, 2g protein
2. Primal Kitchen Honey Mustard (gluten-free, dairy-free) — Being a honey mustard fan my whole life it's no surprise that this dressing from Primal Kitchen caught my eye immediately. After one taste I was hooked. I love the sweet and savory combo it's got going on. I love that Primal Kitchen dressings are made with avocado oil, which is loaded with antioxidants and omega-3 fatty acids.
Ingredients: Avocado Oil, Water, Organic Apple Cider Vinegar, Organic Stone Ground Mustard (Water, Organic Mustard Seeds, Organic Vinegar, Sea Salt, Organic Spices), Organic Honey, Organic Lemon Juice Concentrate, Sea Salt
Nutrition facts: 2 Tablespoons = 110 cals, 11g fat, 180mg sodium, 3g carbs, 0g fiber, 2g sugar, 0g protein
3. Tessemae's Lemon Garlic (vegan, gluten-free, sugar-free) — A tried and true classed, lemon and garlic together is straight perfection. I love this as a simple dressing over kale or as marinade for chicken.
Ingredients: Organic High Oleic Sunflower Oil, Organic Sunflower Oil, Organic Lemon Juice, Organic Extra Virgin Olive Oil, Organic Mustard (Organic Vinegar, Water, Organic Mustard Seed, Sea Salt, Organic Turmeric, Organic Spices), Organic Garlic, Sea Salt
Nutrition facts: 1 Tablespoon, 90 cals, 10g fat, 105mg sodium, 0g carbs, 0g protein, 0g sugar, 0g protein
4. Bragg's Vinaigrette (gluten-free) — If you haven't already noticed, I'm obsessed with all things apple cider vinegar and this dressing is no different. It's a simple vinaigrette, but loaded with flavor from the vinegar, liquid aminos, honey and spices. This is my go-to when I need a basic dressing to liven up a salad, but I also like using it as a marinade.
Ingredients: Bragg Organic Apple Cider Vinegar, Bragg Organic Extra Virgin Olive Oil, purified water, organic honey, organic garlic, Bragg Liquid Aminos, organic onion, organic black pepper, natural xanthan gum.
Nutrition facts: 2 Tablespoons = 90 cals, 9g fat, 60mg sodium, 3g carbs, 0g fiber, 2g sugar, 0g protein
5. Primal Kitchen Ranch (gluten-free, sugar-free) — Ranch has never been my go-to salad dressing… I tend to go for sweet instead of creamy BUT I really like using it as a dip for veggies and this version from Primal Kitchen is one of cleanest versions I've been able to find. Plus it tastes darn good. It makes a great dip for my buffalo cauliflower wings if you don't have time to make homemade ranch.
Ingredients: Avocado Oil, Water, Organic Apple Cider Vinegar, Organic Distilled Vinegar, Cream of Tartar, Sea Salt, Gum Acacia, Organic Cage-Free Eggs, Organic Onion Powder, Organic Garlic Powder, Organic Lemon Juice Concentrate*, Nutritional Yeast, Konjac, Organic Tapioca Starch, Organic Parsley, Organic Chives, Organic Dill, Organic Black Pepper, Organic Rosemary Extract.
Nutrition facts: 2 Tablespoons = 140 cals, 15g fat, 210mg sodium, 2g carbs, 0g fiber, 0g sugar, 0g protein
One thing to note is that many natural store-bought dressings use oils that will solidify in the refrigerator. Homemade dressings often do this too. I can easily be remedied by allowing the dressing to come to room temperature before using (just let it sit out on the fridge while you prep your meal) or by shaking the bottle and placing it under warm tap water until the oil becomes liquid again. Easy peasy!
Where to Buy Healthy Salad Dressings
In terms of purchasing, all of these dressings can be purchased at Whole Foods. You can likely find the Bragg's, Primal Kitchen and Tessemae's dressings at other natural grocery stores and some mainstream grocers — just look on the natural food aisle. I usually buy my Primal Kitchen products from Thrive Market. If you haven't tried Thrive Market yet, it's like Costco, but for natural products and it's all online.
Want Healthy Salad Dressing Recipes?
Try Some of My Favorite Salad Recipes!