WHERE TO SHOP FOR HEALTHY FOOD
Ellwood Thompson's | Carytown
A local, organic market with a large hot bar/salad bar, a fresh juice bar, cafe, a large bulk bin section and a prepared foods counter.
Good Foods Grocery |  Bon Air
A local, organic grocery store with a huge bulk bin selection.
Trader Joe's | Short Pump
I like TJ's for buying staples like almond milk, nuts, dried fruit, cereal, oats, yogurt, cheese, hummus and frozen fruits and veggies. I find their produce section to be a bit scant and overpriced but there are some items that are good buys like bagged greens and salad mixes and avocados, limes, lemons and onions. They also have ridiculously good deals on wine.
Whole Foods | Short Pump
Whole Foods is my favorite store! They carry almost any organic product you can think of as well as obscure health food items like chia seeds and wheat grass. Think Whole Foods is too expensive? Check out my post about how to save money at Whole Foods here! I like to make a stop at Whole Foods in all the cities I visit because they're all set-up differently and have a variety of products based on the region and location. I'm pretty sure this makes me a health food nerd.
LOCAL MARKETS
RESTAURANTS
See my guide for where to get a healthy lunch in Richmond here. 
The Daily Kitchen & Bar | Carytown
This is one of my favorite restaurants for healthy food in Richmond. Check out my review.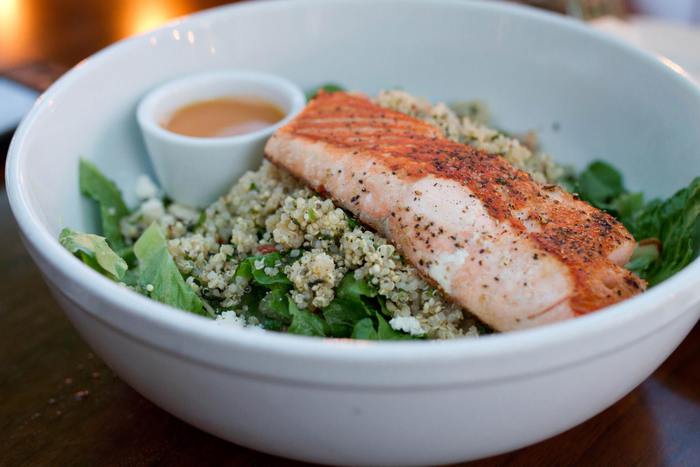 EBF picks:
Seared salmon salad with romaine, quinoa tabouleh, feta, almonds and chipotle lemon vinaigrette.
Curried Lentil Bowl with quinoa, sweet potatoes, zucchini, spinach, tamarind samal sauce and mint chutney.
Sweet potato fries. Probably not the healthiest option, but so good and good for the soul.
Ginger kombucha on tap.
Fresca on Addison | The Fan
My favorite vegetarian restaurant in Richmond. They serve the same types of meals I would make for myself at home, which I love. The sushi sandwich on their homemade whole wheat pita bread is to die for.
EBF picks:
Fresca cobb with blanched broccoli, cauliflower, carrots, avocado, cucumbers, cheese, fakin' bacon bits and olives.
Curried butternut squash soup with coconut milk and toasted almonds.
Citizen Burger Bar | Carytown
A burger bar that has a partnership with local farms to provide meat from happy, grass-fed cows and free-range chickens!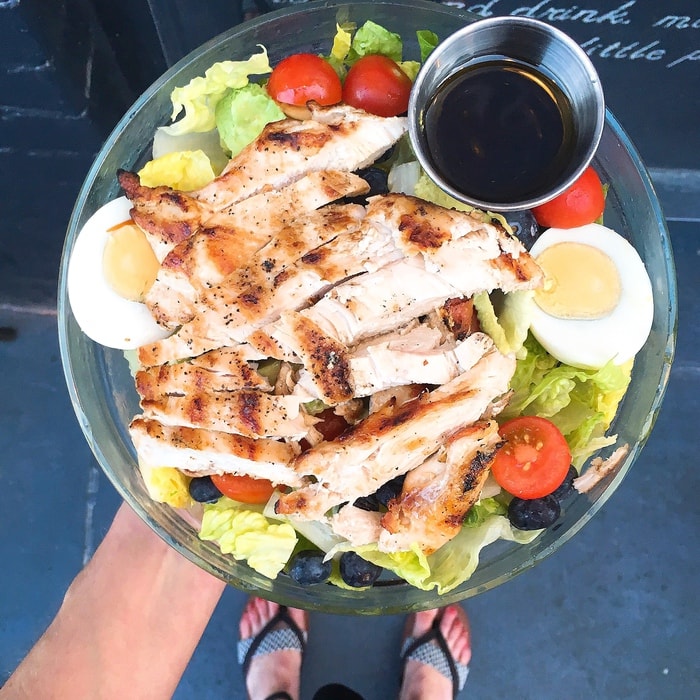 EBF picks:
House vegan burger with quinoa, millet and beets.
Sweet potato fries. Always.
DAR's salad (paleo) with romaine, tomatoes, hard boiled egg, avocado and blueberries. Topped with beef patty or grilled chicken and served with oil and vinegar on the side.
Ginger Thai Taste | Carytown
One of the three Thai restaurants in Carytown, this place is my favorite Thai restaurant in Richmond. They have awesome Tom-Yum soup, green papaya salad and fresh spring rolls.
An awesome food truck that serves up epic quinoa bowls. Vegetarian friendly and absolutely delicious. Catch the truck at the South of the James Farmers Market for a breakfast quinoa bowl, which has an egg on top.They now have a permanent location at Carytown Bicycle Co. as well.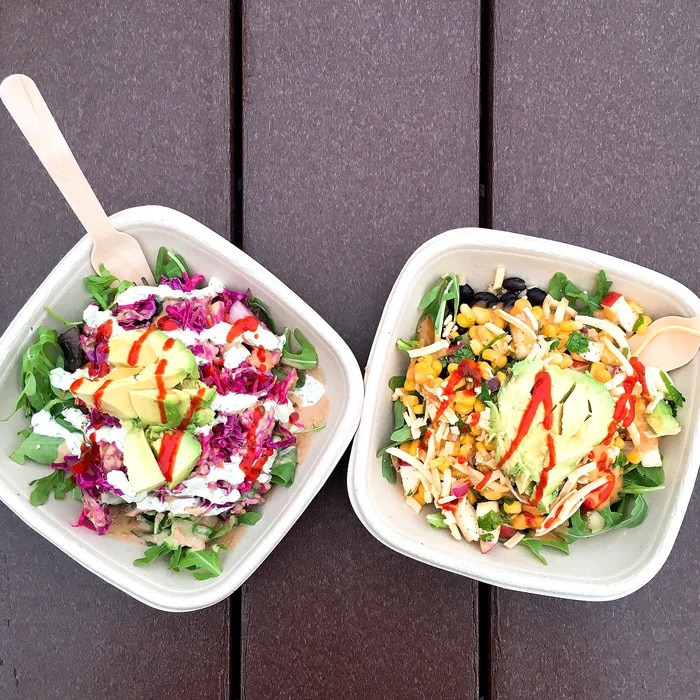 EBF picks:
Mountain tropp quinoa bowl with apple corn pico de gallo and gouda cheese.
Haberdash quinoa bowl with sautéed mushrooms and a thai peanut sauce
Ipanema Cafe | VCU
Vegetarian/Vegan restaurant with delicious dishes and amazing desserts. The menu changes pretty often and is written on a chalkboard when you walk in.
Lehja | Short Pump
I've never been to India, but this place has the best Indian food I've ever had. It's authentic and so delicious.
EBF Picks:
Chaat du jour. Chef's daily selection inspired by street food stalls in India.
Konkoni prawns with tellicherry peppercorns-konkani masala sauce.
House kabab medley with shrimp, salmon, chicken and lamb kababs and sauce of the day.
Shrimp and chicken zafrani with a hung yogurt-saffron marinade. Tandoor grilled and served with local greens.
Mediterranean Bakery & Deli | West End
EBF Picks:
Mujadara with rice, lentils and sauteed onions
Mekong | West End
Great Vietnamese food as well — I love the "build your own summer rolls" or the spicy green beans with veggies.
EBF Picks:
Make your own spring rolls with fresh rice paper wraps. I get mine with grilled shrimp and a side of steamed veggies.
Spicy Green Beans. 
The Roosevelt | Church Hill 
Cute and quaint restaurant in Church Hill with great drinks. They don't have a ton of vegetarian options but everything I've had has been really good.
Saison | Jackson Ward
EBF Picks: 
Crispy Carolina Gold Rice Bowl with picked and preserved veggies. So good.
Rundown with seasonal seafood, sweet potato, coconut-habanero broth.
Stella's | Near West End
A fabulous and authentic Greek restaurant.
EBF Picks:
Kale Salad.
Greek Salad.
Minestrone Soup. 
Union Market | Church Hill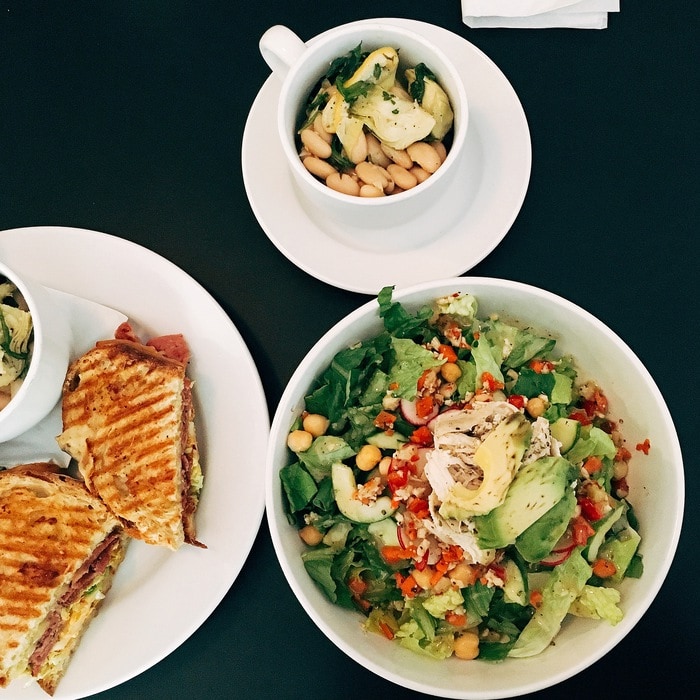 EBF Picks:
Chopped salad with chickpeas, avocado, housemade giardinera, cucumber, radish, romaine and feta cheese with house vinaigrette,
COFFEE SHOPS
Alchemy | VCU
One of our favorite local coffee shops. They serve single-origin drip coffees, artfully crafted espresso beverages and the staff is really friendly. I love their cold brew coffee and almond milk lattes. They have a retail location on Broad St. near VCU and a coffee trailer that's usually at the South of the James Farmers Market on Saturday mornings.
Lamplighter | Scotts Addition, The Fan, VCU
Cute, hipster spot to grab coffee. They roast their own beans and have three full coffee bar locations serving espresso, pour overs and various other brew methods. We stop by the Addison location often (we even took some of our engagement photos there). My husband and I always get the cold-brew iced coffee in the summer and when the days get cool we switch over to hot options. An almond milk café au lait for her and a dry cappuccino for him. I love the fruit and yogurt parfait with granola, but if you're in the mood for a treat, grab one of the house-made sweet potato chai muffins. They're Isaac's favorite. They also serve made-to-order sandwiches and sides.
TREATS
Gelati Celesti | West End and Southside
Delicious homemade ice cream! The Cinnamon Oatmeal Raisin Cookie Dough flavor is my favorite and is usually available in November.
Sweet Frog | Various locations around the city
Serve yourself fro yo! Need I say more?
FARMERS MARKETS
Saint Stephen's Farmers Market
South of the James Farmers Market
For an up-to-date list of Richmond area farmers markets, check out Back to the Market.
DELICIOUS LOCALLY MADE PRODUCTS
Bombolini Pasta: delicious, fresh pasta that comes in a ton of different flavors from whole wheat, tomato basil to cinnamon and chocolate. They even have black bean and gluten-free pastas.
Pizza Tonight: pizza kits with homemade dough and sauce, special seasonings and toppings. Made right here in Richmond.
No Bull Burger: the best veggie burgers, locally made in Charlottesville, Va.
Reginalds Homemade: a Richmond based company that makes peanut butter (and cashew butter)! The peanut butters are made with Virginia peanuts  and other all-natural ingredients. Some of the  flavors include: Coconut Sour Cheery, Nana Honey, Apple Sin and CashewNilla.
Twin Oaks Tofu: best tofu ever! <– Check out the tour I took of the Twin Oaks Community.
WHERE TO WORK OUT
Yoga
Barre
Group Fitness
Cycling
Personal Training