What Supplements I'm Taking During Pregnancy
11
Published Oct 23, 2019, Updated Jan 29, 2020
My pregnancy supplements – sharing the top three supplements I swear by for pregnancy, why I take them and what brand I love and trust.
One question I've been asked a ton since becoming pregnant is what supplements I'm taking. In this post I'm sharing my full supplement routine. This post is sponsored by New Chapter.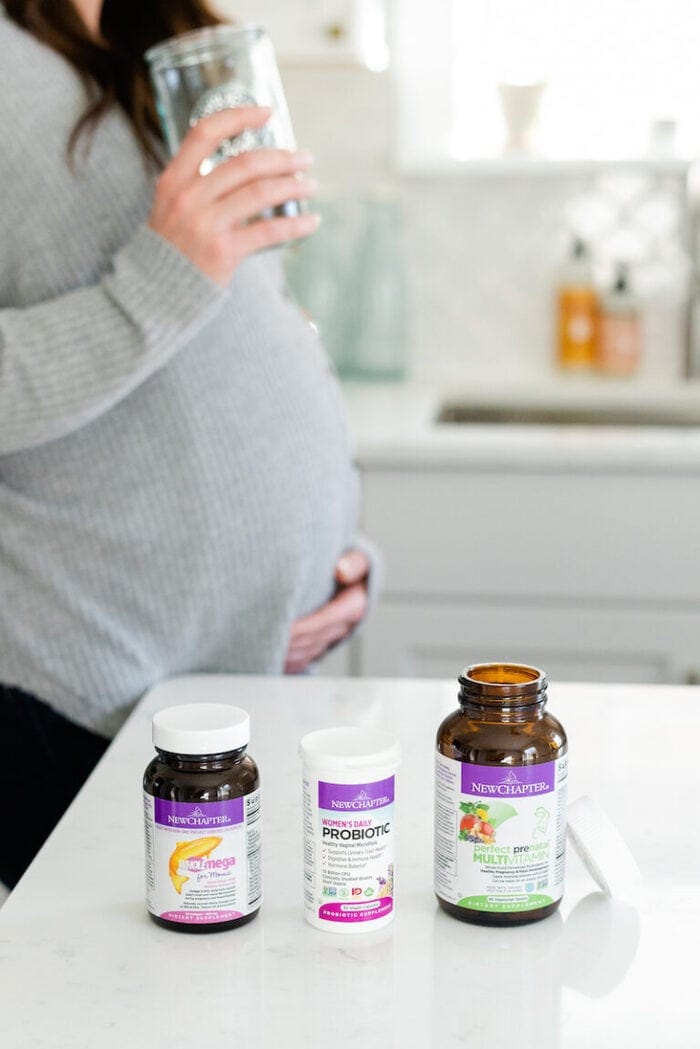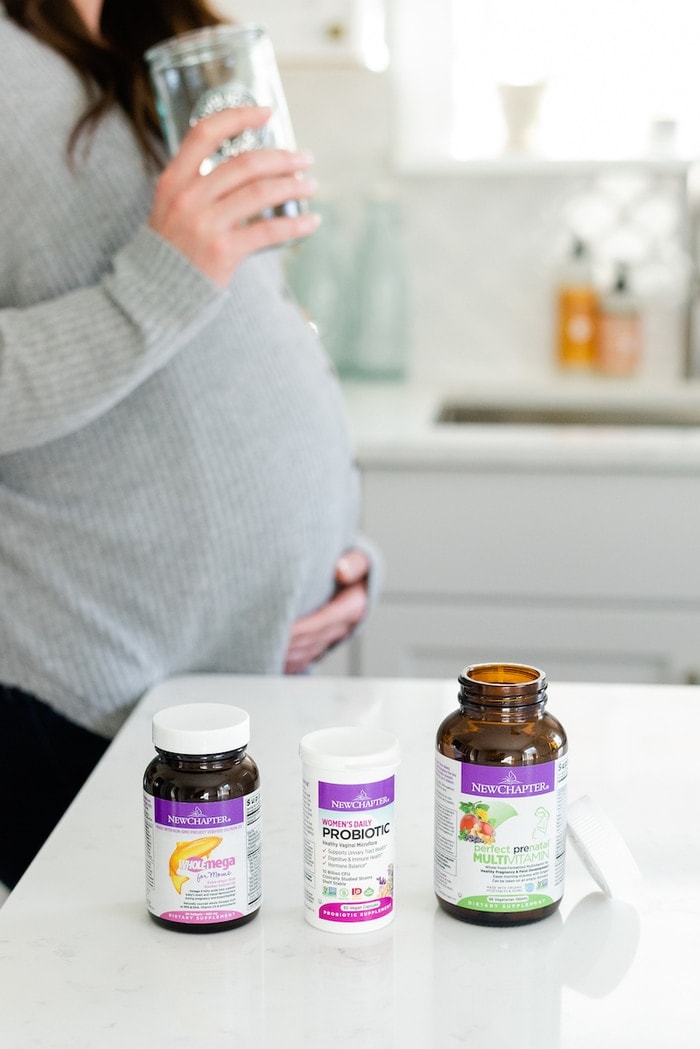 As a holistic nutritionist I am a firm believer in getting nutrients from food first, but I also understand that sometimes we're not able to get everything we need from the food we eat, especially during times of physical change, like pregnancy, postpartum, healing from an illness, etc. Supplements are no substitute for a nutritious diet, but they can help fill in the gaps to keep our bodies strong and healthy.
With pregnancy, there are certain vitamins and minerals that our bodies need more of and that are helpful for baby's development, so it's important to have a regular supplement routine.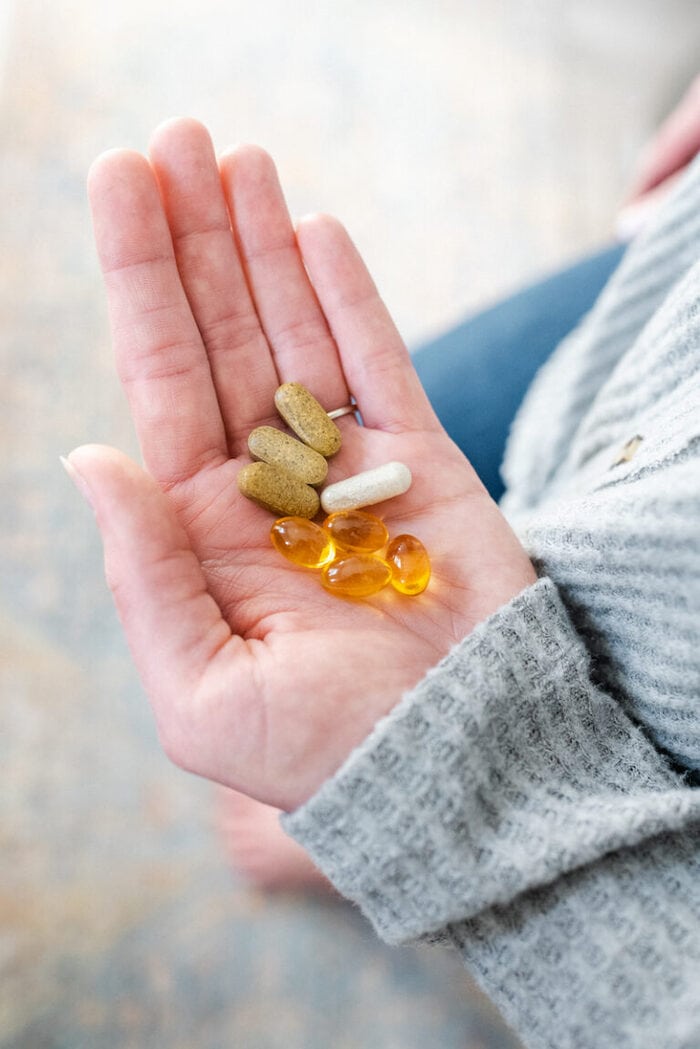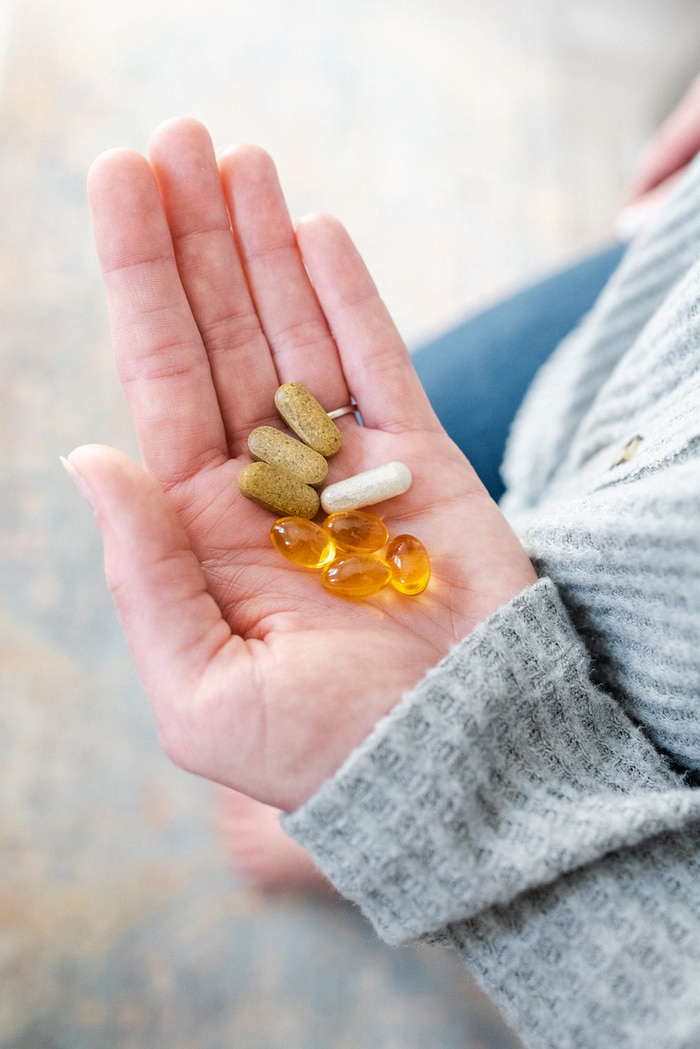 Prenatal Vitamin
No matter how healthy you eat, doctors recommend that you start taking prenatal vitamins a couple months before trying to conceive just to ensure you're getting all the nutrients you need and priming your body for the conception process. Taking a prenatal vitamin is just like taking a multivitamin, you're simply filling any nutritional gaps that your diet isn't providing. Of course there are a ton of important nutrients for growing a baby, but one of the most important is folate, which is essential for preventing neural tube defects. (source)
Before getting pregnant I was taking a prenatal gummy vitamin, but as soon as I found out I was pregnant I wanted to switch to something without added sugar. I did a little research and found New Chapter Perfect Prenatal, and I've been taking this prenatal vitamin ever since.  What I love about this specific brand is that their prenatal vitamins are organic, Non-GMO and made with high-quality, whole-food, fermented ingredients. The fact that the vitamins and minerals are derived from whole foods and fermented makes it easier for our bodies to digest and absorb the nutrients. This is key because one big concern with supplements is how well they are actually absorbed and assimilated by the body.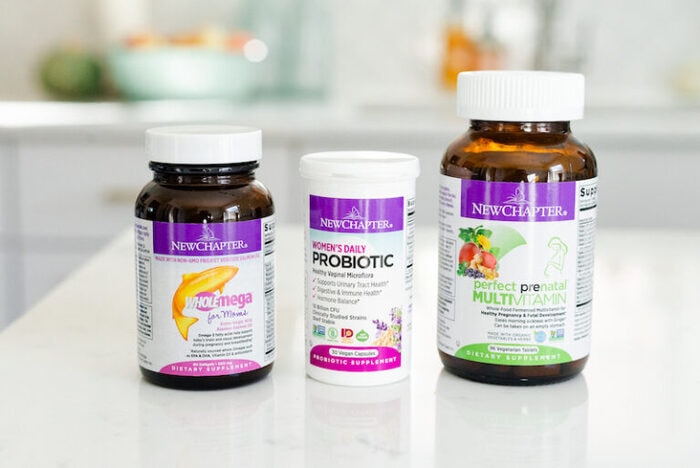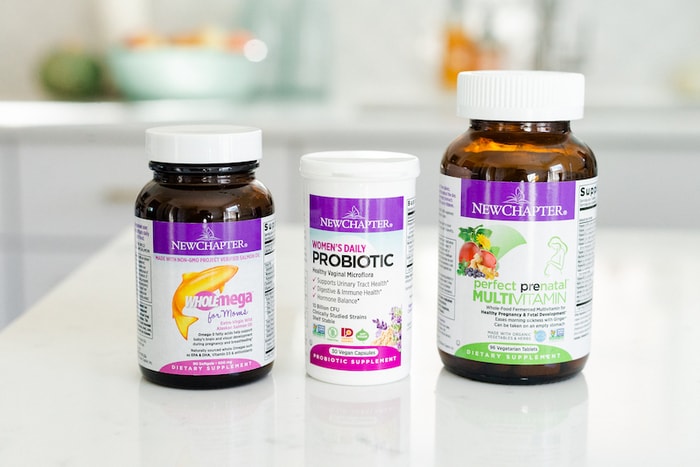 Other important things in New Chapter's Perfect Prenatal vitamins that not all prenatal vitamins have, include:
Fermented nutrients that are better absorbed by your body

B Vitamins for natural energy production

Folate (including the most active form of Folate, Methylfolate) for development of the baby's brain and spinal cord

Iron for your own red blood cell production and the transportation of oxygen to your baby during pregnancy

Clinical dose of organic ginger to soothe nausea related to pregnancy (I feel like this may have helped with my morning sickness)

Easily digestible, gentle enough to take anytime – even on an empty stomach

Non-GMO Project Verified, 100% Vegetarian, Kosher, NSF Certified Gluten Free

Sugar free (unlike most prenatal gummy vitamins)

No synthetic fillers and no animal gelatin (added to some prenatal gummy vitamins)
Taking prenatal vitamins before you become pregnant is a great idea. It will do no harm and as an added bonus, prenatal vitamins tend to make your hair and nails extra strong and shiny!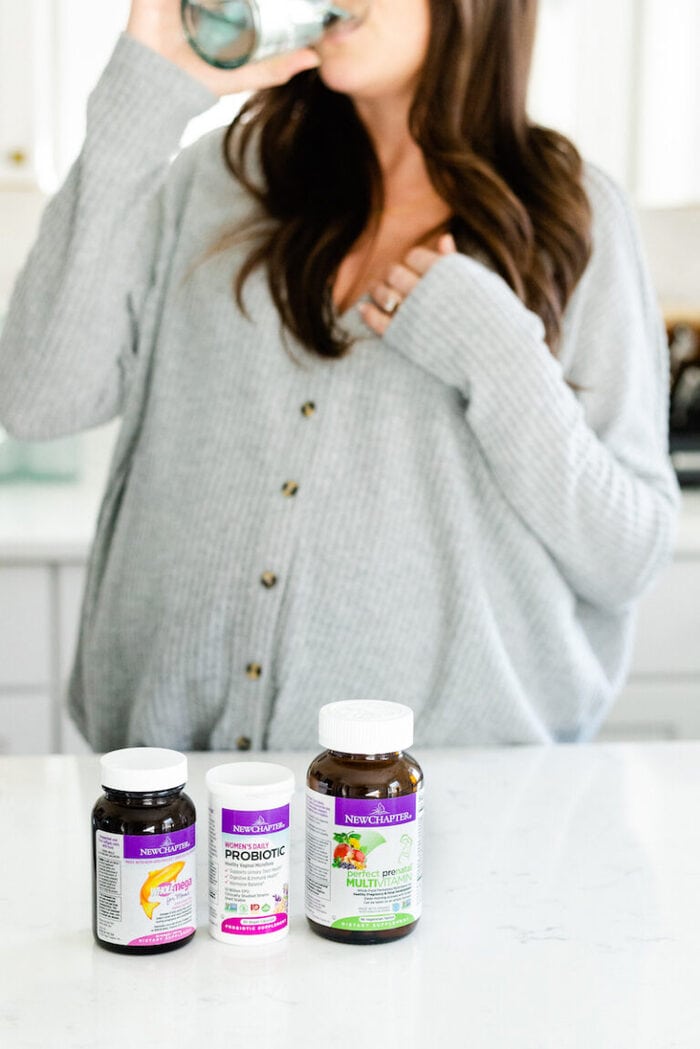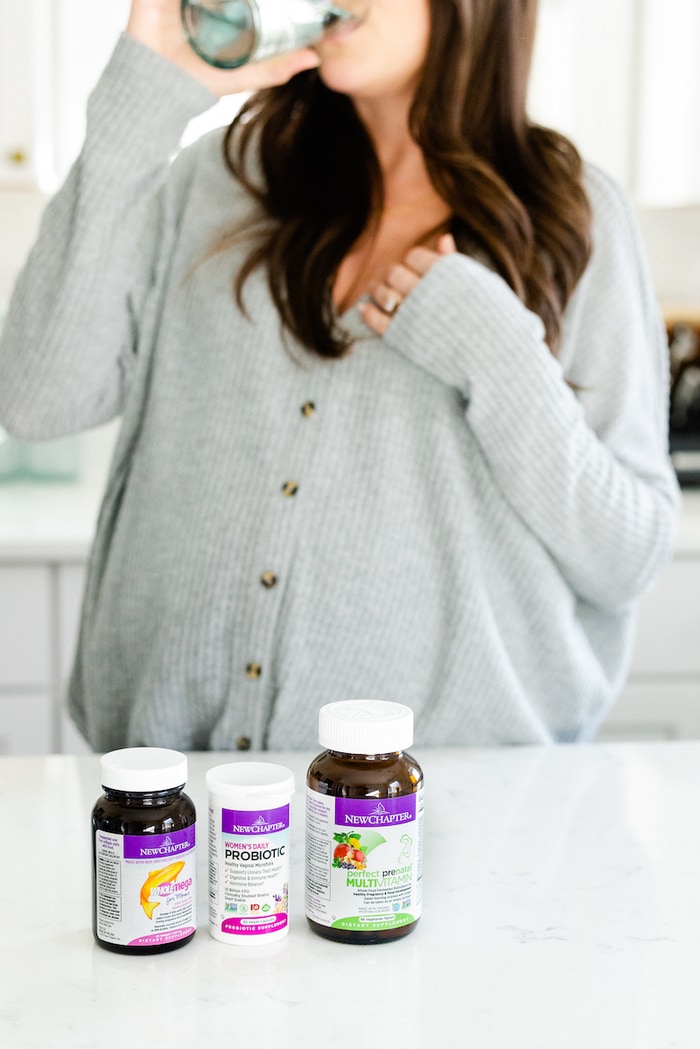 DHA Supplement
At my very first doctor's appointment, which confirmed I was indeed pregnant, the doctor asked if I was taking a prenatal DHA supplement. DHA stands for Docosahexaenoic acid, which is an omega-3 fatty acid that is a primary structural component of the human brain, cerebral cortex, skin and retina. I knew all about the benefits of taking fish oil/Omega-3 supplements (and they were part of my routine pre-pregnancy), but it was my first time hearing about it being really important during pregnancy as well. But it makes sense, right? Your baby's brain is developing in there!
For a second, I wondered if my prenatal vitamin had DHA it in it because some prenatal vitamins do include it, but honestly most prenatal vitamins don't. After that appointment I found the Wholemega for Moms, which is New Chapter's DHA supplement for women who are pregnant or breastfeeding, and added that to my routine.
Wholemega for Moms includes the critical prenatal DHA and other Omega-3s that support healthy brain and eye development for baby during pregnancy and breastfeeding. (source) These good fats from fish also support a positive mood and heart-health for mamas.
The salmon oil used for New Chapter's Wholemega supplement is 100% sustainably caught and sourced only from Certified Responsible Alaska Fisheries.
No overfishing, no bottom trawling, no wasted catch, no fish farming

No krill oil, no cod liver oil, no anchovies

Fresh-pressed and extra-virgin for optimal absorption

Made with Non-GMO Project Verified Salmon Oil

Certified Gluten Free by NSF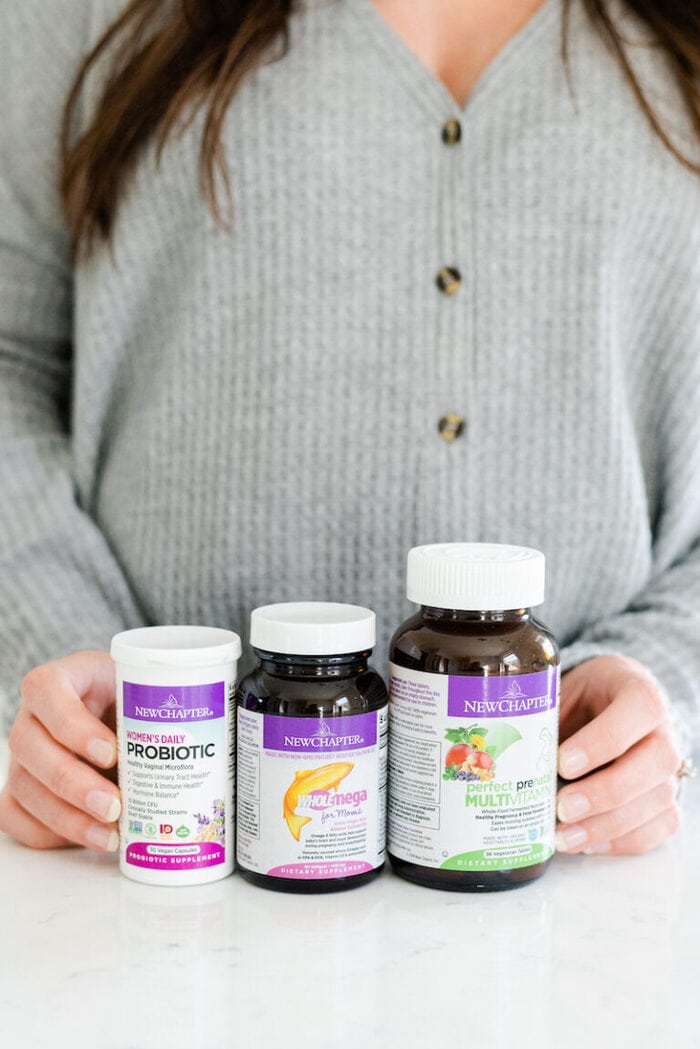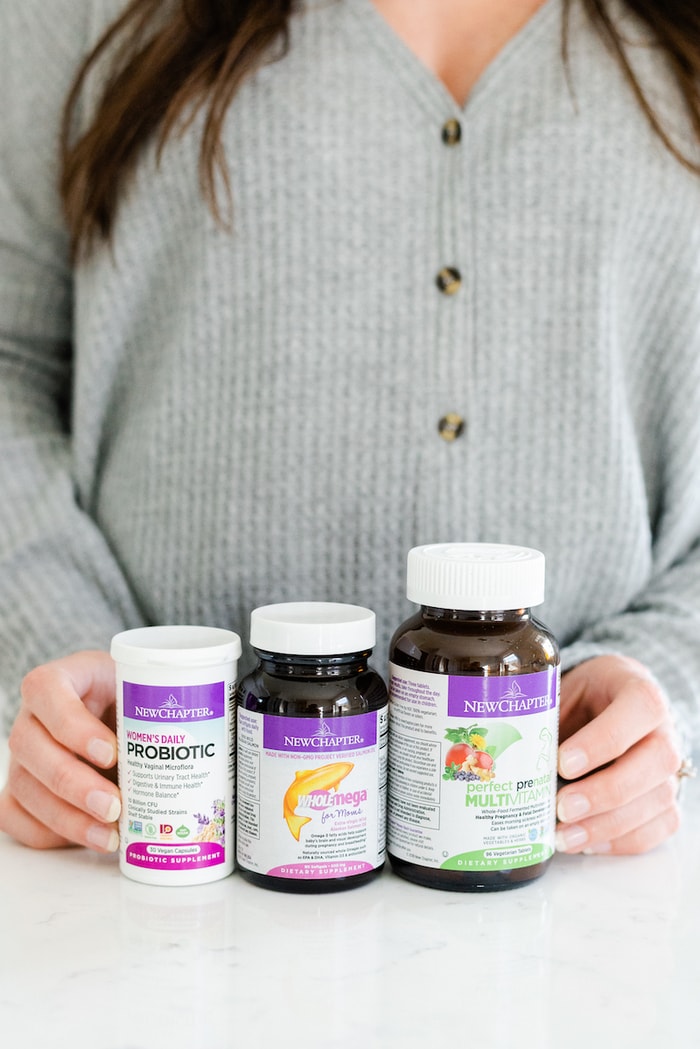 Probiotics
While the prenatal and DHA supplements are probably the most important supplements I've been taking during pregnancy, I also know that gut health is key, so I've been taking a daily probiotic specifically designed for women as well.
New Chapter Women's Daily Probiotic promotes a healthy vaginal environment that naturally defends against problematic yeasts and infectious bacteria and also protects the urinary tract. To be honest, I'm so happy I'm taking a probiotic because dealing with a vaginal infection while also being pregnant sounds miserable.
Of course, these probiotics also promote healthy immune function and gut health, which enhances your ability to absorb nutrients from food.
This particular probiotic supplement includes:
Probiotics to replenish gut flora and clinically studied to promote a healthy vaginal environment

Prebiotics that are fuel for the probiotics

Targeted herbs — with Chaste Tree to promote women's hormonal balance
As a reminder, this is my experience and I'm sharing what supplements worked for me during pregnancy. Please be sure to consult your doctor before adding any supplements into your routine.
*These statements have not been evaluated by the Food and Drug Administration. This product is not meant to diagnose, treat, cure, or prevent any disease.
Photos by the lovely Michelle Chu Photography.