Date Energy Balls
37
Published Sep 05, 2020, Updated Jun 12, 2023
The ultimate guide to making date-based energy balls with the basic recipe, over 9 different flavors and how to store them!
Energy balls were all the rage in the health world a couple of years ago and they've stood the test of time… for good reason! They're super simple to make, the perfect meal prep recipe and can be enjoyed for breakfast, a snack or dessert!
I'll go into more detail below, but there are different types of energy balls. For this post we'll be focusing on date-based energy balls. Date energy balls are some of my favorites because they're typically grain-free, have no added sugar and taste absolutely delicious.
Most of my date-based energy balls are inspired by Larabars. If you're unfamiliar, Larabars are popular store-bought energy bars made with dates, nuts and other mix-ins. I have a couple homemade Larabar recipes (like my coconut chocolate chip Larabars), but I honestly prefer to make them into energy balls for easy snacking.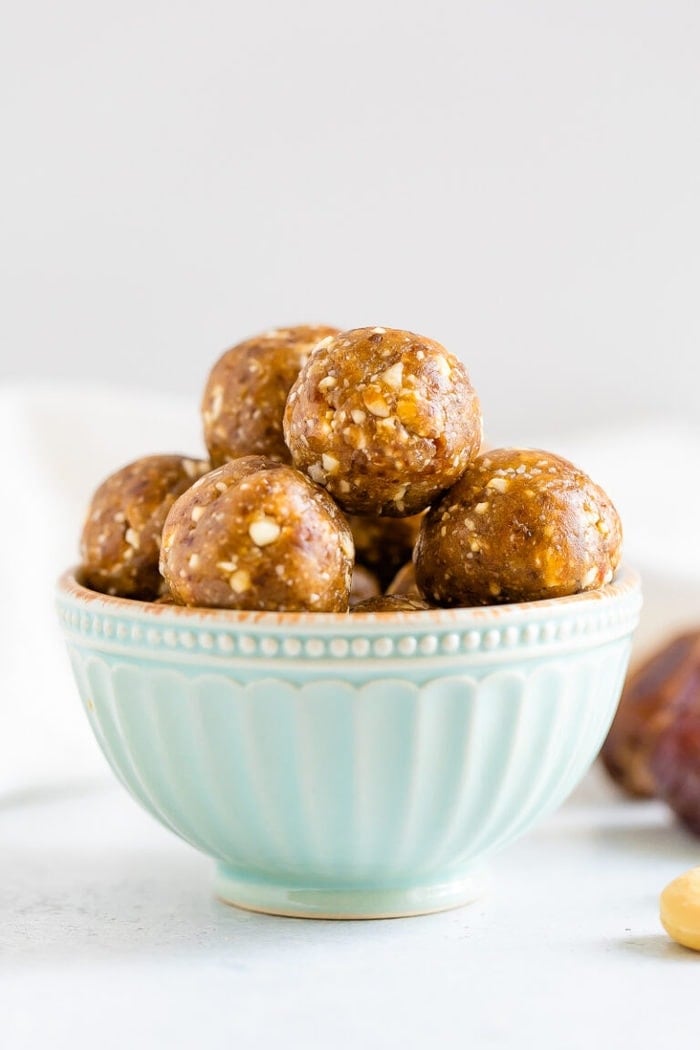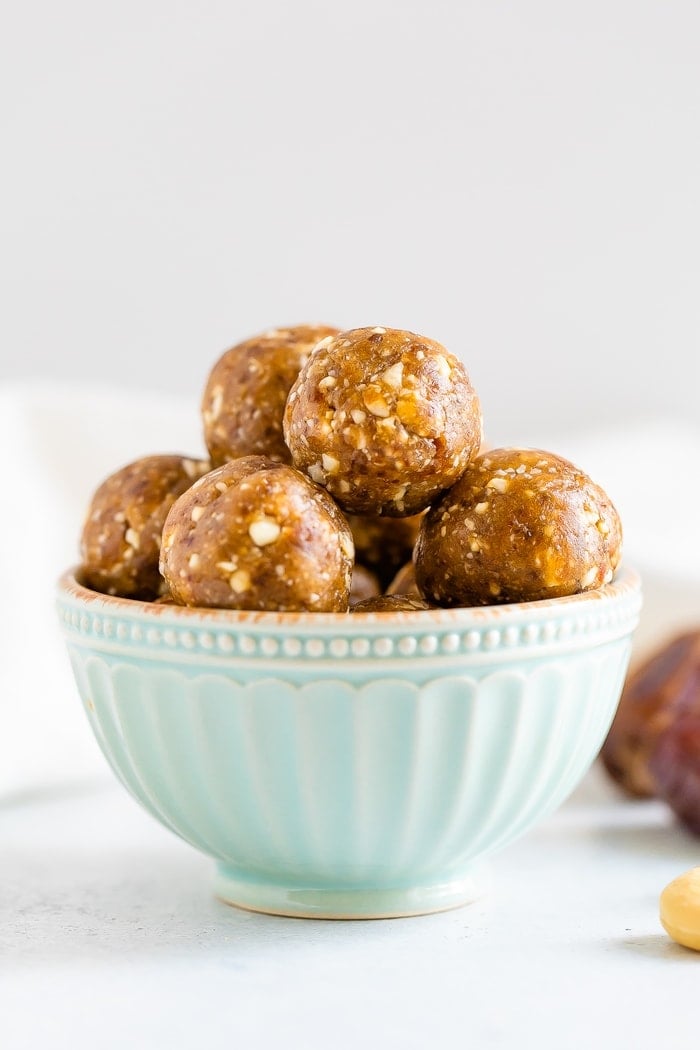 Types of Energy Balls
As you may have guessed, there are so many different types of energy balls and they go by a variety of names too. Some names I've heard: energy bites, energy balls, bliss bites, oat balls and fat bombs. In my mind, there is one thing they all have in common: they're no-bake and rolled into balls. Here are some ways they can be different:
Protein – Some energy balls will have added protein powder to obviously amp up the protein, but also round out the snack and make it more filling and satisfying. I personally love making these protein balls.
Low carb – These energy balls are usually made with a base of flax, nuts or protein powder and are usually sweetened with stevia or monkfruit to keep the sugar and carb content low.
Date-based – The energy balls I'm sharing in this post are made with a base of dates and nuts. They are usually grain-free and have no sugar added because the dates add a good amount of sweetness and help hold the balls together. For the date-based balls, you usually need a food processor or blender to pulse the nuts and dates together.
Oat-based – Many energy ball recipes have a base of oats. They are packed with fiber and healthy fats and the perfect on-the-go snack. My peanut butter no-bake energy balls are oat based and so yummy.
Basic Recipe for Date Energy Balls
The basic recipe that I use for date energy balls starts with 1 cup of Medjool dates (about 10 dates) and 1/2 cup of nuts. You can use a variety of nuts based on what you have in your pantry. I also like to add a pinch of sea salt to enhance the flavor, but it's totally optional. I often get asked how to add protein powder to date energy balls so I tested it and found that you can reduce the nuts to 1/3 cup and add 2 Tablespoons (about 10 grams) of protein powder to this basic recipe to amp up the protein a bit!
Base Recipe
1 cup Medjool dates (which is about 10-12 dates)
1/2 cup nuts
pinch of sea salt
Protein Powder Version
1 cup Medjool dates (which is about 10-12 dates)
1/3 cup nuts
2 Tablespoons protein powder
pinch of sea salt
Can I Make Date Energy Balls Nut-Free?
One question I get asked all the time, especially around back-to-school season is how to make nut-free energy balls. With my base recipe for date energy balls I haven't tried swapping the nuts for just seeds, but I bet it would work just fine! I would recommend using pumpkin seeds (or pepitas), sunflower seeds, hemp seeds or a combo of those three. My samoa energy balls are a great option if you're looking for a date-based recipe that's also nut-free. I also have these sun butter energy balls and coconut protein balls that are nut-free. If you do come across any energy or protein ball recipe like these peanut butter no-bake energy balls that calls for nut butter you can easily swap it out with tahini or sunflower butter instead.
What Type of Dates to Use
I always recommend using Medjool dates in energy balls. They have a rich, almost caramel-like taste with a soft, chewy texture. Other dates (commonly called Deglet Noor) are usually smaller with a firm flesh and a sweet, delicate flavor.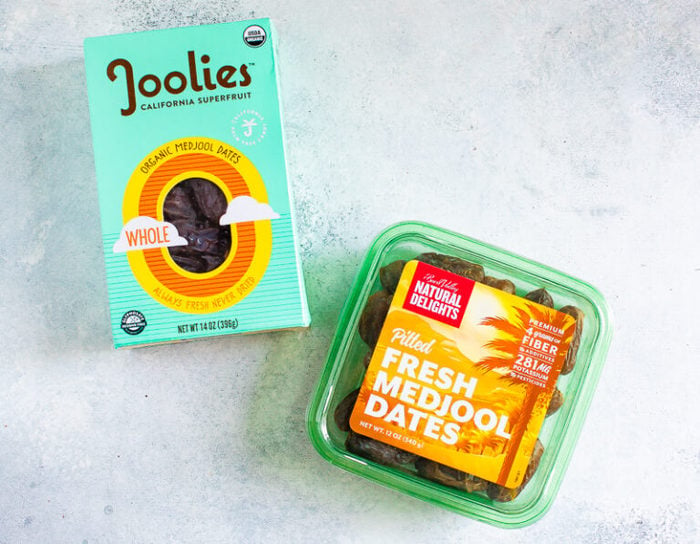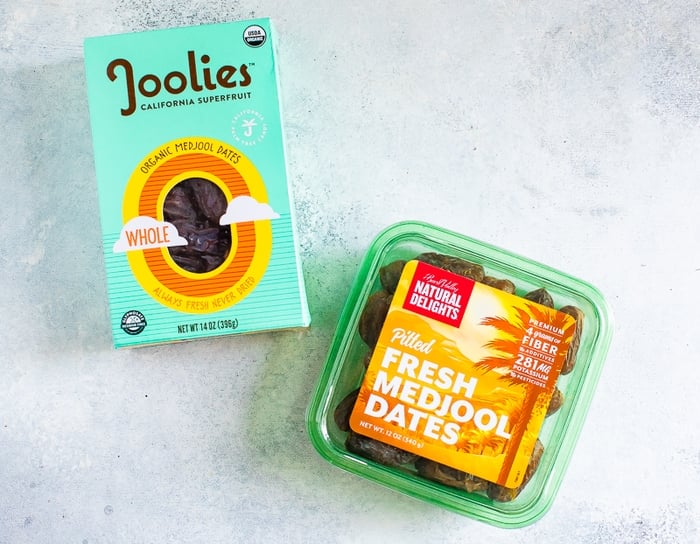 My two favorite brands of Medjool dates are Natural Delights (found at local grocery stores) or Joolies, which I buy through Thrive Market.
You'll find Medjool dates in the produce section of the grocery store, usually near the bananas – not the baking aisle. Make sure you grab fresh dates and not packaged baking dates! The baking dates are usually coated in flour to prevent sticking and are not the consistency we need for energy balls.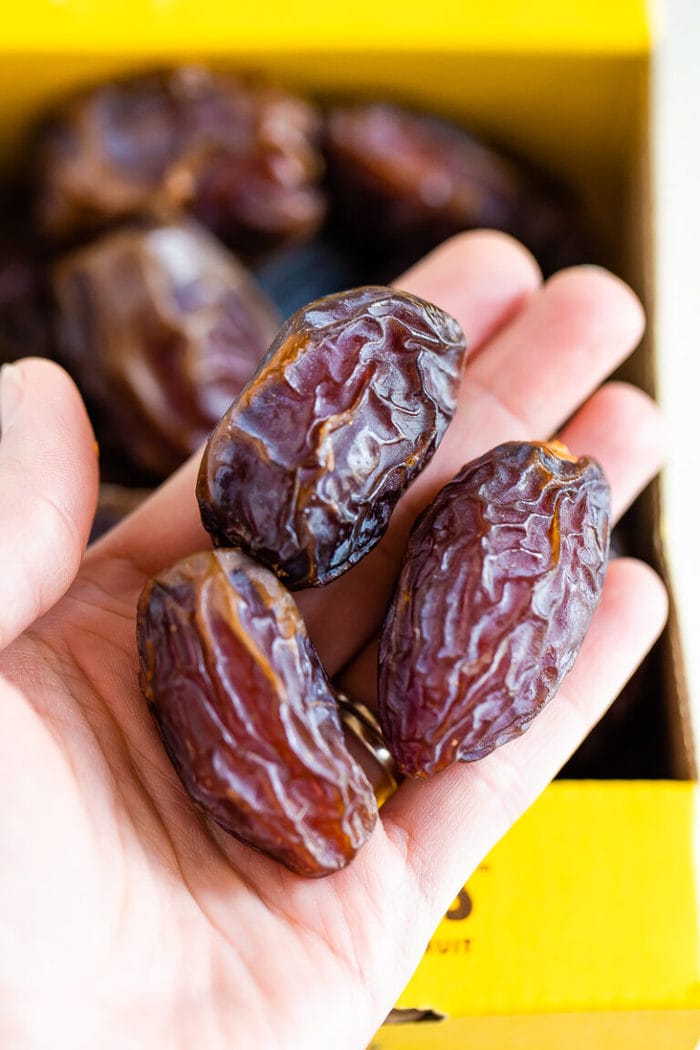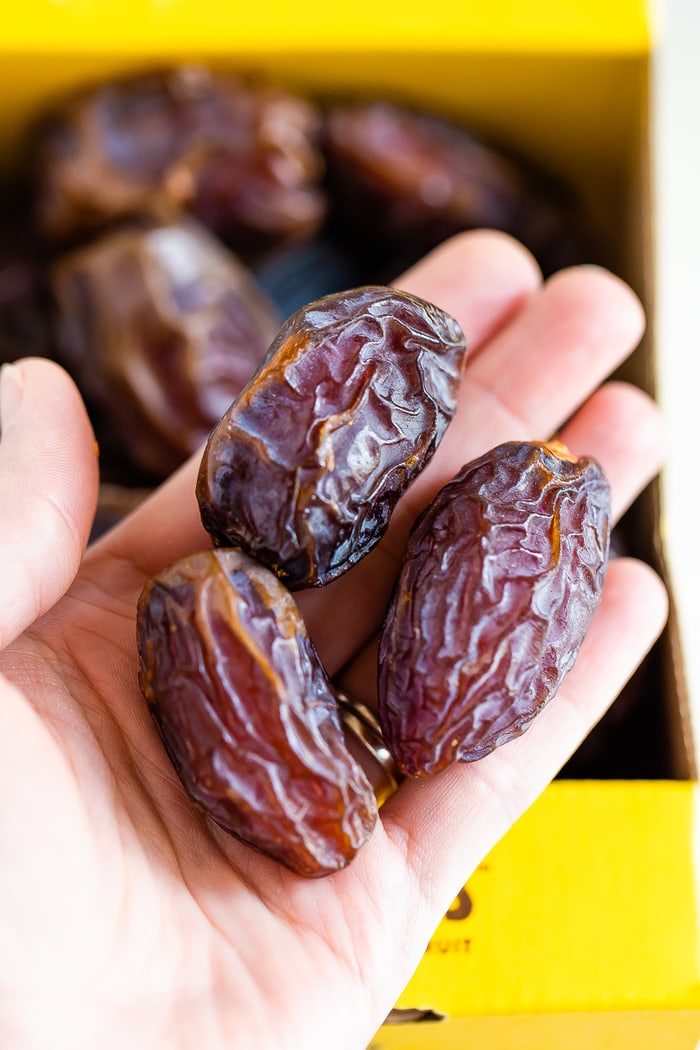 You can buy whole dates or pitted dates. If you buy whole dates, you'll need to remove the pit yourself. But, don't worry, it's way easier than pitting fresh cherries. Just split the date open and the pit will come right out. Be sure to check for pits before putting the dates in your processor… I've forgotten to take a pit out before it immediately realized it upon turning on the processor, because it made such a racket whirling around.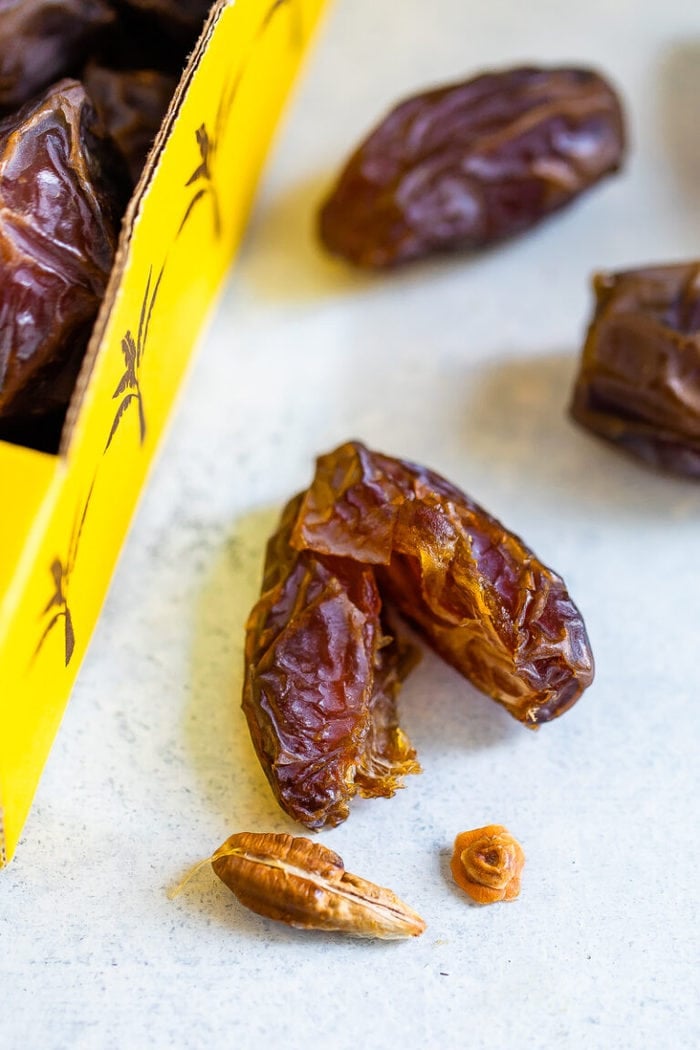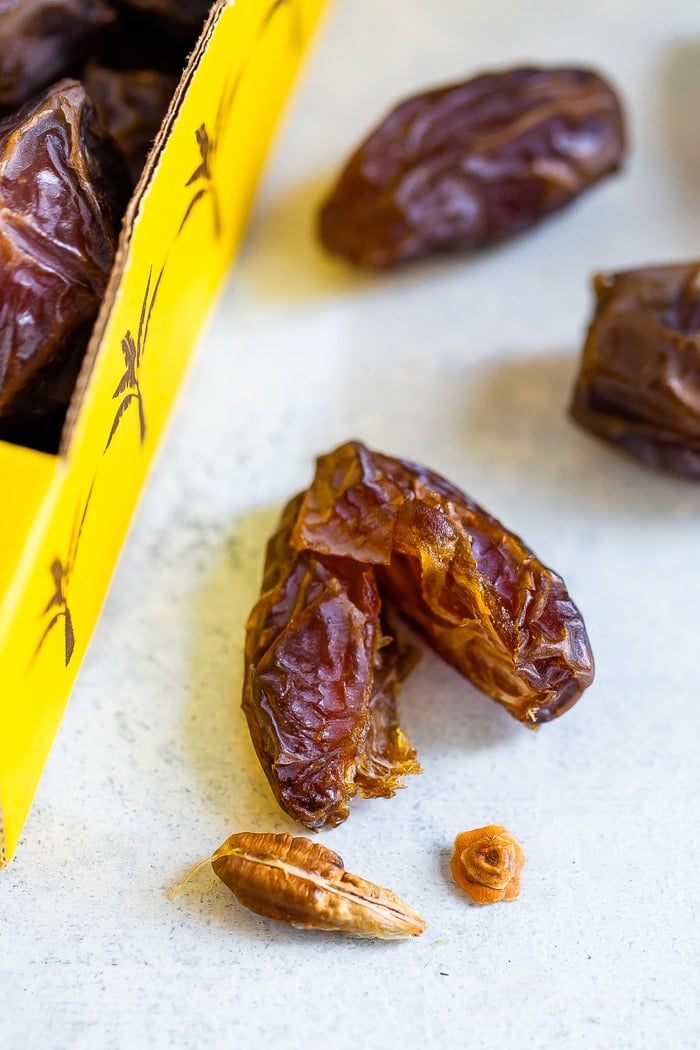 If your fresh dates have white spots on them they're still good! The white spots are just the sugar crystalizing on them, not mold. That said, they might be a little hard or dry. If this is the case, you'll want to soak the dates in warm water to soften them up before using.
Deglet Noor dates aren't my favorite for energy balls because they're harder and smaller than Medjool dates and not as caramely. Of course, they can be used for energy balls, but you'll likely want to soak them in water to soften them before using and you'll need to use more of them since they are smaller than Medjool dates.
Want to learn more about Medjool dates? Here's a post with everything you need to know about dates.
Can I Use a Blender to Make Energy Balls with Dates?
When making energy balls with dates I like to use my food processor. A high-powered blender (like a Vitamix) can work to make energy balls in a pinch, but I prefer using my food processor because it chops the dates and nuts more evenly. Using a blender to make energy balls with dates can be done, but it's kind of a pain and results in a sticky mess.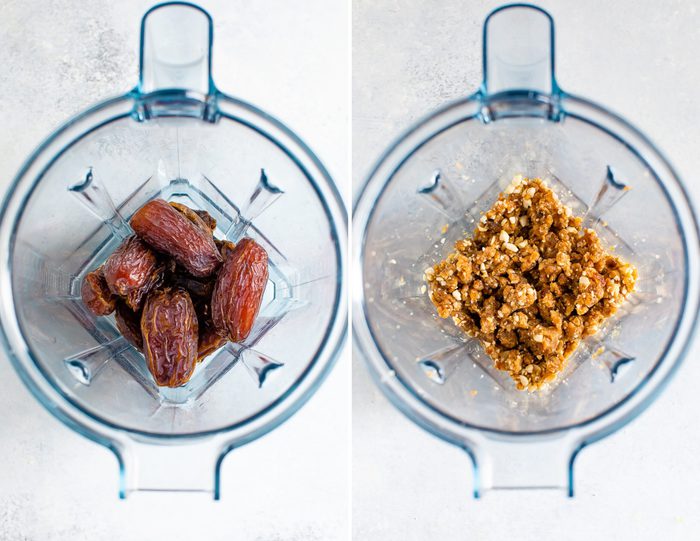 If you don't own a food processor, I highly recommend getting one. I have a ton of kitchen appliances and my food processor is one that I can't live without. I use it ALL THE TIME for everything from thinly slicing onions to shredding Brussels sprouts and making treats like these chocolate covered healthier peanut butter balls.
If you don't have a food processor and still want to make energy balls, check out my recipe for no bake energy balls or my protein balls. Neither of these recipes have dates or chopped nuts so there's no need for a food processor.
Date Energy Ball Flavors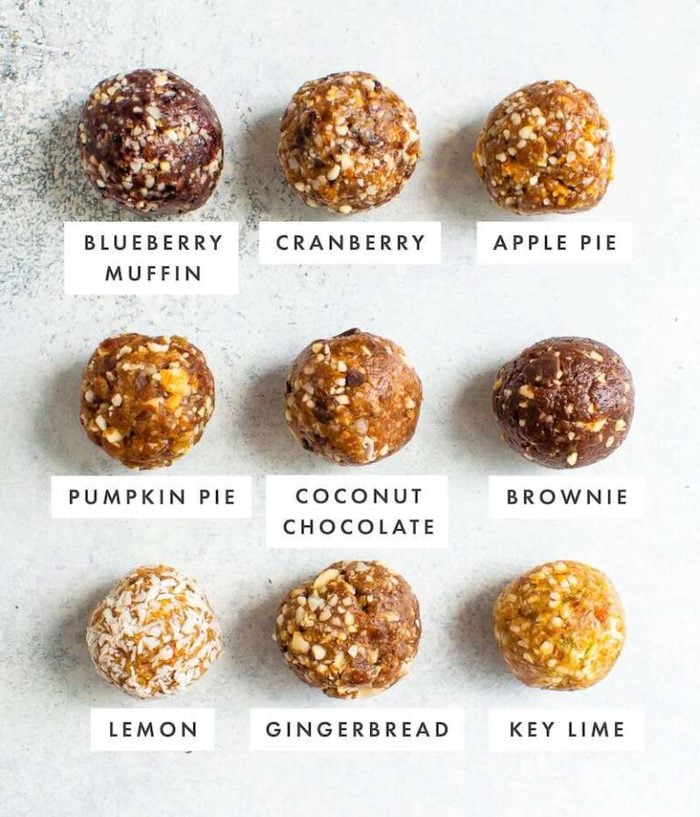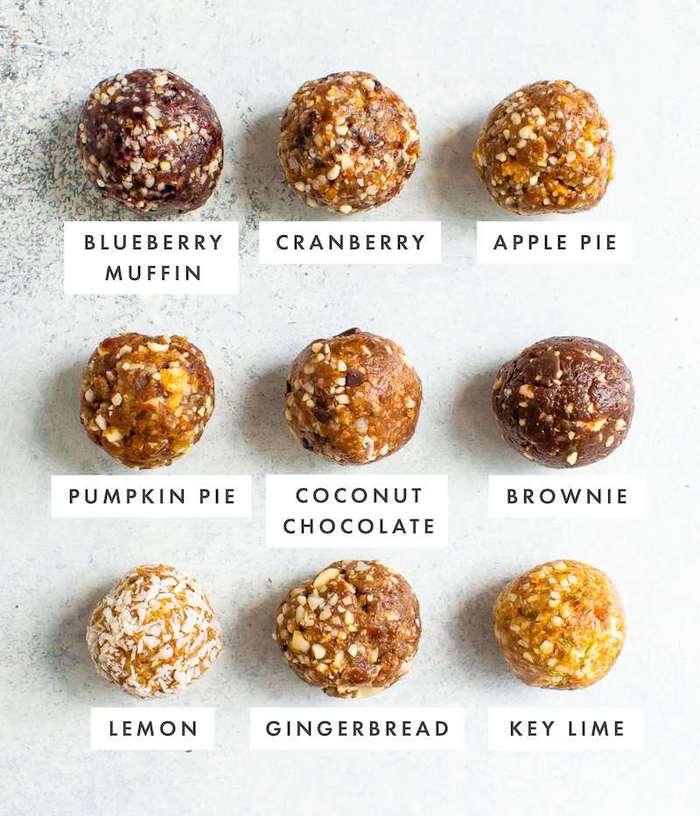 Are Energy Balls Healthy?
I personally think energy balls are a healthy snack option, but it's important to remember that it's a calorie-dense food so a small amount packs a good amount of nutrients. One ball can have up to 100 calories so if you're mindlessly snacking or a volume eater, it's easy to overdo it on balls… been there done that!
Be mindful of what ingredients you're adding into your balls. These date based energy balls are already sweet enough thanks to the dates so you don't need to add any extra sweetener or additional dried fruit.
Another thing to keep in mind is the salt content of your energy balls. If you're using roasted and salted nuts, the mixture can pack a hefty dose of sodium. I usually reach for raw nuts!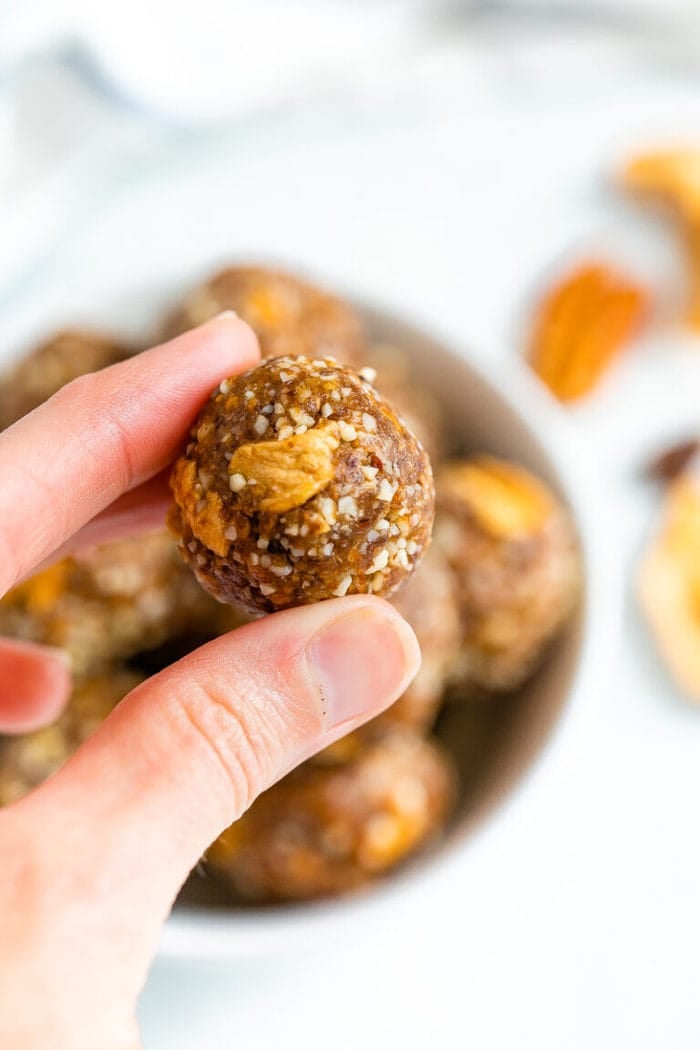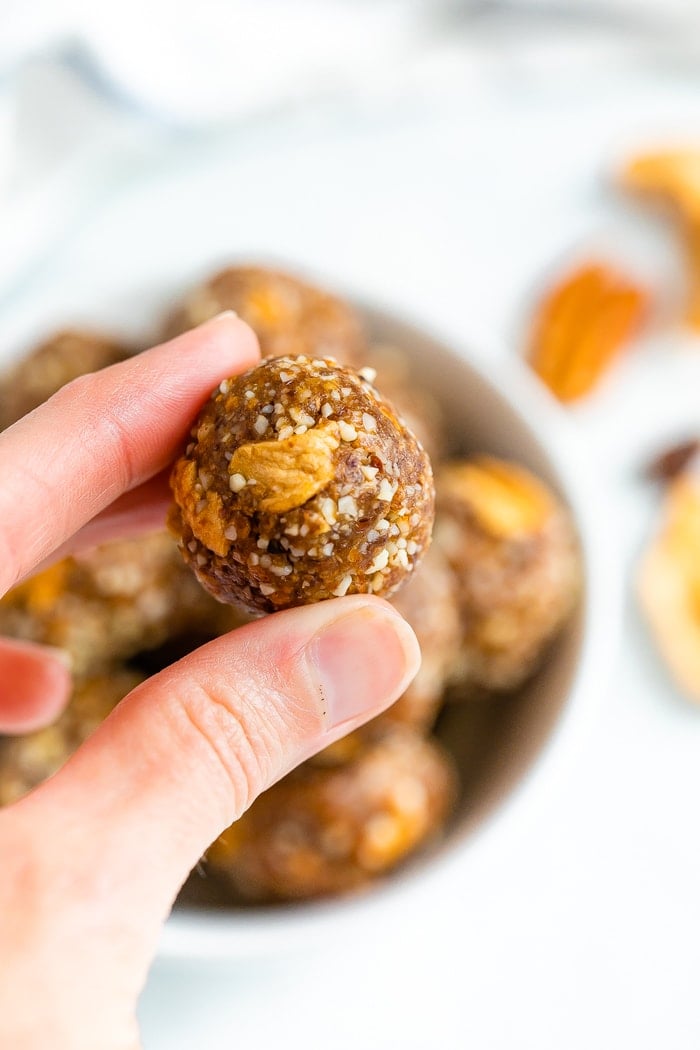 How Many Energy Balls Do You Eat?
It totally depends on the situation! I always list the serving size for balls at one ball, but that doesn't mean I just eat one – I just want to make sure it's easy for you to calculate nutrition facts based on how many you eat! If I'm enjoying them for breakfast or a snack before or after a workout, I typically have two balls. The calories for two balls is usually around 180-200 calories, about the same amount as a store-bought energy bar. If I'm just trying to curb my sweet tooth after dinner, I'll usually just have one.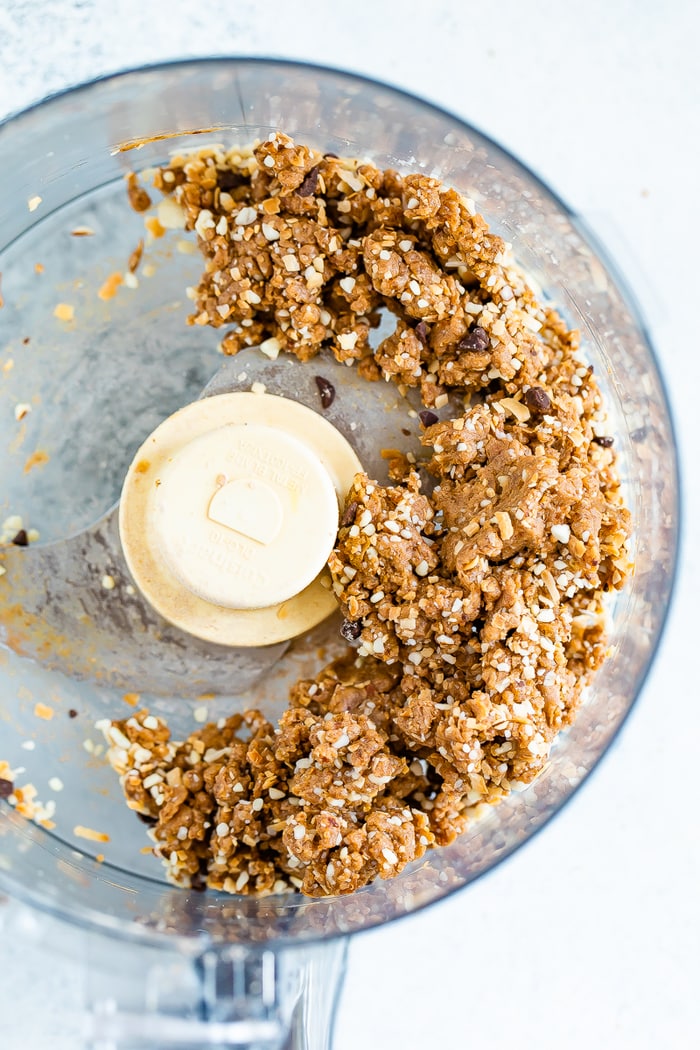 What to Do If Your Date Energy Balls Aren't Holding Together
Fresh Medjool dates are usually soft and give easily when squished. If your dates are older or just seem dry and hard, you may want to soak them before using. Simply place them in a bowl of warm water for 10-15 minutes to soften and rehydrate them. Drain well and pat dry before using.
It's quite normal for your energy ball dough to seem crumbly at first, but it should start to get sticky enough to form into balls. Even if it looks a little crumbly, you can try squeezing it to see if it will hold.
If it seems way too crumbly, your dates might have been too dry. If you don't feel like your dates were dry/hard, you can always add a couple more dates to the mixture and see if that helps bind everything together.
If your dates do seem a bit dry/hard, you can try adding a little water to the dough until the mixture is sticky enough to form into balls. Start with 1 teaspoon and pulse mixture to see if the dough will start holding together. Be careful with this as too much water will make the dough too wet.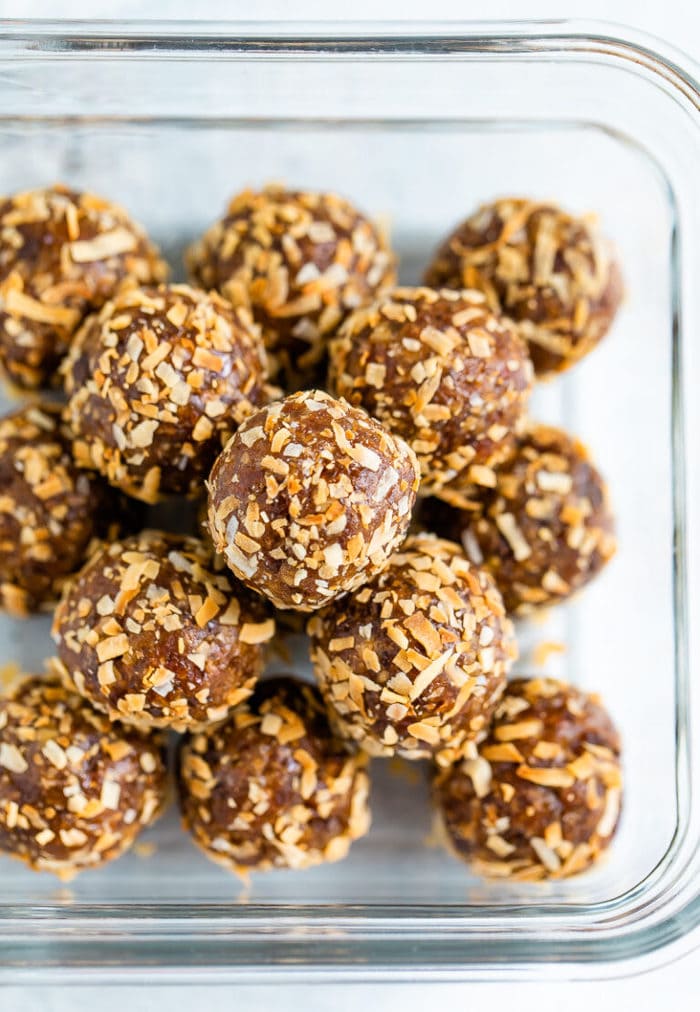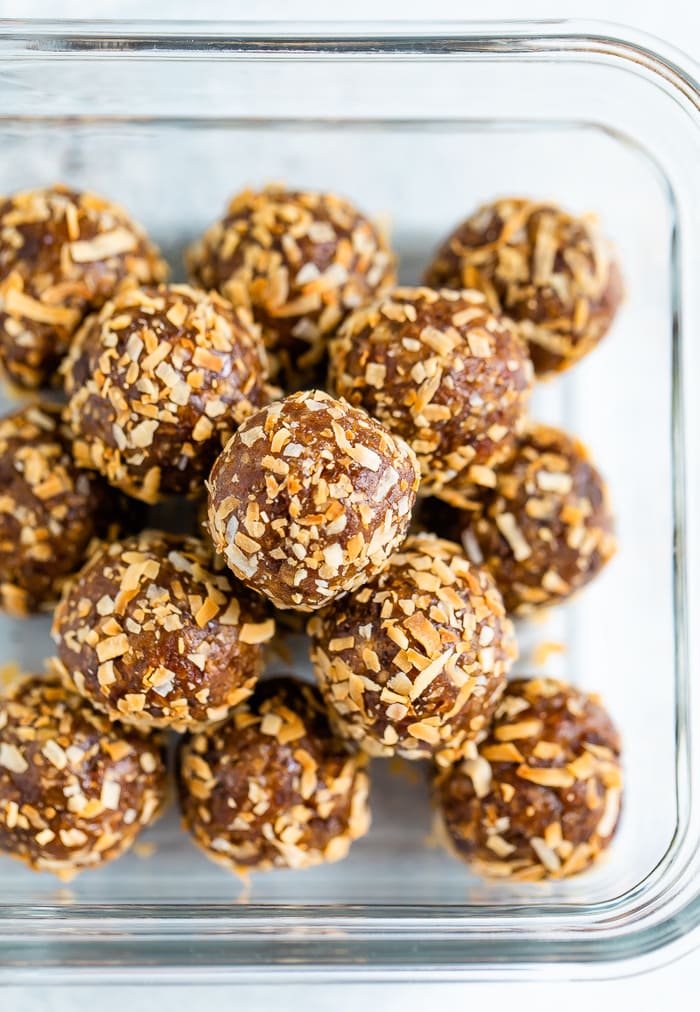 How to Store Energy Balls
You can store your energy balls in an airtight container at room-temp, in the refrigerator or freezer. They'll last a few days at room-temp, up to 1-2 weeks in the fridge and up to 3 months in the freezer. I like using glass storage containers or Stasher bags for storing energy balls.
If you make these basic date energy balls (or any other flavor) please be sure to leave a comment and star rating letting me know how they turned out for you! Your reviews are so helpful for the EBF team and other readers.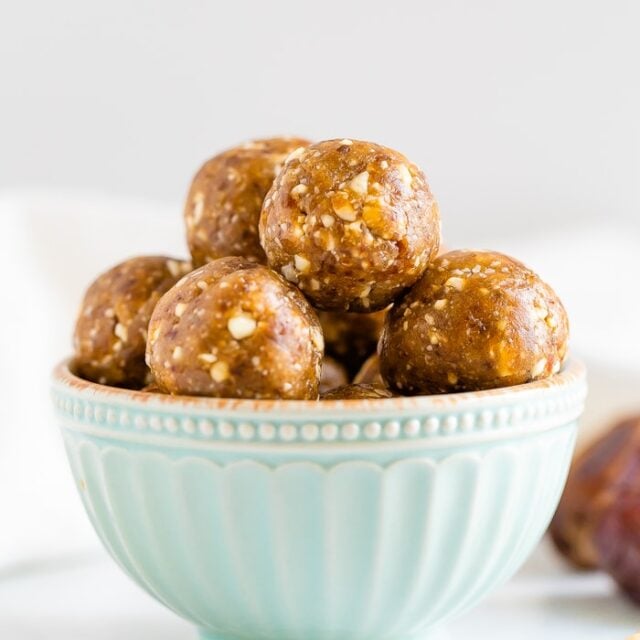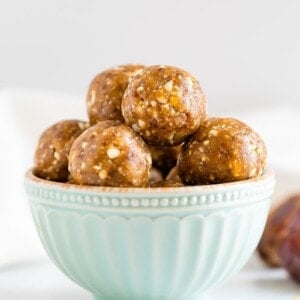 Date Energy Balls
I like making these date energy balls with cashews. They remind me of the cashew cookie Larabar.
Ingredients
1

cup

about 10 Medjool dates, pitted

1/2

cup

raw nuts

,

cashews, walnuts, almonds, pecans, etc.

pinch

of sea salt
Instructions
Process: Add dates, nuts and salt in a food processor fitted with the S-shaped blade. Process until mixture is well combined and sticking together.

Form balls: Scoop dough from food processor with your hands (or a cookie scoop) and form into small balls using your hands. Enjoy right away or store for later.

To store: Place balls into a sealed storage container and store in the fridge for 1-2 weeks or the freezer for up to 3 months.
Notes
Hard/dry dates: If your dates are hard and dry, you can soak them in warm water for 10-15 minutes to soften. Just drain them well before using.
Protein powder: If you want to add protein powder to this recipe, reduce the amount of nuts to 1/3 cup and add 2 Tablespoons of protein powder (about 10 grams).
Nutrition
Serving:
1
ball with cashews
|
Calories:
98
kcal
|
Protein:
1
g
|
Fat:
2
g
|
Polyunsaturated Fat:
1
g
|
Sodium:
1
mg
|
Fiber:
2
g
|
Sugar:
16
g
Nutrition information is automatically calculated, so should only be used as an approximation.
Date Energy Ball Recipes to Try: