These sweet and savory bacon wrapped dates are a quick and easy appetizer made with only 2 ingredients. They're guaranteed to be a hit at your next party!
Looking for the perfect appetizer to serve before Thanksgiving dinner? Cue these bacon wrapped dates!
The combo of sweet, caramel-like medjool dates paired with crispy, salty bacon is truly a match made in heaven. It's such a simple appetizer that instantly elevates any event, whether it's a cocktail party, holiday meal or casual dinner night with friends.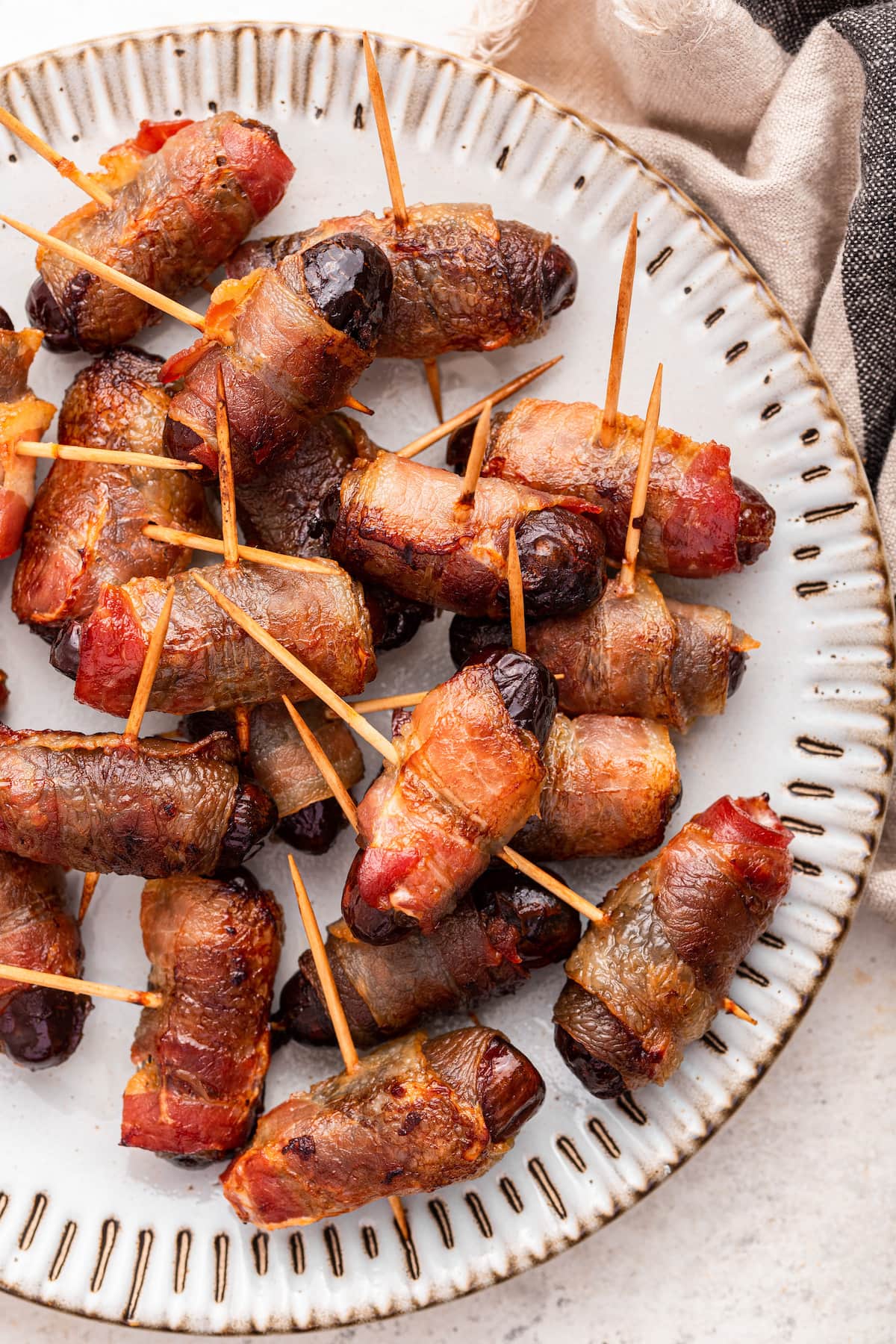 Why You'll Love This Recipe
Taste: The contrast between sweet dates and savory bacon is hard to resist.
Simplicity: Just two main ingredients and minimal prep.
Perfect for Gatherings: They're always a hit at parties and get-togethers.
Versatile: Great as a snack, appetizer, or even a side.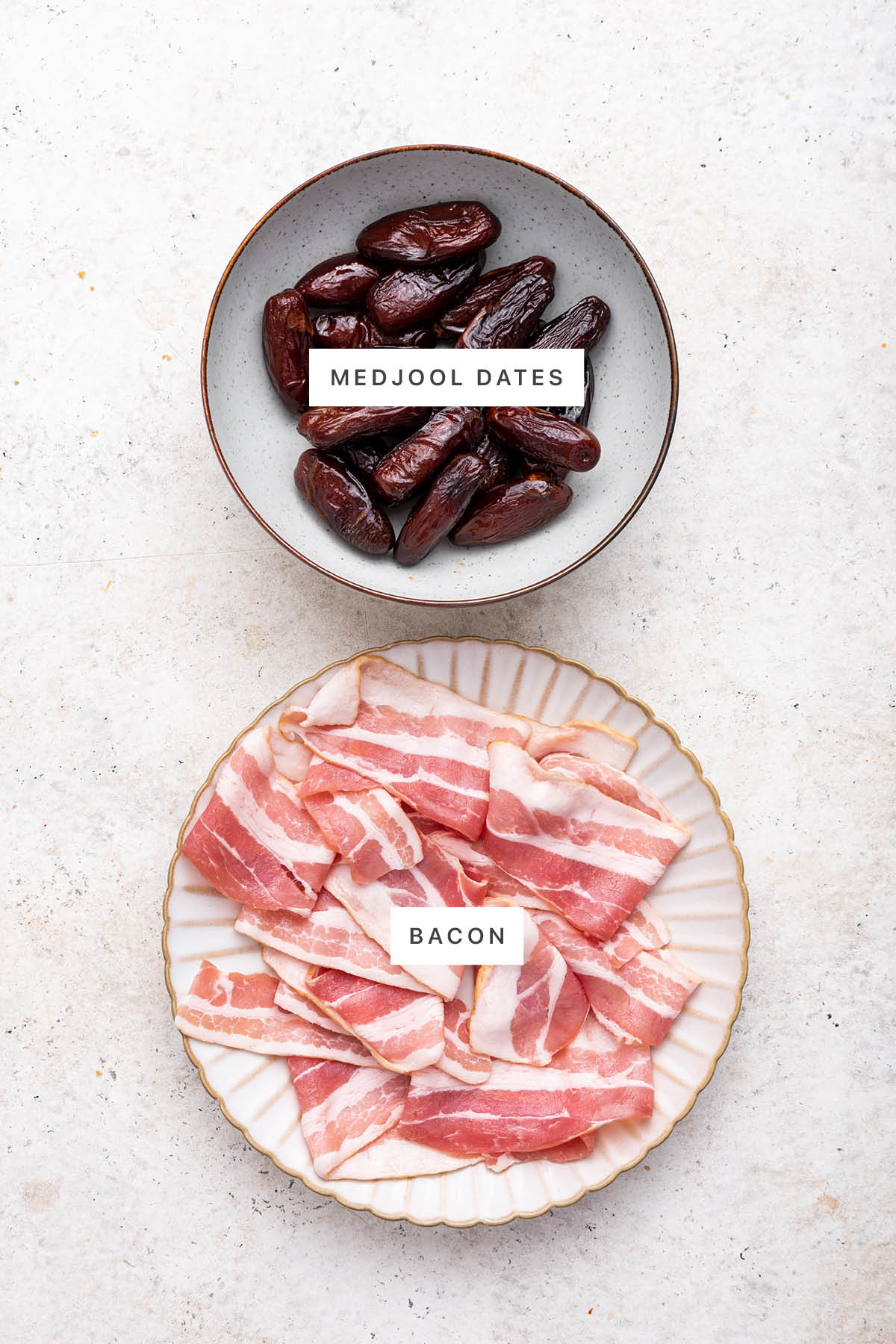 Ingredients Needed
medjool dates – the star of the show! You can buy medjool dates that are already pitted or have the pits that you pit yourself (it's super easy). Two brands that I like are Natural Delights and Joolies. You can find Natural Delights in the produce section of most grocery stores (near the bananas) and Joolies are offered on Amazon and Thrive Market.
bacon – you'll need 10 slices of bacon cut in half. You can use your favorite brand of bacon, but try to aim for slices that aren't too thick.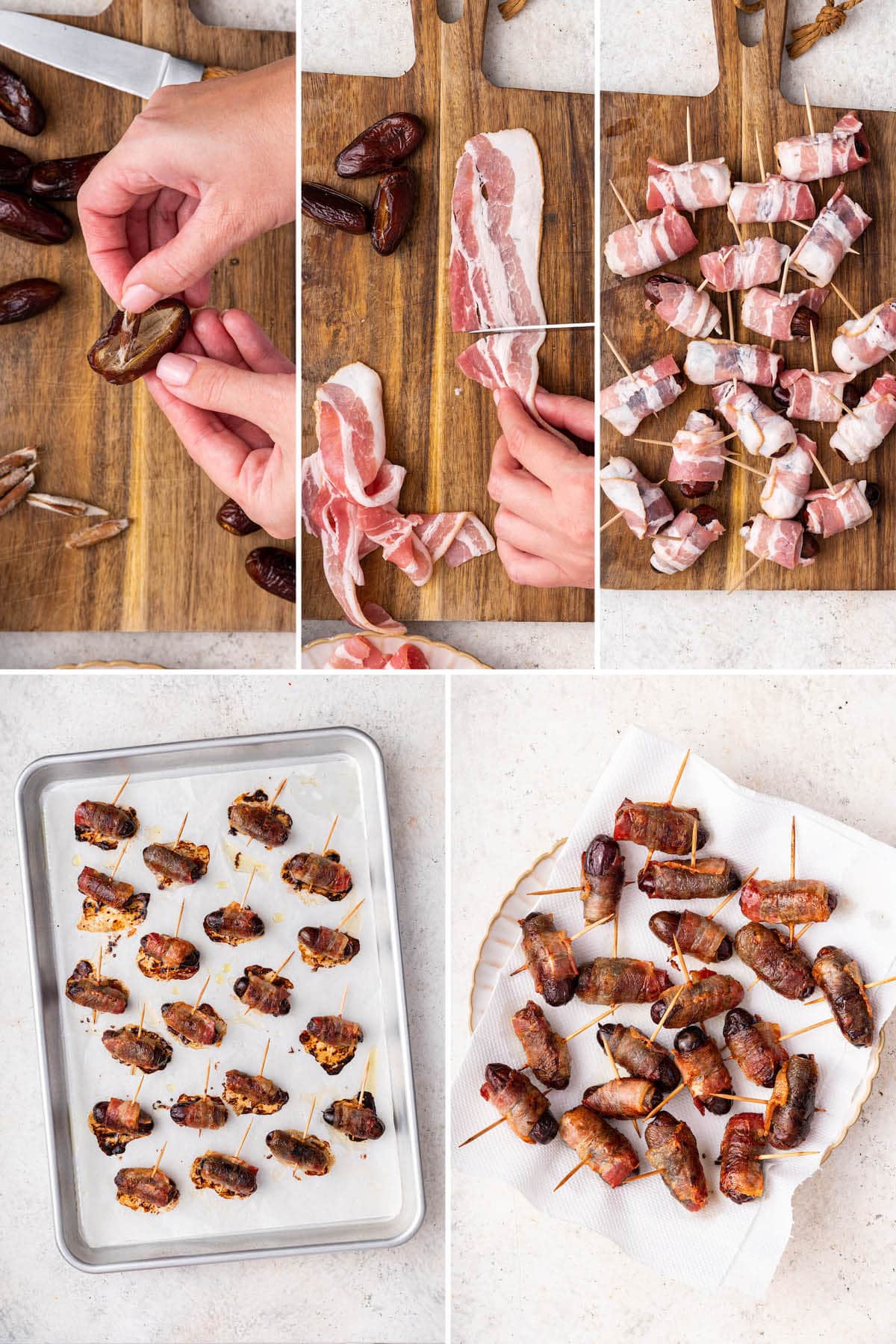 How to Make
Step 1: Start by preheating your oven to 400°F and lining a sheet pan with parchment paper.
Step 2: For each date, make a lengthwise slit and take out the pit. Take the bacon slices and cut them in half. Wrap each date with half a bacon slice. Use a toothpick to secure the wrap.
Step 3: Place your wrapped dates on the baking sheet you prepared earlier. Bake for 20-25 minutes, making sure to rotate the dates halfway. Once done, transfer the dates to a plate that has been lined with a paper towel. This helps in soaking up any excess bacon grease. Let them cool for about 5 minutes, then enjoy!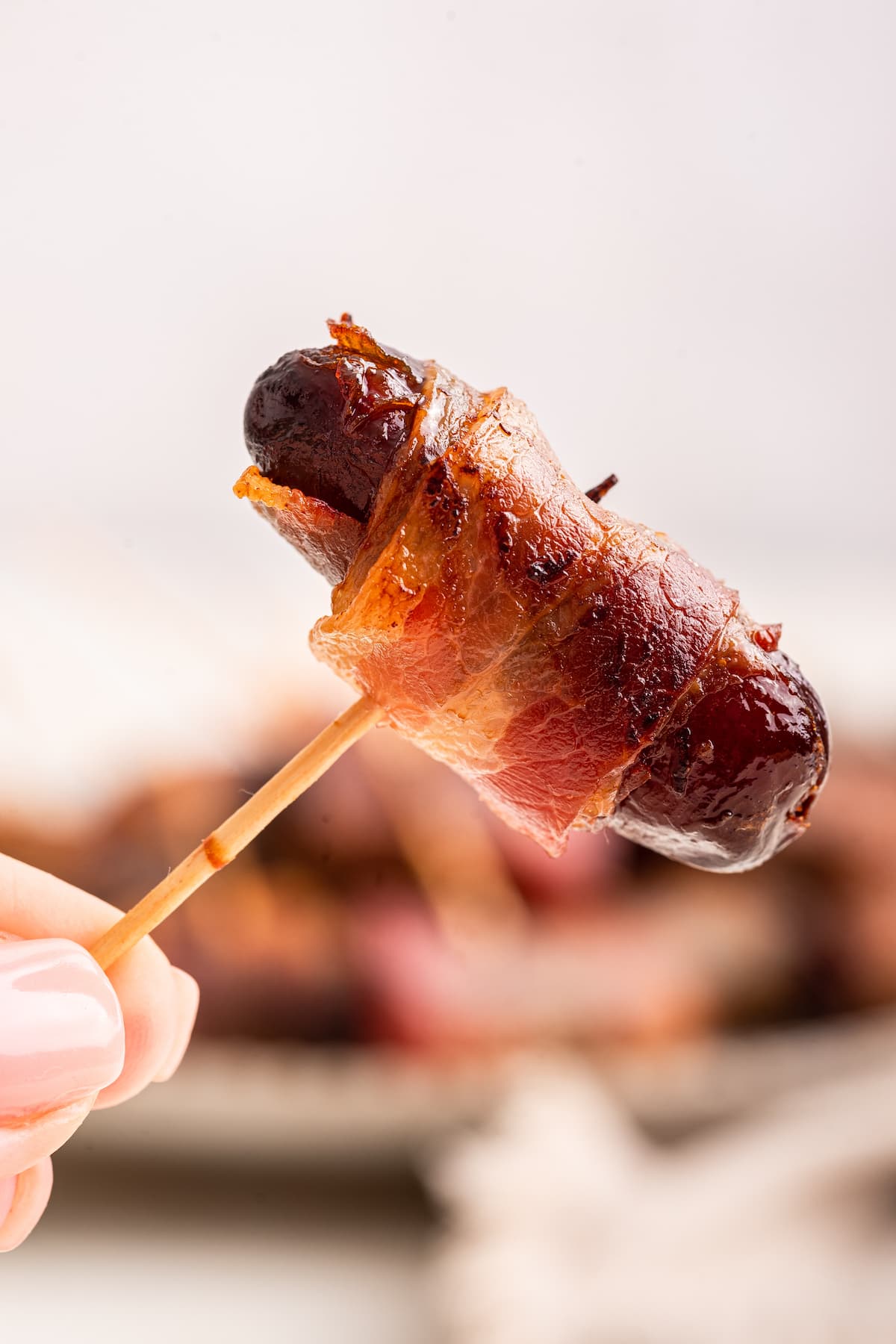 Variations
The bacon with date duo pairs perfectly, but there's always different options for everybody. Here's a few options to try for yourself:
Cheese-Stuffed: Turn these into bacon wrapped stuffed dates with a small piece of creamy goat cheese or blue cheese for an extra layer of flavor. Cream cheese is another great option!
Herbs & Spices: Add a touch of rosemary or thyme inside the wrapped date or sprinkle some smoked paprika, cayenne, or even black pepper on the outside for a hint of spiciness.
Different Wraps: Instead of bacon, consider using prosciutto or pancetta for a slightly different flavor. It may not be as crispy as bacon, but still great.
Add Nuts: Place an almond or pecan inside the date after pitting for a crunch.
Drizzles: Once baked, drizzle the dates with balsamic reduction or maple syrup for an added sweet-tangy flavor.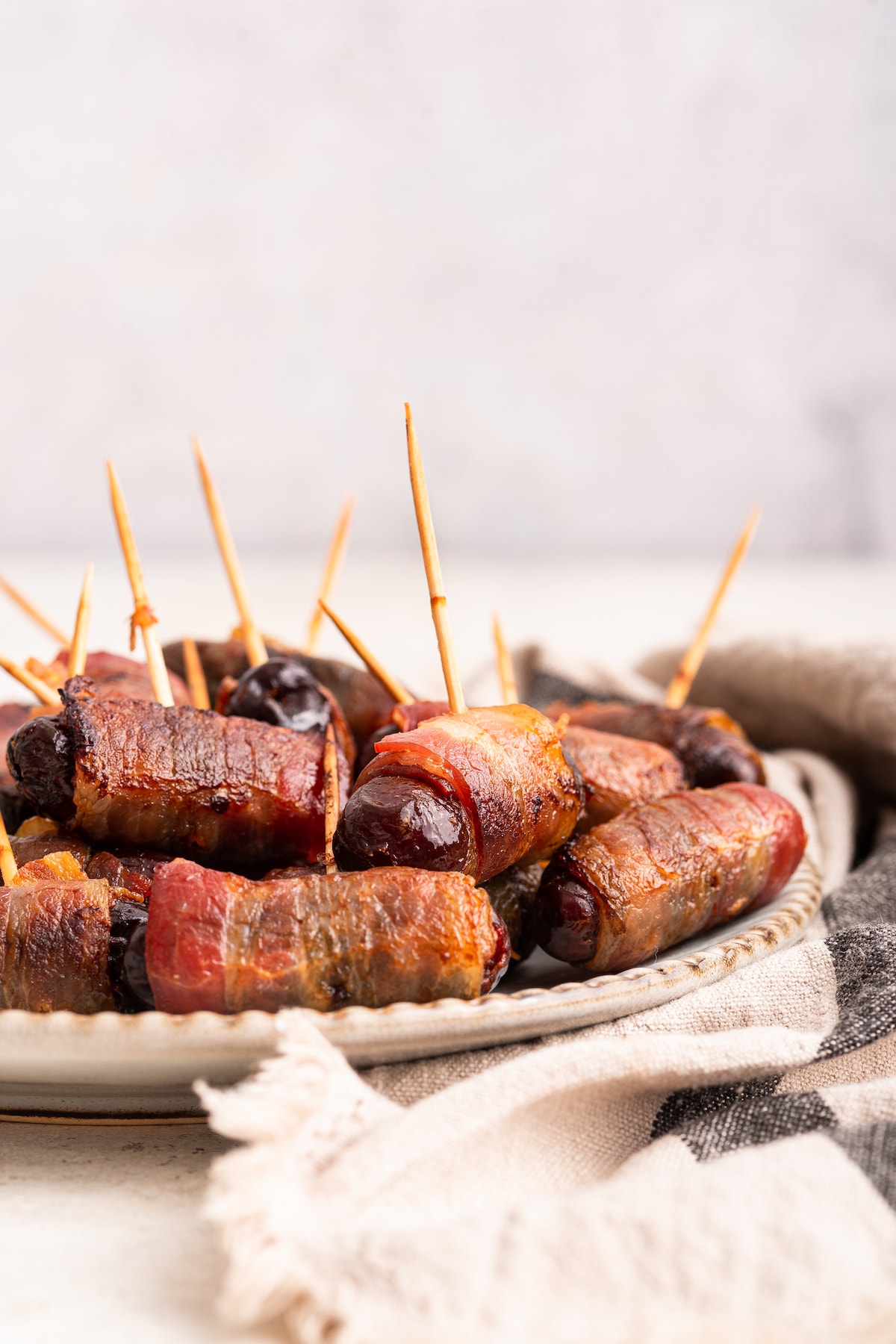 How to Serve
Whether you're making this recipe at home for the family, or making them to impress guests at the next appetizer party, these are a few options that would pair well.
Salads: Try these dates with some fresh greens like this easy kale salad, or if you'd like something heartier, you may like this greek yogurt chicken salad.
Drinks: Pair with a crisp apple cider mimosa or a glass of sparkling wine. The effervescence cuts through the richness, making each bite even more enjoyable.
Cheese Board: Enhance a classic cheese platter with these dates. Soft cheeses, especially goat cheese or brie, can be a delectable match.
Dips: Consider trying this hot honey whipped cottage cheese dip, or this whipped feta. These dips' coolness can offset the dates' warmth and richness, creating a balanced taste experience.
Roasted Veggies: Something as simple as these roasted Brussels sprouts or roasted sweet potatoes would go excellent alongside these bacon-wrapped dates.
Recipe Tips
Quality Bacon: Go for high-quality, thick-cut bacon for best results. It'll provide a better wrap and flavor to the dates.
Avoid Overlapping: When placing the wrapped dates on the baking tray, make sure they don't overlap. This ensures even cooking and crispy bacon.
Toothpick Technique: When securing the bacon with a toothpick, try to pierce through the date flesh only and not the other side of the bacon. This will make it easier to rotate the dates while cooking.
Watch the Oven: Ovens vary, so keep an eye on the dates, especially towards the end of the baking time, to ensure they don't burn.
Cooling: Letting them cool for a few minutes after baking not only helps in handling them but also intensifies the flavor as the bacon becomes crispier.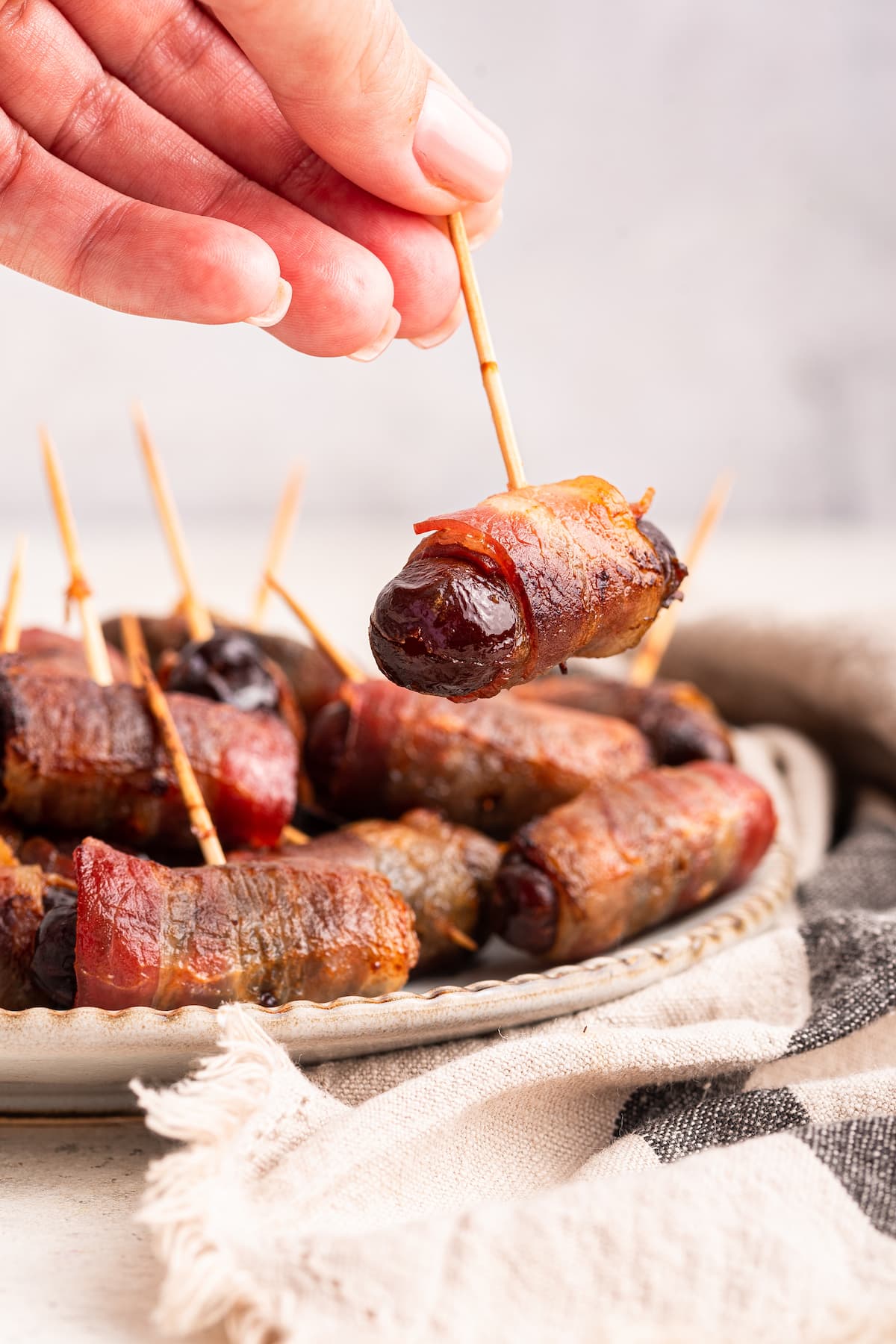 How to Store Leftovers
Refrigerator: Store any leftover bacon-wrapped dates in an airtight container in the fridge for up to 3 days.
Reheat: When you're ready to enjoy them again, pop them in the oven at 350°F for about 10 minutes or until heated through. This will help maintain the crispiness of the bacon.
FAQs
Can I use a different type of date other than Medjool?
Absolutely! While Medjool dates are commonly used because of their size and sweetness, feel free to use Deglet Noor or any other variety. Just be sure they're pitted before wrapping.
I don't eat pork. Can I use another type of bacon?
Yes, turkey bacon or even vegan bacon alternatives work well in this recipe. Adjust cooking times accordingly.
Can I make these ahead of time for a party?
Yes, you can prep the dates by wrapping them in bacon and then refrigerate. When you're ready to serve, simply bake them.
Can these be frozen?
Yes, you can freeze bacon-wrapped dates either before or after baking. If freezing after baking, make sure they're completely cooled. When ready to eat, reheat in the oven for best results.
More Appetizers to Try
More Medjool Date Recipes
Be sure to check out all of the medjool date recipes as well as the full collection of appetizers on EBF!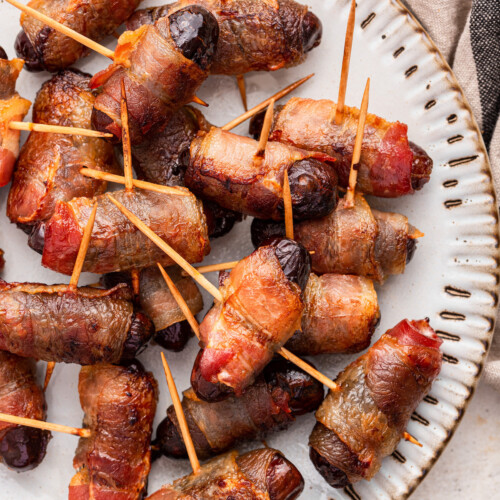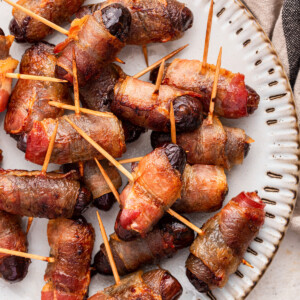 Bacon Wrapped Dates
These sweet and savory bacon wrapped dates are a quick and easy appetizer made with only 2 ingredients. They're guaranteed to be a hit at your next party!
Instructions
Preheat the oven to 400°F and line a baking tray (with edges) with parchment paper.

Cut a slit lengthwise in each date and remove the pit.

Cut the bacon slices in half.

Wrap one piece of the bacon around each date, securing with a toothpick. Place dates on the prepared baking sheet.

Bake dates in the oven for 20-25 minutes, rotating halfway, until the bacon is cooked to your liking.

Remove dates from the oven and place them on a plate lined with a paper towel to soak up some of the bacon grease. Let cool for about 5 minutes before serving. Enjoy!
Nutrition
Serving:
2
dates
|
Calories:
178
kcal
|
Carbohydrates:
36
g
|
Protein:
3
g
|
Fat:
4
g
|
Saturated Fat:
1
g
|
Cholesterol:
8
mg
|
Sodium:
135
mg
|
Potassium:
334
mg
|
Fiber:
3
g
|
Sugar:
32
g
Nutrition information is automatically calculated, so should only be used as an approximation.