These sweet potato quinoa cakes are studded with dried cranberries. They are delicious served hot, cold or at room temperature. I love serving a couple with salad. 
Hi! I hope your week is off to great start. I've been meaning to write this post for some time however for whatever reason there have been a few road blocks in the way so I'm just now getting to it…
That said, a few weeks ago I signed up for a FREE Healthy Eating tour at my local Whole Foods and learned all about a new initiative they started called Health Starts Here. The goal of the program is to promote healthy eating education through easy-to-follow guidelines, in-store signage and support tools. The new program is based on the following simple principles for everyday healthy eating:
Plant-Strong – Eat more plants, like raw and cooked vegetables, fruits, legumes and beans, nuts, seeds and whole grains to ensure the best nutrients for the body, which leads to feeling satiated
Whole Foods – Choose foods that are real, fresh, natural, organic, local, seasonal and unprocessed. Eliminate refined, highly processed foods and foods containing ingredients void of nutrients, such as artificial flavors, colors, preservatives, sweeteners and hydrogenated fats.
Healthy Fats – Get healthy fats from plant sources, such as nuts and avocados. Minimize extracted oils and processed fats. If eating a diet that includes animal products, choose leaner meats and seafood as well as low-fat dairy products.
Nutrient Dense – Choose foods that are rich in nutrients when compared to their total caloric content. Build menus around plant-based foods to emphasize nutrient-rich meals containing a variety of vitamins, minerals, phytonutrients and antioxidants.
You all know I love Whole Foods, but even if I didn't I would still give them props (doesn't anyone even use that word anymore?) for trying to help their employees and customers eat more nutritious foods and live healthier. I know, I know.. they are in the business of selling healthy foods so one might say this is just another marketing campaign. But honestly, I think it's a pretty darn good one! They're doing FREE healthy eating education and in my humble opinion, their principles of everyday healthy eating are much healthier than the ones our own government recommends.
One aspect of the program I am not completely sold on is the Aggregate Nutrient Density Index (ANDI) Score, a numeric system used to rate the nutrient density of foods based on a numeric score of 0 to 1000, with 1000 being the most nutrient dense. The ANDI score technique was developed by Dr. Joel Fuhrman and is calculated by evaluating a range of micronutrients including vitamins, minerals, phytochemicals and antioxidant capacities.
The reason I'm not sold is that only whole foods are given scores so packaged foods aren't compared and the scores are a bit confusing – sure it makes sense that kale scores 1000, the highest possible score, but then arugula gets a 559, butternut squash a 156, an apple scores a 72, nonfat plain yogurt a 30, and quinoa scores a 21. I consider all the foods I mentioned healthy but the foods with low scores seem "unhealthy" when looking at their ANDI score. I think the main point of implementing a healthy eating program should be to make it easier for the consumer to pick healthy options and this scoring system just doesn't seem to do that.
Despite the ANDI score I still think the mission behind Health Starts Here is great and I'm loving the HSH signage at the WF prepared foods section, salad and hot bar – it's super helpful when choosing what to eat to know which items meet the healthy eating guidelines. I'm also enjoying the plethora of healthy recipes they now have posted online. I've been browsing through the recipes and even tried a variation on their Kale Waldorf Salad last weekend.
Last but not least, while I was on the healthy eating tour, I was offered a sample of the Quinoa Sweet Potato Cakes from the prepared foods section. One bite of the cooled patty and I was hooked!! The HSH team leader mentioned that the recipes were posted online so I started looking for it right away. It was no where to be found online, but I miraculously managed to score the recipe!! I tweaked it a little, cut it down to an easier amount for home cooking (it still makes a TON) and now I have a delicious recipe to share with you all. ENJOY!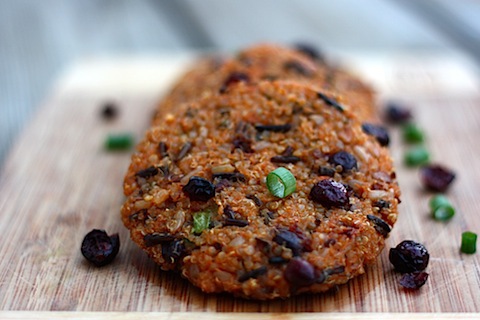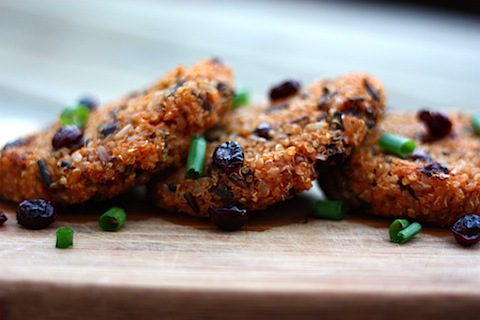 Print
Sweet Potato Quinoa Cakes
Author:

Eating Bird Food
Prep Time:

15 mins

Cook Time:

45 mins

Total Time:

1 hour
---
Description
This is a copycat recipe created with the HSH Quinoa Sweet Potato Cakes served in the prepared foods section at my local Whole Foods. I like these quinoa cakes served hot, at room temperature, or even leftover and cold straight out of the fridge. Make them into burger size patties or make smaller cakes and serve them as appetizers! This recipe makes a lot (2.5 lbs of quinoa cake "dough") but the baked patties do freeze well!
---
Scale
Ingredients
1

lb. sweet potatoes (

2

medium sized), peeled and cut into 1 inch chunks

1 cup

quinoa, rinsed and cooked according to package directions

1 cup

lundburg wild rice blend, cooked according to package directions

½ cup

green onions, sliced

½ cup

dried cranberries, chopped

1 tablespoon

dried sage

½ tablespoon

sea salt

½ teaspoon

black pepper
---
Instructions
Preheat oven to 350°.
Steam sweet potato chunks for 20-25 minutes. Then puree sweet potatoes in stand mixer. You could also use a food processor

(affiliate link)

or blender.
Combine mashed sweet potatoes, cooked quinoa, cooked rice, green onions, cranberries, sage, salt and pepper.
Form and flatten portions of the "dough" into patties.
Lay the patties onto parchment paper that has been sprayed with cooking spray (or stoneware) and bake for 15-20 minutes until they're lightly brown and crisp on the outside.
Serve warm, at room temperature, or straight from the fridge.
---
These do take a bit of time to prepare because you have to cook your rice and quinoa beforehand and let them cool enough to work with, but they are so worth the extra time. I love that these patties hold together well and get nice and crispy once baked in the oven! In addition, the natural sweetness from the sweet potatoes and cranberries take them over the top. FYI, the "batter" for the quinoa cakes is quite yummy on it's own so don't blame me if you want to lick the bowl. 😉
Before baking: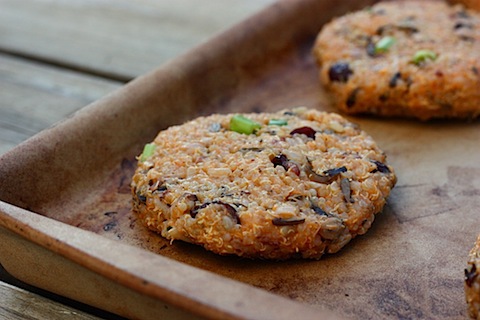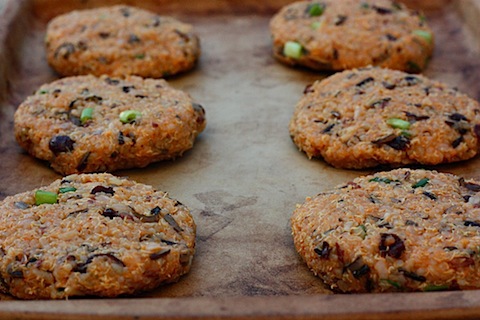 After: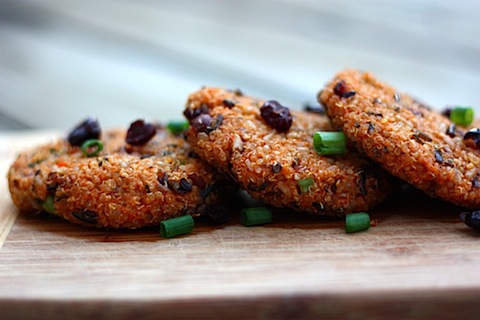 I promise they are as good as they look!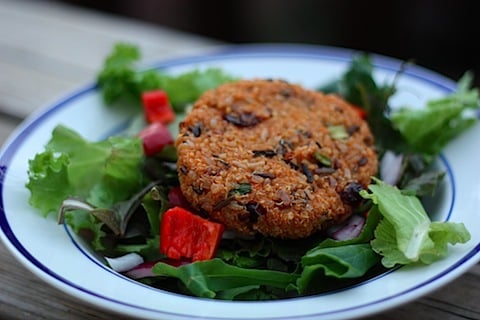 So there you have it – my favorite WF prepared foods item as of late and my thoughts on their Health Starts Here program.
What are your thoughts on the program? Have you seen the signage or attended the healthy eating tours/classes? Lastly, what's your favorite item from the WF prepared foods section? Have you tried to recreate it at home?