Spiced with cinnamon, nutmeg, ginger and allspice this moist and tender Chocolate Chip Pumpkin Bread is everything a pumpkin quick bread should be but a tad healthier, gluten-free and vegan.
HELLO there! I'm having one of those blogger breakdown moments where I have waaay too much stuff to share and not enough time to write everything. CONTENT OVERLOAD. I want to tell you guys all about my recent trips, show you some house updates, gush about my new found love for Orangetheory Fitness and give an update on my hormone situation, but all of that has to wait because this pumpkin bread must be shared! I made it last month and I simply can't keep the recipe to myself any longer.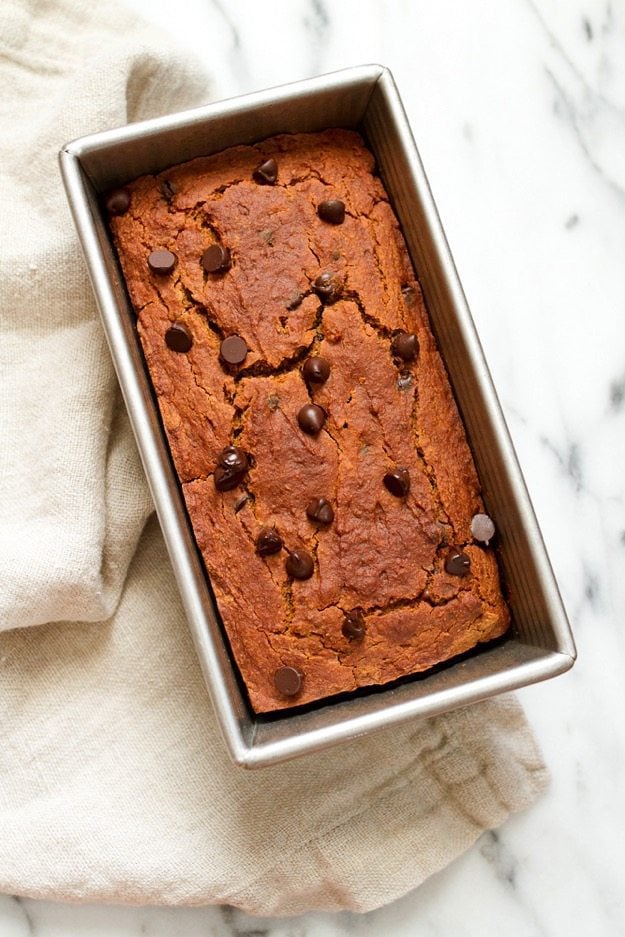 You can thank me later…
Pumpkin bread is one of my all-time favorite fall treats. As soon as the leaves start changing I start craving it and this year was no different. Full-blown fall hasn't arrived here in Virginia just yet, but the day I was baking this luscious loaf our house sure smelled like it.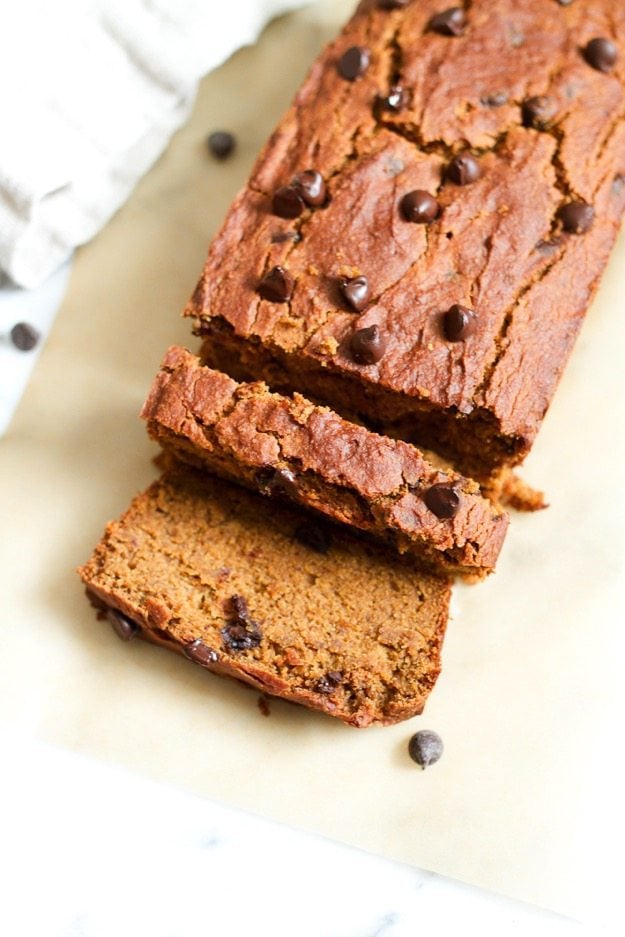 So what's the deal with this bread? Well, besides the fact that it's packed with pumpkin spice flavor (and tastes amazing), it's also vegan so there's no eggs, milk, or butter AND it's made with Ancient Harvest Quinoa Flour so it's completely gluten-free as well!
I love baking with quinoa flour because in most recipes you can use it as a one-to-one substitute for regular flour without having to add any thickeners. It's a whole-grain flour and is especially great for gluten-free baking because of it's protein content. Since gluten is a protein, it is important to use high protein flours (like quinoa flour) when baking gluten-free. The protein from the quinoa flour will help provide structure, shape and rise — especially when making bread.
It has a rich, nutty flavor, which I like but it can sometimes be overpowering in mild-flavored baked goods. As long as you're making something with a good amount of spice (like these Quinoa Gingersnap Cookies or this pumpkin bread) you probably won't even notice it.
That said, if you're new to using quinoa flour you may want to try toasting the flour ahead of time to help mellow the flavor a bit. You can also ease yourself in by using half quinoa flour and half all-purpose flour. <—  Use gluten-free all-purpose flour if needed!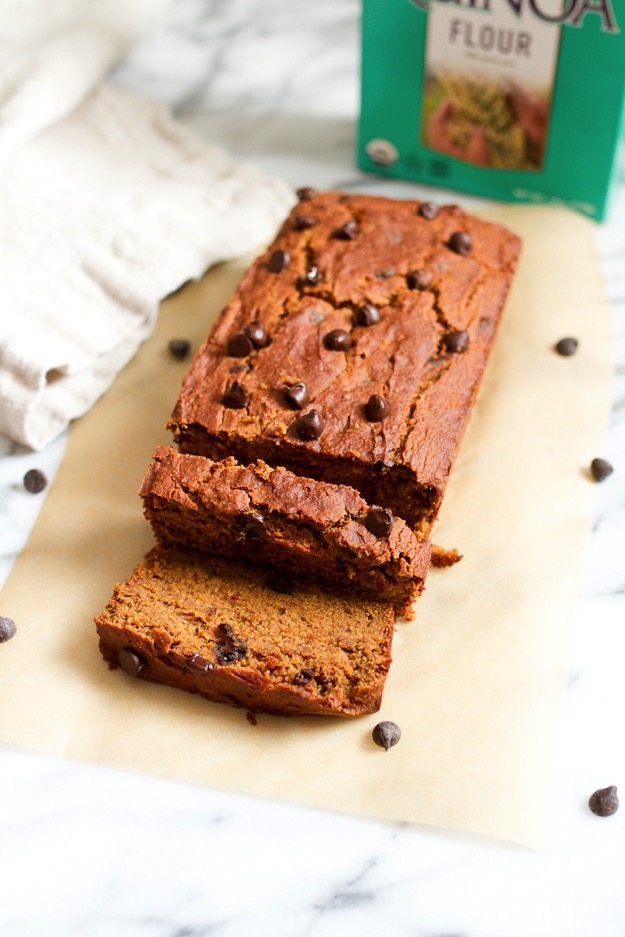 Once cooled this bread is moist and tender from the canned pumpkin and packed with pumpkin spice aroma and flavor. It's everything a pumpkin quick bread should be but a tad healthier.
I will say, the bites with a chocolate chip are my absolute favorite. I mention that they're optional in the recipe but you're only allowed to leave them out if you must! And if you do, I would add in chopped pecans or walnuts instead — just to add a little texture. I'm a nut lover, but Isaac hates nuts in baked goods (and ice cream) so that's why I add chocolate chips to pretty much everything.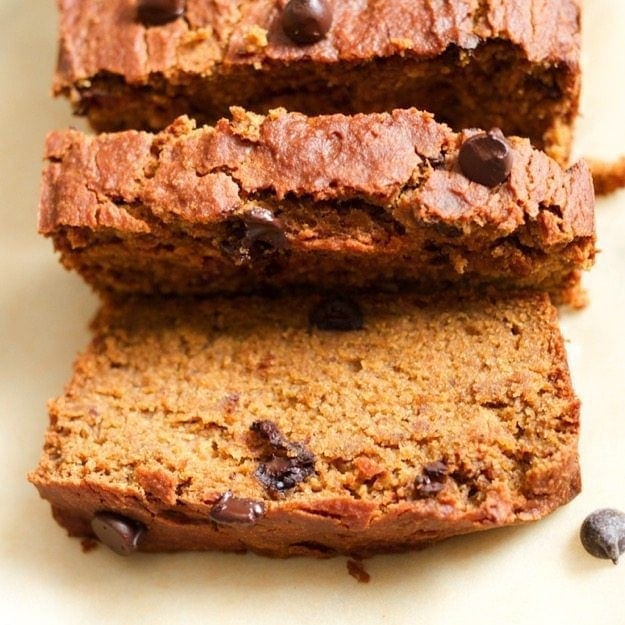 Ready to dive in?!? Here's the recipe:
Print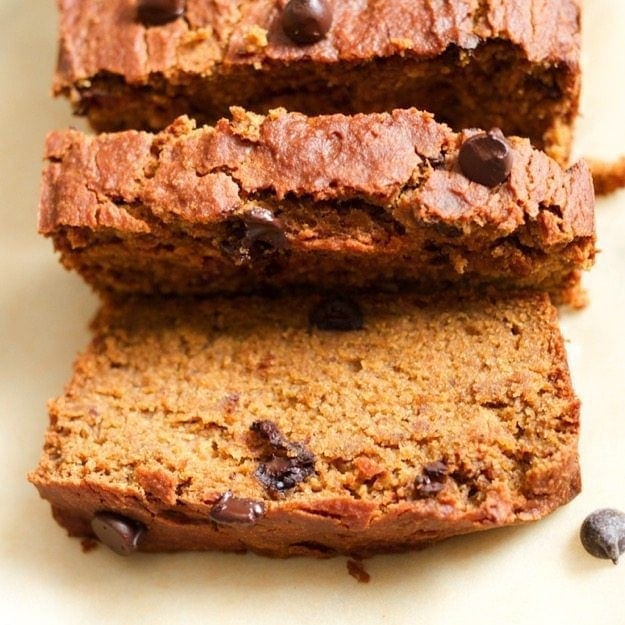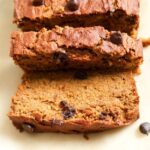 Quinoa Flour Pumpkin Bread
---
Description
Spiced with cinnamon, nutmeg, ginger and allspice this moist and tender Chocolate Chip Pumpkin Bread is everything a pumpkin quick bread should be but a tad healthier, gluten-free and vegan.
---
Scale
Ingredients
1 2/3 cup

s Ancient Harvest quinoa flour

1 teaspoon

baking powder

1 teaspoon

baking soda

1 1/2 teaspoon

s pumpkin pie spice (see note)

1 teaspoon

cinnamon

1/2 teaspoon

sea salt

1 cup

canned pumpkin puree

1 cup

coconut sugar (or other unrefined granulated sugar)

1 teaspoon

vanilla

1/4 cup

coconut oil, in a liquid state

1/4 cup

unsweetened apple sauce

1

flax egg (

1 Tablespoon

ground flaxseed +

3 Tablespoon

s water)

1/4 cup

dairy-free mini chocolate chips, chopped pecans or chopped walnuts (optional)
---
Instructions
Preheat oven to 350° F. Prepare 1 regular sized loaf pan (8.5 X 2.5 X 2) by spraying it with cooking spray or spreading on a thin layer of coconut oil.
Whisk together ground flaxseed with water in a small bowl with a fork and let it sit for a few minutes until an gel like consistency forms.
In a large bowl, mix together the wet ingredients (pumpkin, sugar, vanilla, coconut oil, apple sauce and flax egg) and mix together until well blended. In a separate bowl, whisk together the dry ingredients (quinoa flour, baking powder, baking soda, cinnamon, pumpkin pie spice and salt). Stir the dry ingredients into the pumpkin mixture until just blended.
Pour batter into the prepared loaf pan and place on the center rack of oven. Bake for 60 minutes or until a toothpick inserted in the middle comes out clean. Allow to cool before removing from pan. Leftover bread will keep best in the fridge.
---
---
Notes
If you can't find pumpkin pie spice you can easily make your own blend using cinnamon, nutmeg, allspice and ginger. Here's a recipe.
---
Nutrition
Serving Size:

1 slice

Calories:

215

Sugar:

21g

Fat:

7g

Carbohydrates:

35g

Fiber:

2g

Protein:

3g
Oh, and one quick announcement: I'm super excited to be taking over the Ancient Harvest Facebook page today!! I'll be sharing some of my favorite fall recipes throughout the day. Feel free to pop over and check it out. I'd love a little interaction from some familiar faces. 🙂