Eat Well With EBF – 6 Week Meal Plan
4
Published Jan 18, 2019, Updated Nov 22, 2021
Introducing, Eat Well With EBF, a 6 week meal plan and meal prep guide! This guide is perfect for anyone who wants to eat healthier, but is overwhelmed with by the meal planning and prep process. Let a holistic nutritionist do all the hard work for you!
You might know this about me already, but my weight loss journey started in college.
The only way I was able to lose and keep the weight off was by changing my eating habits and adding in physical activity. Sounds easy when it's written like that, but we all know that it's not always simple – especially the healthy eating part.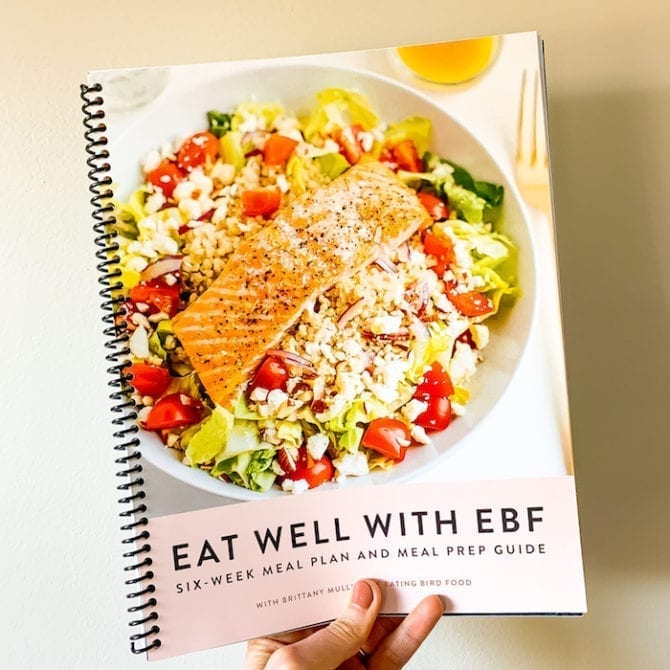 That said, I've found one thing that has really helped me stick with healthy eating = meal planning and prepping. It took me a while, but now I have truly mastered the practice. I've mentioned my meal prep process before sharing some of my favorite kitchen tools for meal prep, a free meal planning printable and lots of meal planning tips, but I still get tons of questions about how to plan out meals and stick to the process.
Learning How to Meal Plan and Prep
Here's the thing. I didn't always know how to meal plan and meal prep. When I first got started I was following a lot of fitness people online and thought that meal prep meant I had to cook full meals and line up my grilled chicken, steamed broccoli and rice in little containers. And nothing could have salt! I felt like the meals were boring AND the process seemed overwhelming.
Over the years I developed a meal planning technique that works for me and it doesn't involve spending a full day in the kitchen cooking every single thing I'm going to eat for the week. Or eating all my meals straight from a storage container. It involves pulling out my calendar, planning out meal ideas for the week ahead, finding a few recipes, writing a grocery list, getting the groceries I need and doing a little prep to help me save time throughout the week ahead.
This all may seem a little overwhelming, but once you get into a routine with it, it becomes second-nature and so much easier. If I can do it, you can totally do it too!
What's Included in the 6 Week Meal Plan?
And if you need a little direction or just a little help with the planning part, I got you! This year for the first time ever the EBF team created a 6 Week EBF Meal Plan called Eat Well With EBF. It's 125 pages and includes 6 weeks of meal plans, grocery shopping lists and meal prep tasks for each week, my top healthy pantry, fridge and freezer staples, my go-to formula for creating balanced meals for breakfast, lunch and dinner, 30 healthy snack ideas, a healthy treat recipe for every week and MORE!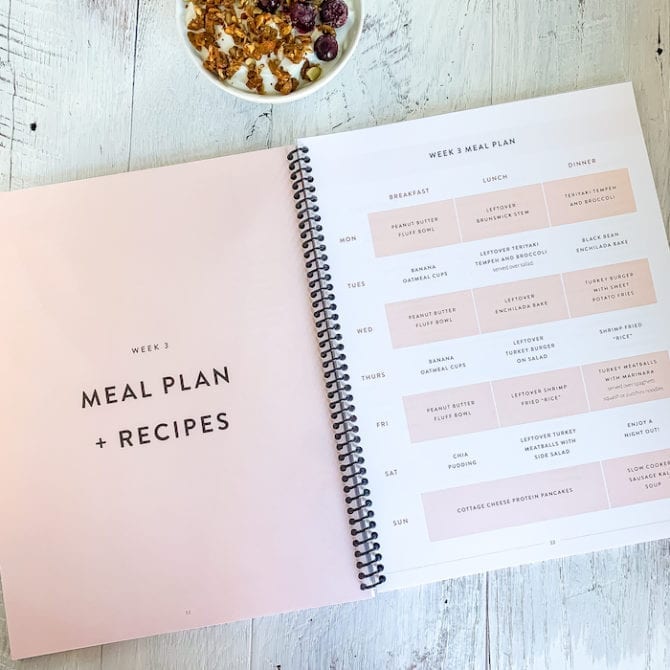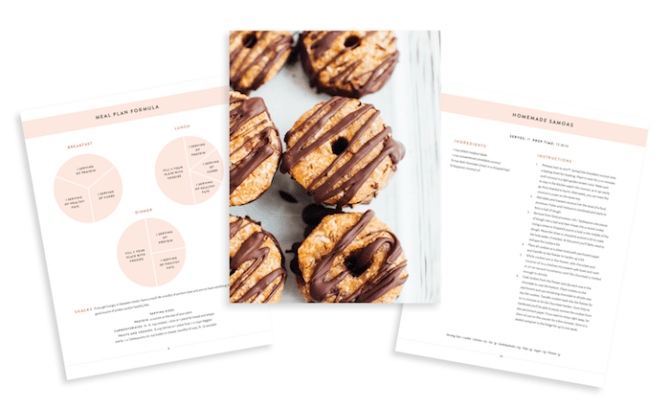 Not only will this plan help you feel organized and confident with meal planning and prepping, but if you're following the balanced meal guidelines and recipes I provide, you will feel energized and light because you're cooking more at home and eating whole, real foods!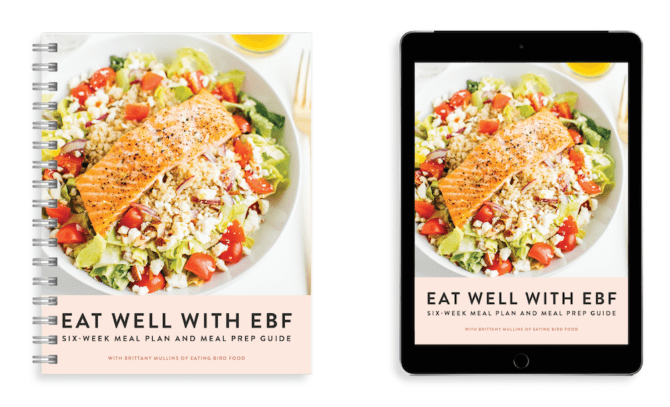 If you've ever been felt overwhelmed by the meal planning process, found yourself saving or pinning a bunch of recipes and never making any of them or making multiple trips to the grocery store each week… this plan is for YOU!
If you've ever felt confused by all the healthy eating advice out there and wished you just had someone to tell you what to eat… this plan is for YOU!
PS: I'm throwing in 4 extra PDF downloads when you purchase:
Bonus 1 – Tips for Batch Cooking
Bonus 2 – Meal Prep Kitchen Gadgets You Need
Bonus 3 – Produce Storage Tips
Bonus 4 – Mindful Eating 101