Best Kitchen Tools for Healthy Meal Prep
5
Published Jan 17, 2019, Updated Jan 14, 2022
Want to step up your healthy meal prep game? First, you have to make sure you have the right equipment! Here are my top meal prep kitchen tools that will make prepping so much easier and more enjoyable.
If you haven't noticed, I'm all about healthy meal prep! It has been one of the main reasons I've been able to stick with healthy eating all these years and keep off the weight.
I know meal prepping can be daunting for some. If you feel like you haven't mastered meal prep yet, know you're not alone! I have a 6-week meal plan and meal prep guide, which is perfect for anyone who wants to eat healthier, but it overwhelmed with the meal planning and prep process. In addition to this healthy meal prep guide, I've rounded up my top kitchen tools for healthy meal prep – they help make meal prep a breeze.
How Can I Make Meal Prep Easier?
Make sure you have the right tools! You wouldn't start a home renovation without making sure you have all the right tools – and the same goes for meal prep. It's so much easier when your kitchen is stocked with the right tools. Get a few of these gadgets and your meal prepping will be exponentially easier (promise!).
Besides having the right meal prep tools, my number one suggestion is to start small. Start by prepping one meal or snack for the week and build from there. Every little bit helps and you don't want to overwhelm yourself by trying to prep every meal for an entire week when you're just getting started . . . or heck, ever. I never prep every single meal for the week!
How Does Meal Prep Stay Fresh?
Invest in some glass containers like these or these with dividers. I love glass because they don't leach harmful chemicals into your feed and you can reheat directly from the container – in the oven and the microwave! I usually try to eat my meals within 5 days. As long as they're in a tightly sealed container, your meals will stay fresh! If you won't be eating your meals within the week, I recommend freezing them so they stay fresher longer.
Another good tip – use your senses! If something looks off (has mold spots) or smells off, then it's probably past it's prime and should be tossed.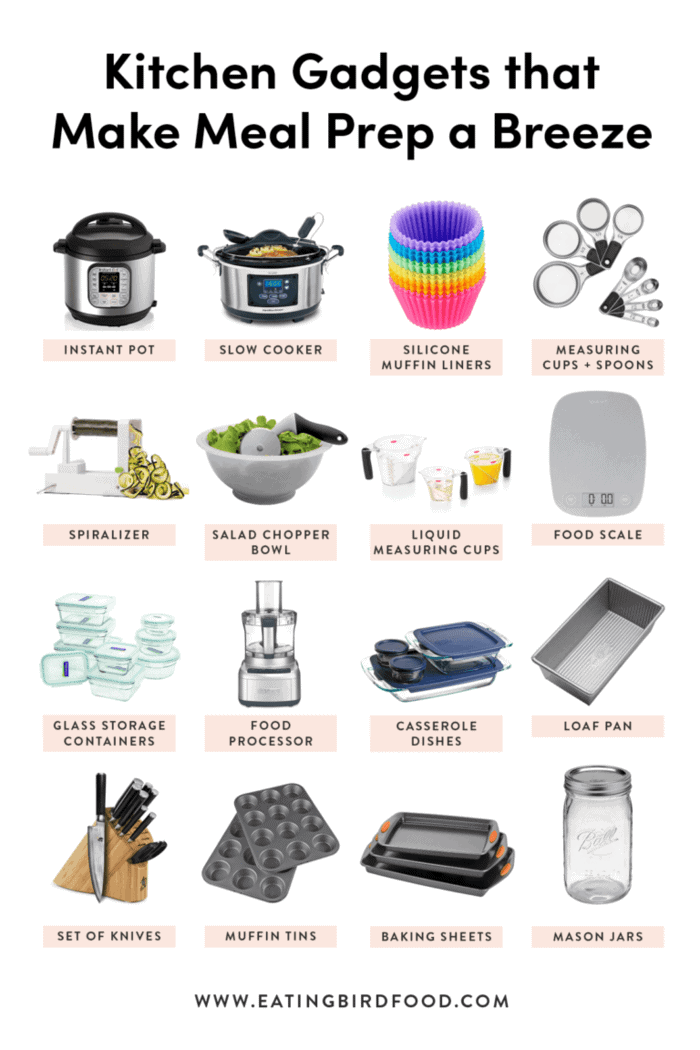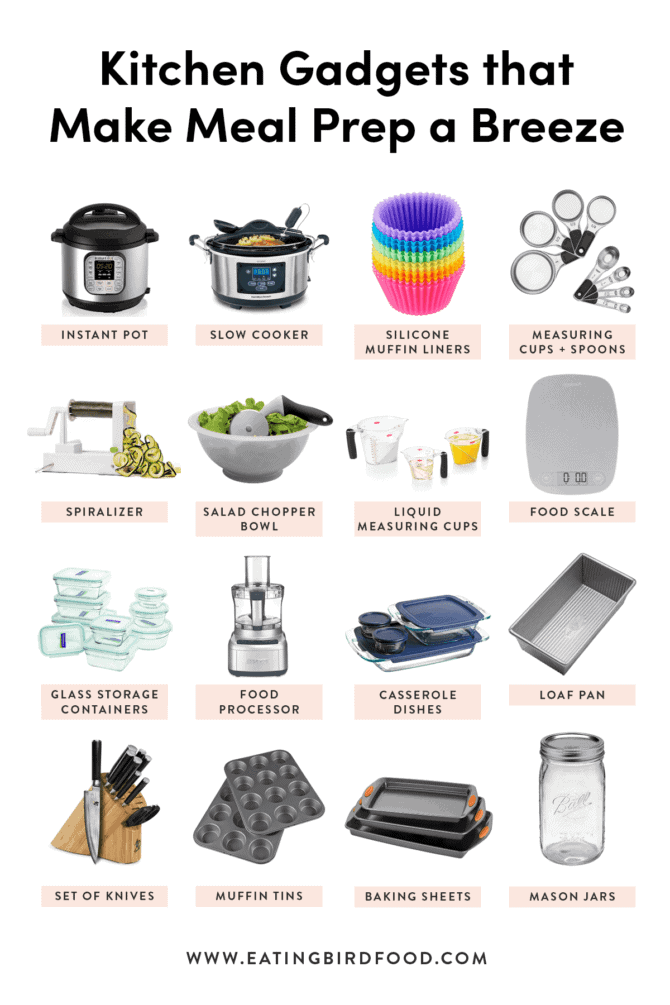 I know this gadget is all the rage in the health world lately, but it's for good reason. I got one a couple years ago for Christmas and just recently started using it to meal prep – and let me tell you, it's been a game changer. It's great for quickly cooking things like soup or bone broth and it's also amazing for batch cooking things like rice, beans, shredded chicken . . . you name it. My favorite Instant Pot recipe at the moment? This Butternut Lentil Turkey Chili is SO yummy!
Before I owned a pressure cooker, my programmable slow cooker was my secret weapon for meal prep, and it still makes the cut! It's so easy to throw ingredients in the slow cooker in the morning and have a delicious, healthy meal ready to eat at the end of the day. I have a bunch of slow cooker freezer meals that are great for meal prep – healthy eating has never been so easy! I also love it for making slow cooker oatmeal.
I know stores are selling prepared veggie noodles these days, but it's so much cheaper to make your own. I love my spiralizer for making zoodles, sweet potato noodles, broccoli noodles and more. Try your hand at spiralizing with these recipes: Zucchini Noodle Lo Mein and Pesto Zucchini Noodles.
You know my love for the salad chopper bowl. It is the key to evenly chopped, well-mixed salads. You can prep your salad ingredients ahead of time (keeping the dressing on the side) and then when it's time to eat, simply toss all of your salad ingredients and dressing in the salad chopper bowl and chop away! The result is a perfectly chopped restaurant-quality salad.
This is probably one of the two "necessary" items for meal prep. You can use any container you have on hand to store your prepped food, but I love glass because they don't leach harmful chemicals into your food like some plastics do and you can easily reheat in the microwave and stove. I recommend getting a glass storage set so everything matches and they're easy to store – otherwise you'll end up with a crazy cabinet full of mismatched storage containers that come toppling out every time you open the cabinet (I speak from experience if you can't tell). Added bonus: if want to prep full meals with different components/sections, these glass containers with dividers are awesome.
Food processors have so many uses – I use mine for shredded veggies, cauliflower rice, sauces, salsa, oat flour and energy balls/bars. Try it out with these 4-ingredient samoas.
Mason or Weck Jars
If you're new to meal prep, mason or Weck jars are great storage containers to start with. They're cheap and can store pretty much anything! I love wide mouth Ball mason jars for mason jar salads and I use smaller pint or ½ pint jars for overnights oats.
Don't get me started on my love of good, sharp knives. If you haven't treated yourself to a set of good knives, trust me, it's worth it! Chopping is so much easier and more effective when you have good knives. I love our Shun knives, but I was also gifted a couple knives from Material that are high-quality, come in cute colors and are pretty affordable.
I love prepping egg cups, oat cups, and protein muffins to have on hand for easy breakfasts and snacks throughout the week. Silicone muffin cups are insanely easy to clean . . . and if you know how annoying muffin tins can be to clean, you know these are definitely #worthit.
Two necessary items when it comes to meal prep! I love these high-quality cups and spoons, and they have magnetic handles so they stay together and are simple to wash (just throw them in the dishwasher).
It's great to have a liquid measuring cup on hand. I use it for . . . you guessed it, measuring any liquids! It's more precise and it's easier to pour the liquid using these measuring cups.
If you're fancy, this is an awesome gadget to take your meal prep to the next level. Some recipes have weight measurements so this is nice to have on hand – especially if you're a baker. Food scales also come in handy if you're learning portion sizes or tracking your food intake.
Baking or Roasting Sheet Pans
I love my baking stone but you can go with any set of baking sheets. I like using non-rimmed sheet pans for things like cookies, but the rimmed ones are great for roasting veggies and sheet pan meals. If there happens to be any liquid released during cooking, the rim ensures it doesn't drip all over your oven and create a big mess.
Casserole Dishes
9×13 is the standard size for casseroles, so I would definitely get that size – but it's also nice to have a square casserole dish (either 8×8 or 9×9). This Pyrex set has both sizes and comes with a lid for each.
Perfect for making quick breads like banana bread or savory dishes that come in loaf form like my vegan lentil loaf.
Good Set of Pots and Pans
I'm a big fan of non-stick skillets and I've been loving SCANPAN recently. I have a variety of sizes for different uses and I use them daily! For pots, I have these two Calphalon non-stick saucepans and love them. I also have a large Le Creuset cast-iron round dutch oven that I use for soups and stews.
Need Some Meal Prep Inspo? Check Out These Posts:
Do you have any go-to kitchen tools for meal prep that didn't make my list? If so, leave a comment and let me know. I'm always on the hunt for new kitchen gadgets to make my life in the kitchen easier.