Satisfy your sweet tooth with this peanut butter cup smoothie! It tastes like dessert but it's actually full of good for you ingredients like hemp protein powder, greens, peanut butter and banana.
As the weather warms up Isaac and I have started to crave morning smoothies again. If the EBF household had a smoothie shop, the recipe that I'm sharing today would be the "Smoothie of the Month" because we can't stop making it!
I don't know if I've mentioned it before, but Isaac loves peanut butter just as much as I do. Maybe more. He still, at the ripe age of 32, eats multiple peanut butter and jelly sandwiches a week. And it's funny because he can't take them to work (his school is peanut-free) so he usually eats them as a snack. <– Yup, he has an awesome metabolism.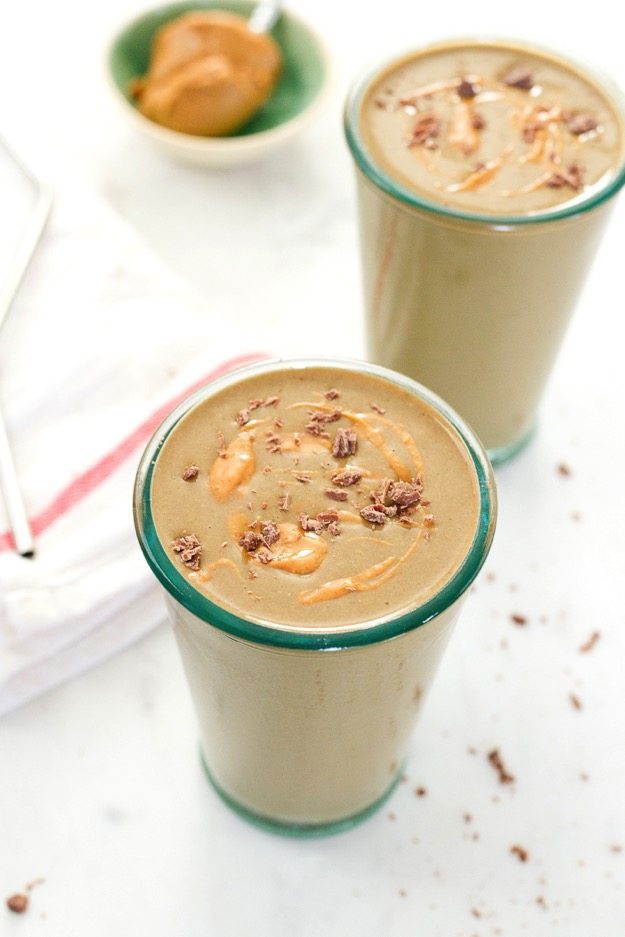 Anyhow, back to this smoothie! It's like a peanut butter cup in liquid form — rich, creamy and dessert like, but still healthy enough for breakfast or as a snack.
You get a little protein from the peanut butter, but the big boost of protein comes from this Chocolate Hemp Protein Smoothie drink mix from Manitoba Harvest.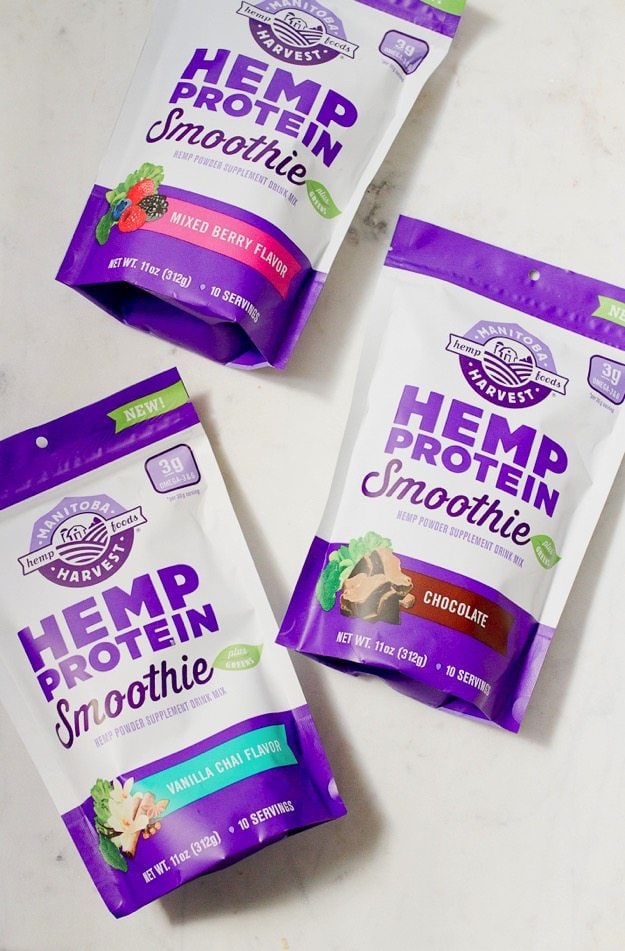 These smoothie mixes are a new product line from Manitoba Harvest that combines their HempPro 70 protein powder with a blend of greens (organic spinach, kale and broccoli) so that you get your protein and your greens in one. Each serving has 15 grams of plant-based protein! The mixes can easily be combined with your favorite beverage and enjoyed straight up, but you can also use them to make smoothies like the recipe I'm sharing today.
Isaac and I have tried the mixed berry and the chocolate flavors. Both are really good, but as a chocolate lover the chocolate reins supreme for me. Especially when combined with peanut butter and banana. I mean, what could be better?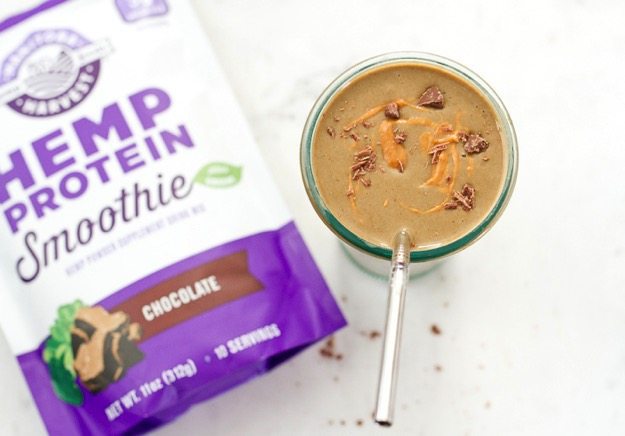 My smoothie love stems from the fact that they're soooo easy. Literally you can toss everything into the blender, whirl it for a few minutes and pour. Breakfast for two… done in like 5 minutes, tops!
And then it's guzzled down in like 5 minutes… oh wait, maybe that's just me!?!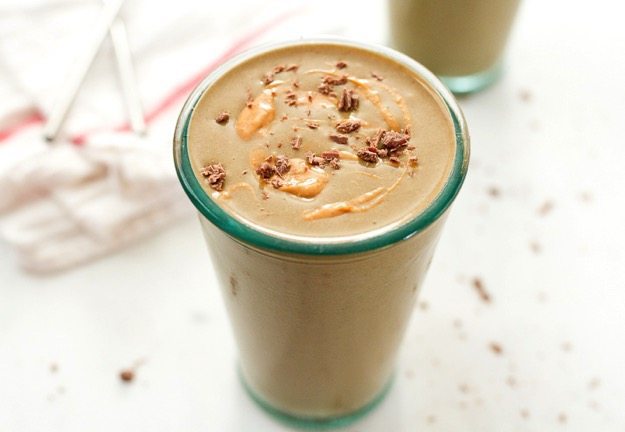 Seriously though, a smoothie this delicious does not last long.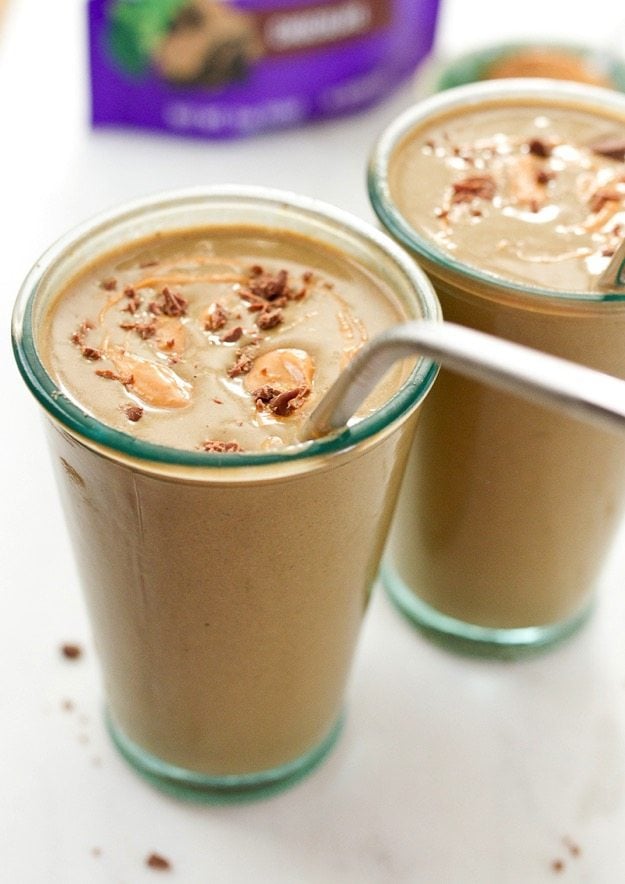 If you're a peanut butter and chocolate lover I highly recommend grabbing a bag of the Chocolate Hemp Protein Smoothie mix, running to your kitch and whipping up this peanut butter cup smoothie. Have it for breakfast, as a mid-afternoon pick-me-up or as a post workout recovery snack. Your choice!
Peanut Butter Cup Smoothie with Hemp Protein
2
adjust servings
Ingredients
8

Tablespoons Manitoba Harvest Chocolate Hemp Smoothie

2

Tablespoons peanut butter

2

frozen bananas, in chunks*

2

cups unsweetened almond milk

ice, if necessary
Instructions
Place all ingredients into a high-powered blender and blend until smooth. Enjoy immediately.
Recipe Notes
*If you're watching your sugar intake you can decrease to 1 banana or omit the bananas all together and just use ice for the frozen consistency. The smoothie won't be as creamy, but it will still taste good.
This post is sponsored by Manitoba Harvest. As always, opinions are my own. Thank you for supporting the brands that make EBF possible.