The BEST Healthy Tahini recipes
3
Published Sep 07, 2018, Updated Oct 26, 2021
Tahini is having a moment right now – and for good reason! Check out these healthy tahini recipes, plus get the 411 on why tahini (aka ground sesame seeds) is pretty much the best thing ever.
I am so dang excited about this recipe roundup because tahini is an amazing ingredient and I get so many questions about it! So we're tackling all things tahini in today's post. Are you excited? All together now… "heck YES!"
What is tahini and can I make it at home?
Tahini is a paste or sauce made from ground sesame seeds. It's found in a lot of Mediterranean and Middle Eastern cuisine and yes, you can absolutely make it at home by grinding your own sesame seeds. Although if I'm being honest, I don't take the time to make it at home because you can find it in pretty much any grocery store (even Trader Joe's) but if you want to make it, here's a simple tahini tutorial. If you do decide to buy it premade at the store, keep in mind that the taste of tahini can vary greatly based on brand. For example, some are more bitter than others. I haven't tried every brand out there, but my current favorite is the organic tahini from Whole Foods.
What does tahini taste like and what are the health benefits of tahini?
I'd describe the taste of tahini as rich and nutty, but not sweet – and it does have a slightly bitter aftertaste. As I mentioned above, the taste of tahini can vary based on the brand and quality of the sesame seeds. I did a tahini taste-test once at the Sabra hummus factory and the differences of taste between brands was very dramatic.
Since tahini is made of sesame seeds, you might have a guess on the high level of nutritional benefits. Sesame seeds (and therefore tahini) are a great source of calcium, iron and fiber. They're also high in healthy fats and amino acids – they're actually about 20% protein by weight (which is higher than many other nuts and seeds).
What can you use tahini for?
So many things! I love making tahini dressings and sauces for my salads and grain bowls. You can also make homemade hummus, baba ganoush and wait for it… baked goods. Yup, tahini fudge, cookies, cakes and more! With this many options, I've rounded up some amazing recipes that feature or include tahini as an ingredient.
I seriously want to try every single one of these recipes. Is it weird if I bookmark my own blog post? Just tell me it's totally normal…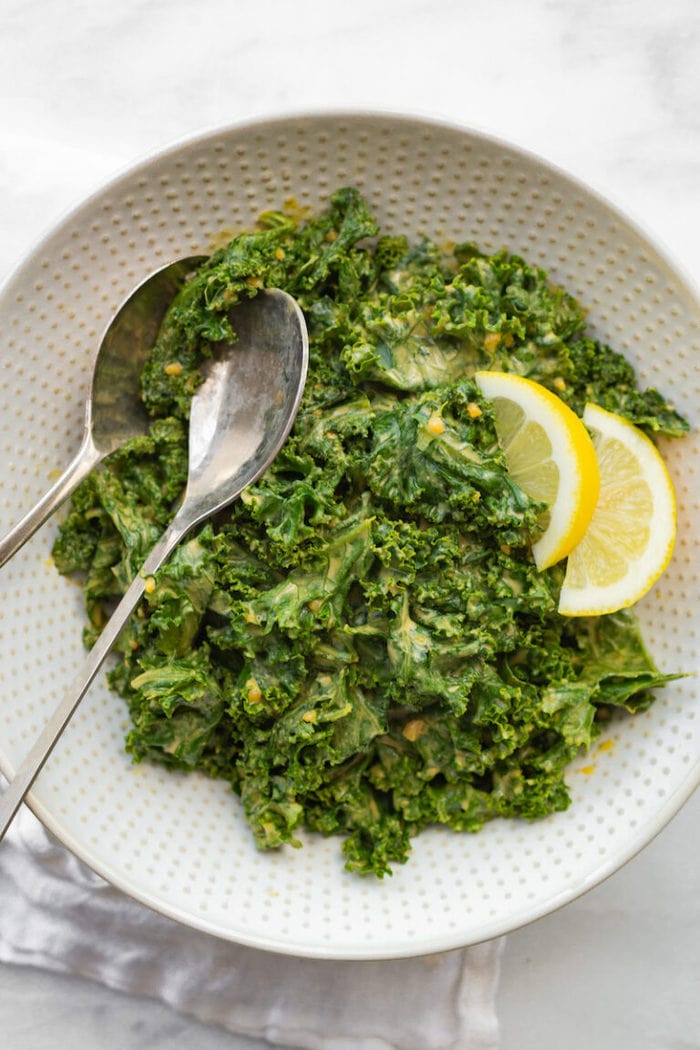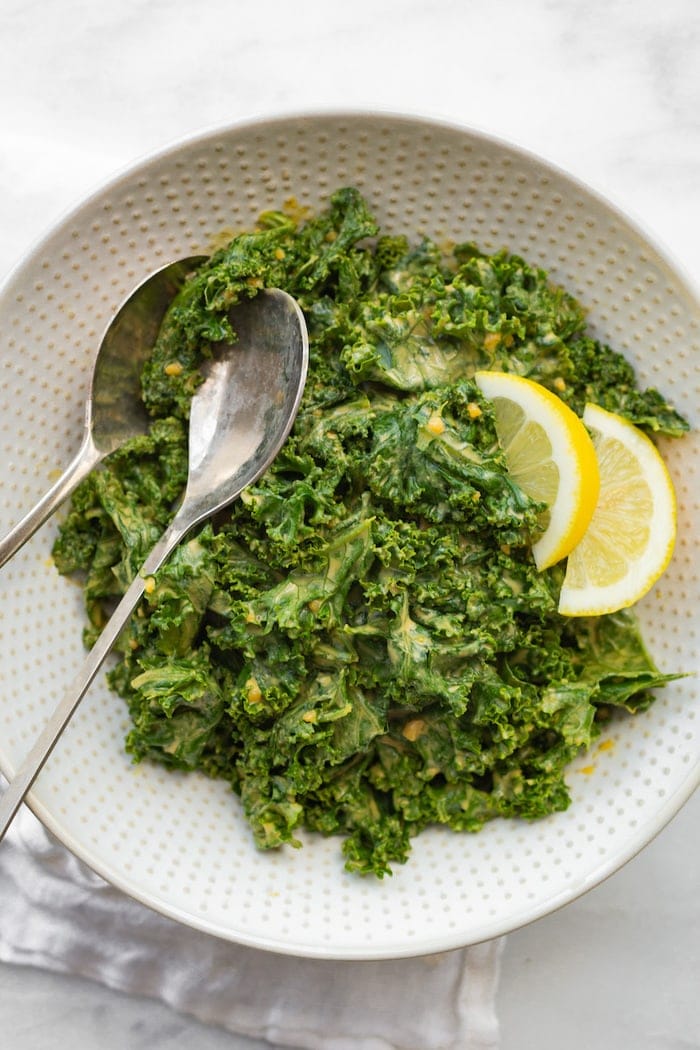 Garlicky Kale Salad – This is where my love affair with tahini began. Trust me, one taste of my zesty tahini dressing and you'll be hooked, too!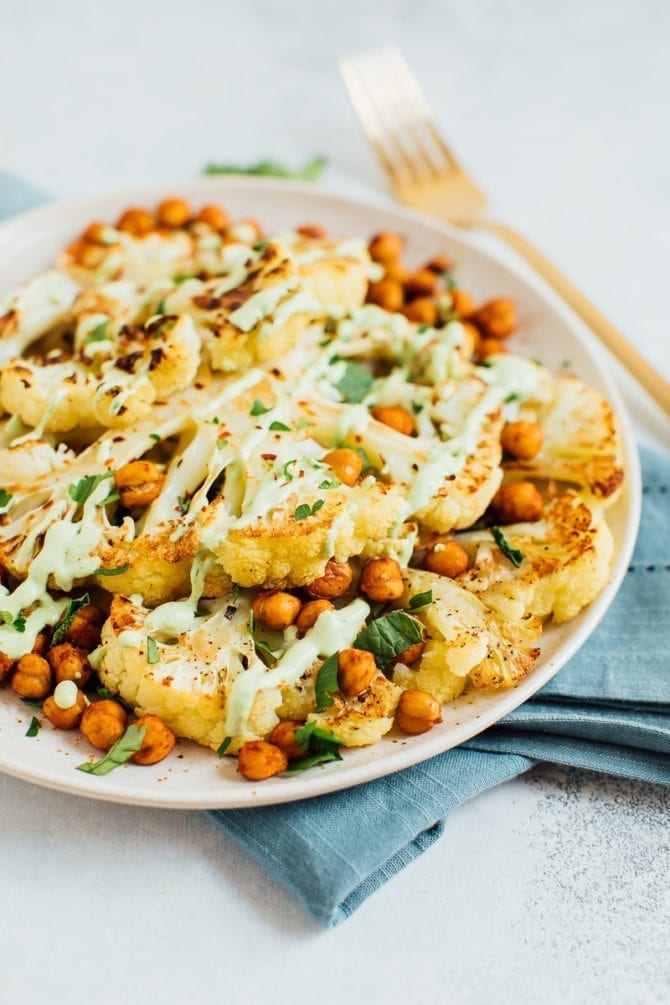 Roasted Cauliflower Steaks with Chickpeas and Green Tahini Sauce – Roasted cauliflower is always a winner, but when combined with chickpeas and a green tahini sauce, you have a true crowd-pleasing dish.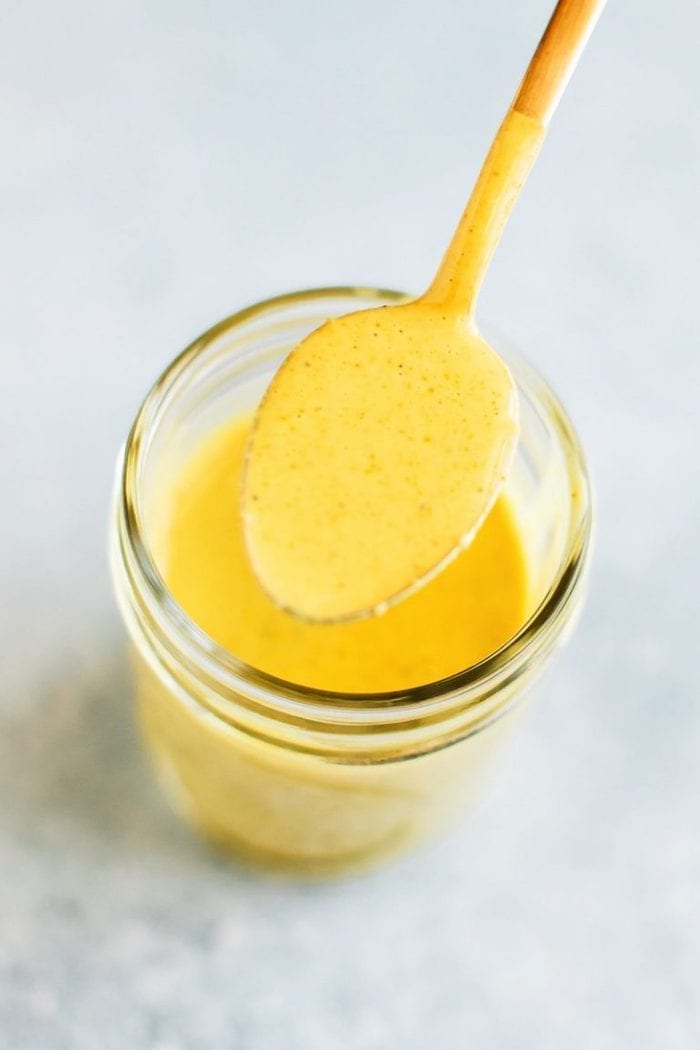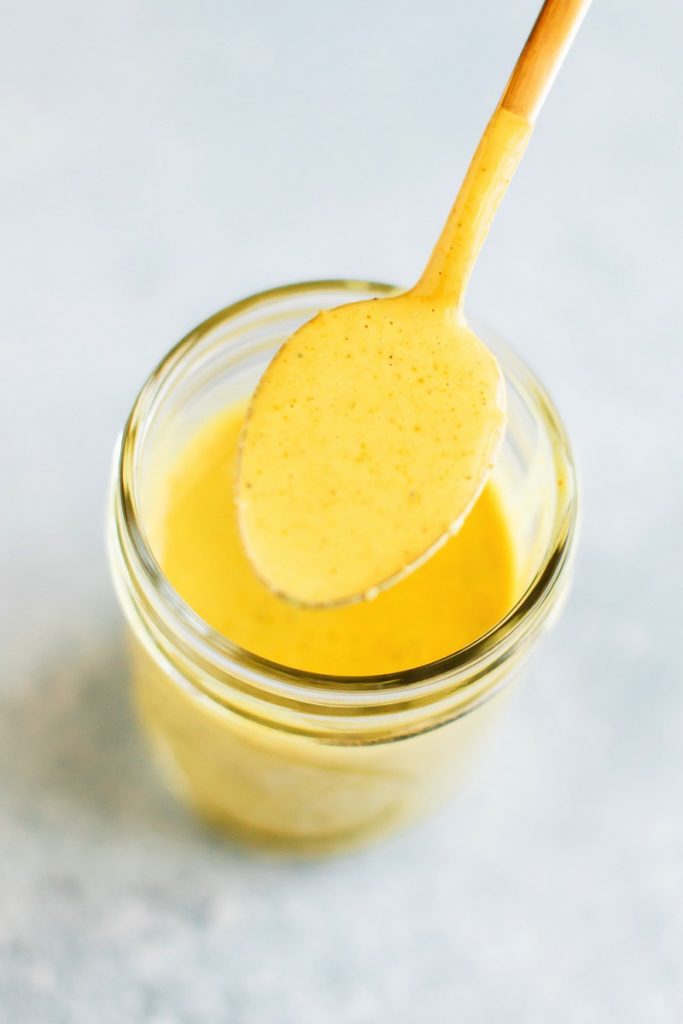 Golden Turmeric Tahini Dressing – This dressing is one of my all-time favorite dressings! The name might be a little intimidating, but I promise this dressing is super versatile!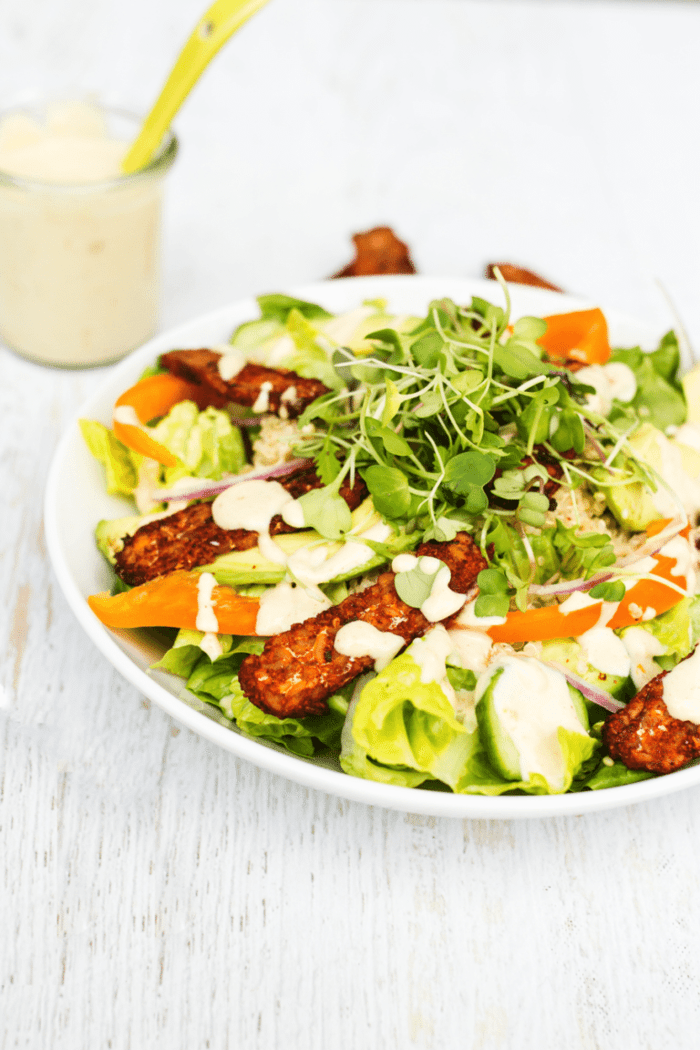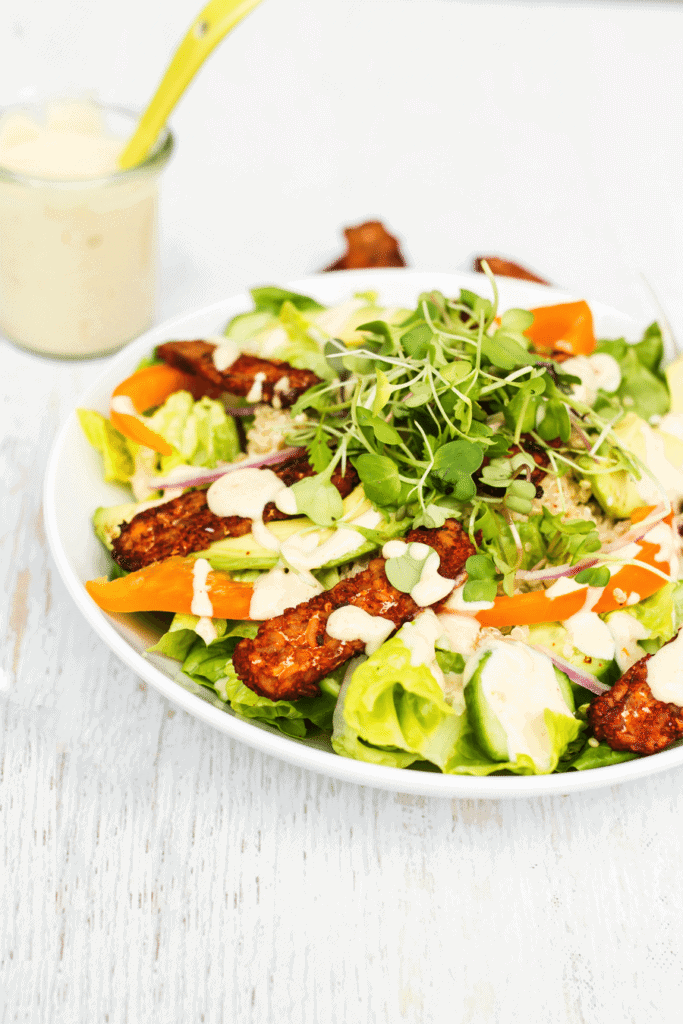 Blackened Tempeh Salad with Orange Tahini Dressing – If you're looking for a refreshing salad, this is for you! I love this orange tahini dressing – so light and perfect for summer!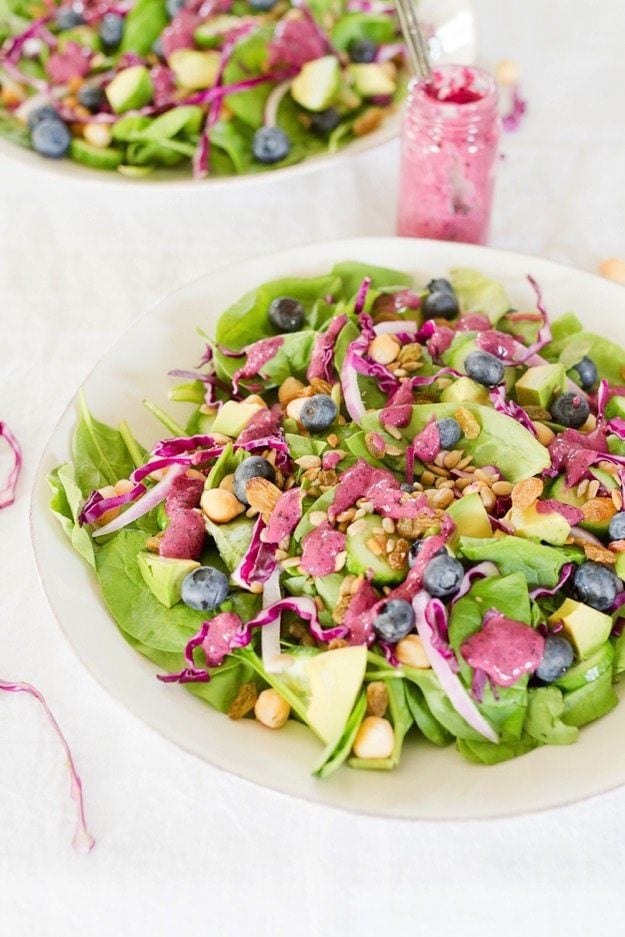 Antioxidant Salad with Blueberry Tahini Dressing – As you can tell… tahini is great for dressings. 🙂 Another delicious salad recipe with a dressing made from blueberries!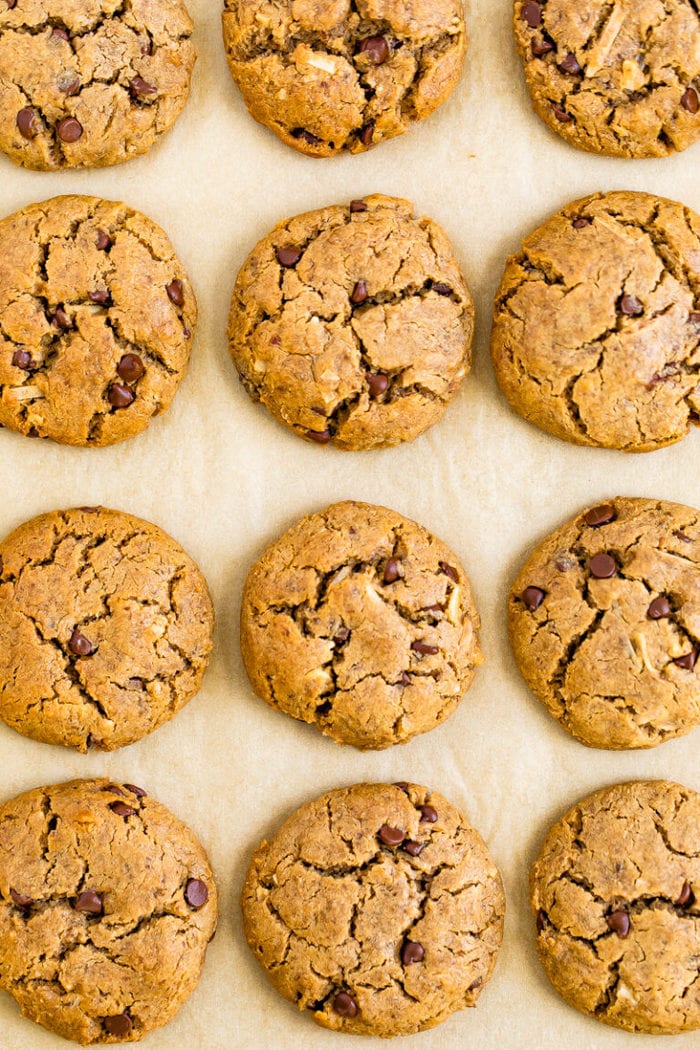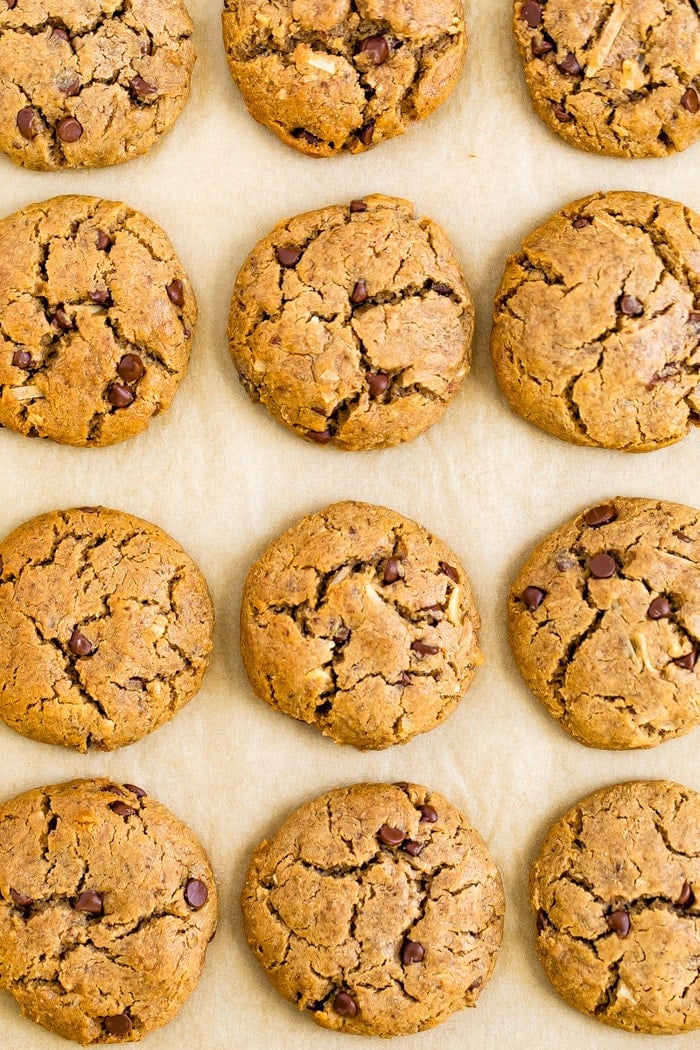 Chocolate Chip Tahini Cookies – If you haven't baked with tahini before, it's time to start. Try these chocolate chip tahini cookies – they are simple yet so delicious!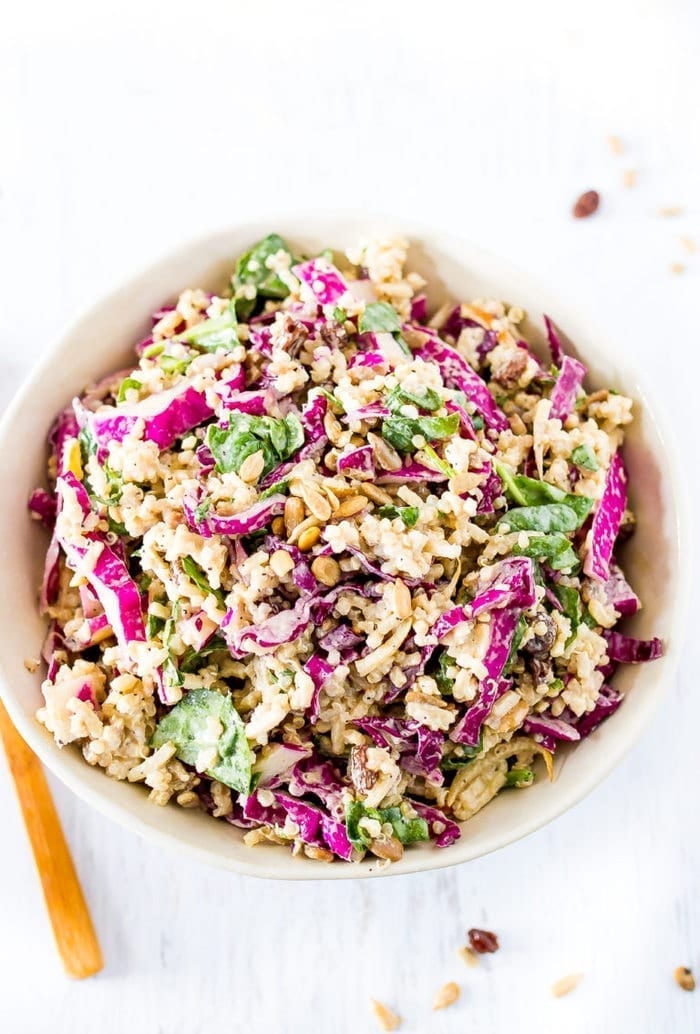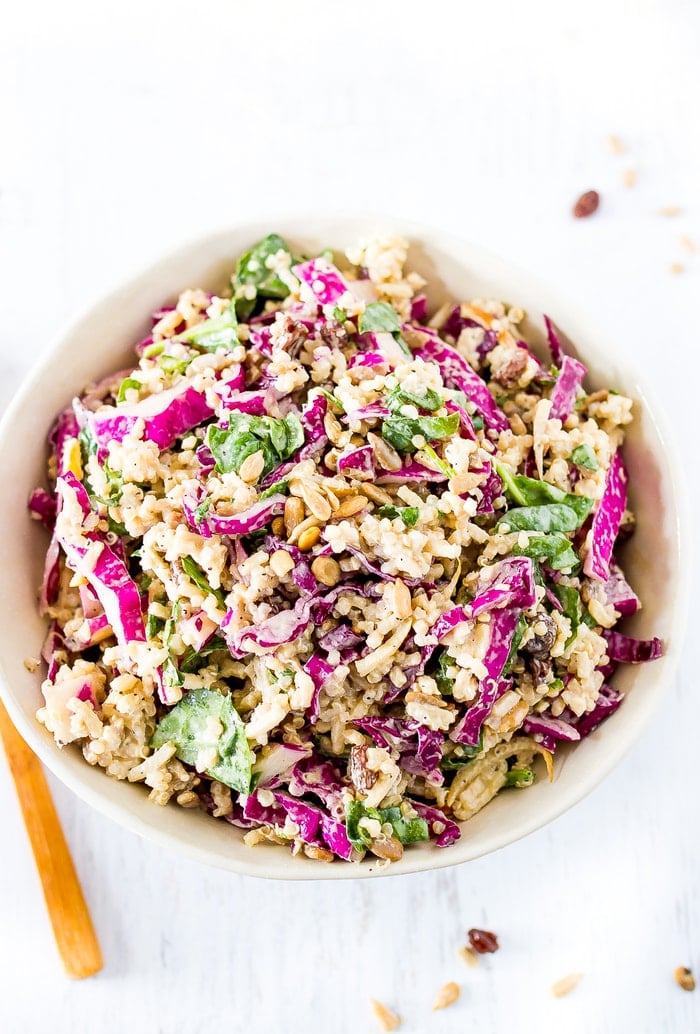 Spiralized Apple Slaw — Move over regular coleslaw! This slaw combines apple noodles, cabbage, baby spinach, quinoa and tahini for a delicious side dish.
Curry Roasted Fennel Salad with Rosemary Tahini Dressing by Minimalist Baker – I love seeing creative takes on salad! Roasted veggies in salads are the best and perfect as we transition into the fall season.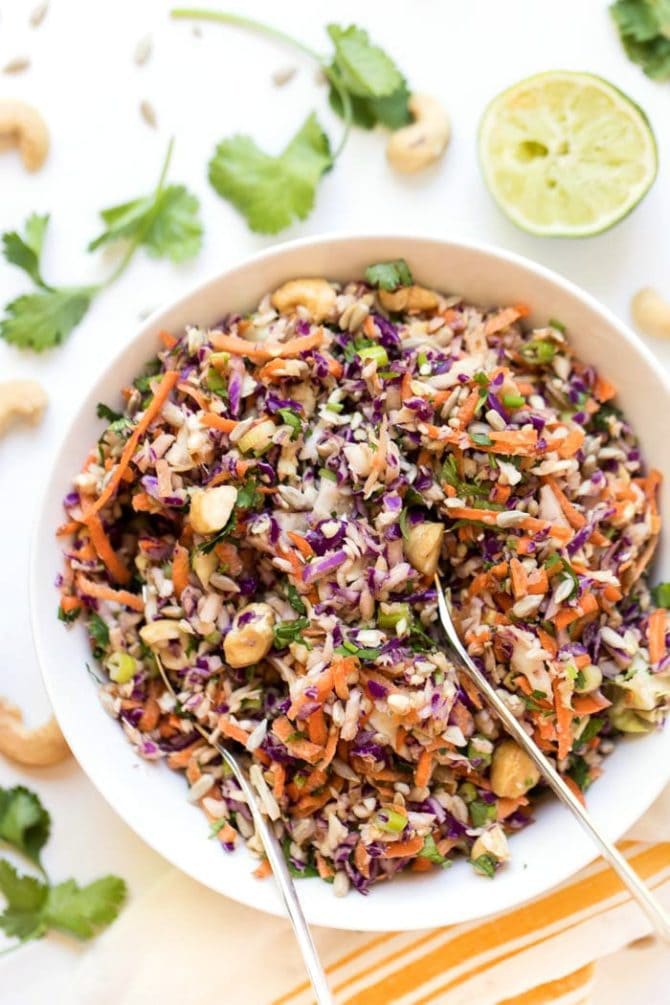 Mayo-Free Vegan Coleslaw with Spicy Tahini Sauce by Simply Quinoa – Another mayo-free coleslaw! I'm sold. So excited to bring this to my next potluck.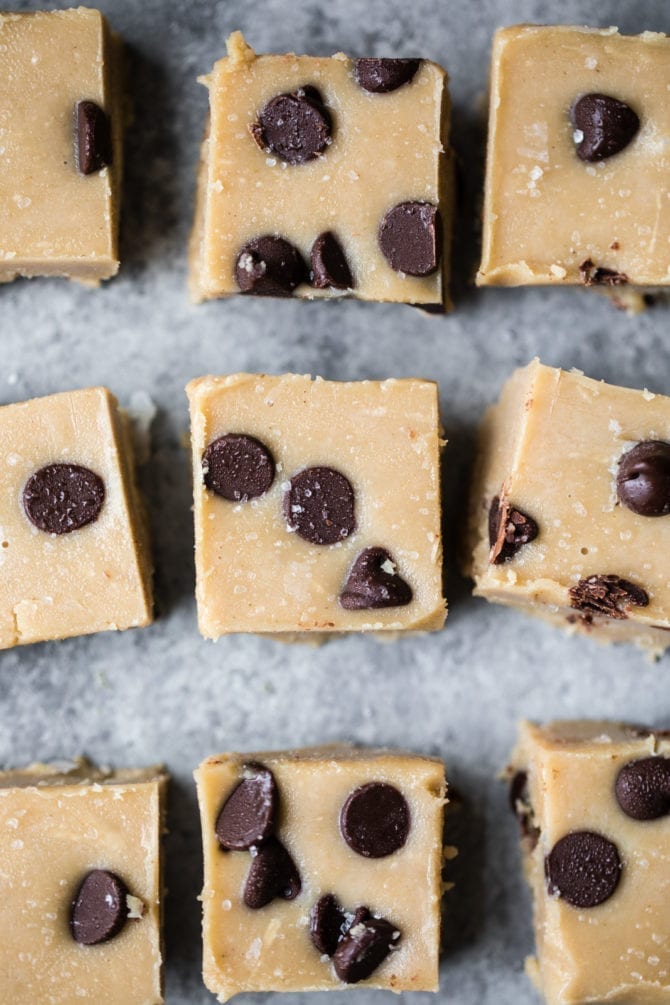 No-Bake Salted Tahini Cookie Dough Fudge by Ambitious Kitchen – Okay, does this even need a description? This fudge looks absolutely to die for. Cannot WAIT to make this!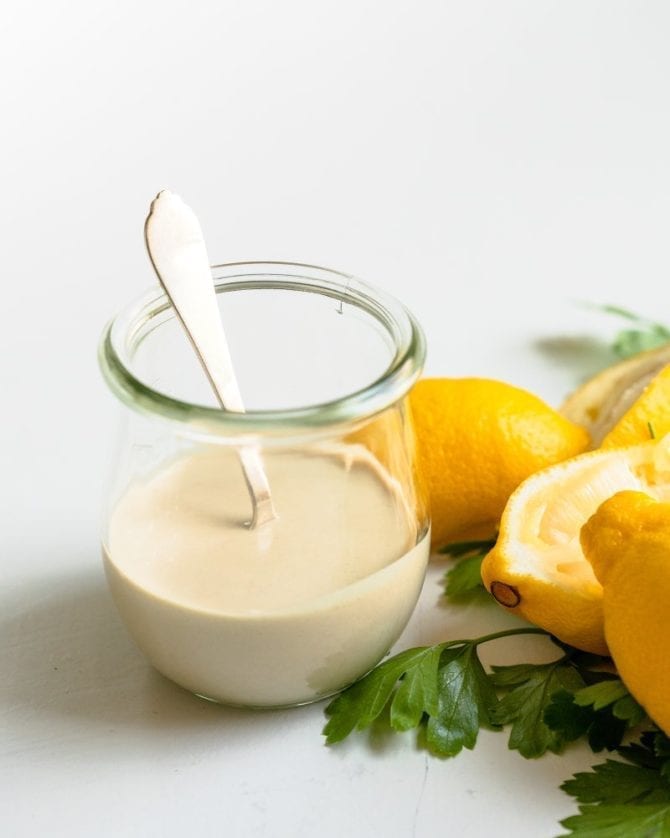 Best Lemon Tahini Sauce by A Couple Cooks – Any recipe with "best" in the name and you know I've got to try it. I can see myself using this on salads, grain bowls… honestly almost anything 😉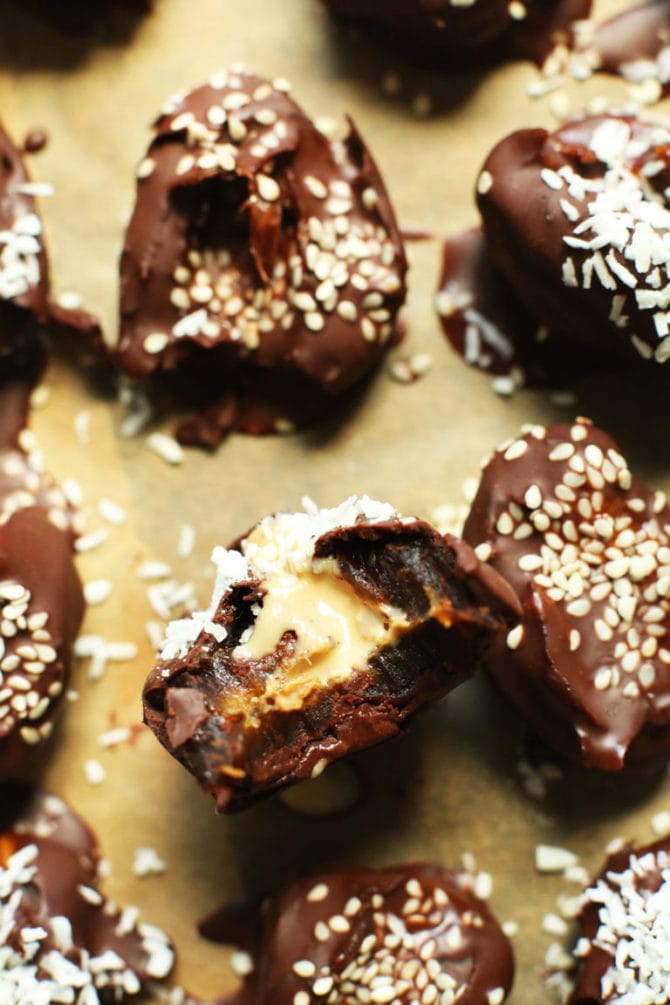 Tahini-Stuffed Dates by Minimalist Baker – Ooooook another dessert that has me drooling. Seriously, these look insanely delicious!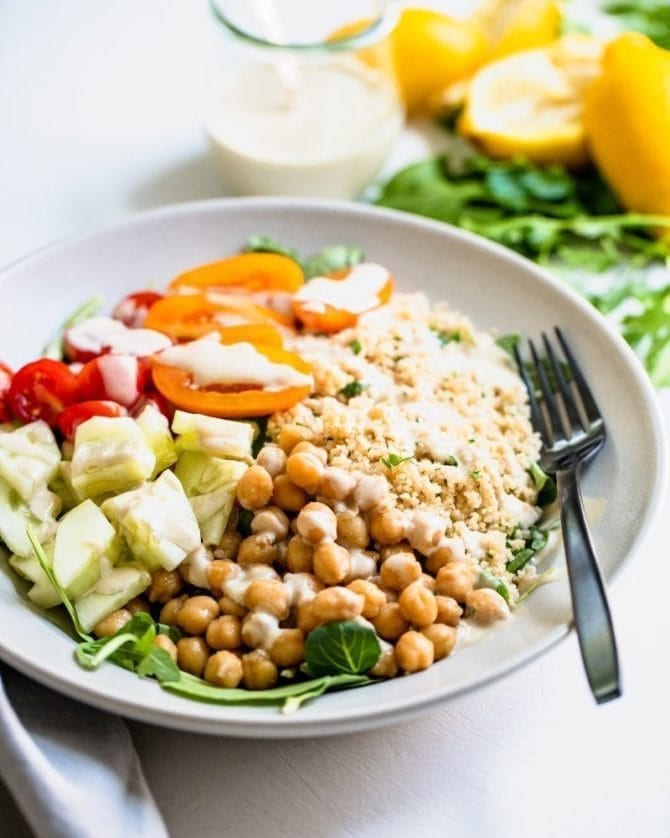 Chickpea Couscous Bowls by A Couple Cooks – Love a good grain bowl and this one fits the bill! As I always say, the dressing makes or breaks a salad/bowl – and this tahini dressing knocks this dish out of the park.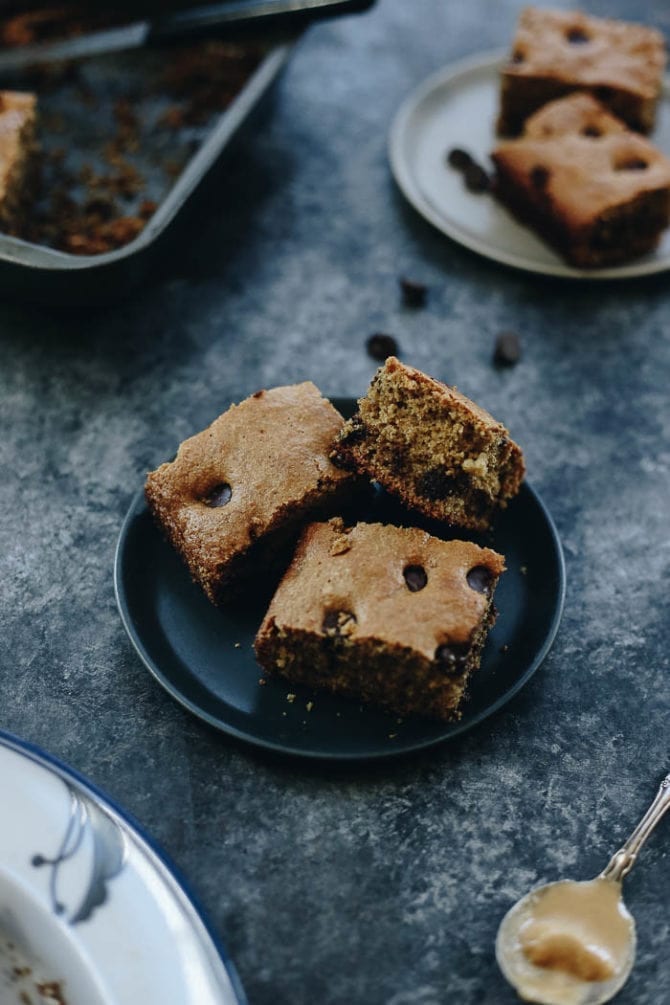 Chocolate Chip Tahini Bars by The Healthy Maven – I grew up eating bars similar to this, but they weren't the healthiest! This is going to be my new go-to recipe for a healthy treat!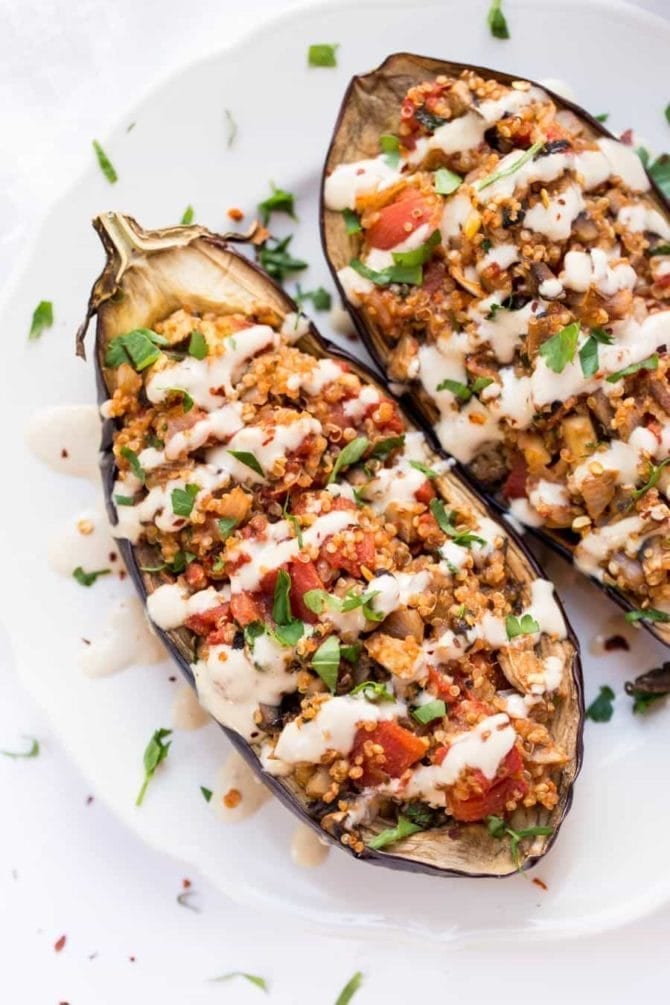 Quinoa Stuffed Eggplant with Tahini Sauce by Simply Quinoa – This looks like such a delicious, hearty meal that both vegetarians and non-vegetarians would love. Can't wait to try this!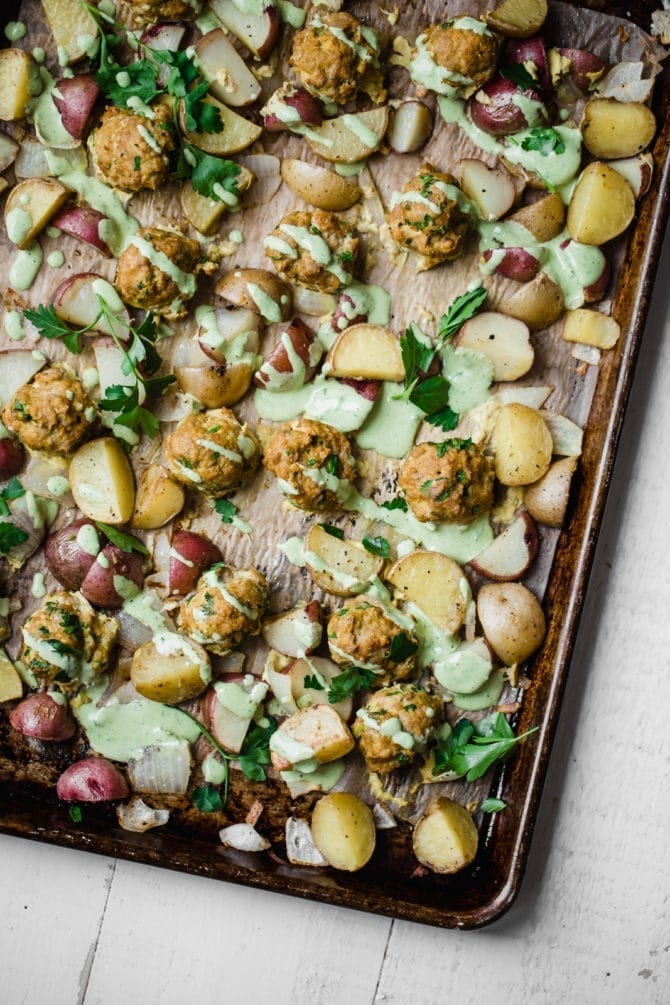 Paleo Turmeric Chicken Meatballs with Green Tahini Sauce by Ambitious Kitchen – Mmm this combo looks so tasty and love that it's made on one sheet pan. AKA – less dishes to wash!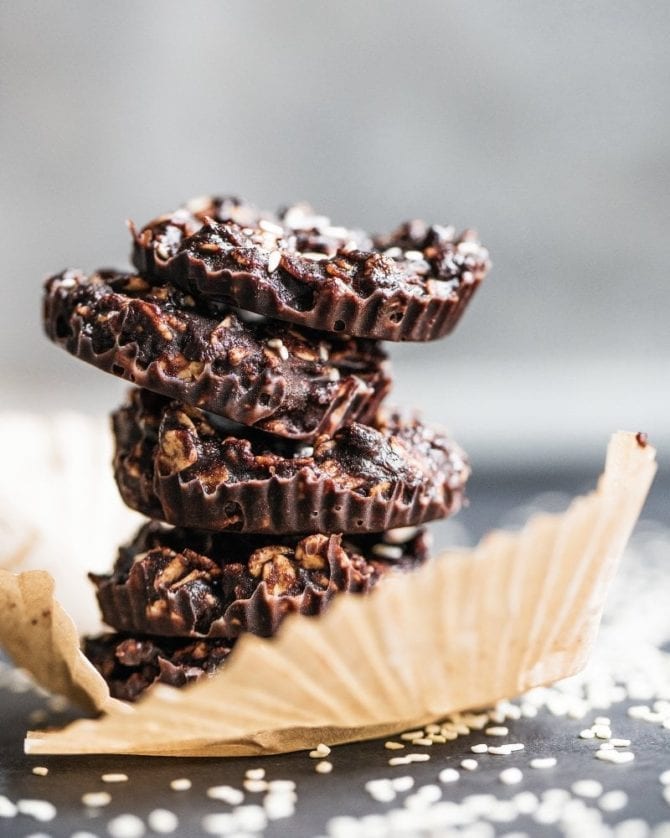 Dark Chocolate Tahini No-Bake Cookies by A Couple Cooks – Going to bookmark this recipe for the next time I need a sweet treat but don't want to bake anything. These cookies look delicious and perfect for a summer day!
What's your favorite thing to make with tahini?