A naturally sweetened blueberry crumble made with frozen blueberries that's vegan and gluten-free!
Last weekend we celebrated Chanukah with Isaac's family. Isaac's mom was making the latkes and she asked us to bring a salad and dessert.  I already knew I was going to make a version of my holiday kale salad with roasted butternut to share but didn't know what the heck to bring for dessert. I could have gone the traditional route and brought rugelach or jelly donuts but eventually I decided I wanted something a little healthier. It was the perfect excuse to put the package of blueberries I had in the freezer to use.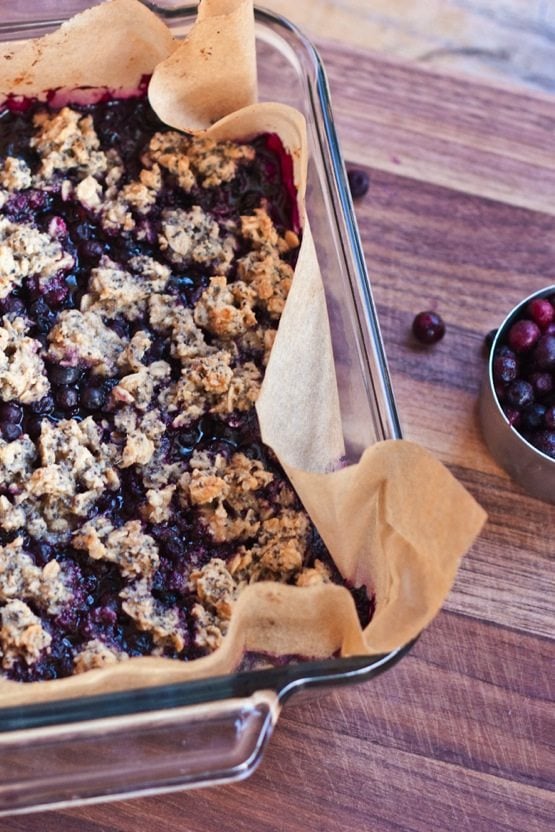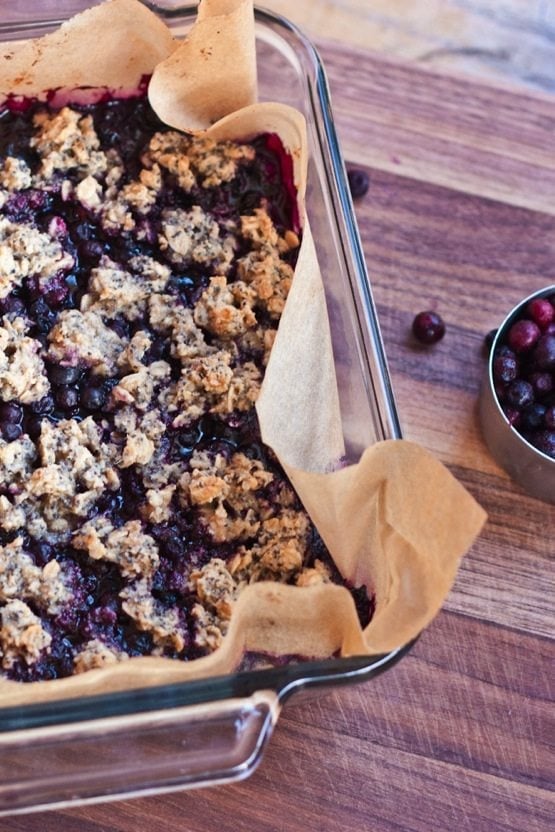 Something this fruit sounded perfect to have after a meal of fried potatoes. 🙂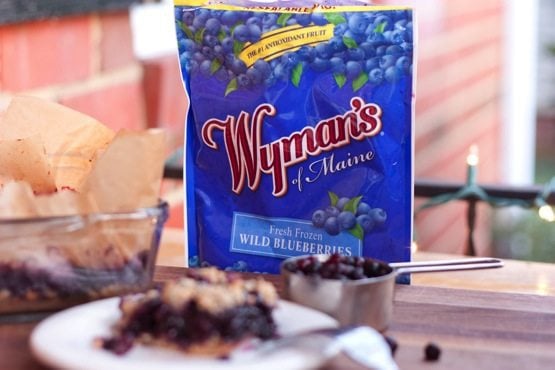 I buy frozen blueberries all the time but normally I don't think about the type of blueberries I'm buying but this time I made sure to grab a package of wild blueberries. They had these at Whole Foods and I've seen them at our local health food store as well.
Interestingly, wild blueberries are significantly different than regular blueberries. Not only are they smaller, but they have a deeper blue pigment, double the antioxidants and a more intense blueberry flavor.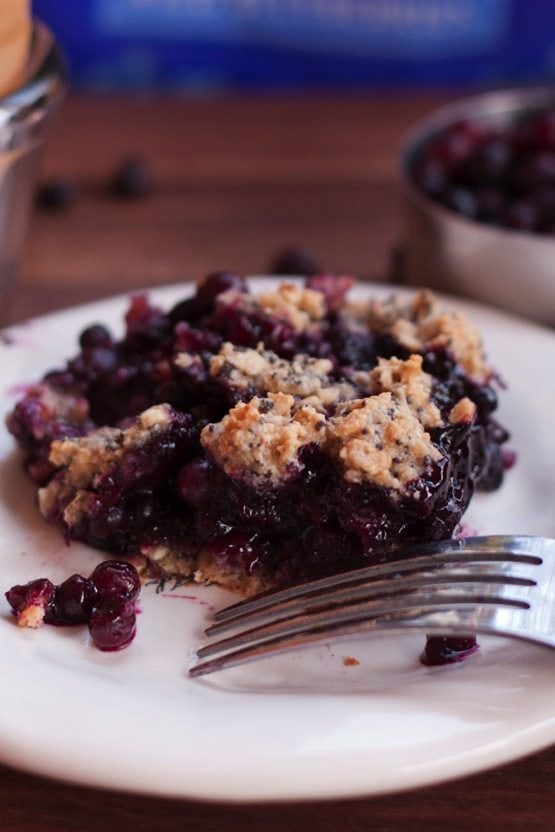 I hadn't mentioned anything about the type of blueberries I used in the crumble to Isaac but he definitely noticed the difference. He kept commenting how tiny and flavorful the berries were. It was cute.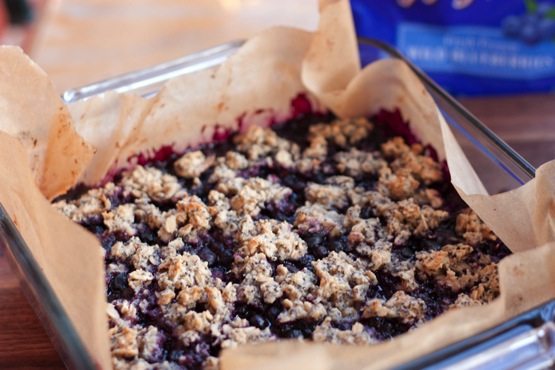 Wild blueberries definitely have advantages over the larger cultivated blueberries. You get more berries per pound when buying wild blueberries, they have a high skin to flesh ratio which means less water, so they freeze better and perform better in baking and have a higher concentration of beneficial phytochemicals, making them a more powerful ally against disease.
For me, the intense flavor was the difference I noticed most. If you've ever tried a regular frozen blueberry straight from the freezer, you'll likely notice that they often lack flavor and aren't very sweet. I found that wild blueberries were so much more flavorful and sweet.    I honestly don't think I'll go back to buying regular blueberries anymore.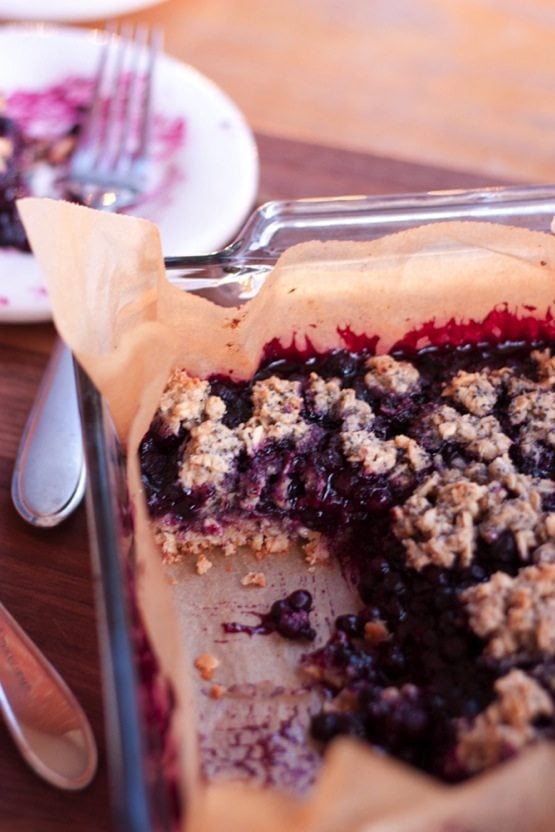 I had to steal a piece of the crumble for quality control and so that I could get a photo for the blog before it got dark. Oh the woes of being a food blogger during the winter months. Luckily I was bringing this to a family affair and I knew the wouldn't mind.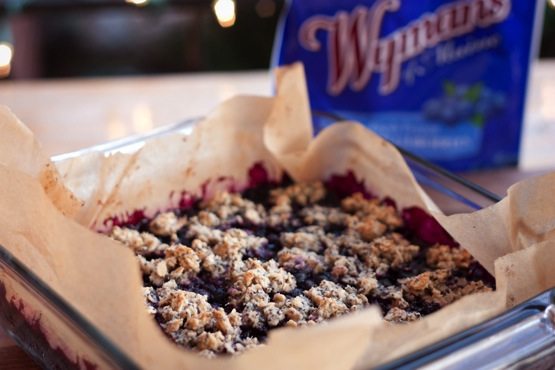 Overall, the crumble turned out to be a real hit that night. It's really a great dessert option for the holidays because it's not too sweet or heavy to serve after a big meal. Added bonus = it's gluten-free (so long as you get certified gluten-free oats and oat flour) and vegan, which is nice if you're taking it as a dessert for a holiday dinner with folks who might have special dietary preferences.
As with most recipes posted here, it's packed with unprocessed, healthy ingredients–blueberries (obviously) but also oatmeal, homemade unsweetened apple sauce (Thanks Tim!) and coconut oil. I honestly think it would make a delicious breakfast option for Christmas morning–top it with a little greek yogurt and you'd be good to go!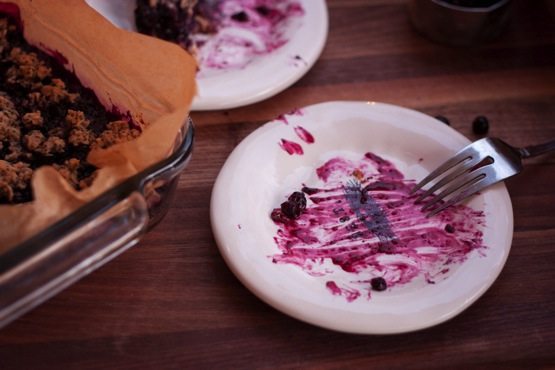 As an ice cream lover, my only regret is that I didn't bring along a little vanilla bean ice cream to serve with the crumble. Although, it didn't seem to matter–there were no leftovers…
Blueberry Crumble (vegan & gluten-free)
8
adjust servings
Ingredients
2 1/2

cups frozen wild blueberries (no thawing required)

2-3

Tablespoons maple syrup

1

Tablespoon arrowroot (or cornstarch)

1

Tablespoon fresh lemon juice

1

teaspoon vanilla

1

cup old fashioned oatmeal

1

cup oat flour

1/3

cup coconut sugar

1/4

cup extra-virgin coconut oil, solid state, broken into chunks

1/2

cup unsweetened cinnamon apple sauce

1

teaspoon baking powder

1/2

teaspoon salt

1

Tablespoon poppy seeds (optional)
Instructions
Preheat the oven to 375 degrees. Line an 8 inch square pan with parchment paper.
In a bowl, stir together the maple syrup, arrowroot, vanilla and lemon juice. Gently mix in the blueberries. Sit aside.
In a medium bowl, stir together oatmeal, oat flour, coconut sugar, baking powder and salt. Add in apple sauce, stir. Then stir in coconut oil. Dough will be crumbly. Separate dough in half and press one half into the bottom of the prepared pan.
Pour the blueberry mixture evenly over the crust.
Stir poppy seeds into the remaining mixture of dough and crumble over the berry layer.
Bake in preheated oven for 40 minutes, or until top crumbled pieces are slightly brown. Cool for about 20 minutes and serve.
Recipe Notes
I found arrowroot powder in the bulk spices section at my local health food store but you can use cornstarch if you can't find it. Same goes for the coconut sugar, it can be subbed with unprocessed cane sugar or regular sugar if needed. I'll also note that the crumble was plenty sweet for us but if you want a sweeter dessert, feel free to add more maple syrup to the blueberry mixture and more sugar to the crumble. Be sure to get certified gluten-free oats and oat flour if you want the crumble to be gluten free.
If you're interested in learning more about wild blueberries you can visit the Wild Blueberry Association of North America website.