Blueberry crumble bars made healthier with nutrient-dense Hemp Hearts, coconut oil and fresh blueberries. Serve these bars for breakfast as a special treat, with ice cream for an indulgent dessert or alone as a snack. Gluten-free, vegan and made with whole grains.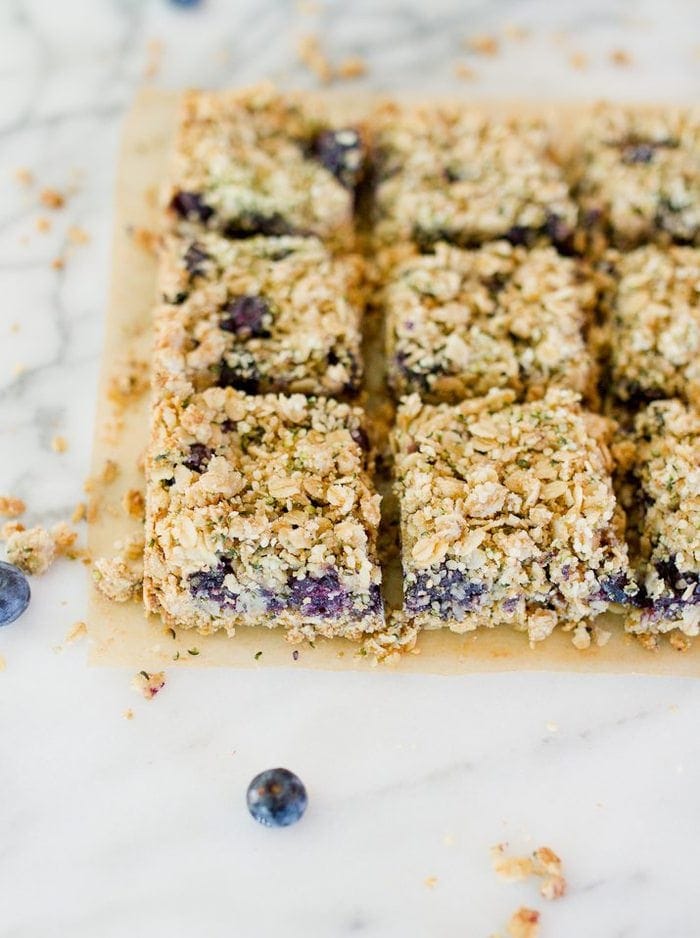 I have been on such a blueberry kick this summer. I guess that's what happens when your husband goes blueberry picking and brings home pounds on pounds of fresh blubs. We actually let the berries sit out on the counter for about 24 hours, grabbing handfuls whenever we felt like it. Then I decided to turn a few into a baked good and ended up with these crumble bars.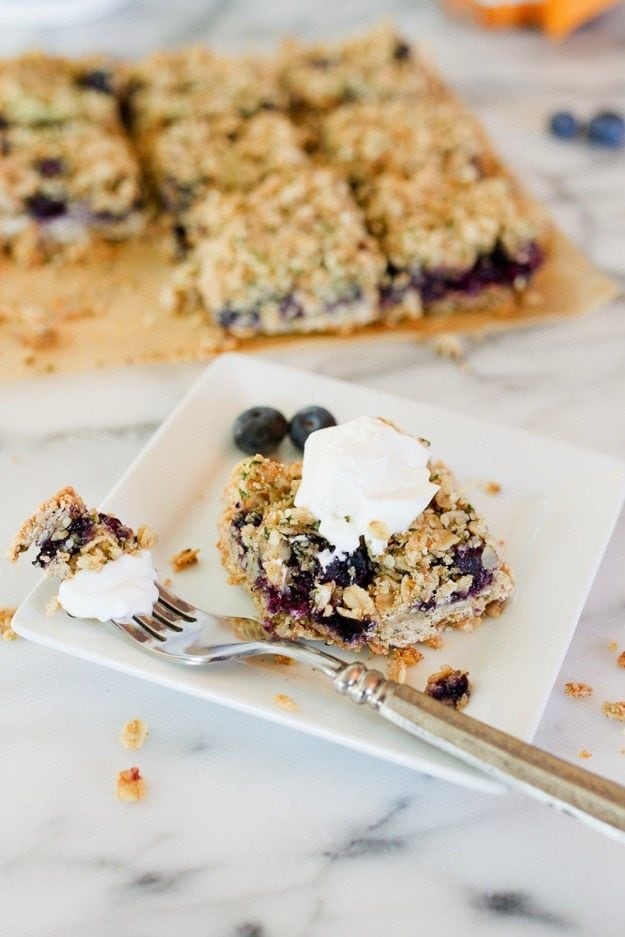 Goodness gracious, I'm so glad I did because I'm not kidding when I say that these little bars turned out to be one of the best things I've made all summer!!
They're filled with sweet blueberry goodness, have a delicious crumble topping and taste sooo good. Plus they cut and hold together really well… as long as you let them cool before removing them from the baking pan. <– I know it's crazy hard to wait for baked goods to cool, but it's imperative for this recipe.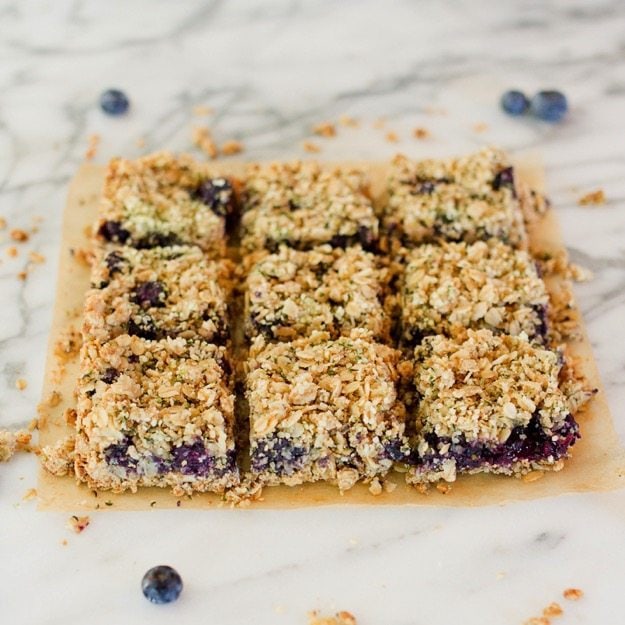 Seriously I can't get over how good these are. I served them to Isaac and his brother for breakfast with Greek yogurt — they loved them! And I had one for breakfast and one after dinner for dessert for two days in a row. They're good warm, but I honestly like them even better cold straight from the fridge!
They're definitely a treat because they do have a bit of sugar, but they're also loaded with good-for-you ingredients like fresh blueberries, coconut oil, oats and Hemp Hearts so you can feel good about indulging.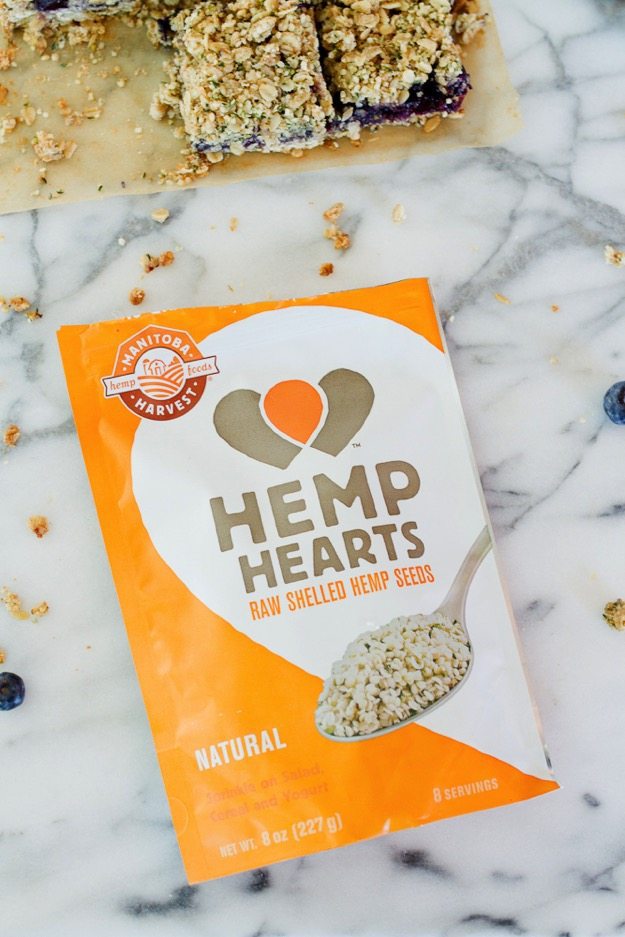 I've used Hemp Hearts in recipes here on EBF before, but just in case some of you are new to them, Hemp Hearts are raw, shelled hemp seeds.
Here's what I love about these little seeds:
They taste great — they have a nutty flavor and soft texture almost like a pine nut.
They're easy to use — you can sprinkle them on smoothies, salads, cereal or yogurt, eat them on their own or add them to recipes.
They're really good for you — Hemp Hearts are a complete protein. Per serving hemp hearts contain 10g of easy to digest protein and 10g of omega-3 + 6 fatty acids. They also have a good amount of magnesium, fiber and iron.
And don't worry, despite being from the cannabis sativa plant, they will NOT cause a psychoactive affect or cause a false positive drug test. Hemp plants that produce the seeds are tested to make sure they have little to no THC.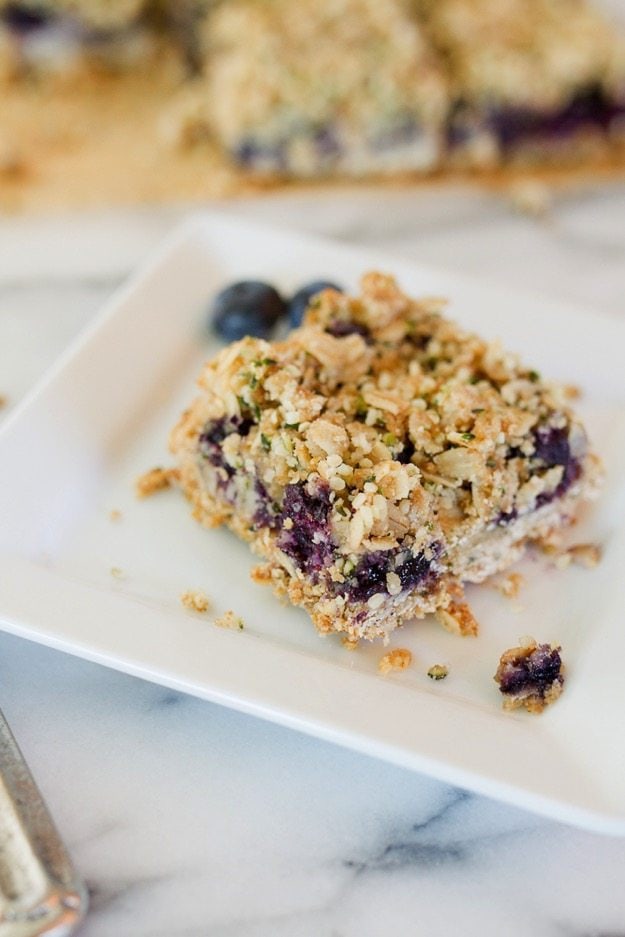 Sorry guys, these aren't "special" crumble bars. Although, they are actually pretty special (in their own way) and they taste amazing so you should totally still make them. 🙂
Blueberry Hemp Crumble Bars
12
adjust servings
Ingredients
1

cup brown rice flour

2

cups rolled oats

1/2

cup coconut oil, room temperature to semi-melted

1/2

cup coconut sugar

1/2

cup Manitoba Harvest Hemp Hearts

zest of one lemon

2

cups blueberries
Instructions
Prep:
Preheat oven to 350° F. Line a square baking dish (8x8 or 9x9 will work) with parchment paper or spray with a little coconut oil non-stick spray.
Mix flour, oats and coconut oil into a mixing bowl and use your hands to combine everything together and create coarse crumbs. Add in the sugar, lemon zest and Hemp Hearts. Mix everything using your hands and then press the mixture together so that it starts to form large sticky clumps.
Press two thirds of the oatmeal mixture (about 3½ cups) evenly into the baking dish using your hands. Sprinkle the blueberries on top and cover with the rest of the oat mixture. Press everything down lightly.
Bake for 35-40 minutes until the bars a golden brown. Cut into 12 bars with a knife while the bars are still warm and allow to cool in the baking dish before removing. Be patient, if you don't let them cool they will fall apart.
Enjoy right away after cooling. Store any leftovers in the fridge for up to 3 days. Can be eaten cold or reheated. I love them straight from the fridge with yogurt.

And guess what? Manitoba Harvest has kindly offered to host a giveaway for EBF readers. I have FIVE 8 oz bags of Natural Hemp Hearts to give away so I'll be choosing five winners! Simply follow the guidelines in the giveaway widget below to enter.
This post is sponsored by Manitoba Harvest. As always, opinions are my own. Thank you for supporting the brands that make EBF possible.