The yogurt and kefir making class was awesome! I wasn't able to take any photos but I learned quite a bit and plan to do a post on making homemade yogurt as soon as I perfect the process. I made a batch yesterday evening that didn't turn out but I know what I did wrong so I'm trying again tonight. If it's a success, I'll definitely share the details.
So yogurt was a no-go but I did have one fortunate venture in the kitchen this weekend…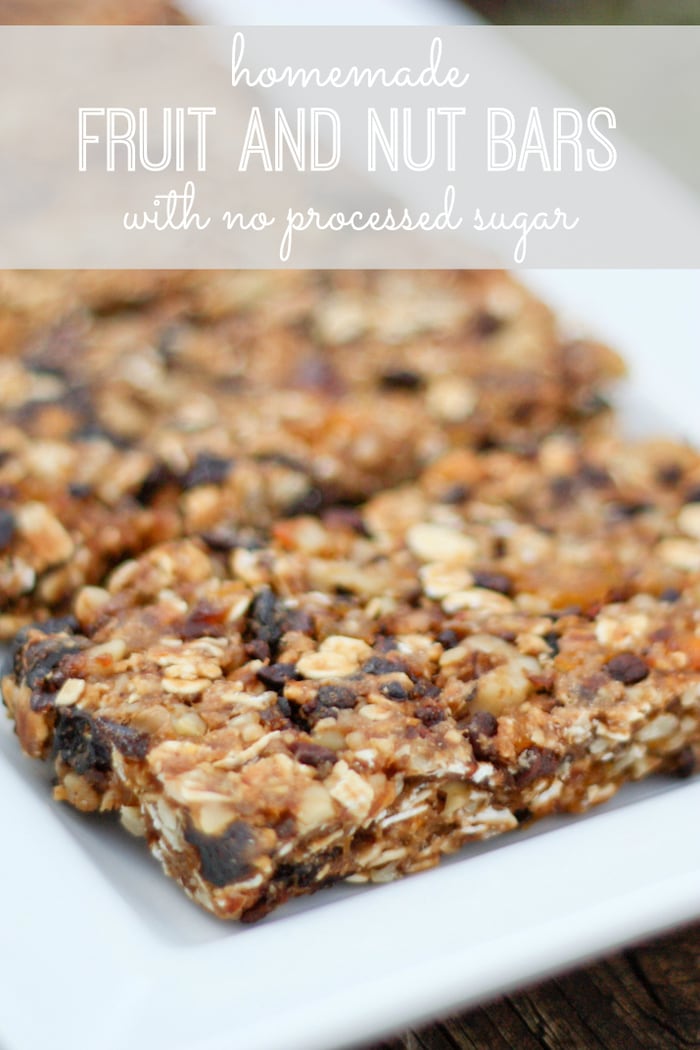 You might remember that Jesse made some healthy fruit and nut bars last week at the Whole Food's cooking demo and jokingly said they were "Bird Food" bars. I agreed and knew right away I wanted to make a batch of my own. This weekend I had some free time to bake so I grabbed the ingredients and got to work.
Print
Simply Fruit and Nut Bars
Author:

Yield:

8
---
Ingredients
1 cup spelt flour
1 cup old fashioned oats
½ cup dates or pitted prunes (around 11 prunes)
½ cup raisins
½ cup dried apricots
1 cup walnuts, finely chopped
2 Tablespoons cacao nibs
⅓ cup water + 1-2 Tablespoons
---
Instructions
Preheat the oven to 325ºF. Cover an 8-inch x 8-inch pan with parchment paper.
Place prunes, raisins and apricots in a mini-chopper or food processor and pulse until well chopped.
Combine flour, oats, chopped fruit mixture, nuts, cacao nibs and 1/3 cup water in a large bowl and knead with your hands until a ball of dough forms. (Add more water if the mixture is too dry.)
Press dough firmly and evenly into the prepared pan. Cut into squares with a sharp knife before placing in the oven.
Bake for 25 minutes, until baked through but still soft (don't over-bake them or the bars will be dry and tough).
Store leftover bars in the refrigerator.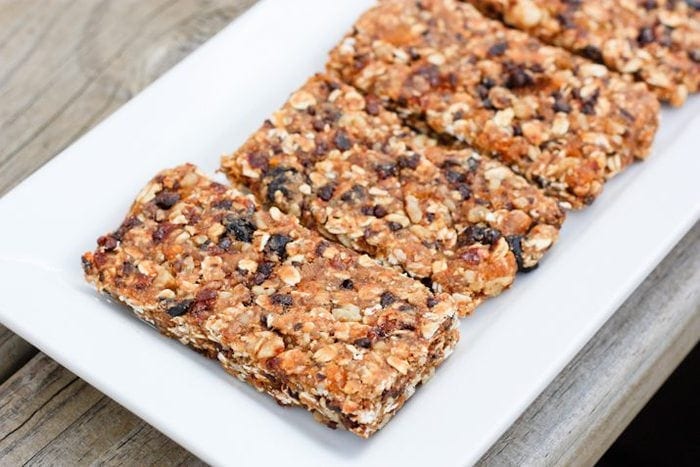 I love that these bars are oil free and contain no added sweeteners yet still taste incredible! Isaac said they were the best bars I've ever made! I'll take that as a compliment because I think my chewy oat squares were quite good!
If you decide to try out the recipe, remember that they aren't super sweet but they are super versatile – I'm sure different dried fruits like cranberries, figs, dates, currants, cherries or blueberries would work great if you wanted to substitute ingredients. And, I liked the cacao nib addition, but I bet they were would be spectacular with a few chocolate chips in the mix.
That's all I have for you tonight. Time to get ready for the work week!