Low sugar almond granola bars spiced up with curry powder. They're sweet, savory and absolutely delicious.
Happy Monday. Hope your weekend was a blast. It was rainy and dreary here on Saturday but Sunday more than made up for it with fall temps and clear skies. Sunday morning Isaac and I both wrapped up in sweaters when heading to Lamplighter to grab coffee and I ordered a hot coffee (my usual — Café au lait with almond milk) instead of iced coffee for the first time this season. It tasted delicious and felt familiar, yet new and exciting at the same time. I love the change of seasons for that reason — everything feels different, there's change in the air but there's also a sense of familiarity. <3
In other news, I have quite the recipe to share with you today. It's my latest granola obsession and the flavors are perfect for fall!
I have granola bars in the recipe title but as you'll see from the recipe they can be granola bars, granola chunks or plain ole granola. No matter which way you serve it, the recipe is ridiculously delicious and that's really all that matters in my book.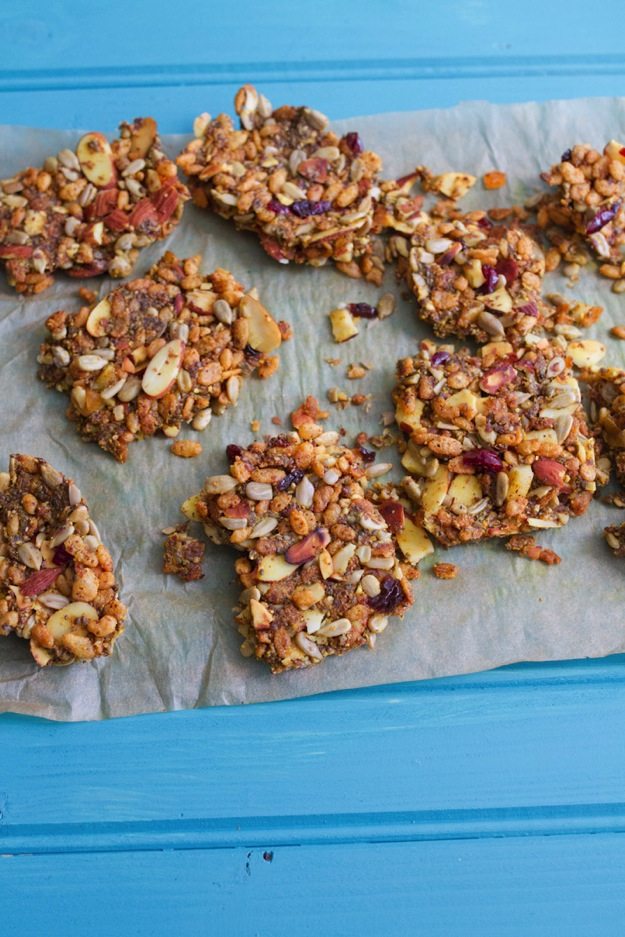 I've posted several granola and granola bar recipes here on EBF but this one is quite unique. For one, no oats are involved. It's also got the sweet and savory combo going on and it's really crunchy rather than chewy.
In case you didn't know, I LOVE LOVE LOVE crunchy things — nuts, charred roasted veggies, crispy sweet potato fries, muffin tops, cereal, carrots, wasabi peas, veggie chips — bring on that crunch!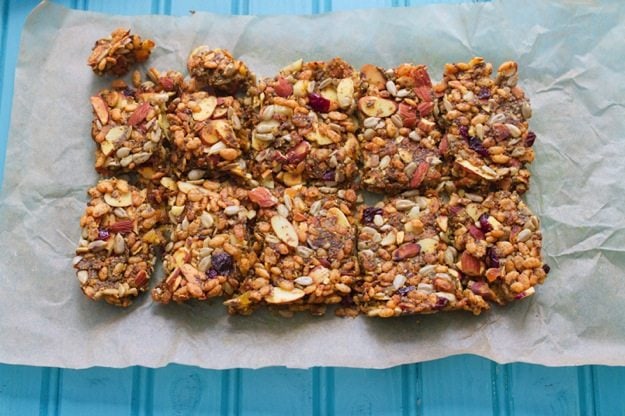 Needless to say, this recipe has the crunch factor that I adore!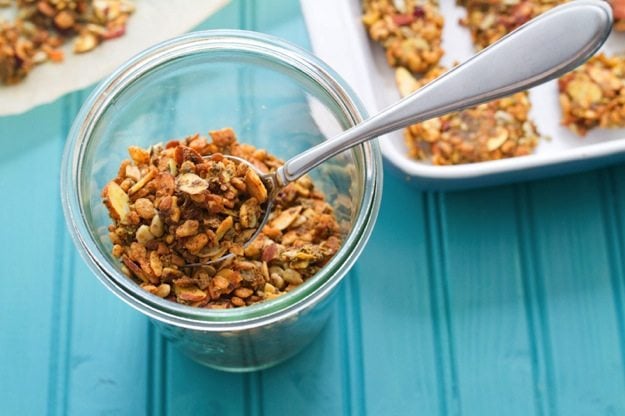 The flavor reminds me of Chivda or Bombay mix. If you've never had Bombay mix it's basically an Indian snack mix, like Chex Mix but with Indian spices.
I've had Indian snack mixes before and liked them so it's no surprise that I love the flavor of this recipe. It's got the curry and turmeric, a hint of spice from chili powder and cayenne as well as a bit of sweetness from the dried fruit and maple syrup. The sweet and spicy flavor is warming and perfect for the cooler fall temps.
As for the texture — is irresistibly crunchy (almost like a cracker). The crunch comes from the brown rice crisp cereal, almonds and sunflower seeds.
The best part is that the granola bars are held together by chia and flaxseed (healthy fats!) and they're surprisingly low in added oil and sugar (which isn't usually the case when it comes to snack mixes)!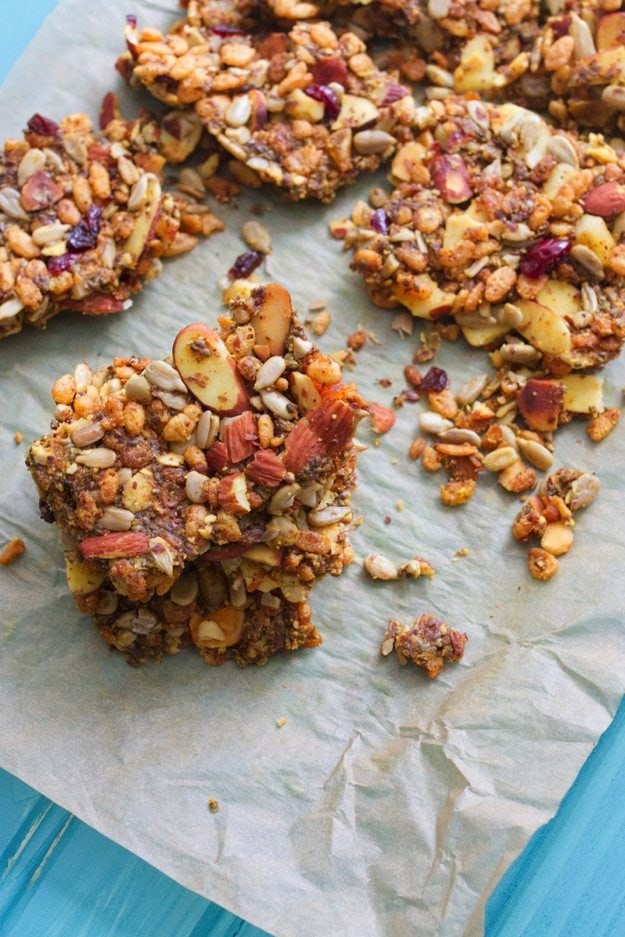 I can't take credit for this as an original recipe — I got the idea from Chef Matthew Accarrino. These bars are one of the dishes he prepared for us at the cooking demo, which was part of the almond tour I attended a few weeks ago. I changed a few things, but the basic recipe came from him.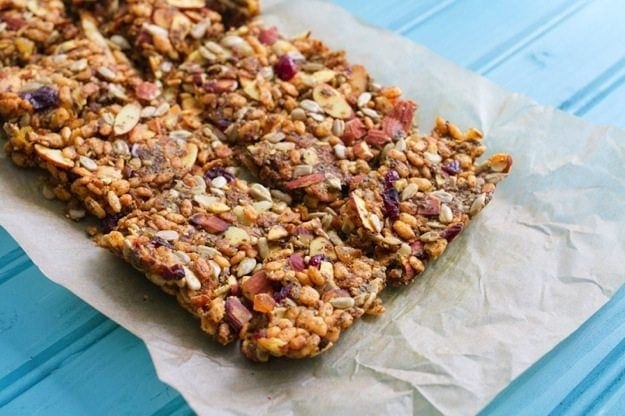 Isaac and I enjoyed these bars on their own as a snack, but I also loved sprinkling the granola chunks over yogurt. It was especially amazing paired with Noosa's new pumpkin yogurt. Curry granola + pumpkin ygourt = OMG amazing!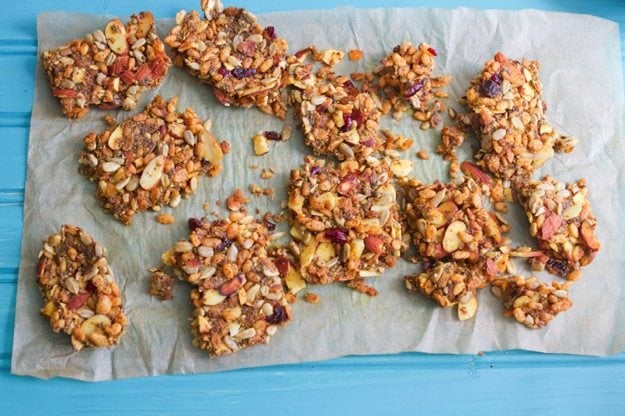 Just a side note: I've used crispy brown rice cereal in a few of my recipes recently, namely the Crispy Baked Chicken Tenders, and had a few people ask about the cereal. Basically it's just a healthy version of Rice Krispies. The plain varieties are gluten-free, low in sugar and have that same snap, crackle, pop that you're used to. 🙂 You can find a box on the cereal aisle — Whole Foods sells their own brand, which I buy often. I also like Erewhon brand, which you can find at most health food stores.
Print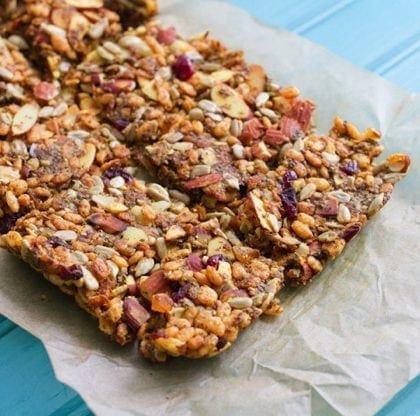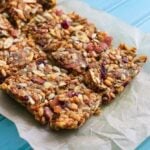 Curried Almond Granola Bars
Author:

Brittany Mullins
Prep Time:

10 mins

Cook Time:

35 mins

Total Time:

45 mins

Yield:

8

bars

1

x
---
---
Scale
Ingredients
1/3 cup

sliced almonds

1/4 cup

sunflower seeds

1 cup

crispy brown rice cereal

1 1/2 Tablespoon

ground flaxseed

1 1/4 Tablespoon

chia seed

1 1/2 Tablespoon

hot water

1 Tablespoon

dried pineapple, chopped into tiny pieces

1 Tablespoon

dried cranberries, chopped into tiny pieces

2 1/2 teaspoon

maple syrup

1 1/4 Tablespoon

almond butter

1/2 teaspoon

coconut oil

1/4 teaspoon

turmeric powder

1/4 tsp

chili powder

1/4 tsp

curry powder

1/2 tsp

sea salt

1

pinch cayenne pepper
---
Instructions
Preheat oven to 300°.
Grease or line a small rectangular baking sheet with parchment paper. I used a small rectangular baking dish (7 1/2″ X 5 1/2″). You could also you an 1/8th baking sheet (9″ X 6″).
Combine ground flaxseed and chia in a small container and pour hot water over mixture and set aside.
Melt almond butter and coconut oil on the stove, and stir in maple syrup. Add flax/chia mixture.
In a large bowl, combine all remaining ingredients. Stir in the wet mixture and pack into your prepared pan. Use your hands or the back of a spatula to really press the mixture down.
Bake for 25-35 minutes or until bars are browning a bit. Cut the bars while still warm and then leave out to cool for about 30 minutes. You can even put them in the fridge or freezer to cool if you'd like.
Some of the bars will hold together better than others. At this point you can eat them as is or break the bars apart into chunks and eat as granola. If you want the granola to be even more crunchy, break apart and place back into the oven for another 5-7 minutes. Remove, let cool and enjoy!
---
---
Nutrition
Serving Size:

1/8th of recipe

Calories:

105

Sugar:

2

Fat:

7

Carbohydrates:

9

Fiber:

3

Protein:

3