If you've been following EBF for a while you'll know that I'm in love with all things pumpkin and tend to go crazy for all the pumpkin flavored/scented stuff this time of year. Pumpkin candles, pumpkin beer, pumpkin bread, muffins, cookies, pie, bars, ice cream, soup, yogurt, dip, smoothies, lattes, granola, oatmeal, cornbread burgers, pizza… if it has pumpkin in the name, I probably like it.
Anyhow, we broke out the pumpkin beer last weekend and I've already gone through two cans of pumpkin this month (for pumpkin protein bars and pumpkin oats) so I've decided it's time for a pumpkin recipe. Yesterday was the first day of fall so it's totally fair game at this point.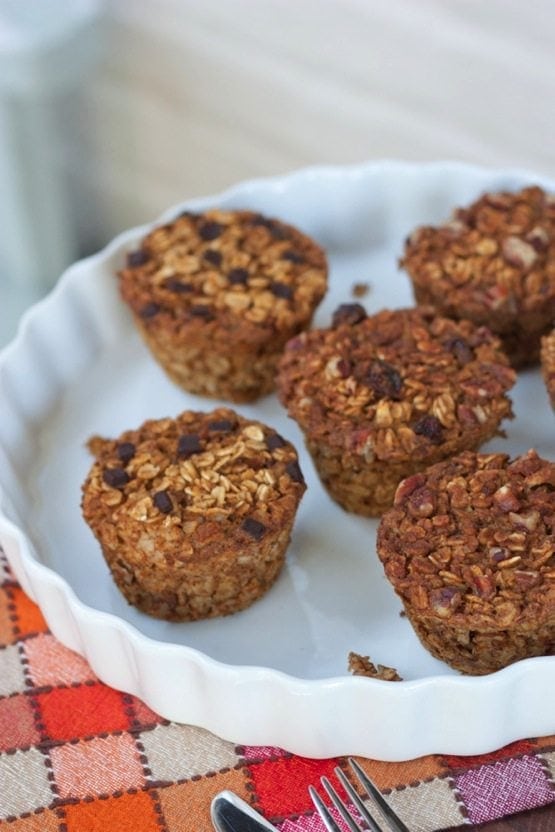 My latest pumpkin creation is a remake of one of my favorite on-the-go breakfast recipes, Baked Banana Oatmeal Cups. I used the recipe as my guide, tweaked it a little and came up with a delicious pumpkin flavored version.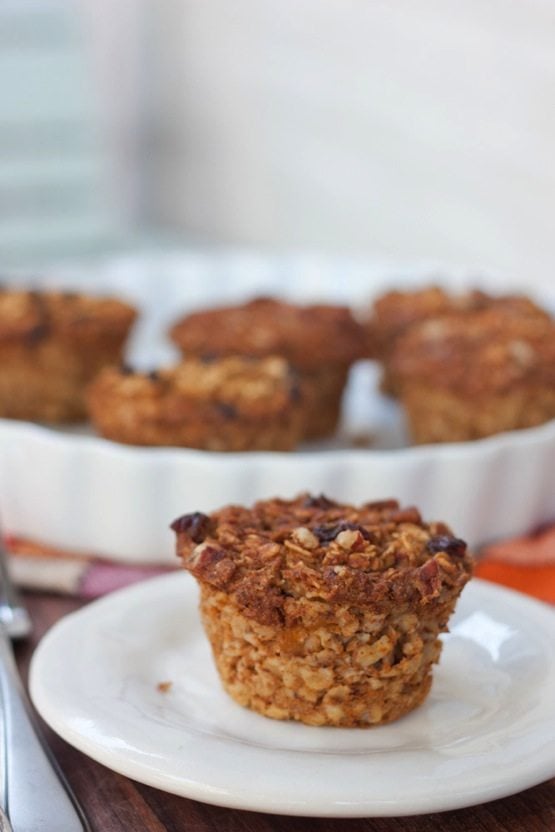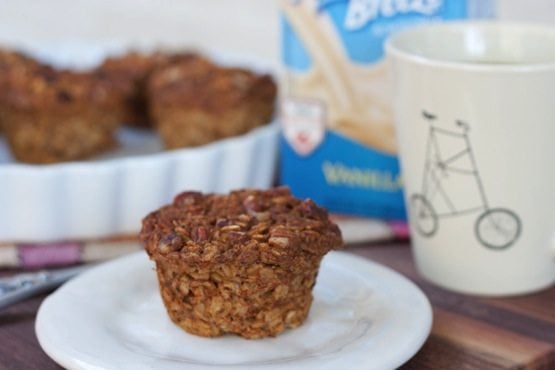 What's great about this recipe is that you can dress up the oatmeal cups just the way you like them, similar to a regular bowl of oatmeal.
I actually made three different versions — one with pecans, one with raisins and one with dark chocolate chunks. All three paired really well with the pumpkin spice flavor and now that I think about it, I probably could have just included all three in all the cups.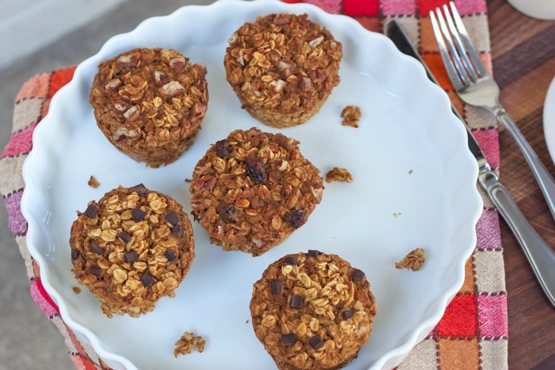 I liked the raisins best and Isaac liked the chocolate… typical. 🙂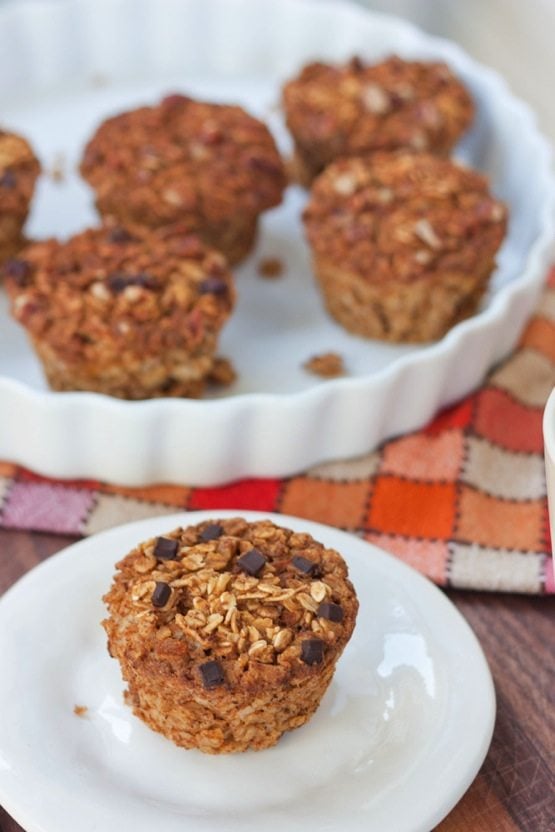 These baked oatmeal cups taste just like a batch of thick, chewy oats to me. Isaac doesn't really eat oatmeal and he said that they remind him of kugel. I would have to agree with that as well. Either way, they're good and perfect for a quick breakfast on-the-go. Since they've already been baked, all you have to do is grab one and run out the door.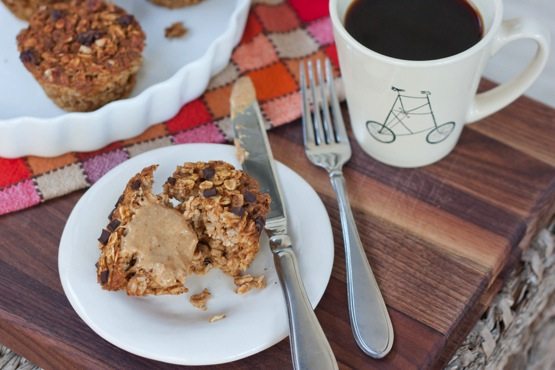 Don't forget the nut butter. 😉

Baked Pumpkin Oatmeal Cups
These oatmeal cups look like muffins, but don't let them fool you – they're essentially baked oatmeal! To serve, I like to cut them in half, reheat in the toaster oven and spread on a layer of almond butter. They can also be eaten at room temperature or straight from the fridge. They're tasty at pretty much any temperature!
Ingredients
2½ cups old fashioned oatmeal (not quick oats)
1 Tablespoon pumpkin pie spice
1 Tablespoon ground flaxseed
1½ teaspoons baking powder
¼ teaspoon sea salt
2 cups Almond Breeze unsweetened vanilla almond milk
1 cup canned pumpkin (not pumpkin pie filling)
⅓ cup egg whites
1 Tablespoon coconut oil, in liquid form
1 teaspoon organic vanilla extract
¼-1/2 teaspoon vanilla liquid stevia or ⅓ cup maple syrup
⅓ cup pecans or walnuts
½ cup raisins or chocolate chips/carob chips
Instructions
Preheat oven to 350 degrees and grease one 12-cup muffin pan with cooking spray or use cupcake liners.
In a bowl mix together oatmeal, flaxseed, pumpkin pie spice, baking powder and salt.
In a large bowl whisk together pumpkin, egg whites, vanilla, coconut oil and stevia until combined.
Dump dry ingredients into wet ingredients; mix well. Pour in almond milk and stir until combined.
Gently stir in your mix-ins (pecans, walnuts, raisins, chocolate chips).
Scoop mixture evenly into muffin cups using a ½ cup measuring cup. Batter should fill 9-10 muffin cups.
Bake 30-35 minutes or until the center of each baked oatmeal cup is set and a toothpick comes out clean. Let cool for about one hour before removing from muffin pan. The oatmeal cups will set as the cool and if you try to remove them from the pan too soon, they will fall apart.
Store cups in a sealed ziplock bag in the refrigerator (for a week or so) or freezer (for 2-3 months). If you freeze them, thaw overnight in the fridge and reheat in a toaster oven or microwave for 30 seconds the next morning.
Nutrition Information
Serving size:
1 muffin
Calories:
185
Fat:
7g
Carbohydrates:
28g
Sugar:
9g
Fiber:
5g
Protein:
5g