Is there anything better than a tasty pumpkin recipe?! Nope! Fall is here and it's time to enjoy all things pumpkin.
Fall is in the air! Don't get me wrong, I loooove summer, but there is something about fall #amiright? I love the cool mornings, the crisp air and all things pumpkin. Yup, I'm that girl. I honestly love pumpkin year round, but I am definitely drawn to it more in the fall. Bring on the big sweaters and pumpkin recipes!
If you've never used pumpkin for cooking or baking, I'll give you the 4-1-1.
I typically buy canned or boxed pumpkin, which you can find in the baking aisle year round (pro tip). When it's in season, I feel like they have it on every end cap of every grocery store. When buying, be sure to look at the ingredient list and make sure it's just pureed pumpkin (no other additives).
If you're feeling ambitious, you can also use fresh pumpkin! Make sure to clean the outside of your pumpkin, cut in half, scrape out the seeds and strings. Chop the halves into smaller pieces and place in a baking dish skin side up. Cover the bottom of the baking dish with water and bake at 325°F for about 45 minutes – until pumpkin is tender. After it has cooled, you can scoop out the flesh and you've got pureed pumpkin!
Health Benefits of Pumpkin
Pumpkin is a part of the squash family, and is packed with great nutrition benefits. It's low in calories, saturated fat and cholesterol. It is considered "nutrient dense" because it has a ton of great vitamins and minerals but not a lot of calories. It's super high in vitamin K which helps your blood clot and is great for bone health. It's also high in beta-carotene, which is a powerful antioxidant and important for eye and immune health.
What Can You Make with Pumpkin?
So many things! I love making everything from smoothies to soups with pumpkin. It's such a diverse vegetable as it can be made sweet or savory. Let's jump into some recipes!

How do you make a pumpkin smoothie?
Pumpkin smoothies are some of the best smoothies I've made. I have this pumpkin pie smoothie recipe on my blog that tastes like a drinkable pumpkin pie. It's SO good! An insider tip: add some cold brew coffee to this recipe for an extra energy boost… perfection.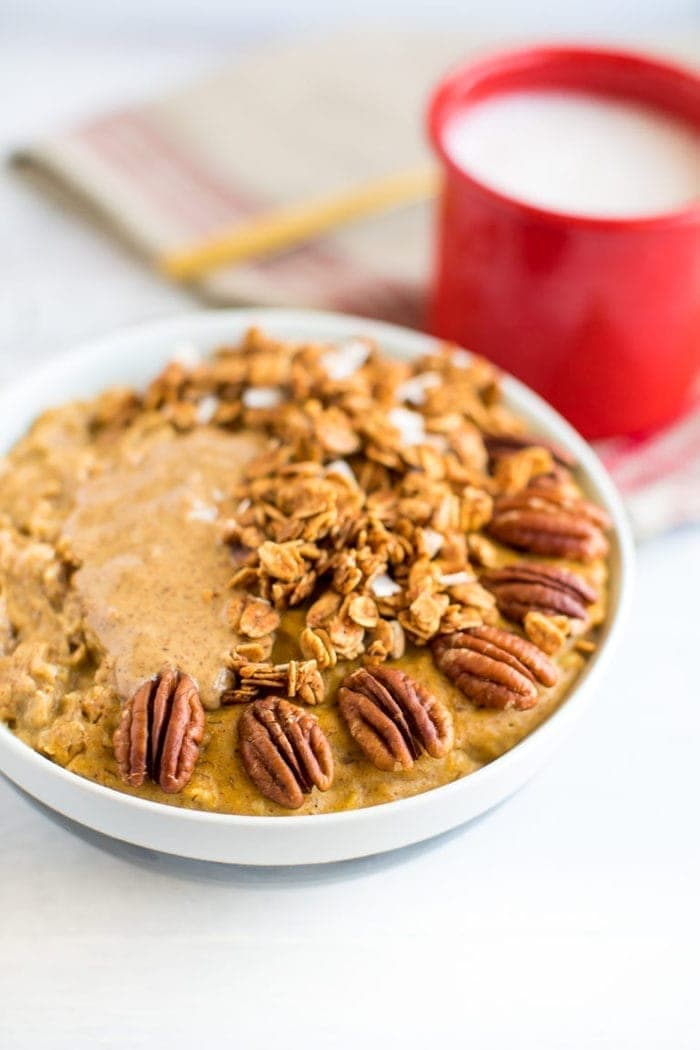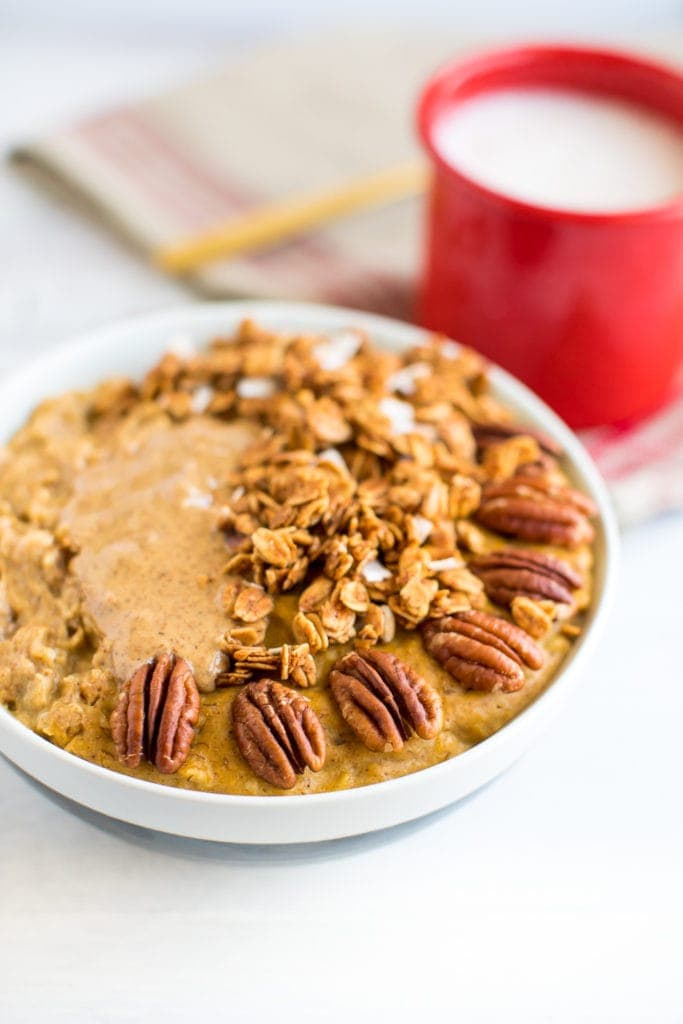 Protein Pumpkin Oatmeal with Egg Whites – This oatmeal is so fluffy and creamy… thanks to the egg whites! I love the protein punch this pumpkin oatmeal recipe packs.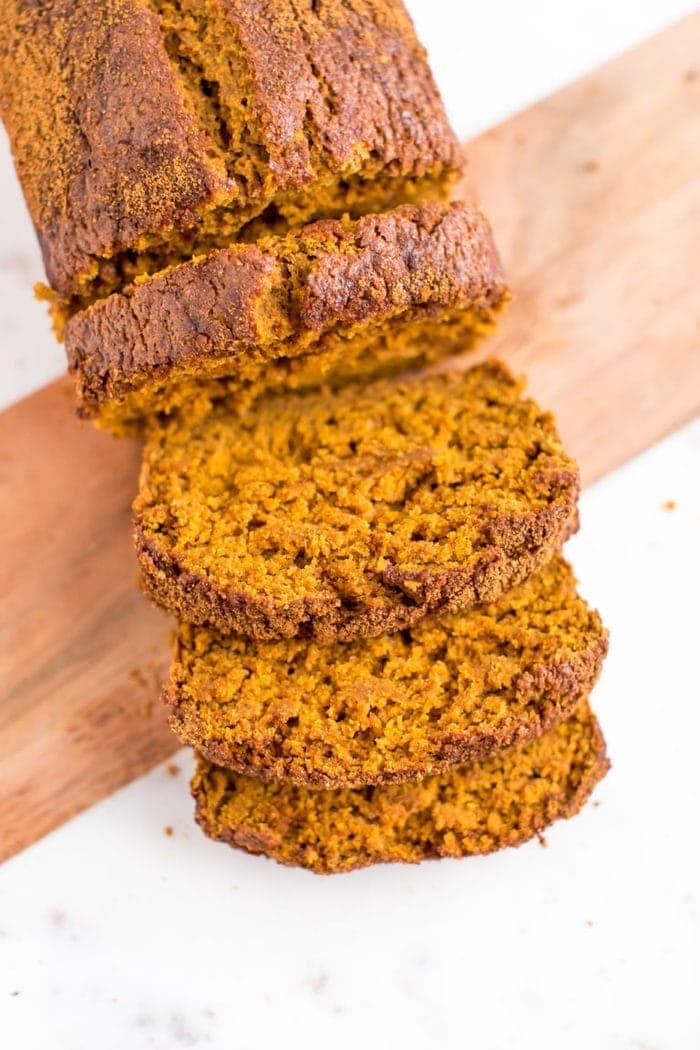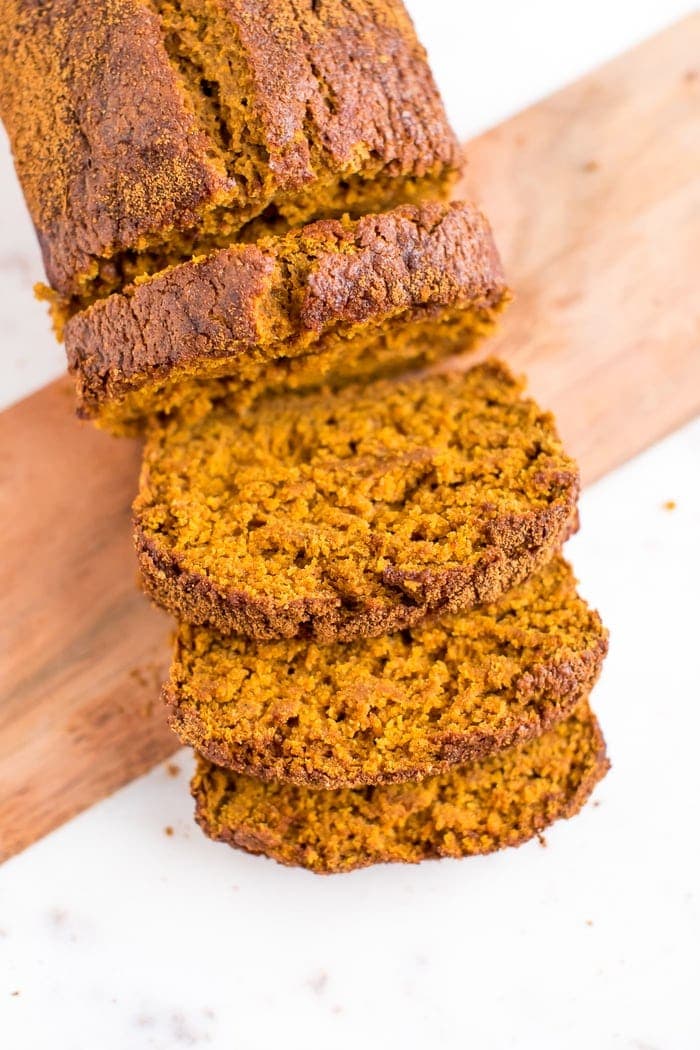 Low Sugar Pumpkin Bread – Traditional pumpkin bread is loaded with fat and sugar, which basically negates all the health benefits you're getting from the pumpkin! This recipe lowers the sugar down to 1/4 cup (most recipes call for regular sugar and quadrupole this amount) and uses whole wheat pastry flour for a boost of whole grains and it's still 100% delicious!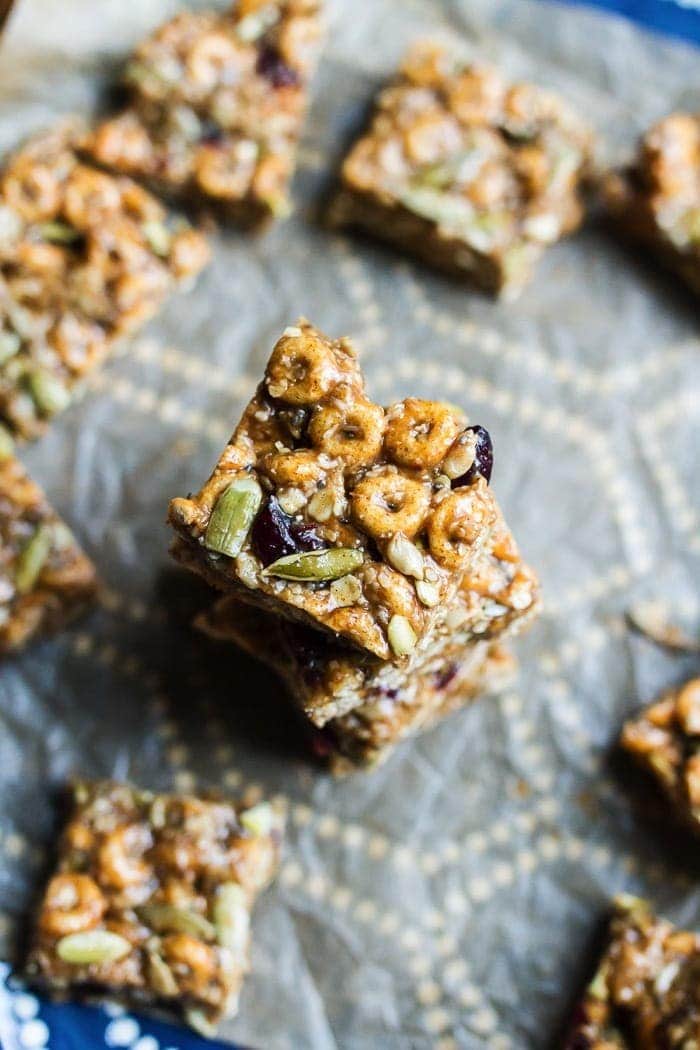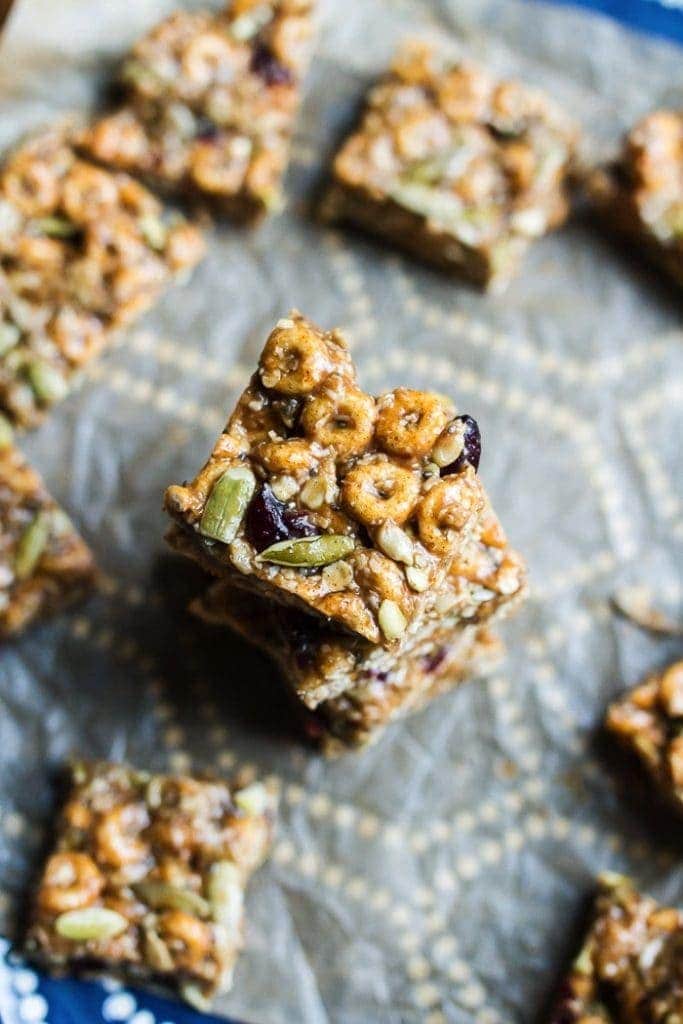 Pumpkin Spice Cereal Squares – These cereal squares are perfect for a filling on-the-go breakfast. They're gluten-free, dairy-free and 100% delicious!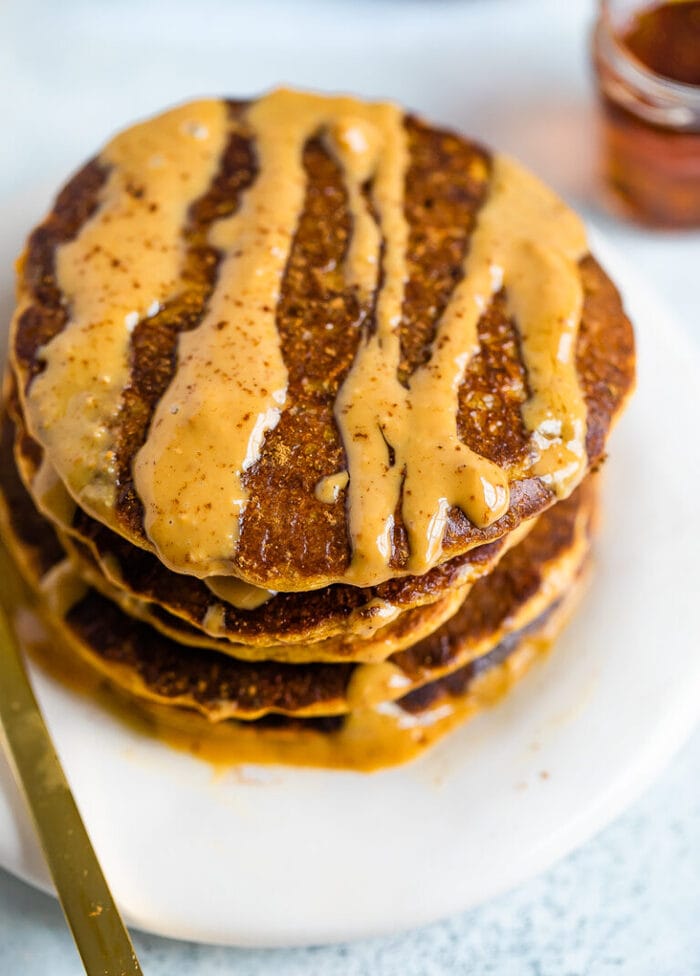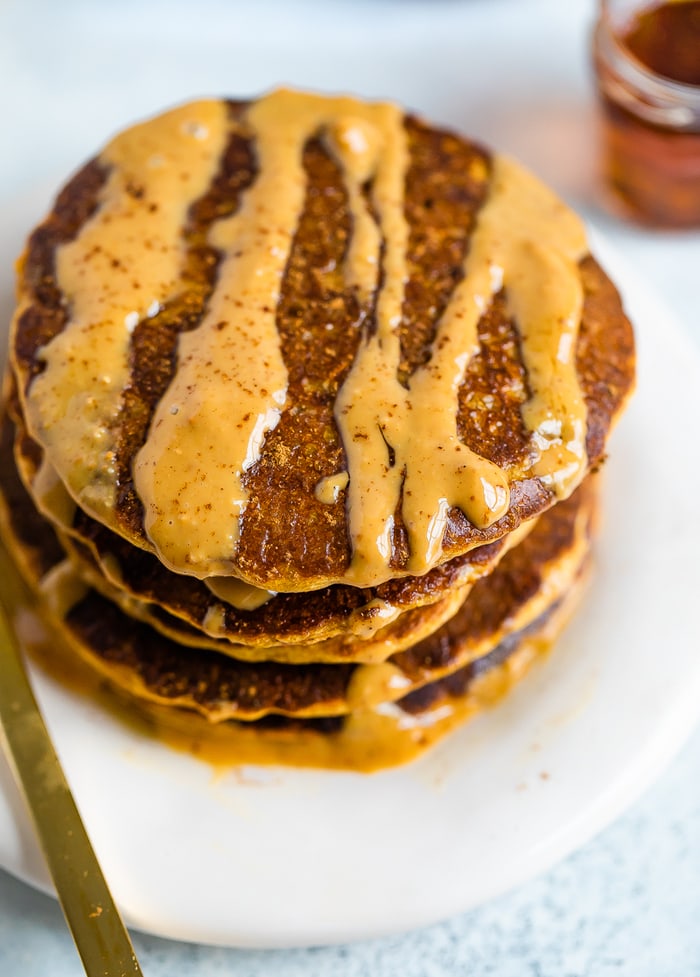 Pumpkin Apple Pancakes – Loaded with protein (without protein powder), these pumpkin apple pancakes make for a delicious and filling fall breakfast.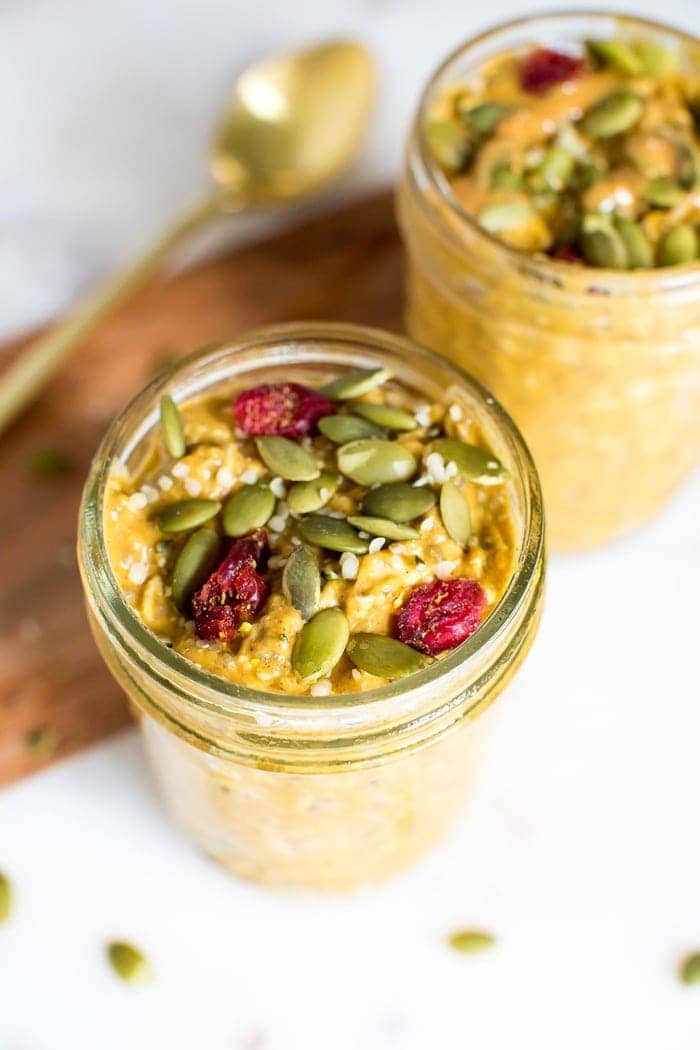 Pumpkin Pie Overnight Oats – Exactly like it sounds… pumpkin pie for breakfast! I loooove this overnight oat recipe and cannot wait to enjoy it all season long!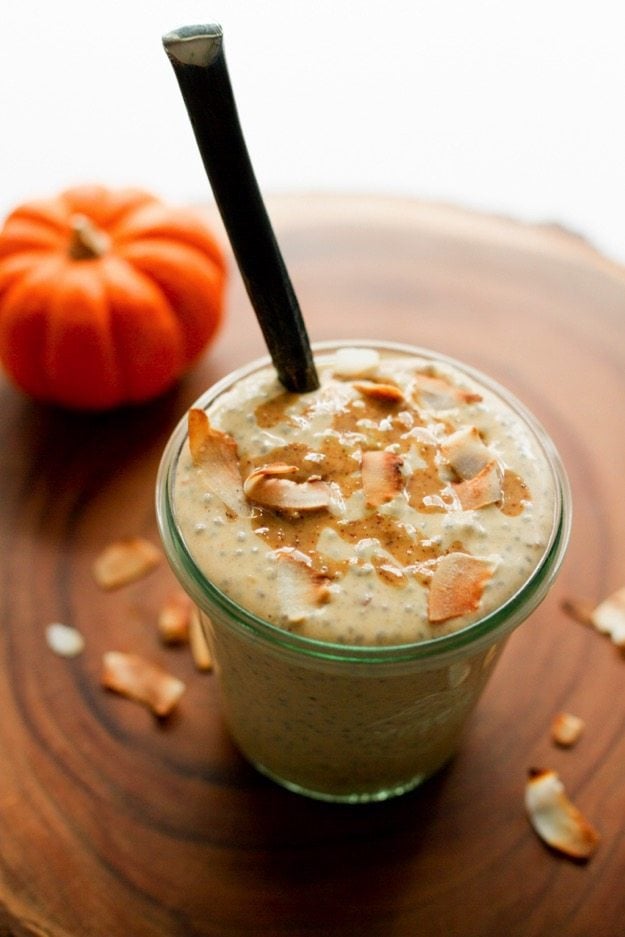 Pumpkin Coconut Chia Pudding – This paleo-friendly breakfast is truly incredible. The toasted coconut flakes and almond butter drizzle really takes this breakfast over the top!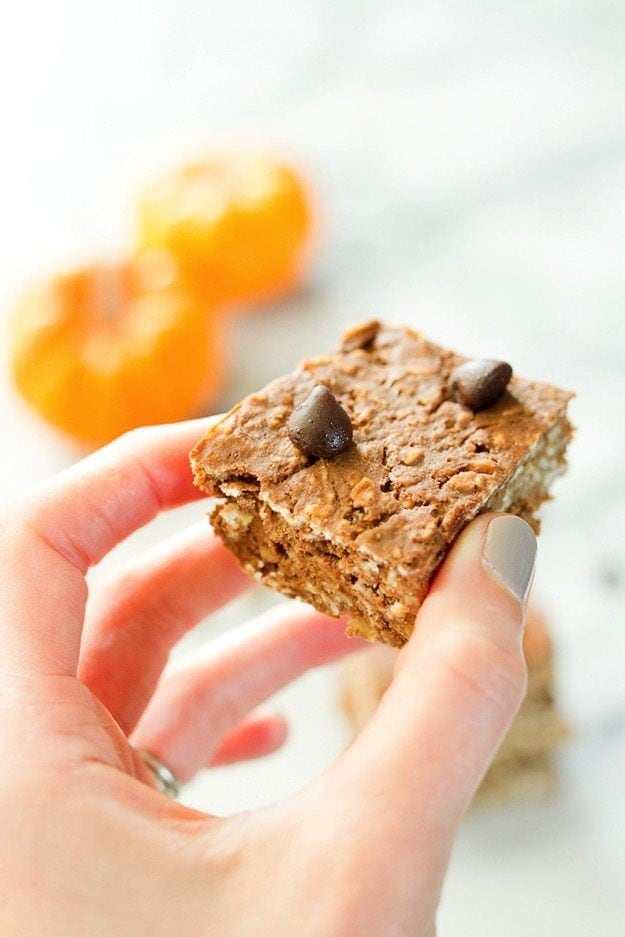 Pumpkin Protein Bars – Craving a pumpkin snack for pre or post-workout? This is your bar! It's also great for a grab-n-go breakfast.
Mini Vegan Pumpkin Muffins – I'm obsessed with these mini muffins! They're the perfect size for a little treat without feeling totally bogged down from a huge muffin. They're low calorie and delicious!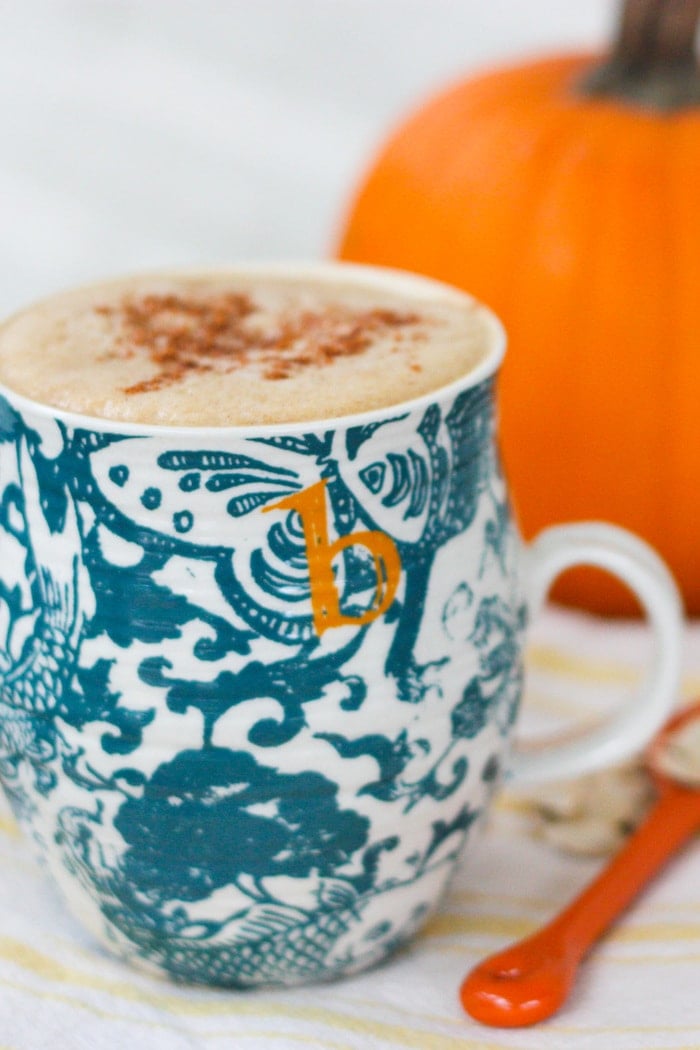 Healthy Pumpkin Spice Latte – If you usually spend hundreds of dollars on pumpkin spice lattes in the fall, this is for you. A healthy, homemade PSL that is super simple to make – and easy on the wallet!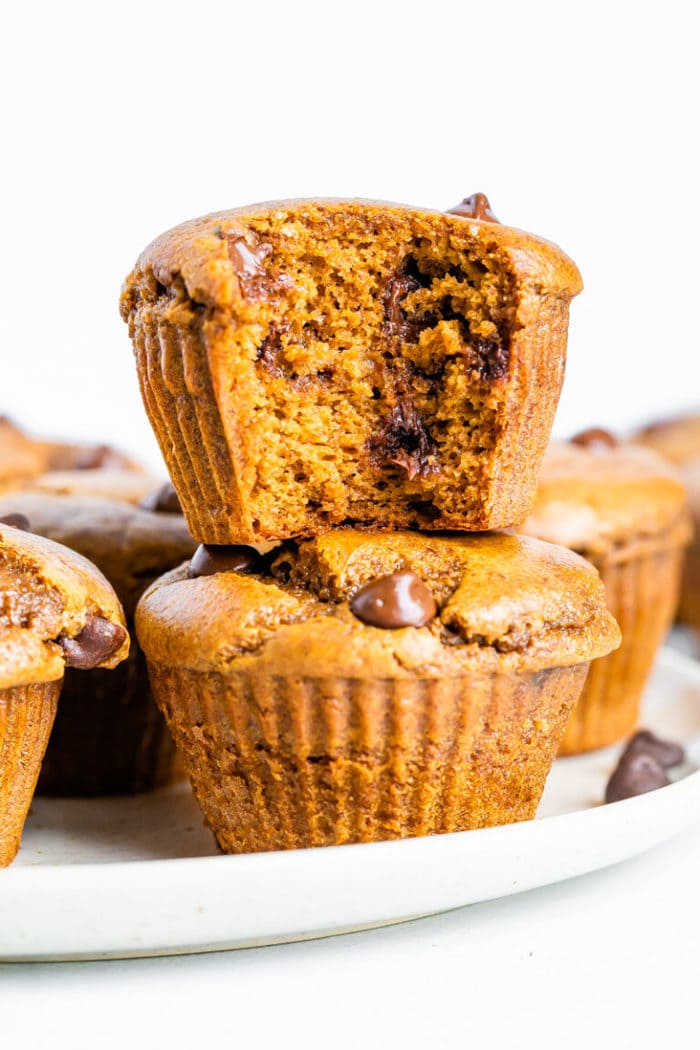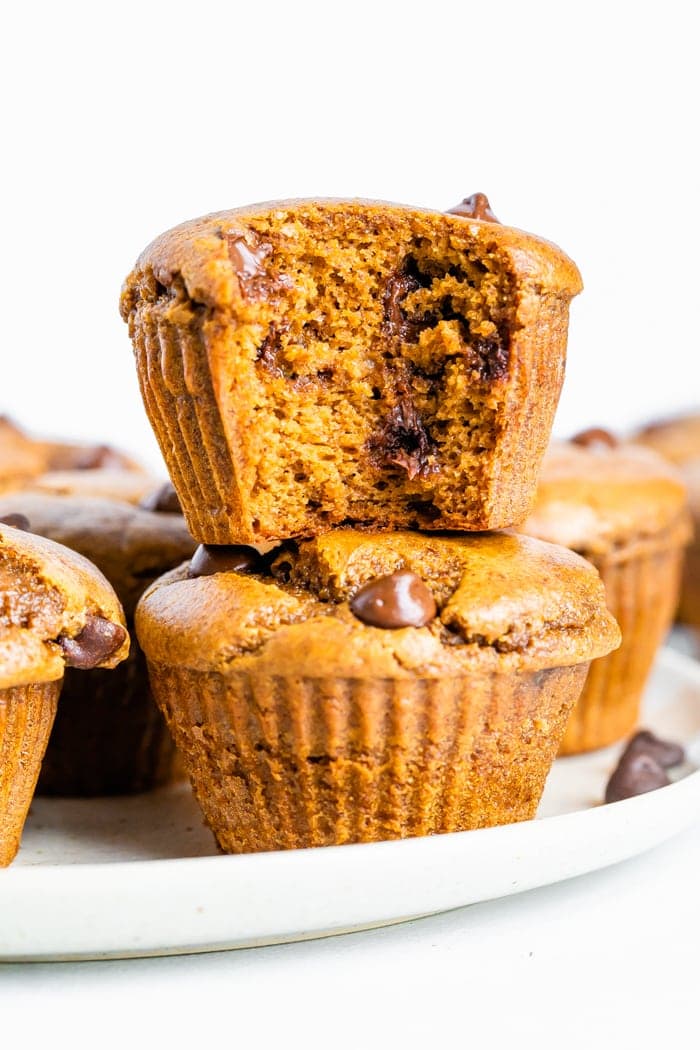 Flourless Mini Pumpkin Muffins – No flour, no oil, no dairy… but tons of flavor!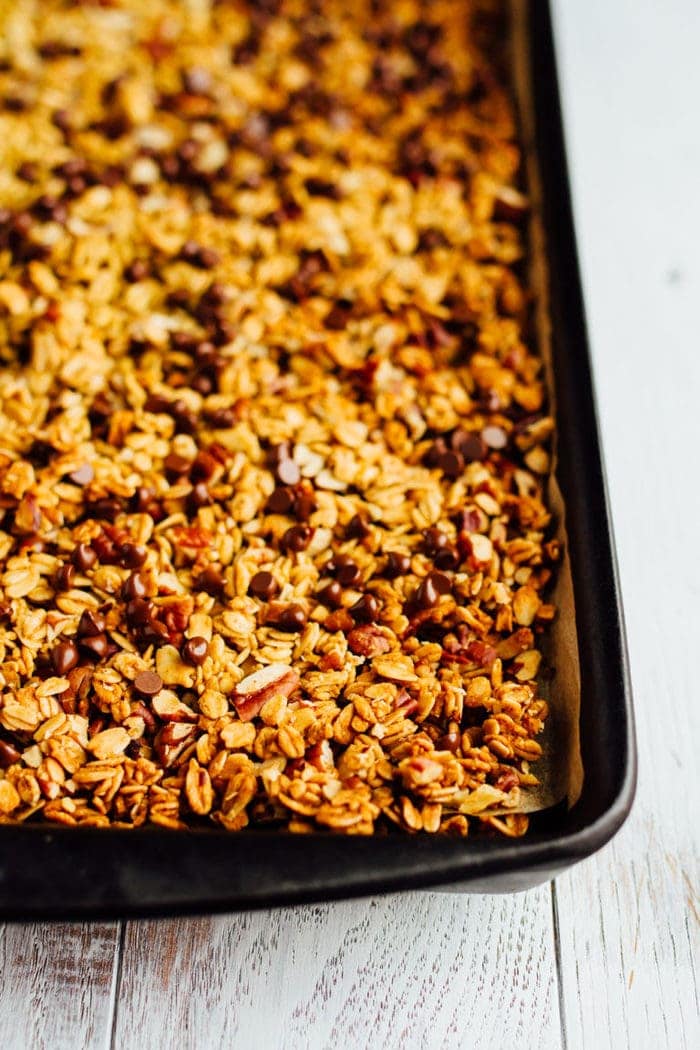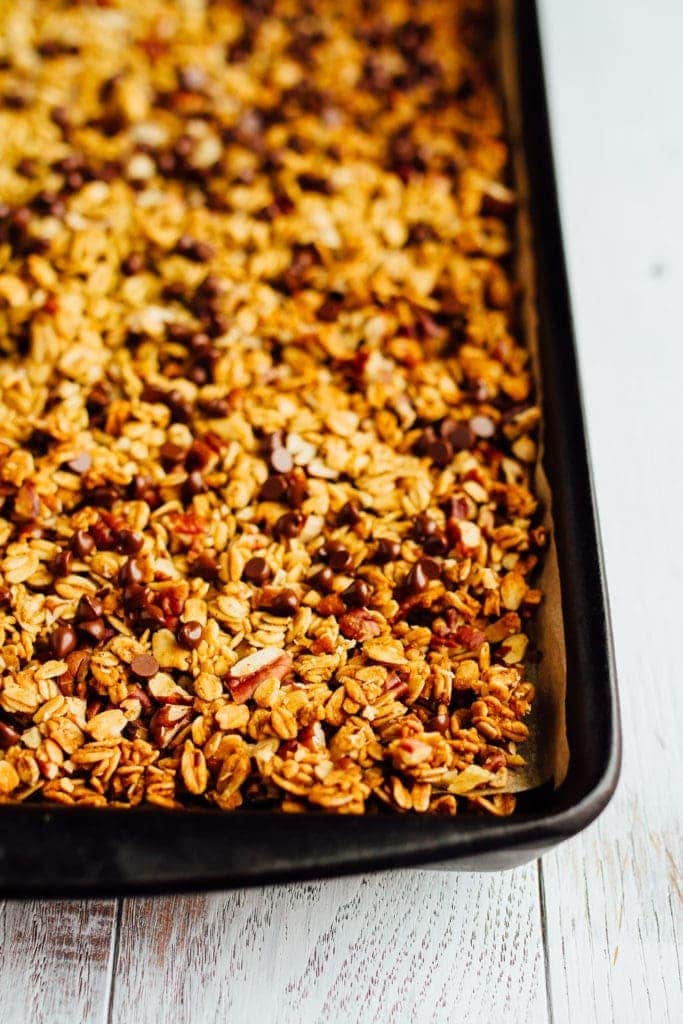 Chocolate Pecan Pumpkin Granola – Mmm I love a good granola. Plus this recipe includes chocolate – it doesn't get much better. Eat this pumpkin granola plain, on top of yogurt, or even as an oatmeal topper!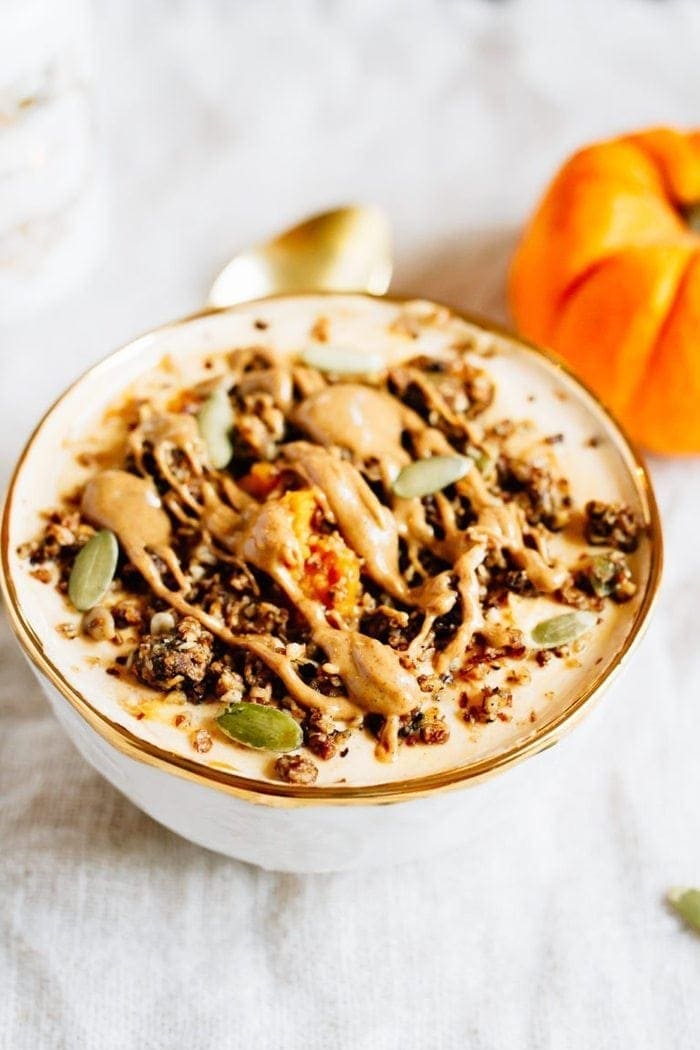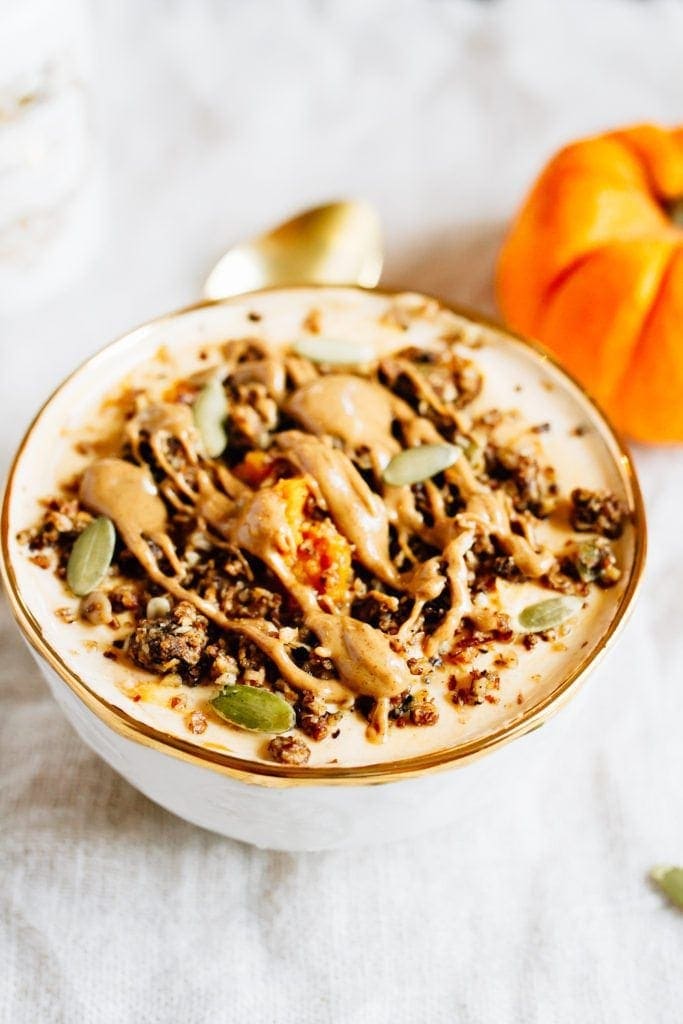 Protein Packed Pumpkin Pie Yogurt Bowl – I love stepping up yogurt, and this recipe definitely takes yogurt up a notch! It combines pumpkin puree, pumpkin pie spice and delicious, crunchy toppings!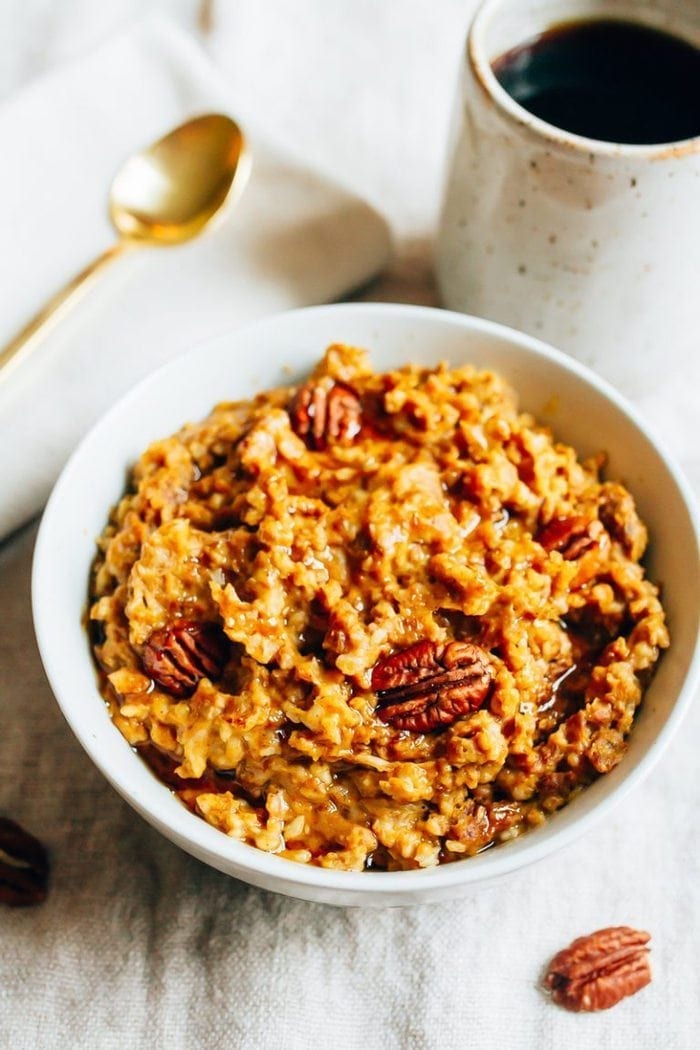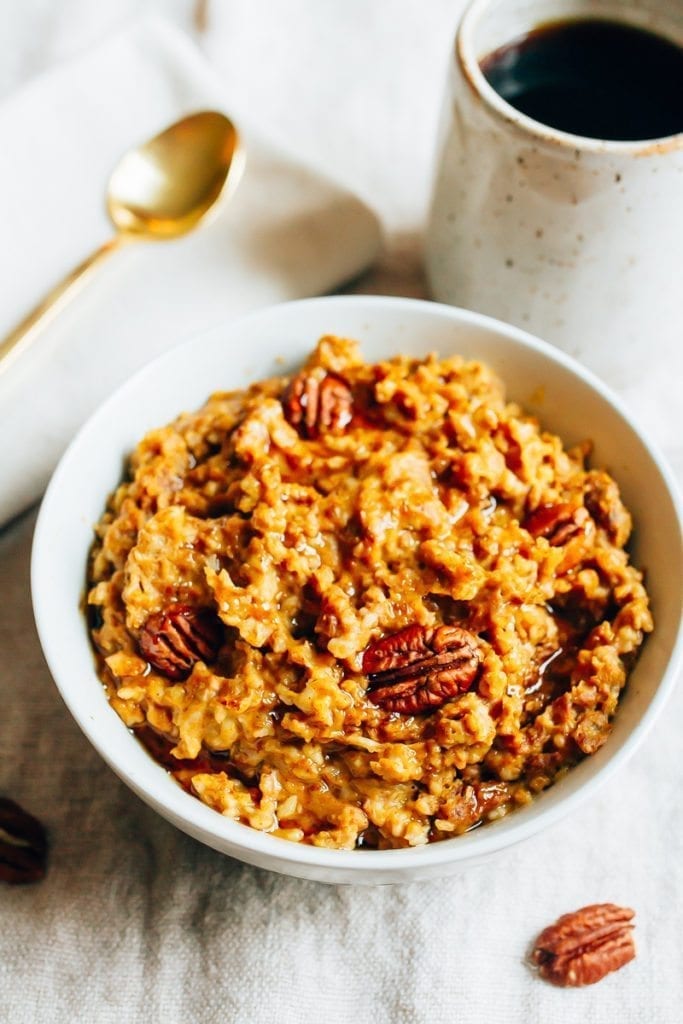 Slow Cooker Pumpkin Pie Oatmeal – A "set it and forget it" recipe that you can prep the night before. Few things are better than waking up to a house smelling like a pumpkin treat and having breakfast ready!
Savory Pumpkin Recipes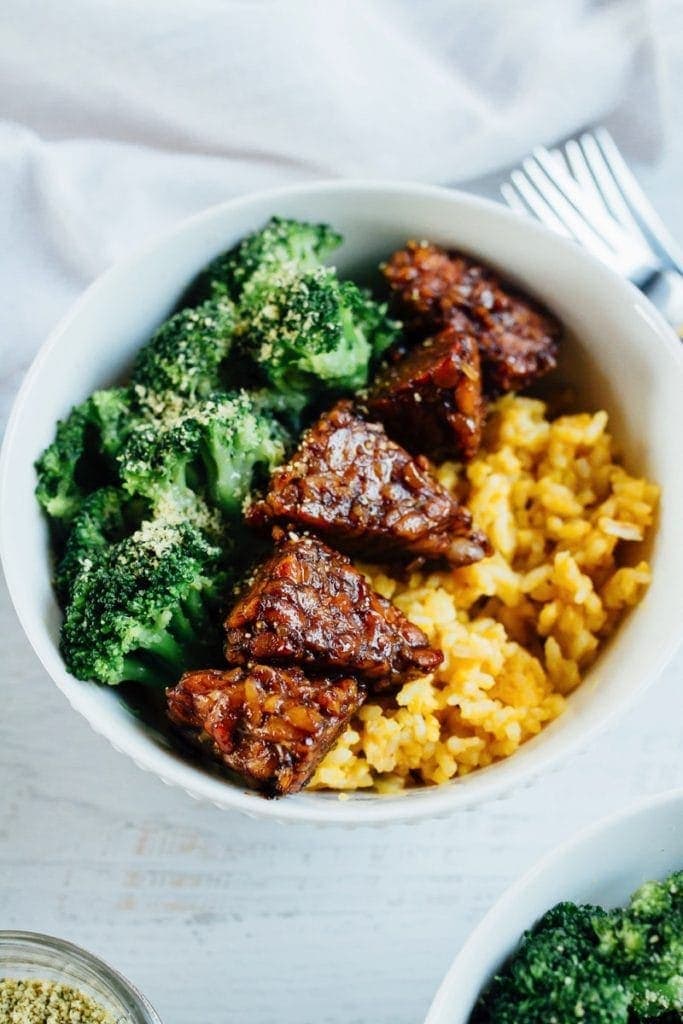 Maple Balsamic Tempeh Bowls with Pumpkin Rice – Does the title of this meal alone make you drool? I love this combo of savory and sweet. This is a great recipe if you've been nervous about cooking tempeh at home because it's such a crowd-pleaser.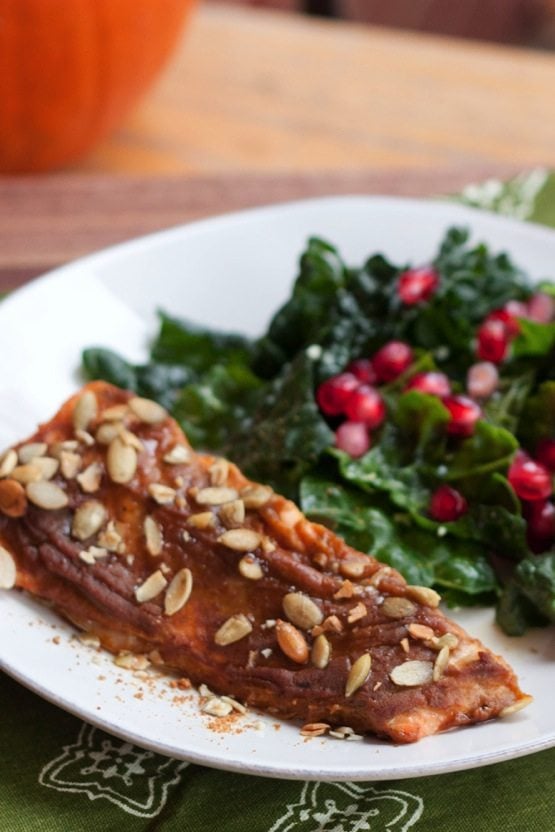 Pumpkin Spice Salmon – Don't be weirded out by this combo… I promise it's delicious! Impress guests with this unique fall-inspired creation. I bet they'll leave asking for the recipe. 😉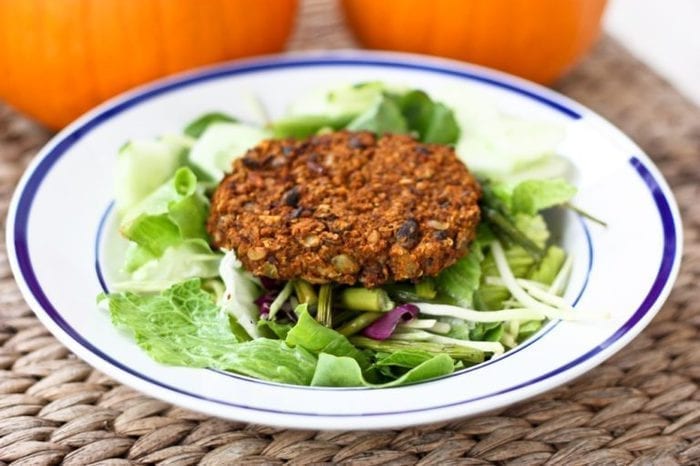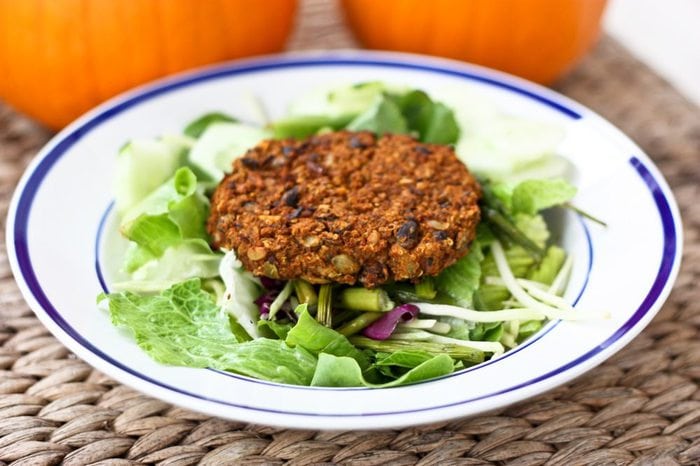 Curried Pumpkin Black Bean Burgers – You know those veggie burgers that are completely flavorless and bland? This is not one of them! It packs a flavor punch with curry and pumpkin and is one of my go-to fall dinner recipes!
Snackable Dessert Pumpkin Recipes

Pumpkin Spice Donut Holes – Yup, donut holes! If you make one thing on this roundup, make these! They're no-bake and covered in a coconut maple glaze that is to.die.for.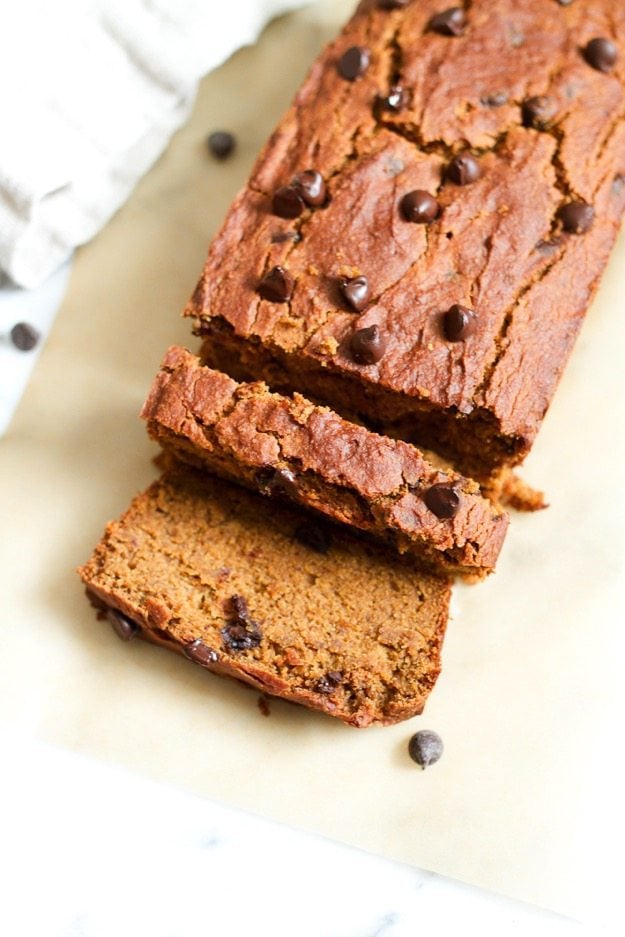 Quinoa Flour Pumpkin Bread – Okay, another "must make" from this list. (But really what isn't?!) If you're a banana bread or zucchini bread fan, you need to try this quinoa pumpkin bread… I promise it will blow you away.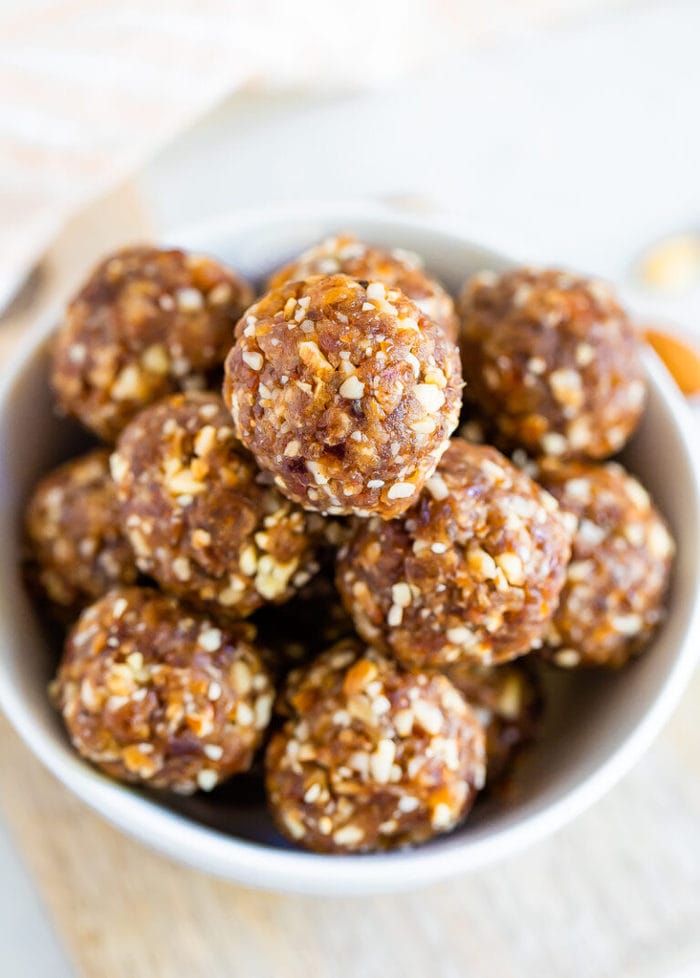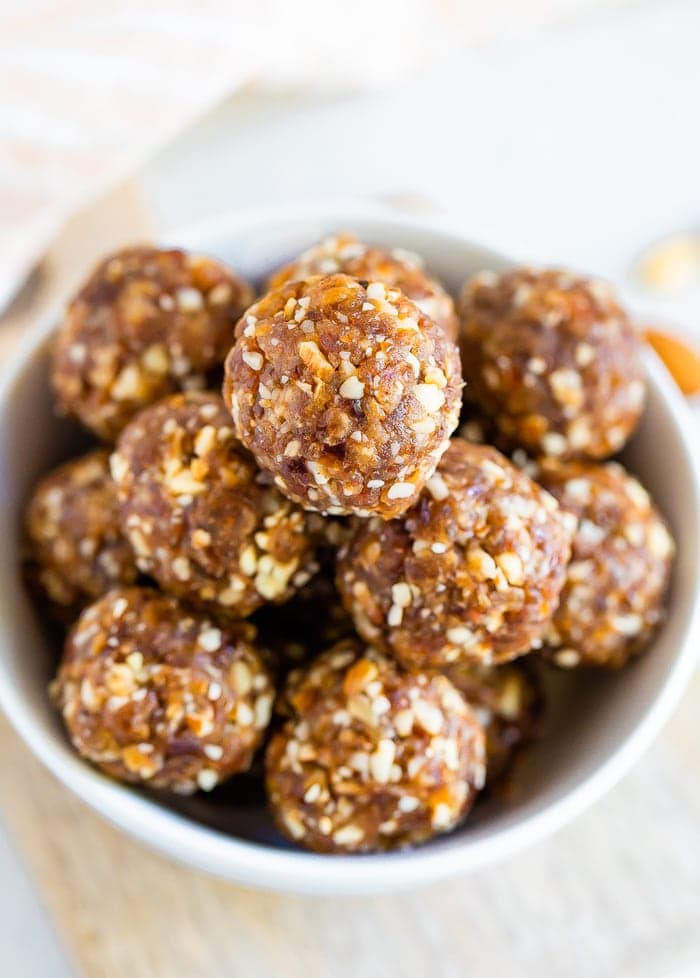 Homemade Pumpkin Energy Balls – You know me, always trying to recreate my favorite things — and I did it again with these Larabar balls! The perfect snack to have on hand and cost less than the store-bought ones!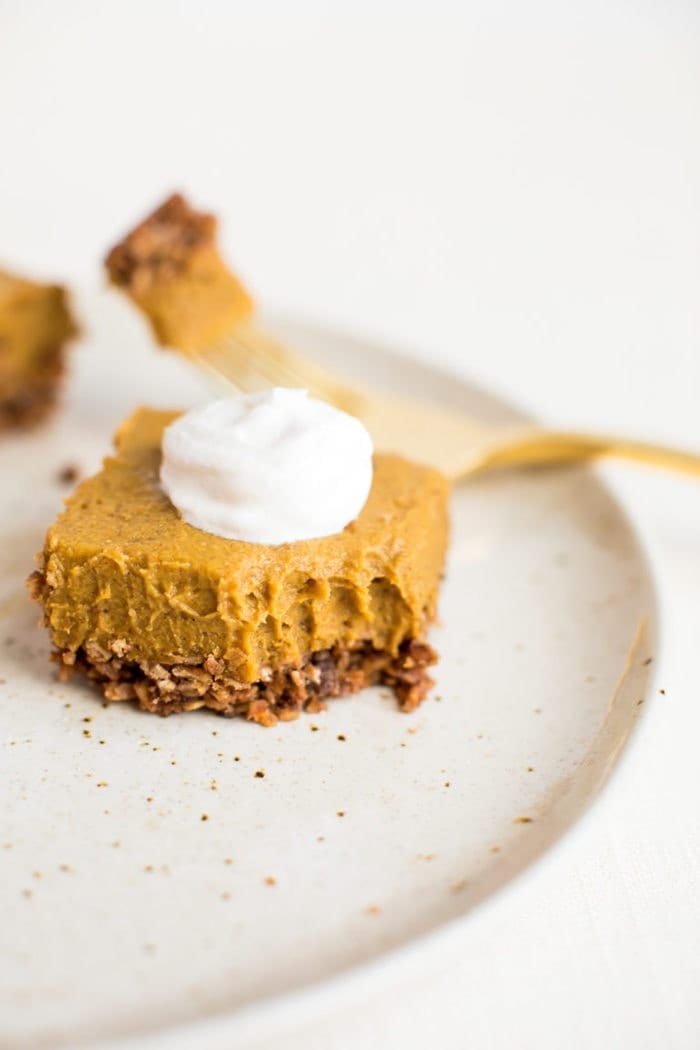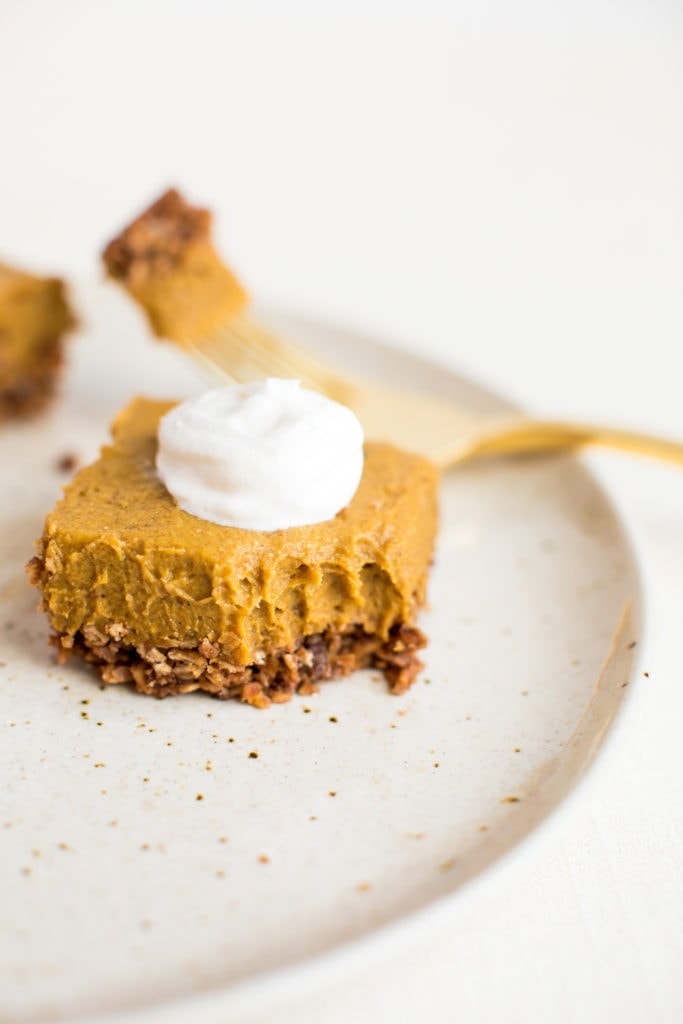 No Bake Pumpkin Pie Bars – You could honestly make these for Thanksgiving dessert. They're a crowd pleaser.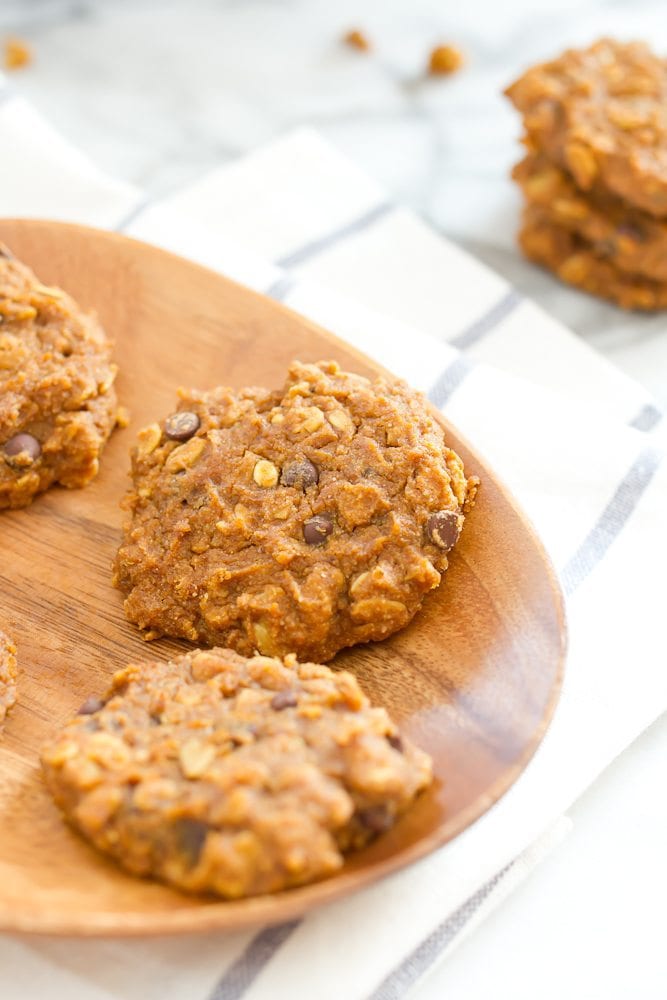 Pumpkin Oatmeal Cookies – These pumpkin oatmeal chocolate chip cookies are both vegan and gluten-free. Perfect for satisfying your pumpkin cravings!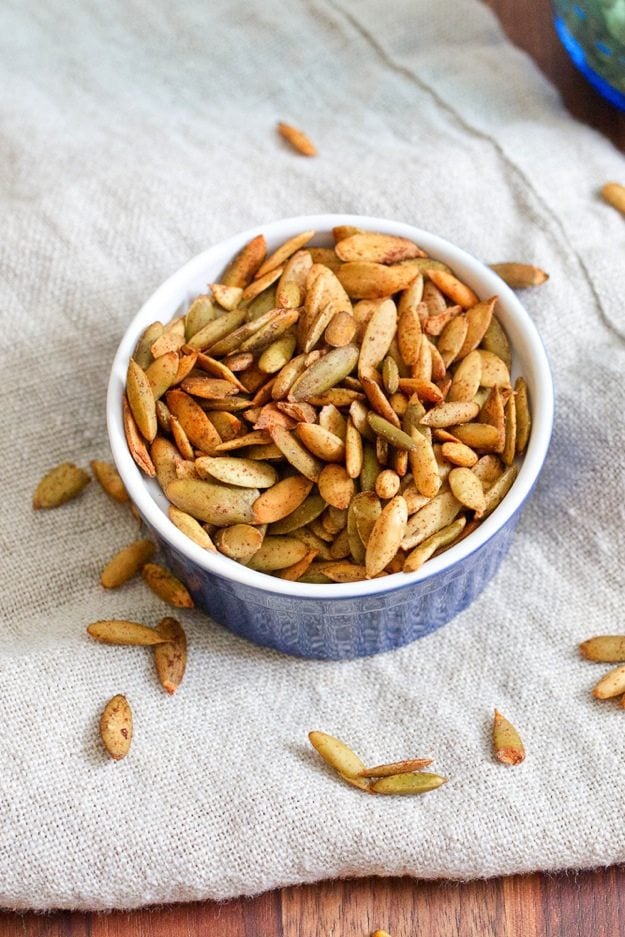 Pumpkin Spice Pepitas – Essentially pumpkin on pumpkin! I love this crunchy, sweet and savory treat on it's own or on yogurt or oatmeal.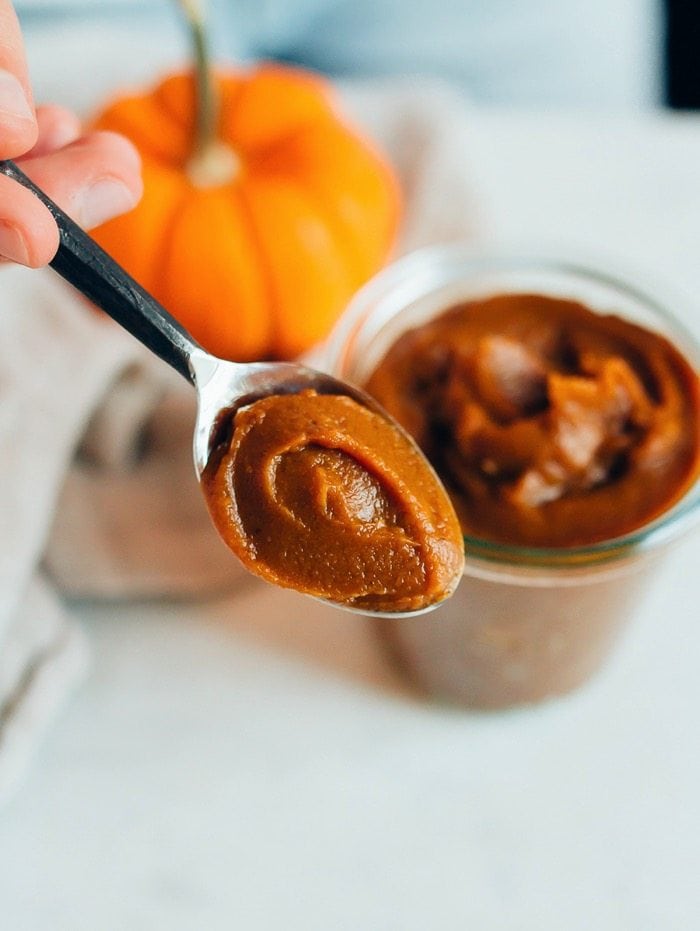 10 Minute Pumpkin Butter – Make this pumpkin butter in your microwave in less than 10 minutes. Spread this on toast or top oats, chia pudding or pancakes (!!!) to bring your snack or meal to the next level. I love having a batch of this on hand throughout the season!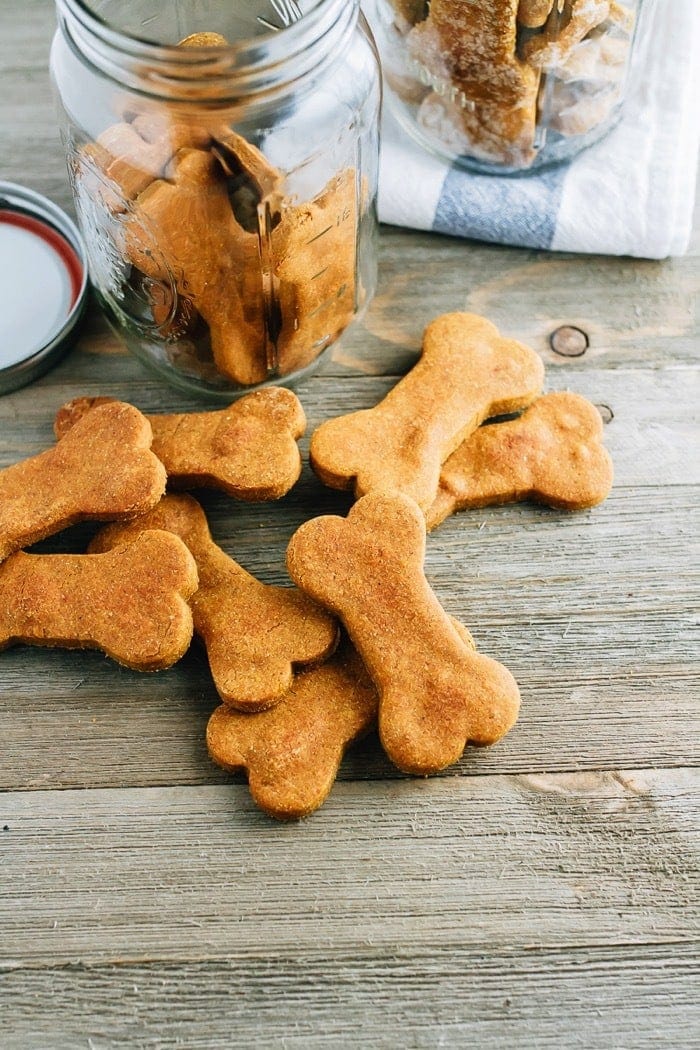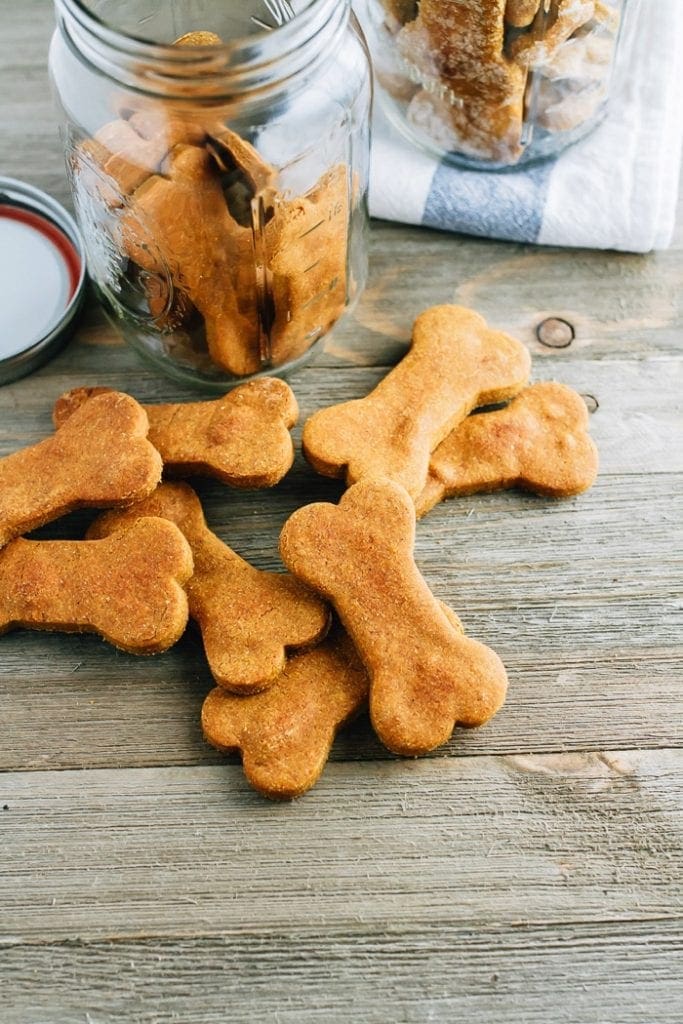 Peanut Butter and Pumpkin Dog Treats – Had to include one for the pups! Pumpkin is great for dogs so naturally, I created a dog treat!
So tell me, what's your favorite way to use pumpkin? Have you ever roasted your own?
This post may include affiliate links. Thank you for your support.