Peanut Butter and Pumpkin Dog Treats
189
Published Oct 10, 2016, Updated Jul 24, 2023
Use leftover canned pumpkin to make these 5-ingredient pumpkin dog treats! They're super easy to make and the perfect fall treat for your furry friend.
Since making peanut butter dog treats last year I've decided that homemade treats are where it's at. They're so easy and inexpensive! And although I personally haven't taste-tested them, I know they taste pretty good because Olive, our Yorkie and all her friends gobble them up like they're going out of style.
Olive's birthday is coming up next month. She's turning eight, which is so crazy. I remember the first week we got her. Isaac was living in DC at the time, in a grad program to become Montessori certified, and I was caring for an 8-week-old puppy, in a new city by myself. It was so hard and very much life consuming, but also the best thing ever.
She's our baby and naturally, we don't want her to get older. Hence the reason we always request the puppy cut when she's groomed. The longer she looks like a puppy, the longer we can deny that she's getting older.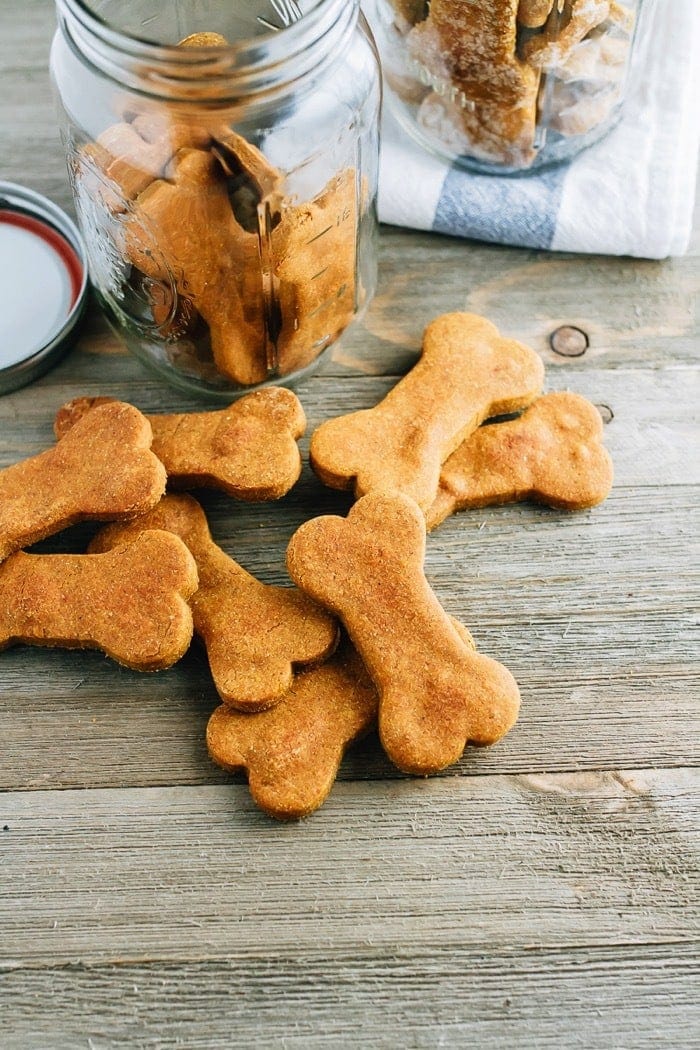 That said, her birthday IS coming up whether we choose to accept it or not, so I thought it would be fun to make special fall-themed pumpkin dog treats with pumpkin puree and cinnamon to celebrate. Who says humans are the only ones who can enjoy pumpkiny treats?
Ingredients For Pumpkin Dog Treats
I tested making a pumpkin dog treat without peanut butter, but the batter was really wet and sticky, even with extra flour so I settled on a peanut butter and pumpkin mixture, which worked perfectly. I honestly think dogs will like this flavor combo better than plain pumpkin anyway! Here's what you need:
whole wheat flour – I like using whole wheat because it's more nutrient dense, but all-purpose flour works too. You can also use a gluten-free option like sorghum, oat or garbanzo bean flour if your dog has allergies.
peanut butter – this adds healthy fat and flavor. Make sure your peanut butter doesn't have any added ingredients like artificial sweeteners as these can be toxic to dogs! Look for a brand with only one ingredient (peanuts) or two ingredients (peanuts and salt).
pumpkin puree – use leftover canned pumpkin puree or make your your own using my pumpkin puree recipe. This gives the treats a hint of natural sweetness and helps the dough form together.
vegetable stock – this helps moisten the dough and add a savory flavor that dog's love.
cinnamon – for a hint of spice!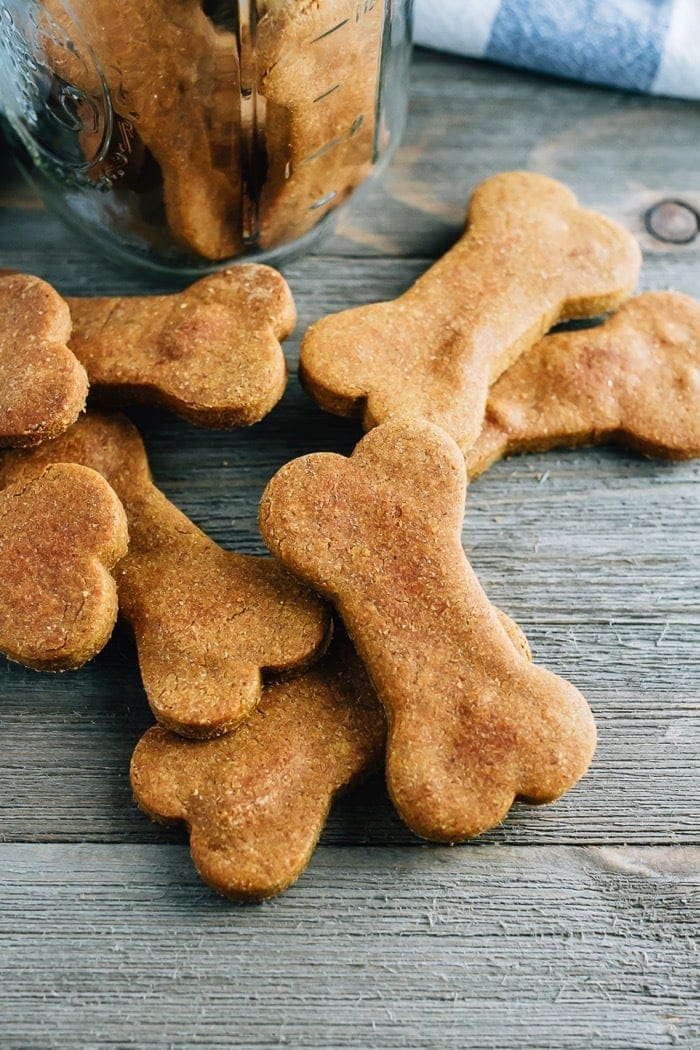 What Cookie Cutters to Use for Dog Treats
I made some mini ones using a tiny dog bone cookie cutter because they're the perfect size for Olive and small breeds, but I also I purchased a larger cookie cutter and made some bigger bones for Olive's friends.
I couldn't possibly wait until her birthday to give her a sample so she's already taste-tested a few and loves them.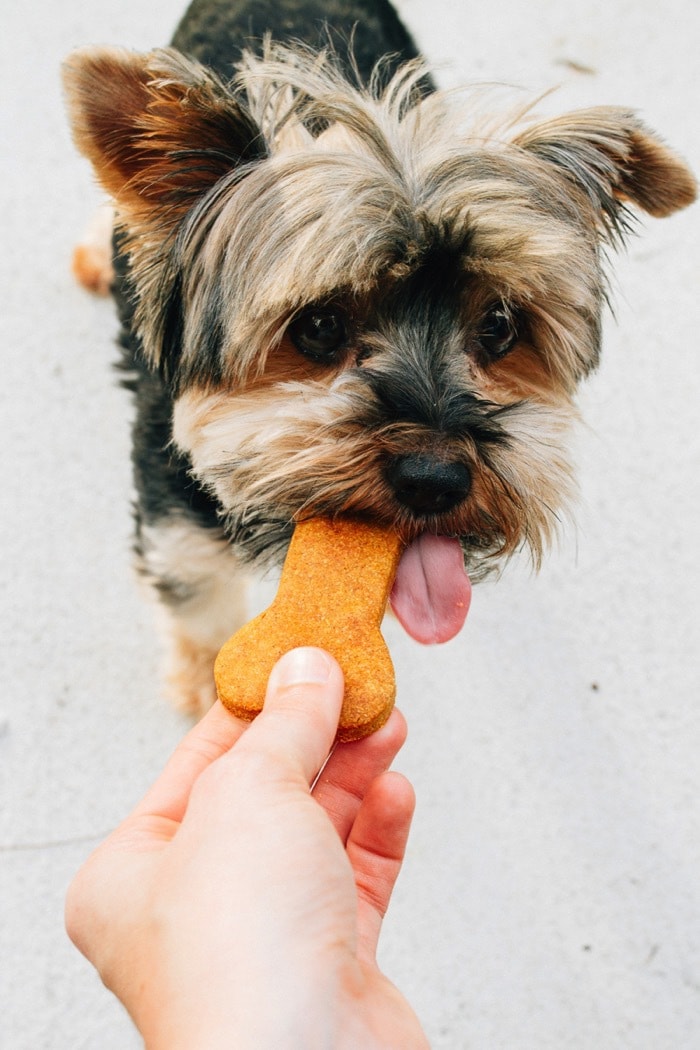 We shared some of the larger bones with Alyssa's pups, Chloe and Maverick, and they were big fans as well so I think we can officially say they're pup-approved!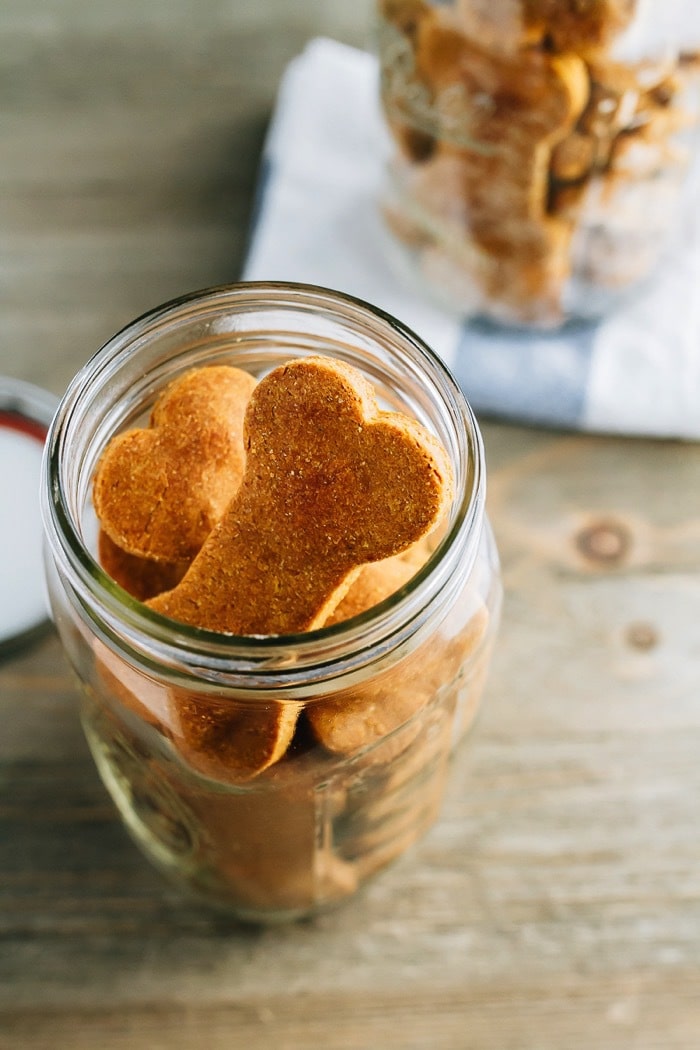 I know it's a little early to start thinking about the holiday season, but I wanted to mention that homemade dog treats are a great gift idea. Last year I made a few batches of these peanut butter dog treats and gave them as gifts to my friends and family who have dogs. They look really cute packaged in a mason jar with a label and ribbon. Just a thought if you're looking for some cute gift ideas!
More Recipes and Collections You May Like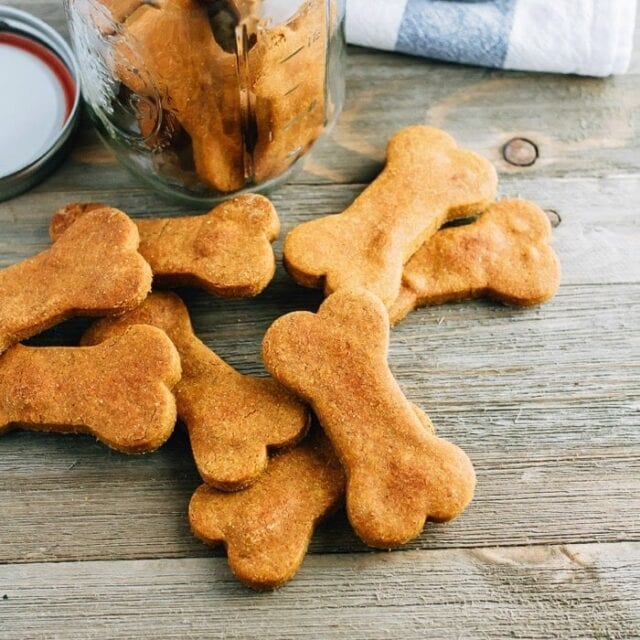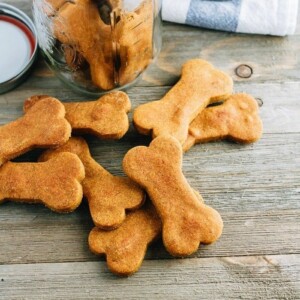 Peanut Butter and Pumpkin Dog Treats
Use leftover canned pumpkin to make these 5-ingredient homemade peanut butter and pumpkin dog treats! They're super easy to make and the perfect fall treat for your furry friend. 
Ingredients
1

cup

whole wheat flour

½

cup

peanut butter*

¼

cup

pumpkin

¼

cup

stock (vegetable, chicken or beef)

1

teaspoon

cinnamon
Instructions
Combine flour, peanut butter, pumpkin and cinnamon in a large mixing bowl. Add stock and stir until well-combined. The dough will be thick.

Once combined, use your hands to press the dough into a ball. Place dough ball on a flat service (with a sprinkle of flour if needed) and roll out evenly with a rolling pin. Dough should be about ¼ inch thick. Use a cookie cutter to cut the dough into desired shape and place on ungreased baking sheet.

Bake for 18+ minutes or until golden brown and hard to the touch. The baking time will vary based on the the size of the treats.

Store in an airtight container.
Notes
*Be sure your peanut butter doesn't contain Xylitol as it is dangerous for pets.
Nutrition
Serving:
1
treat
|
Calories:
10
kcal
|
Carbohydrates:
1
g
|
Fat:
1
g
|
Sodium:
8
mg
Nutrition information is automatically calculated, so should only be used as an approximation.