Wondering what to do with leftover canned pumpkin? Here's a variety of delicious canned pumpkin recipes to put that pumpkin to good use.
It's that time of year when canned pumpkin flies off the shelves and everyone starts panicking about stocking up to make their favorite fall recipes! I love using canned pumpkin in recipes because of its earthy, sweet flavor.
Pumpkin is a great way to lighten up baked goods because you can use it as a replacement for oil, butter and even eggs in some cases. It helps make baked goods moist and gives them a lovely, cakey texture. In terms of nutrition, it's super healthy – low in calories, carbs and packed with nutrients including Vitamin A and fiber.
How to Use Leftover Canned Pumpkin?
The one thing about recipes that call for canned pumpkin is that oftentimes you only need a small amount (not a full can), which means you have leftover pumpkin sitting in the fridge that you need to use. Fear not, because I have a ton to tasty recipes that will help you use up that canned pumpkin.
If for some reason you can't find canned pumpkin. No worries! I have a pumpkin puree recipe for you.
tip!
Make sure you buy pumpkin puree and not pumpkin pie filling for these recipes because pumpkin pie filling is sweetened. The ingredient list should just be "pumpkin"!
Oatmeal & Breakfast Ideas
Who knew there were so many ways to enjoy pumpkin for breakfast?! Pumpkin is an amazing addition to oatmeal, but it also adds delicious fall flavor to fancier recipes like cinnamon rolls and pancakes.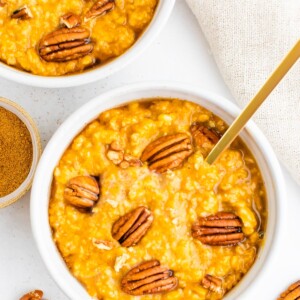 Pumpkin Oatmeal
This healthy and cozy pumpkin oatmeal makes the perfect breakfast for a chilly fall morning. It has a ton of pumpkin flavor with a little spice and a touch of sweetness.
View Recipe
Drinks
Ditch the coffee shop pumpkin spice latte and make your own pumpkin drinks at home! These recipes are made with minimal, healthy ingredients and absolutely delicious!
Cookies & Bars
Don't forget about the treats! I love adding pumpkin to cookies and bars because it adds a light sweet flavor while also giving the treats a fluffy texture.
Muffins & Bread
Canned pumpkin gives baked goods the best texture – perfectly fluffy and moist without a lot of added oil. You can't go wrong making any of these muffin (or bread) recipes!
Savory + Misc Ideas
Looking for a savory pumpkin option? Try my curried pumpkin soup or pumpkin rice. Canned pumpkin is also a dog-friendly snack!
More Recipe Collections You Might Enjoy