This slow cooker apple cinnamon oatmeal is filled with soft apple chunks and warm cinnamon maple flavor. You'll love how easy this recipe is!
Happy Halloween! Are you doing anything fun to celebrate today/tonight? We lived at our old house for three years and never had any trick-or-treaters (not even one) so I'm pretty excited to stay home and see if we get any at our new place. I have a feeling we will because our new neighborhood seems pretty family oriented. I surely hope we have a few or else Isaac and I are going to have a lot of Kit Kats and Reese's to eat. Although don't worry, I've already done a little research and if we do have any leftover Kit Kats, I'm totally making these Chocolate Peanut Butter Kit Kat Crunch Bars. They look like something Isaac would love.
Btw, did you know that Tuesday, October 29 was National Oatmeal Day? Yeah, me neither… until I got on Facebook and saw that everyone posting about. I was a little sad because I had already eaten a big breakfast and it didn't involve oatmeal, which meant that unless I was having oatmeal for dinner, I wouldn't get to celebrate. Not that there's anything wrong with oatmeal for dinner — I'll be the first to admit that I've had it before. I love breakfast for dinner. 🙂
Needless to say, I was craving oatmeal, so on Tuesday night I made a big batch of steel-cut oats in my crockpot. I've done overnight steel-cut oats on the stove top before but never in my slow cooker so I was apprehensive about how it would turn out.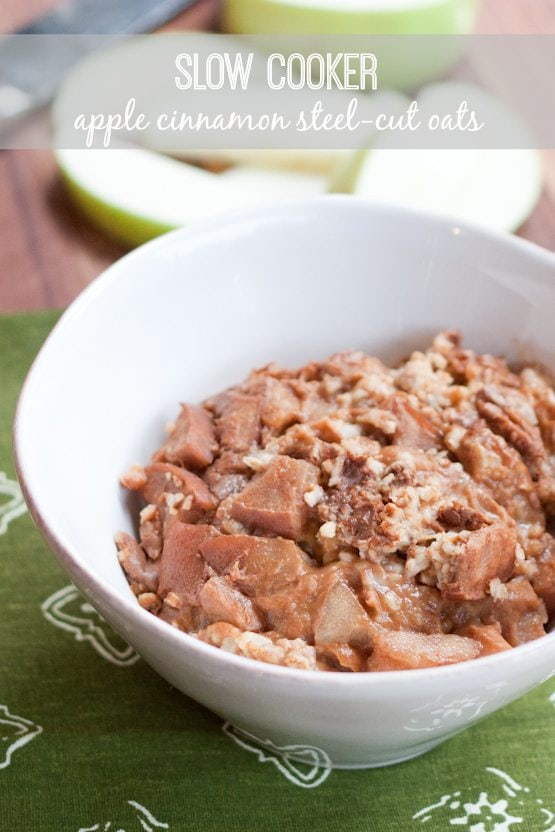 I put the ingredients together and started the crockpot around 10PM, went to bed and upon waking up at 6AM, our house smelled like baked apples and my oats were perfectly cooked and waiting for me to dig in — quite lovely circumstances to wake up to.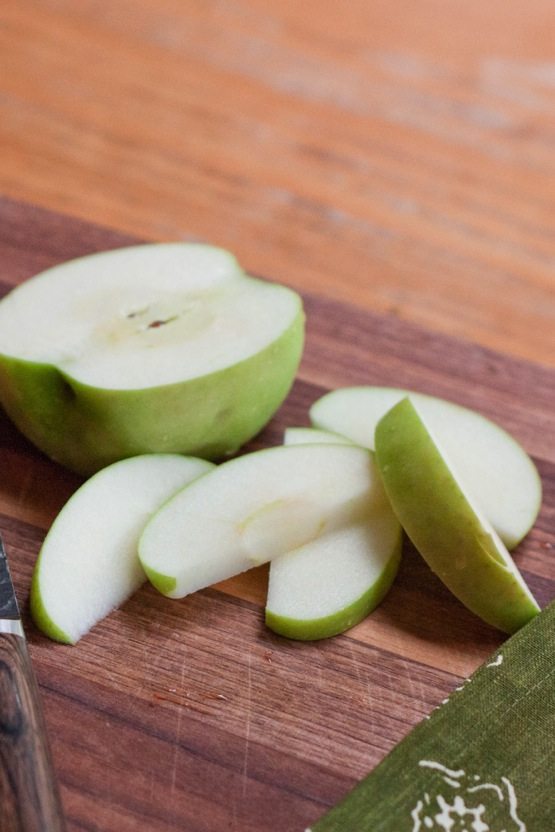 I turned the slow cooker off, served myself a quarter of the batch, made some coffee and dug in. The oats were oh so creamy and I loved the chunks of cooked apples and warm cinnamon spiciness.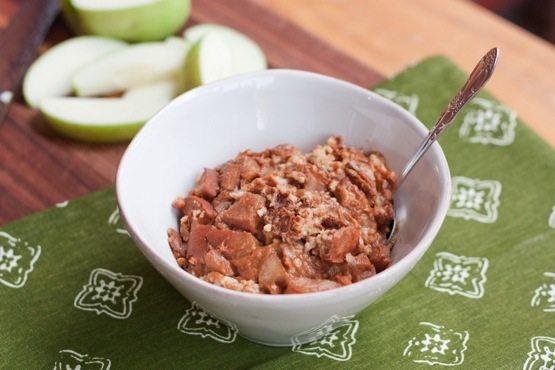 All the apples and cinnamon sit at the top of the oatmeal and look really pretty when the oats have finished cooking.
The best part? The recipe makes four servings of oats. Share with others (this would be great for a holiday brunch) or save the leftover oats for a quick breakfast throughout the week — just let the leftover oats cool and place in the refrigerator for up to one week. Simply reheat the oatmeal on the stove top or in the microwave (just add a little water or milk if it gets too thick).
Print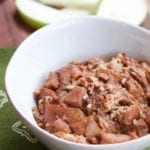 Slow Cooker Apple Cinnamon Steel-Cut Oatmeal
Author:

Cook Time:

6 hours

Total Time:

6 hours

Yield:

4
---
Description
Warm and delicious apple cinnamon steel-cut oatmeal made using your slow cooker.
---
Ingredients
cooking spray, butter or coconut oil (for coating the slow cooker)
1 cup steel-cut oats
2 1/2 cups water
1 cup chopped apple pieces
1 Tablespoon maple syrup + 5 drops of liquid stevia (or other sweetener of choice)
1 teaspoon vanilla
1 teaspoon cinnamon
1/4 teaspoon salt
chopped nuts, nut butter, coconut sugar and/or dried fruit for serving
---
Instructions
Coat your slow cooker with cooking spray, butter or coconut oil. Add all the ingredients into slow cooker and mix well. Cook on low for 6-8 hours.
Place in a bowl to serve and top with nuts, dried fruit and sweetener of choice.
---
Nutrition
Serving Size:

1 bowl without toppings

Calories:

158

Sugar:

3g

Fat:

4g

Carbohydrates:

26g

Fiber:

4g

Protein:

5g