Add fresh peaches and blueberries to your oats for a healthy and flavorful bowl of blueberry peach oatmeal. Loaded with fiber, healthy fat and protein this delicious bowl of oats will keep you feeling full and energized all morning.
I know oatmeal isn't very summery, but blueberry and peaches are in season and for whatever reason I was craving a big bowl of oats the other morning.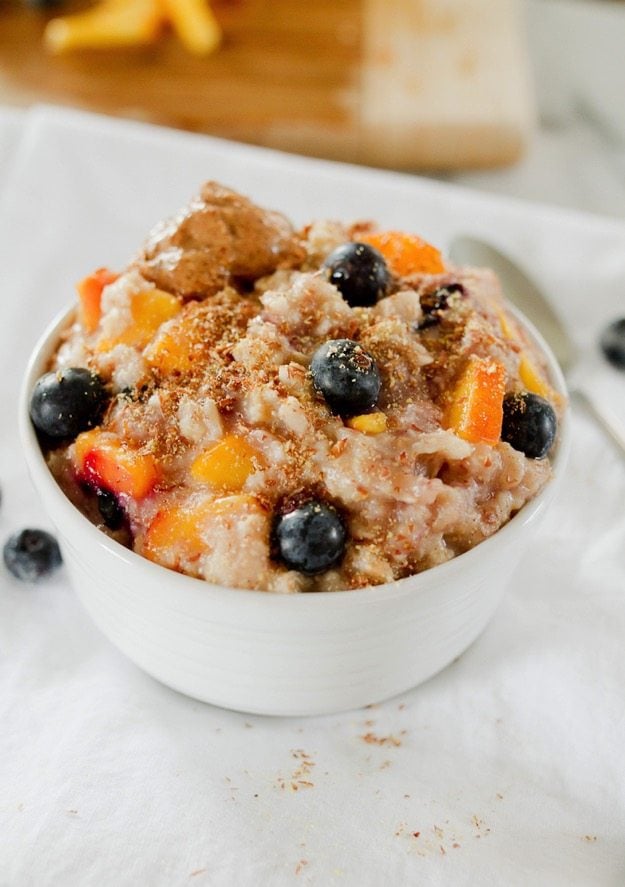 So yeah, I was kind of sweating a little bit while eating this BUT it was totally worth it. Next time (i.e. tomorrow) I'm just going to crank the air conditioning while I eat breakfast so that doesn't happen.
Speaking of — is it just me or is it impossible for an establishment (house, office building, store, etc.) to feel comfortable in the summer? It's either too hot because the air conditioning isn't running or the air conditioning is blasting and it's so stinkin' cold you have to wear a sweater. First world problems, I know. But it's still hard to deal.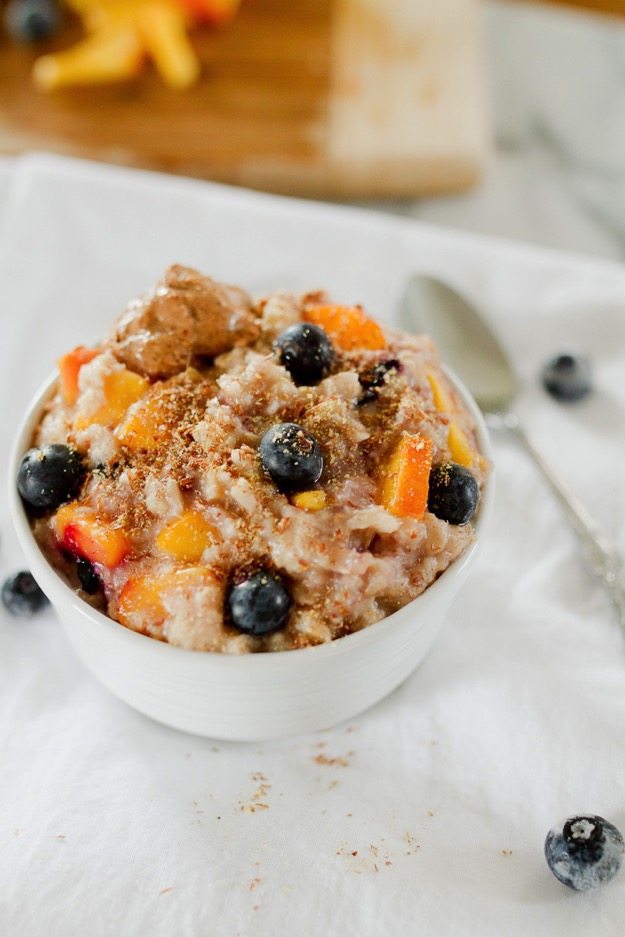 Okay, so back to these oats. They're just regular rolled oats, cooked on the stove top but spruced up with some local summer goodness. Isaac hand-picked the blueberries at a local farm and we got the peaches from the farmer's market last weekend. Hooray for local produce!
The oats are topped with a hefty sprinkle of ground flax and a spoonful of almond butter for good measure. <– Serving oats without nut butter is basically a crime.
The fresh peaches and berries add a subtle sweetness, but these oats aren't overly sweet like most packaged oats. If you're in the mood for something a tad sweeter, feel free add a little stevia or natural sugar to the oats or a drizzle a bit of maple syrup or honey on top.
Print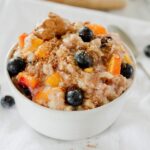 Blueberry Peach Oatmeal
Author:

Yield:

1
---
Description
Add fresh peaches and blueberries to your oatmeal for a healthy and flavorful breakfast. Loaded with fiber, healthy fat and protein this delicious bowl of oats will keep you feeling full and energized all morning.
---
Ingredients
1/2 cup old fashioned oatmeal
1 cup water
1 cup fresh peaches, chopped into small chunks and divided
1/2 cup fresh blueberries, divided
1/2 teaspoon vanilla extract
1/4 teaspoon cinnamon
1/2 Tablespoon ground flaxseed
1 Tablespoon almond butter (or other nut butter)
---
Instructions
Add oatmeal, water, 1/2 cup peaches, 1/4 cup blueberries, vanilla and cinnamon into a small saucepan.
Cook over medium heat for 5-6 minutes or until oatmeal has thickened and is the consistency you like.
Spoon into a serving bowl. Top with remaining peaches, blueberries, ground flaxseed and nut butter. Enjoy!
---
Notes
Fresh peaches and blueberries work great during the summer, but feel free to use frozen fruit in the winter. Just thaw the fruit and follow the recipe as normal.
---
Nutrition
Serving Size:

1

Calories:

377

Sugar:

22g

Fat:

14g

Carbohydrates:

57g

Fiber:

10g

Protein:

11g
 Are you an oatmeal lover? Do you still eat oats during the summer or do you opt for cooler breakfast options? Obviously you know my answer. 😉