Blueberry Basil Weight Loss Smoothie
73
Published Jun 24, 2014, Updated Jun 13, 2023
This blueberry basil smoothie is packed with nutritious ingredients that will help to banish bloat and promote weight loss!
It's around this time of year when all the health and fitness mags start to publish articles with the best tips/foods/moves for weight loss.
Back in the day I used to buy magazine after magazine hoping to learn some new trick that I hadn't already heard of before. Luckily I've learned over the years that there's no magic ingredient, meal, meal plan or drink that is the key to weight loss.
Weight loss occurs when your body expends more energy than you consume, but it's not always that simple because there are so many other factors to consider including your sleep, stress, hormones and more!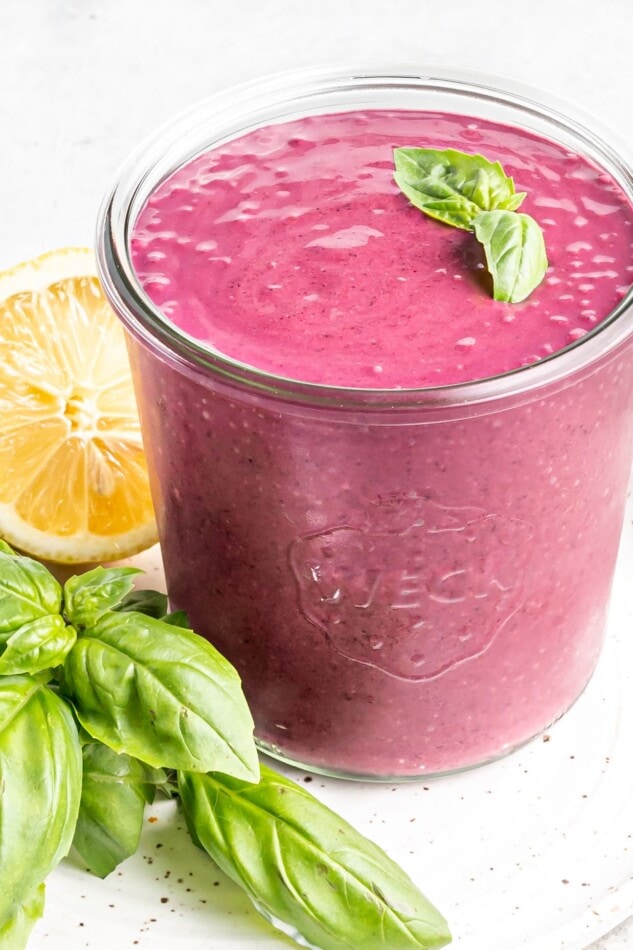 All that said, the smoothie recipe I'm sharing here today can totally help with weight loss, but it's not a magic solution. It's just a balanced smoothie with protein, healthy fat and fiber-rich carbs.
What Makes a Good Weight Loss Smoothie?
There are a few ingredients that set weight loss smoothies apart from others! Here's what I recommend thinking about when creating a smoothie that's good for weight loss:
protein: protein is king because it not only keeps you feeling full but also helps build and repair muscle mass, which boosts your metabolism and aids in burning fat. In terms of adding protein to smoothies, there are plenty of options but the two sources I use most often are protein powder and Greek yogurt! Check out my fave protein powders here.
fiber: adding fiber-rich foods like chia seeds, flaxseeds, hemp seeds, leafy greens, and oats to your smoothies can help prevent big spikes in blood sugar and will also keep you feeling full.
healthy fats: healthy fats from nut butters, avocado, and or seeds can help slow digestion, which keeps you feeling full longer and helps to prevent mindless snacking and overeating.
low sugar: being mindful about the sugar content in your smoothies is key. Sugar from fruit is much better than adding extra sweeteners like cane sugar, honey, orange juice and/or sweetened yogurt that only serve to add empty calories. I remember when I learned that Tropical Smoothie Cafe adds 1/2 cup of sugar to their smoothies… my mind was blown. Frozen fruit gives smoothies plenty of sweetness without the need for additional sugar!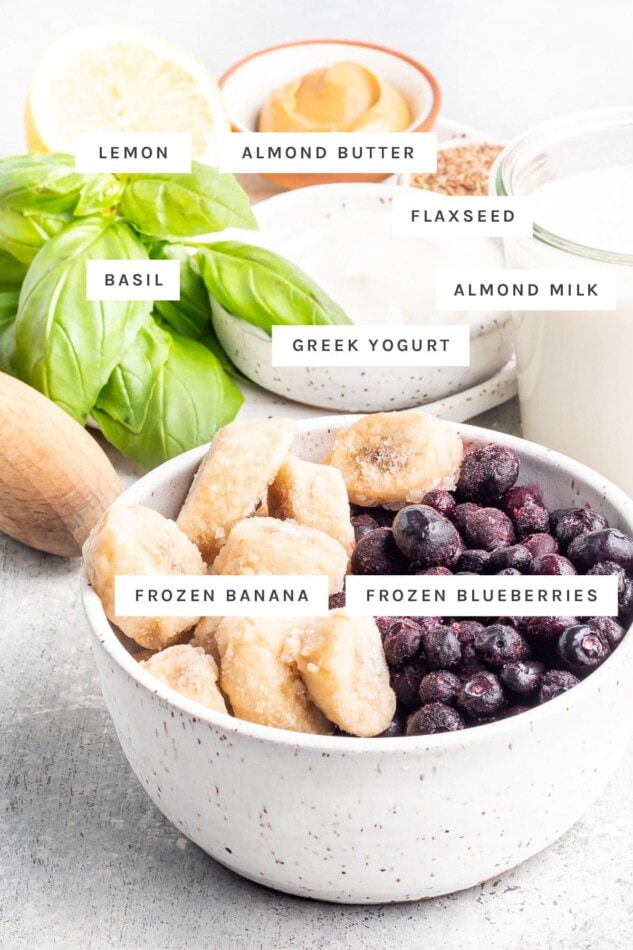 Ingredients You'll Need:
This smoothie is packed with nutrient-dense foods to promote weight loss, as well as, a few key ingredients to help with bloating. Here's what you need:
blueberries – one of the most antioxidant rich foods, blueberries are also packed with fiber. Research studies have shown that blueberries may help reduce belly fat and risk factors for cardiovascular disease and metabolic syndrome. I like using frozen blueberries.
banana – packed with potassium and dietary fiber. The potassium helps prevent water retention by regulating sodium levels and the specific fiber in bananas helps to restore and maintain regular bowel functions. Highly recommend a frozen banana for this smoothie.
Greek yogurt – yogurt is packed with protein to keep you feeling satisfied but it also contains active cultures, which increase the "good" bacteria in your gut, helping you digest food more efficiently.
basil – basil is a member of the mint family and can help ease gas and bloating and improve digestion.
flaxseed – loaded with omega-3's and monounsaturated fats — known for fighting abdominal fat and keeping you full. Flaxseeds also provide high levels of fiber and can help to keep the digestive system running smoothly, helping to banish bloat, constipation and other digestive problems.
lemon – lemons are a natural diuretic and gentle laxative so they can help waste elimination. Adding a little to this smoothie adds a nice pop of flavor as well.
almond butter & almond milk – almonds are rich in monounsaturated fats, protein and Vitamin E. Vitamin E is an antioxidant (great for your skin) and the fiber/protein combo in almonds help to keep cravings away and keep your blood sugar stable. Almond milk is typically pretty low in calories, fat and sugar as well… as long as you buy unsweetened.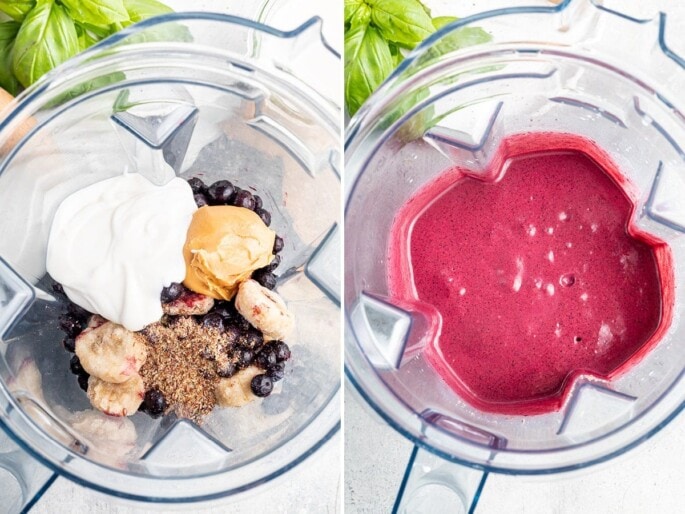 Are Smoothies Good for Weight Loss?
Smoothies can be great for weight loss, especially if they're made with the ingredients I mentioned above. These ingredients will ensure your smoothie is filling and satisfying, which will keep you feeling full for hours.
Of course, smoothies can also be ideal for weight gain because it's easy to pack a ton of calories into one smoothie just by adding a few calorie-dense foods like nut butter, full fat coconut milk, etc. You can easily make a 600-700 calorie smoothie without feeling like you're having to eat a ton of food.
It also depends on how you are incorporating smoothies into your day – whether you're using them to accompany a meal, as a meal replacement or as a snack. It's important to be mindful about the ingredients you're using and the calories if weight loss is your goal. Meal replacement smoothies usually contain 350-500 calories, whereas most snack smoothies are typically around 200-250 calories.
This recipe can be made into 1 or 2 servings and eaten as a meal replacement or as a snack, depending on your needs. Oftentimes I'll have this smoothie for breakfast and pair it with a couple hard boiled eggs for extra protein!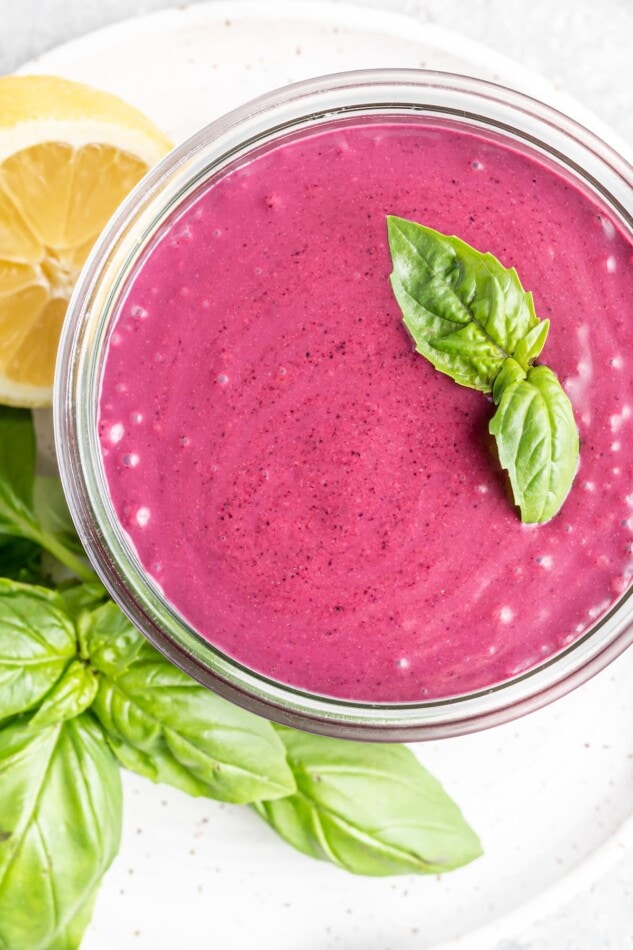 More Healthy Smoothies
More Weight Loss Articles and Recipes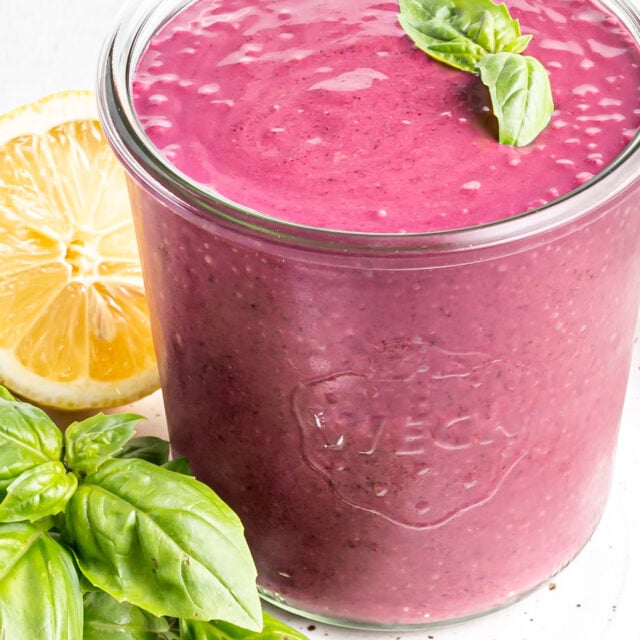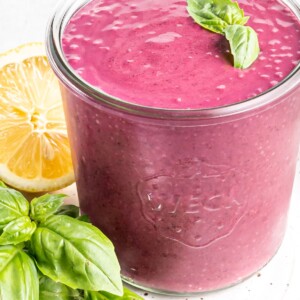 Blueberry Basil Weight Loss Smoothie
This blueberry basil smoothie is packed with nutritious ingredients that will help to banish bloat and promote weight loss!
Ingredients
2

cups

frozen blueberries

1/4

cup

5-6 leaves fresh basil

1/4

cup

2% plain Greek Yogurt

1

Tablespoon

lemon juice

1

Tablespoon

ground flaxseed

1

Tablespoon

almond butter
Instructions
Blend: Place all ingredients in a high-powered blender and blend until smooth. Start with 1/2 cup of almond milk and add more if needed to reach the desired consistency.

Serve: Pour into a glass and enjoy!
Notes
Makes 1-2 servings – 1 serving as a meal replacement or 2 servings if you're having this smoothie alongside a meal or as a snack.  Dairy-free option – Make this smoothie dairy-free by using vegan yogurt or swap the yogurt with a scoop of vegan protein powder. 
Nutrition
Serving:
1
smoothie
|
Calories:
238
kcal
|
Carbohydrates:
42
g
|
Protein:
7
g
|
Fat:
7
g
|
Saturated Fat:
1
g
|
Cholesterol:
3
mg
|
Sodium:
80
mg
|
Fiber:
7
g
|
Sugar:
25
g
Nutrition information is automatically calculated, so should only be used as an approximation.