This strawberry salad works great as a starter to serve before your main entrée but you can also top it with lean protein (like grilled chicken, shrimp, or tofu) and have it as your meal.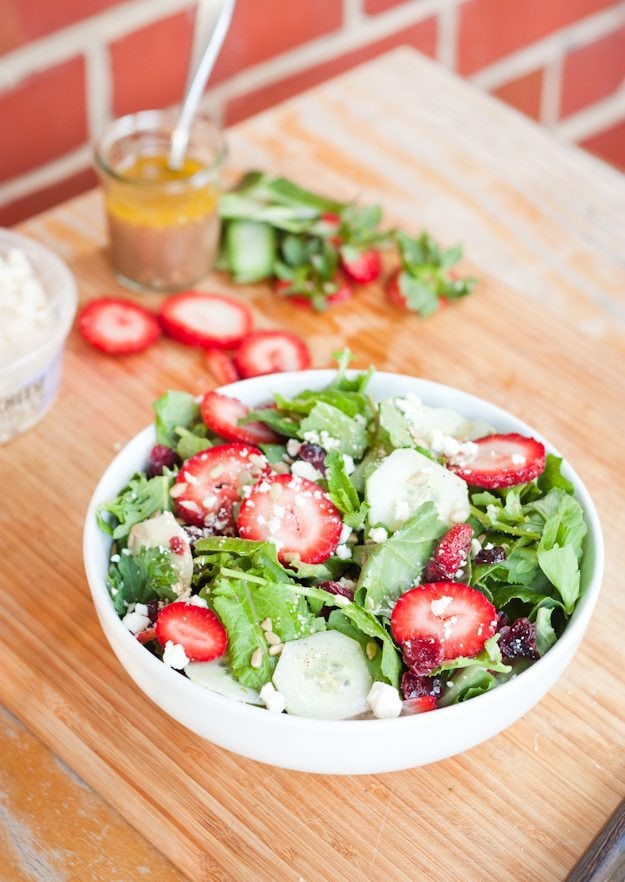 Perfectly ripe, freshly picked strawberries might just be my favorite summertime fruit. And store-bought berries simply don't compare.
I hadn't been strawberry picking in ages, but while I was in North Carolina this weekend visiting my cousin, her husband and their baby (Brooke, Jon and June) we went to the strawberry patch at Gillis Hill Farm.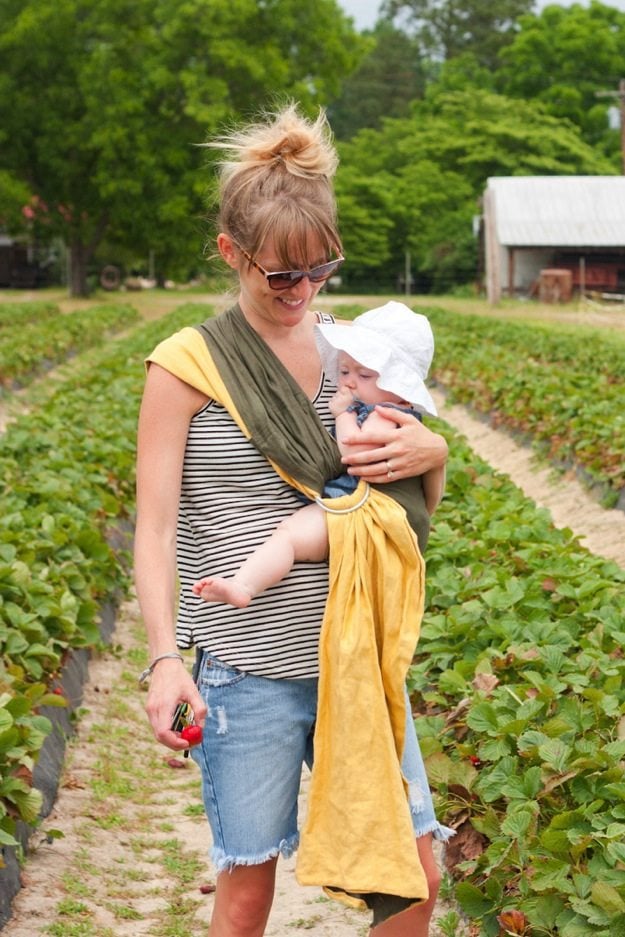 Brooke and I had a great time hunting around and picking only the best looking berries.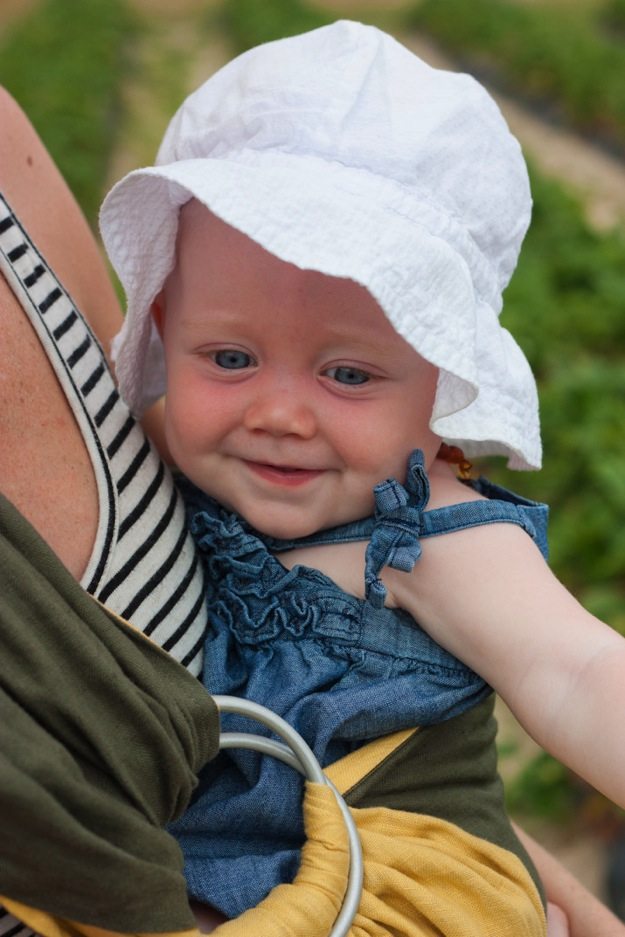 June was a happy little strawberry picker too. 😉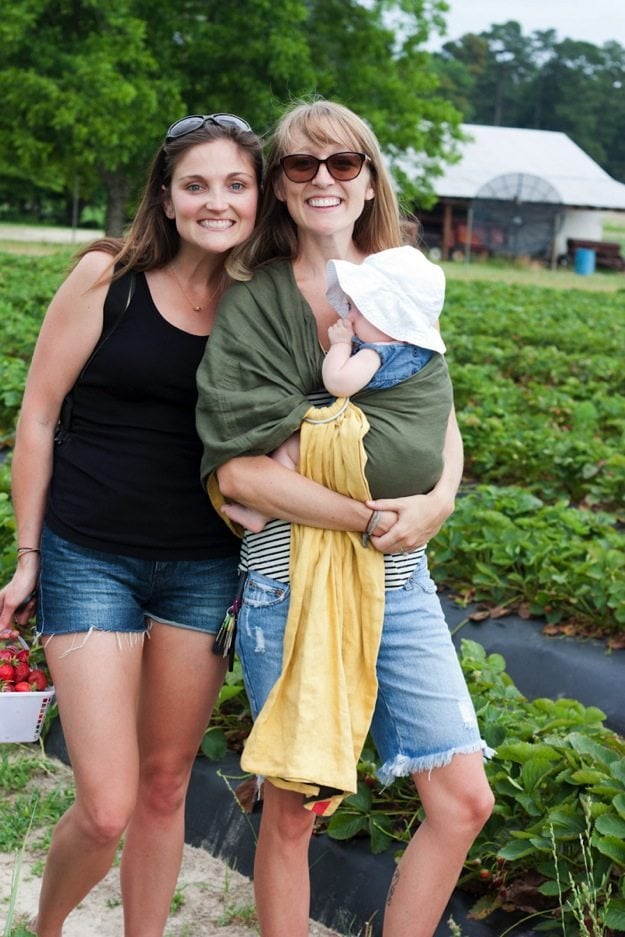 Is she not the cutest?!? I just can't get over how big and blue her eyes are. Just like her momma's.
After picking a nice little bounty of berries we headed home and decided to make a strawberry salad to go along with dinner as well as a batch of strawberry lemon sangria. The sangria was delicious and I'll be sharing the recipe for that soon but first, here's the strawberry summer salad.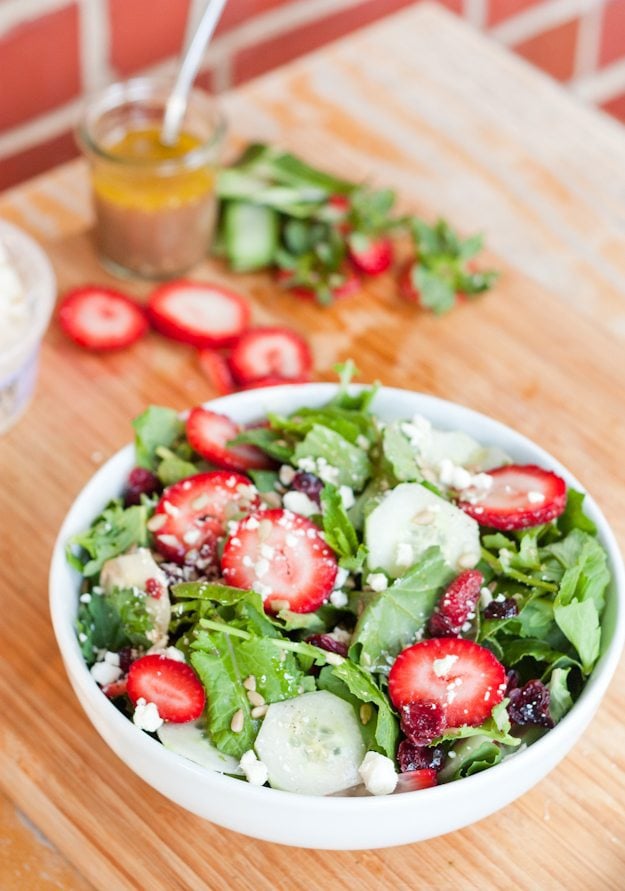 It's really less of a recipe and more just eyeing the ingredients and tossing them together but I like to include my cute little recipe box so I'll give you a recipe guide of sorts.
Baby Kale and Strawberry Salad
4
adjust servings
Ingredients
5

ounces baby kale (I used Earthbound Organics)

2

cups strawberries, hulled and sliced

1

cup cucumber, sliced

1

Tablespoon fresh mint leaves, thinly chopped

1/4

cup crumbled feta

1/4

cup dried cranberries (fruit juice sweetened)

1/4

cup roasted sunflower seeds

olive oil and balsamic vinegar or your favorite balsamic dressing for topping
Instructions
Place kale in a large mixing bowl, top with all remaining ingredients and mix well. Portion into salad bowls for serving, top with oil and vinegar or your favorite balsamic vinaigrette dressing and serve. Enjoy!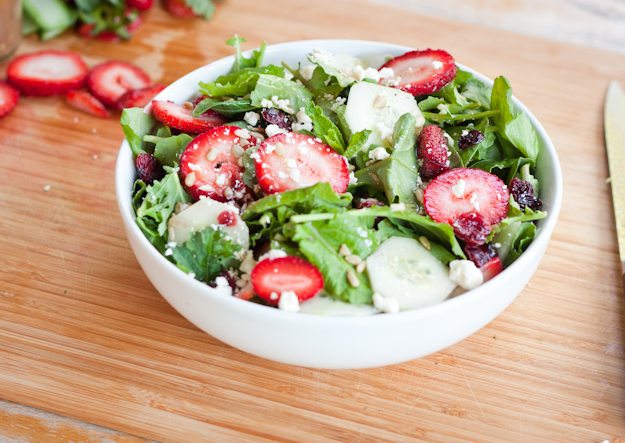 This salad is amazingly flavorful, especially if you're using fresh strawberries. The berries steal the show but you'll also get a pop of flavor from the fresh mint, a chewy sweetness from the dried cranberries, a little salt from the feta and a nice crunch from the roasted sunflower seeds.
You may find that you don't need much dressing at all, maybe just a drizzle of oil and balsamic vinegar. If you do want to make your own balsamic vinaigrette dressing, check out the dressing that I use on my Detox Salad. It's what I used and it was delish!
I hope you enjoy this strawberry salad as much as we did! I'll be back with the strawberry lemon sangria recipe as well as a weekend wrap up. I was a judge at Broad Appetit on Sunday and I have lots to share. 🙂
Have you ever been strawberry picking?