Gah! It's freezing outside and yet I'm over here making smoothies. I promise I haven't gone crazy. I'm just trying to boost my immune system and fresh smoothies and juices are an easy way to do just that.
I'm not sure if it's just me, but I feel like I've been surrounded by sick people lately. Family, friends, strangers… everyone is sick. On my flight back from Colorado I was sitting next to a woman who coughed the entire time. I felt bad for her, but I also kinda sorta wished I had one of those medical face masks to wear (like the emoji).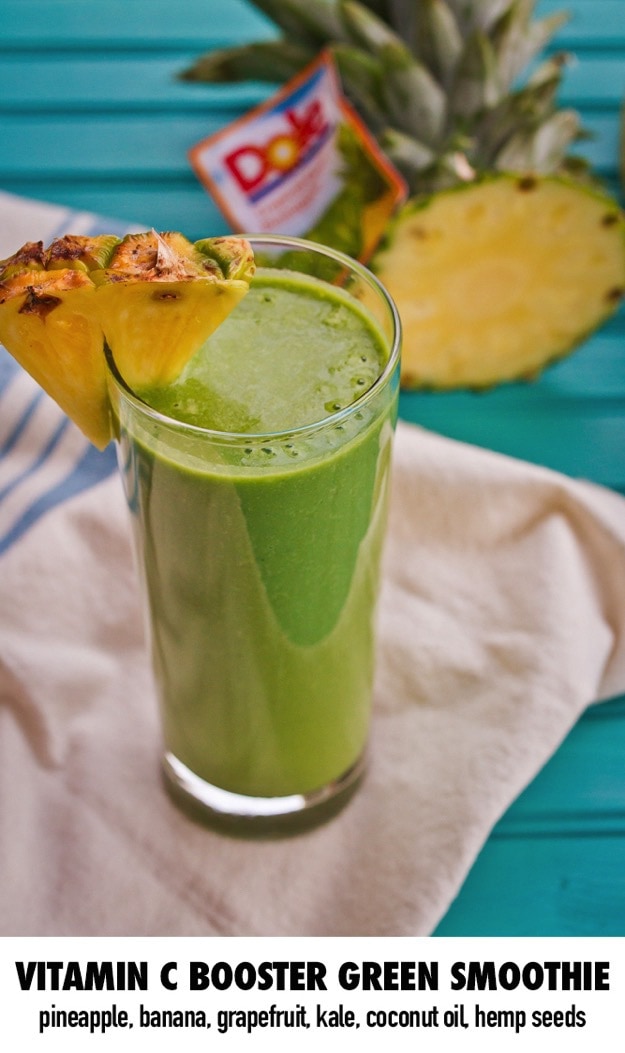 Thankfully I didn't get sick after my trip. I attribute this to a diet full of healthy foods, supplements and putting OnGuard oil on my feet before flying. <– I know it sounds funny, but it works.
Speaking to the healthy diet piece of things — that's where today's smoothie comes in. It's packed with fresh produce and loaded with vitamin C to boost the immune system.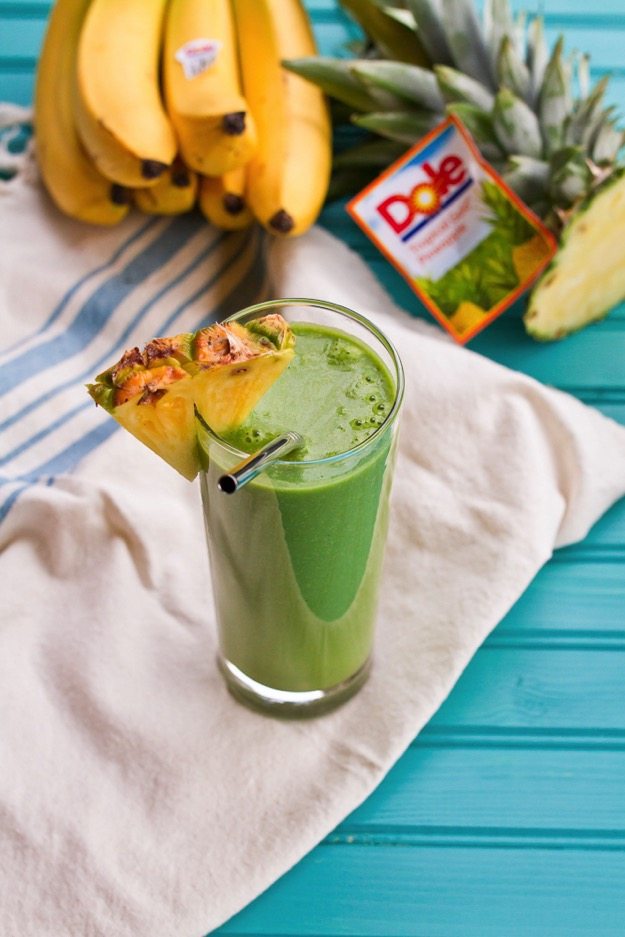 Vitamin C makes most people think of oranges because they are known for their vitamin C content, however, there are other produce items like red bell peppers and strawberries that contain more vitamin C. Turns out, when comparing 1 cup of kale to 1 fresh orange, there's more vitamin C in the kale. Fresh pineapple, grapefruit and bananas all have vitamin C as well.
So this smoothie combo contains no oranges, but still has well over the RDA for vitamin C. This is a good thing considering RDA is just the average daily dietary intake level that is sufficient to meet the nutrient requirement of most healthy individuals, not the optimal level. While research isn't clear on whether vitamin C helps with the common cold,  scientific evidence does indicate that increased vitamin C intake is associated with reduced risk of chronic diseases.
In addition to having a high level of vitamin C, this smoothie also packs high levels of vitamin A and a good amount of calcium and iron. You also get a little healthy fat (9 grams), protein (8 grams) and fiber (8 grams). These components make the smoothie more filling and the healthy fat content helps your body absorb the fat soluble vitamins. Drink up!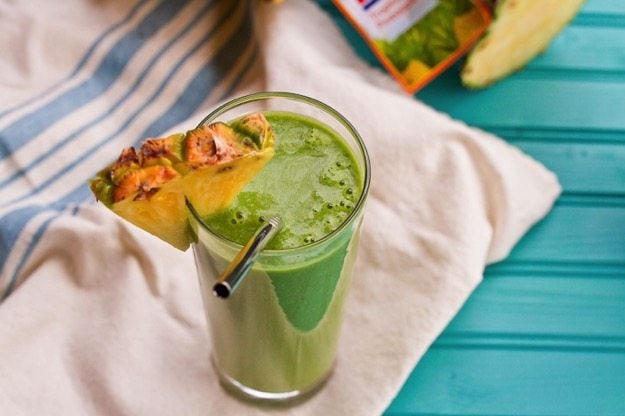 I like having smoothies like this first thing in the morning for breakfast or as a mid-afternoon snack around 3 or 4PM when I start to get tired. It gives me an energy boost and helps me power through the rest of my day.
Print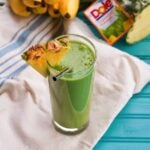 Pineapple Grapefruit Vitamin C Booster Green Smoothie
Author:

Prep Time:

10 mins

Total Time:

10 mins

Yield:

1 smoothie
---
---
Instructions
Press 1 grapefruit through a juicer for fresh grapefruit juice. If you don't have a juicer, you can use bottled grapefruit juice or simply add 1 whole peeled grapefruit to the blender with the other smoothie ingredients.
Add frozen banana slices, pineapple, kale, hemp seeds and coconut oil into a high-powered blender. Blend on high until mixture is smooth and creamy. Pour into a glass and enjoy.
---
Nutrition
Serving Size:

1 smoothie

Calories:

368

Sugar:

30g

Carbohydrates:

72g

Fiber:

8g

Protein:

8g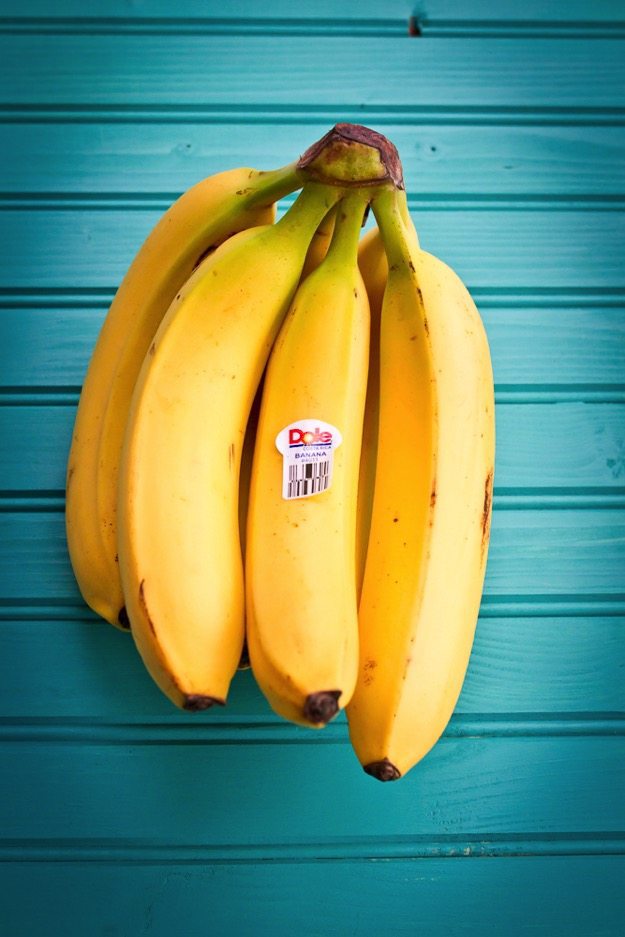 As you may have noticed I used a few Dole fresh produce items for this recipe. I worked with the Dole fresh team on a few posts last year (this vegan spinach artichoke dip and this baby kale harvest salad) and I'm excited to be working with them again this year!
In addition to the smoothie recipe I came up with I also want to share two healthy juice and smoothie recipes from the Dole team. I haven't tried them yet, but both combos look delicious so I definitely want to. The Running Man is right up my alley!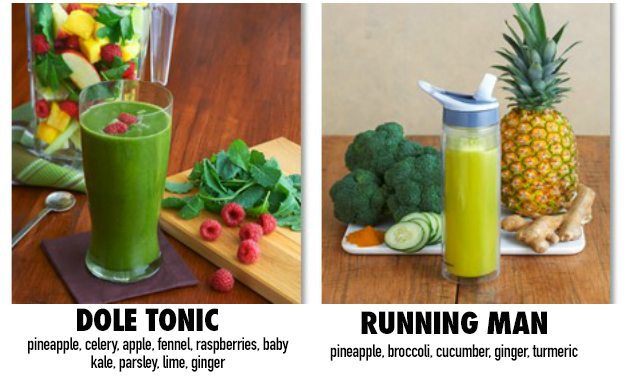 See the full recipe and nutritional info for each — DOLE TONIC // RUNNING MAN
 This post is sponsored by Dole, but as always, opinions are my own.