Looking for ways to use up apples this fall? I've got you covered with over 30 healthy apple recipes with everything from breakfast and snacks to dinner and dessert!
I'm so excited because apple season is officially here and I couldn't be more excited to share these 30+ healthy apple recipes with you!
One of my favorite fall activities is going to an apple orchard and coming home with bags of fresh apples. I love slicing them up and serving them with my date caramel sauce, making homemade applesauce or making ALL the apple baked goods like my vegan apple bread and apple cider donuts.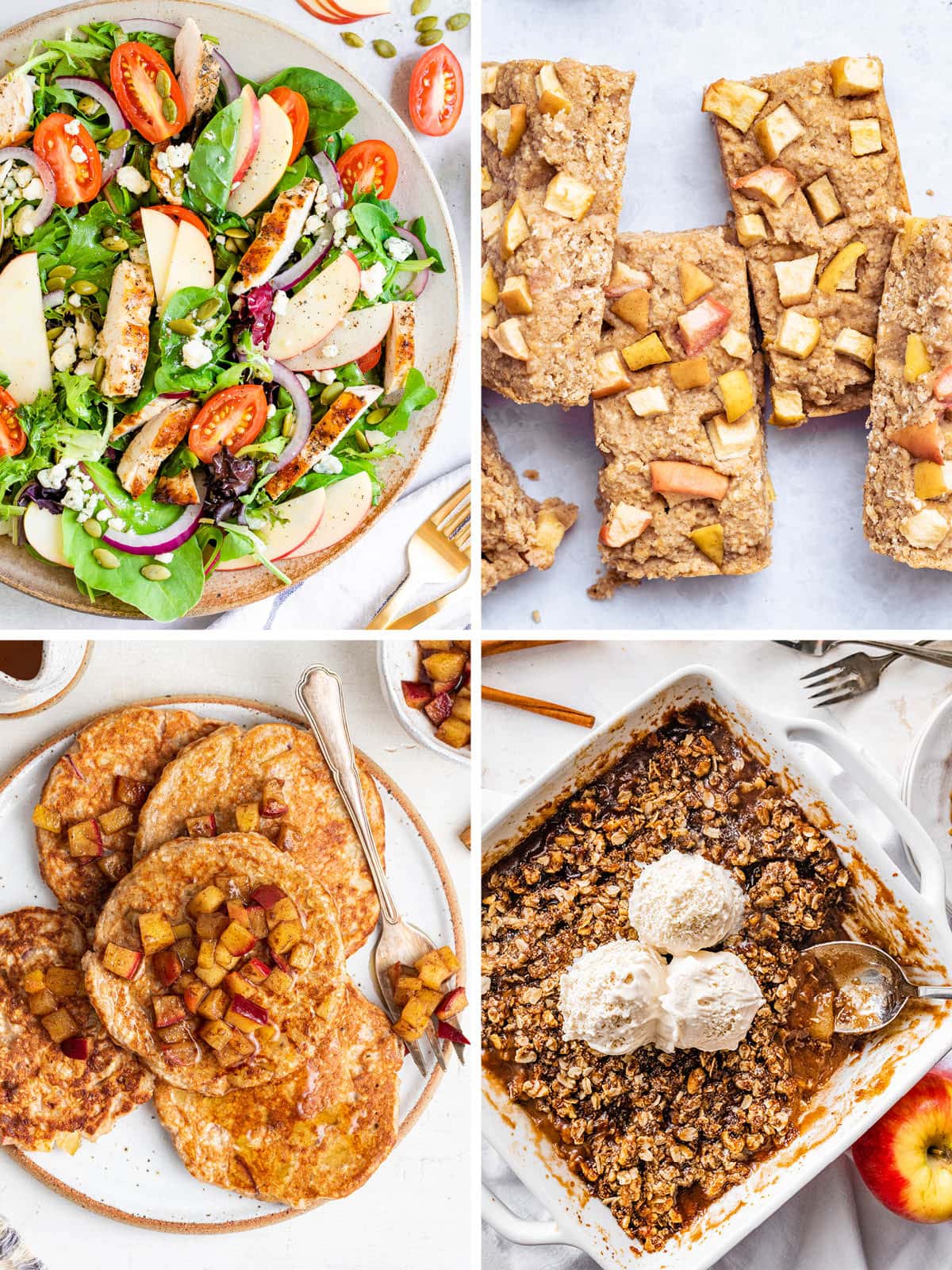 Health Benefits of Apples
Apples aren't just delicious; they come packed with a range of health benefits that make them a smart addition to any diet:
Rich in Fiber: One medium-sized apple contains about 4 grams of dietary fiber, which helps with digestive health.
Nutrient-Dense: Apples are a good source of various vitamins and minerals, including Vitamin C and potassium.
Low in Calories: At just under 100 calories for a medium-sized apple, it's a guilt-free snack that can help with weight management.
Antioxidant Properties: The phytonutrients in apples act as antioxidants, combating free radicals in the body.
Heart Health: The fiber, potassium, and vitamin content in apples all contribute to heart health.
What Apples are Best for Baking & Cooking
When choosing apples for cooking or baking, consider the flavor and texture you want. Here's a breakdown of some popular apple varieties:
Honeycrisp and Pink Lady – my personal favorites! Both of these apples have a nice balance of sweet and tart, suitable for eating fresh, baking or cooking.
Granny Smith – these green apples are tart and keep their shape, making them perfect for baking things like pies and tarts.
Braeburn and Fuji – also good options for cooking, but not so much for baking as they won't hold their shape as well.
Gala and Golden Delicious – these are softer and sweeter varieties, making them good for sauces.
McIntosh – best for recipes like apple butter where you want a softer texture.
Red Delicious – best eaten fresh and not recommended for cooking.
What Can You Make With Apples?
So many things! I love making everything from desserts to oatmeal and salads. It's such a diverse fruit that can be used in sweet and savory dishes. Let's jump into some healthy apple recipes!
Apple Breakfast + Snack Recipes
From oatmeal, pancakes and donuts to applesauce, granola bars and muffins there are so many delicious ways to use apples in various breakfast and snack recipes!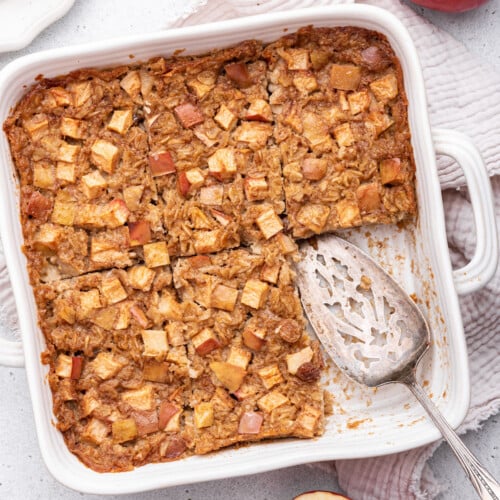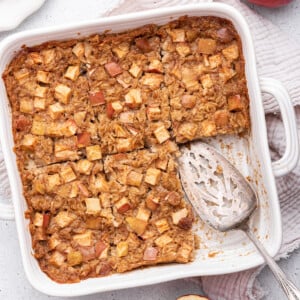 Apple Cinnamon Baked Oatmeal
This apple cinnamon baked oatmeal is inspired by traditional Amish baked oatmeal and studded with apples, raisins and loads of cinnamon flavor. It's the perfect fall breakfast and great for meal prep.
View Recipe
Apple Dessert Recipes
One of my favorite ways to use up apples during the fall is to make some type of apple dessert… apple crisp, apple cake, baked apples… I'll take them all!
Savory Apple Recipes
Yes, apples are just as delicious in savory dishes as they are in sweet ones. I love adding fresh apples to salads, but they also make for a great addition to soups and other protein dishes.
More Collections to Check Out