Looking for a protein-packed breakfast recipe to start your day off right? Here are over 30 high-protein breakfast recipes each with 15+ grams of protein!
Starting the day off with a balanced, protein-packed meal is so important! It gives you the energy you need to be productive throughout the morning and can help prevent overeating and cravings later in the day.
When you think of a protein-packed breakfast you probably immediately think about eggs and some type of meat. While those are both great ways to get your protein in, there are so many other high-protein options… from Greek yogurt and cottage cheese to protein powder and tofu and tempeh.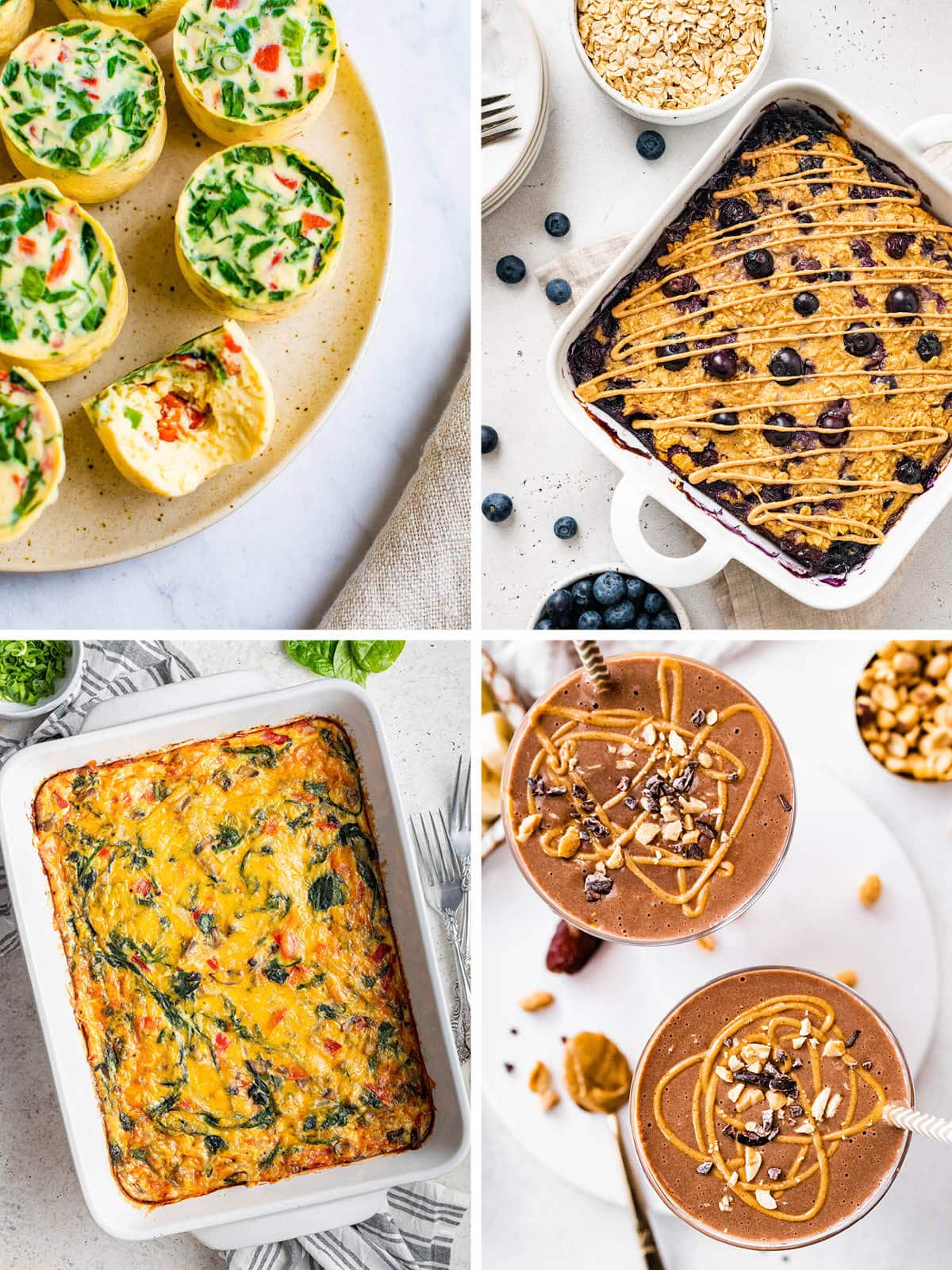 Why is Protein Important?
If you've been reading the blog for a while you know how much I stress the importance of protein! I specifically aim to have a balance of protein, fiber and healthy fats for every meal and snack. But why? Protein helps stabilize your blood sugar and keeps you feeling fuller, longer.
It helps satisfy cravings, helps with weight loss (or weight management) and has so many important functions within the body, including muscle repair. So while the mainstream media messaging might be that protein is only important for athletes and bodybuilders, I'm here to let you know that protein is important for everyone!
High-Protein Breakfast Recipes
I've pulled together over 30 high protein breakfast ideas have at least 15 grams of protein per serving! Enjoy!
Egg Dishes
One of my favorite ways to get my protein in for breakfast is from eggs. Frittatas, quiches, egg muffins, omelets… there are so many options to choose from!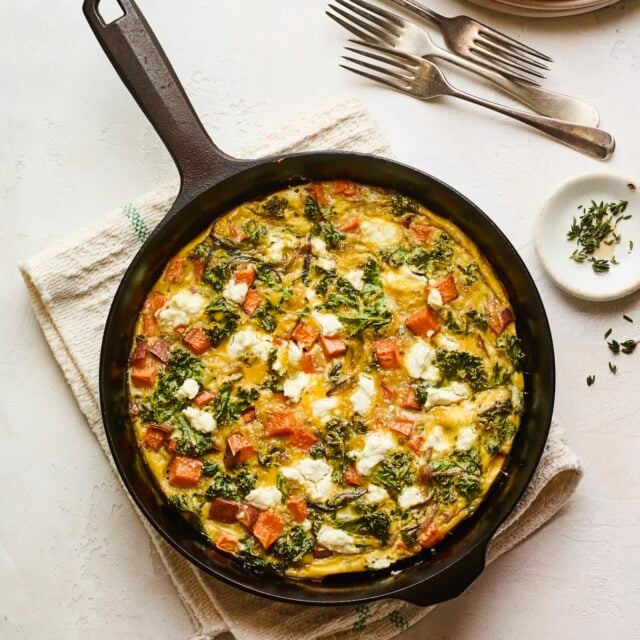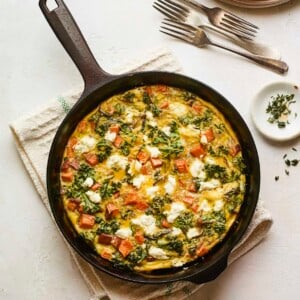 Roasted Sweet Potato Kale Frittata
This sweet potato kale frittata is a quick and easy healthy meal that can be whipped up in less than 35 minutes and served for breakfast, lunch or dinner. 
View Recipe
Oatmeal Recipes
For those of you that think oatmeal isn't very filling or you find yourself hungry 1 hour after eating it, all you need to do is add some protein and healthy fat. That's why I'm a huge supporter of making protein oatmeal. Adding a good protein source (think protein powder, Greek yogurt, cottage cheese, etc) to your oatmeal ensures that breakfast will keep you full for hours.
Pancakes, Waffles + More
You can still enjoy a sweet breakfast and get your protein in with these high-protein options!
Vegan Recipes
You can still get your protein in while eating vegan! Tofu and tempeh are great high-protein vegan options that are so versatile.
Smoothies + Shakes
Whenever I'm in need of a quick, on-the-go protein boost in the morning I opt for a protein shake or smoothie. They act as a meal replacement and are so easy to whip up!
More Collections to Check Out
Be sure to check out all the protein recipes as well as the full collection of breakfast recipes on EBF!