Yogurt breakfast bowls are my go-to option for busy mornings (I'm sure you've picked up on this from previous posts, where I talked about my cantaloupe breakfast bowl and my yogurt bowl with toasted coconut). They're easy to whip up, keep me full all morning, and the flavor combos are pretty much endless….. so naturally, I go through a fair amount of yogurt each week. As you know, my friends at siggi's dairy make some of my favorite yogurt out there, so I've had #mydailysiggis routine for awhile!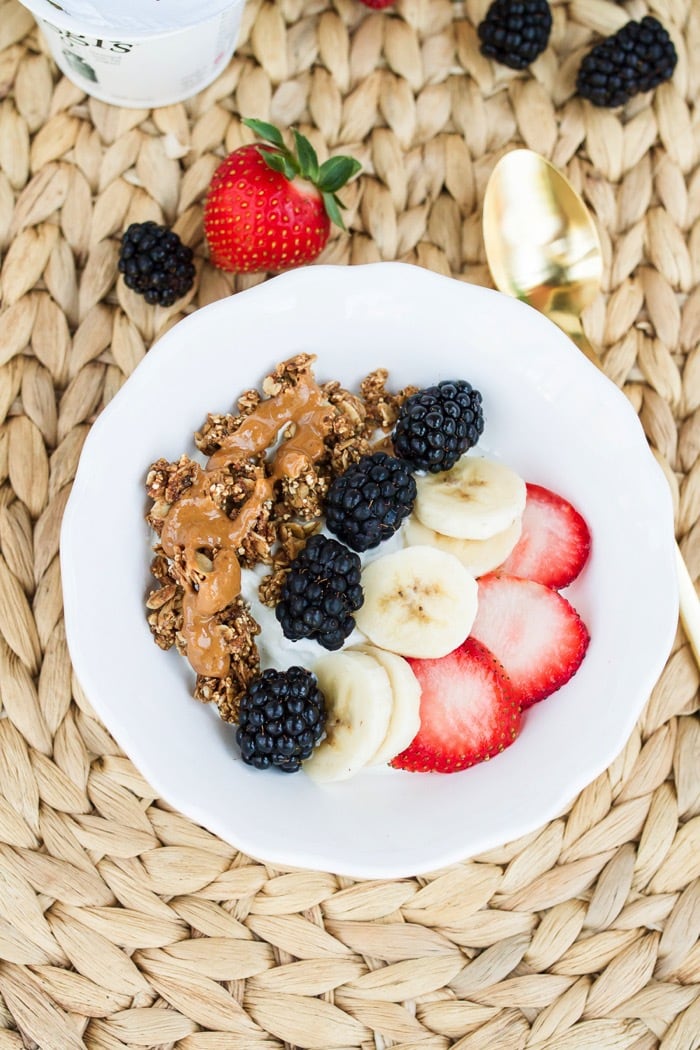 I'm all about loading a bowl with plain yogurt, perfectly ripe seasonal fruit, granola, and a drizzle of peanut butter, honey, or maple syrup. This sort of breakfast not only looks gorgeous, but it gives me heaps of energy and keeps me satisfied all morning. Coffee helps, too, but that's a different story… 😉
I've mentioned siggi's on the blog before, but I want to share a bit more about why I love it. To start, it tastes really good, which is probably the most important thing! But there are other reasons why I choose siggi's over other brands. For one, their yogurt is THICK! It's a strained yogurt (called skyr) that originated in Iceland and, like Greek Yogurt, it's strained multiple times so it's super thick and very high in protein (between 14-17 grams in one 5.3 oz cup).
As an avid label reader, I get excited about the fact that siggi's has a short, simple ingredient list (the plain yogurt literally has two ingredients: milk and live active cultures) without any artificial preservatives, thickeners, sweeteners, flavors, or colors. The milk comes from grass-fed cows on family farms in upstate New York and Wisconsin, and the cows are never injected with any type of hormones.
Plus, their yogurt doesn't have a lot of sugar. The 5.3 oz cup of plain yogurt has only 3 grams of sugar, but even the sweetened varieties have at least 25 percent less sugar than other leading flavored yogurts. And siggi's never uses artificial sweeteners like aspartame or sucralose. Woot woot!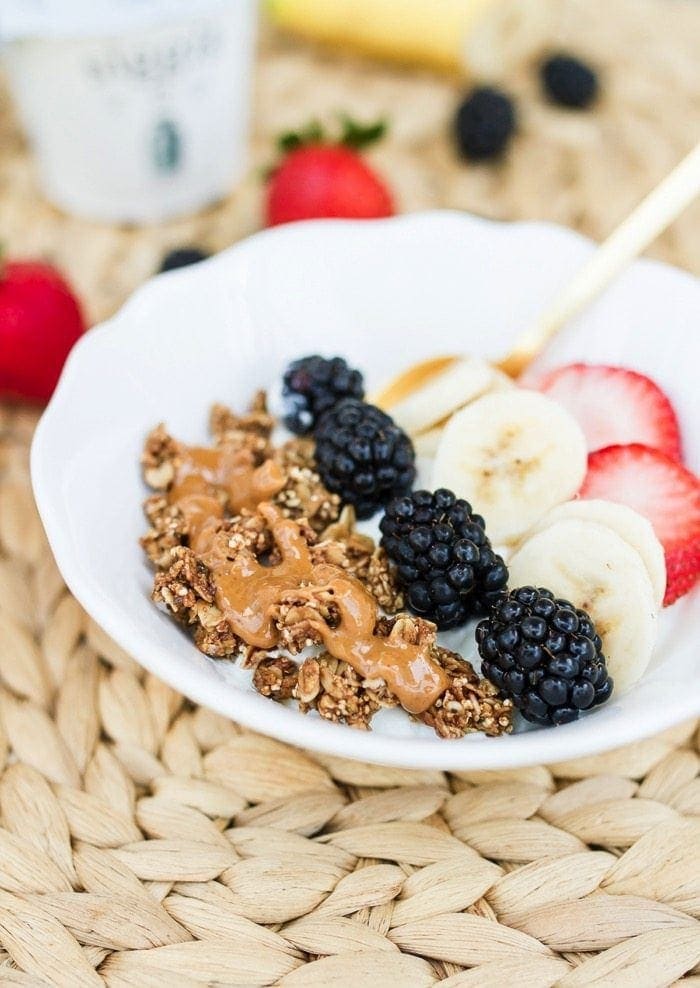 Lastly, Siggi Hilmarsson, the mastermind behind siggi's yogurt just seems like such a cool guy. He started making homemade skyr in his New York apartment after missing the thick yogurt from his childhood and within a few months, he decided to quit his day job to start the siggi's brand. According to this WSJ article, he typically eats a big salad full of raw vegetables for lunch, so I'm pretty certain that we'd get along great! I'm so jealous of my blogger friends who've met him.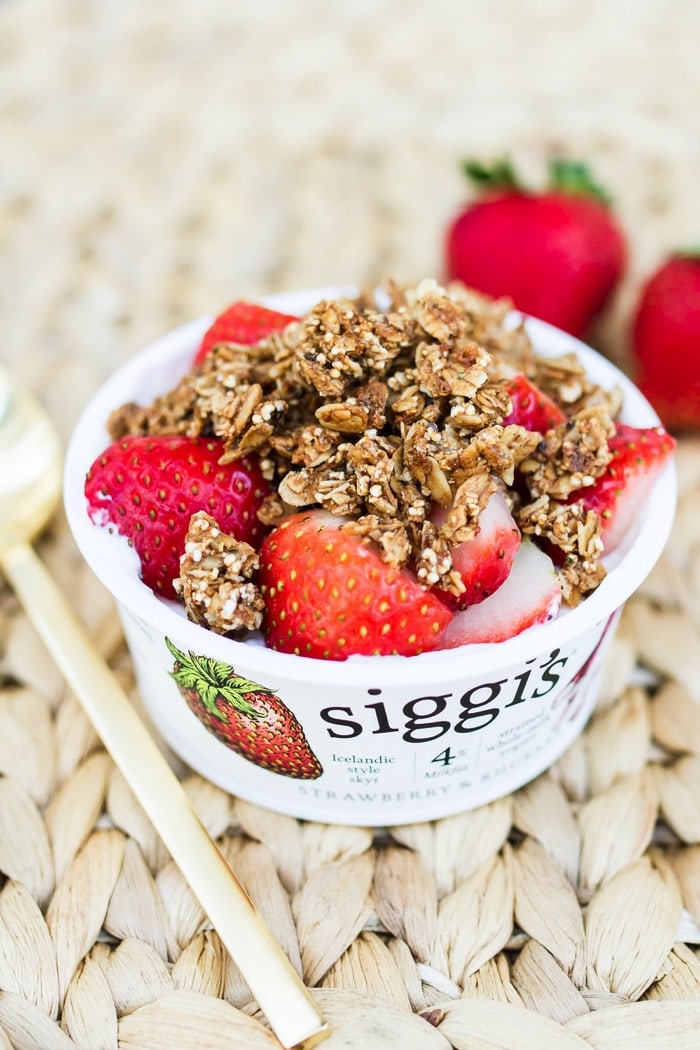 Yogurt breakfast bowls are definitely my jam, but if I don't have time to make a full-on bowl, I tend to toss some toppings directly into the container and eat it straight up. Easy peasy! And while I'm usually all about plain yogurt, the strawberry and rhubarb siggi's flavor piqued my interest recently, and it's so good! Plus, it only has 8 grams of sugar per serving.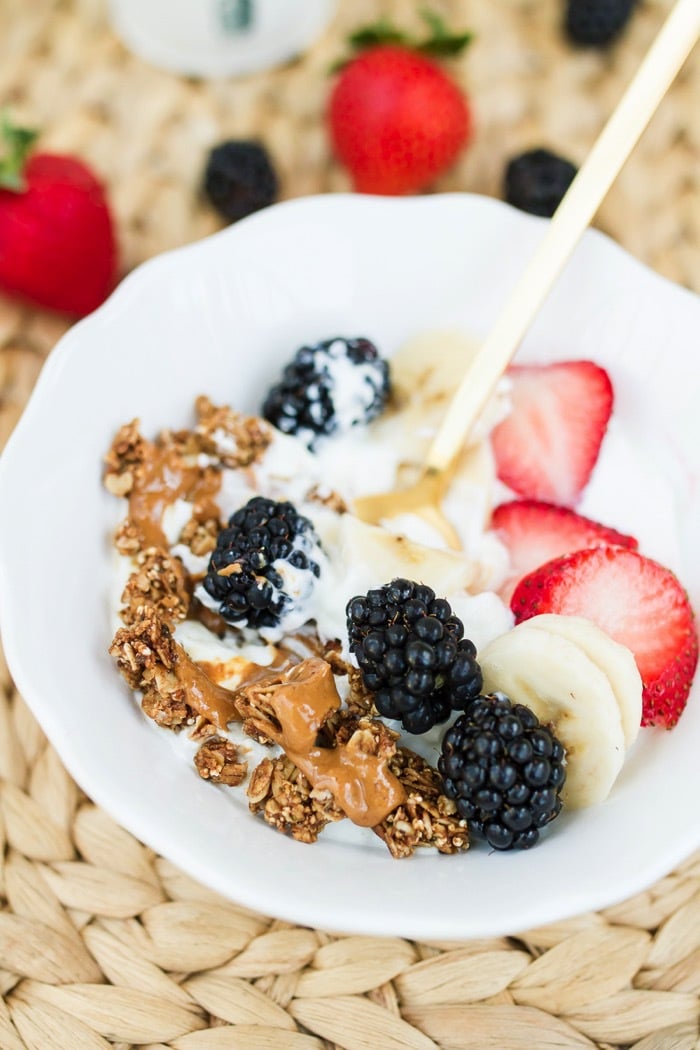 This breakfast yogurt bowl with plain siggi's, fresh berries, banana slices, ancient grain granola, and peanut butter has been on repeat for me all summer long and it's delicious. Still, I'm excited to switch over to some fall flavors soon, and maybe add some fresh figs, apples, and/or pumpkin to the mix. I can't wait!
So tell me, have you tried siggi's yogurt before? If so, what's your favorite way to enjoy it? For breakfast, as a snack? Straight up or loaded with toppings? I must know!
Special thanks to siggi's dairy for partnering with me for this blog post. As always, opinions are my own. Thank you for supporting the brands that make EBF possible.
This post may include affiliate links. Thank you for your support.