Caramelized Onion & Red Bell Pepper Frittata
13
Published Jun 02, 2015, Updated Aug 23, 2021
This caramelized onion & red bell pepper frittata requires only seven ingredients and takes less than 30 mins to prepare.
When you hear the word detox what's the first thing you think of? A program for drug and alcohol abuse or perhaps a cleanse and/or fad diet with a laundry list of rules.
Neither of these sound fun, but let's talk a little more about the latter of the two. A nutritional detox is usually a plan or program with strict rules. This isn't always the case, but usually the rules are so restrictive that it's impossible to stick with them long-term. Most people end up following along diligently for a few days (at most a couple weeks), fall off the crazy strict wagon, feel bad about it and then start looking for the next quick fix. I hate this sort of thing and learned early on that diets like this do not work. Not only do they make you feel like a failure for not being able to stick with the program, but they promote a vicious cycle of intense restriction followed by inevitable guilt and bingeing. It's horrible for you on so many levels — your self-esteem suffers, your body doesn't know what the heck is going on and your metabolism gets wrecked.
That's where healthy lifestyle habits come into play. Small changes that you make one by one and continue to do every day. It's what I teach in my 28 Day Transformation and one-on-one health coaching and it's the approach of my friend Megan's new cookbook, Everyday Detox.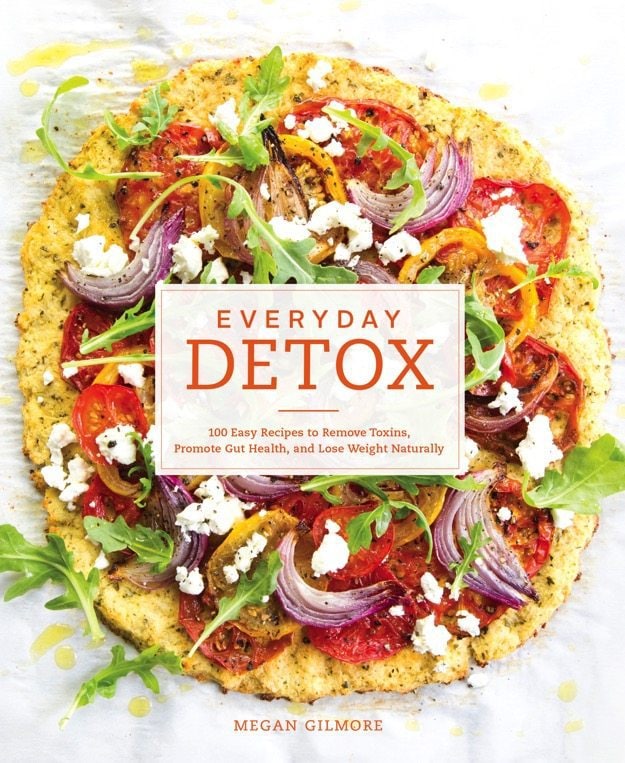 Megan and I are both graduates from the Institute for Integrative Nutrition so we both have holistic health backgrounds and a similar approach to food and wellness. Megan is all about detoxing (heck, her blog is named Detoxinista) but instead of focusing on drastic measures, Megan brings us delicious meals made from whole foods that optimize digestion, gently remove toxins and promote effortless weight loss and lasting health.
I was sent an advance copy of Everyday Detox to check out and I've already fallen in the love with the book. It has over 100 crowd-pleasing recipes, beautiful photos and two special chapters — one with tips for better digestion and a 7-day meal plan + shopping list and another with tips for stocking a healthy pantry. Loads of great info!
And the best part… the recipes. Megan worked diligently to make sure all the recipes included in her cookbook are easy and approachable to the home cook, which I adore. My favorite part of cooking is the EATING so I'm all about quick and easy recipes like the ones in this cookbook. I have several healthy cookbooks that are filled with delicious recipes and beautiful photos but they either have unrealistic ingredient lists (hello 15 different types of gluten-free flour) or involve several hours of prep. <— Ain't nobody got time for that. 😉
All of the recipes in the book are gluten-free, and many are vegan, soy-free, egg-free, dairy-free, nut-free, and sugar-free as well. They're also labeled for food combining purposes and allergy needs.
With moving last weekend I haven't been able to try many of the recipes, but last night I was in need of a quick dinner so I broke out the cookbook and made the caramelized onion & red bell pepper frittata.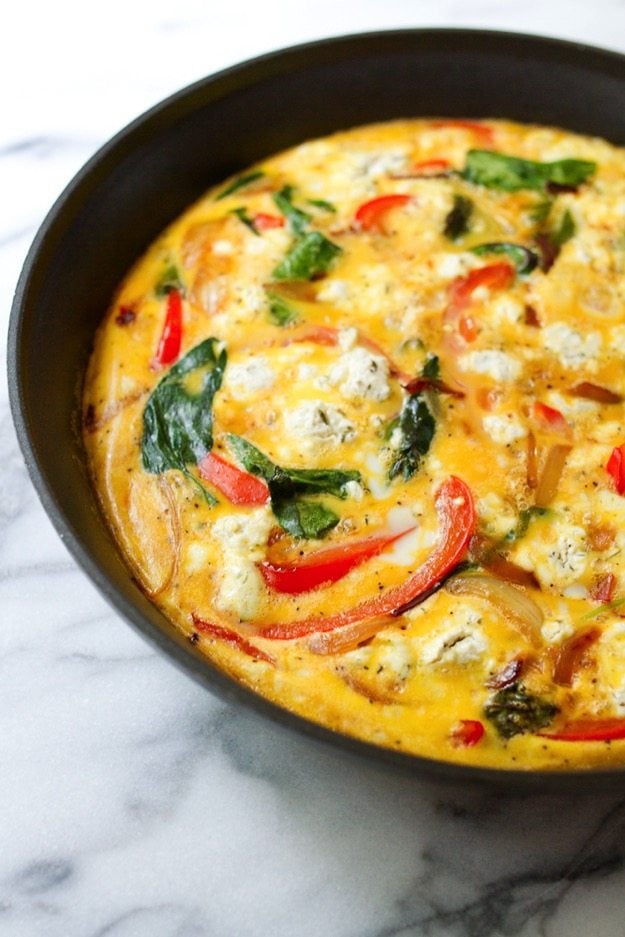 The recipe only required seven ingredients, came together quickly and paired wonderfully with a side of roasted sweet potatoes. I'm pretty sure that goat cheese is the best cheese to use for a frittata. I used a garlic and herb goat cheese from Whole Foods that was so creamy and flavorful!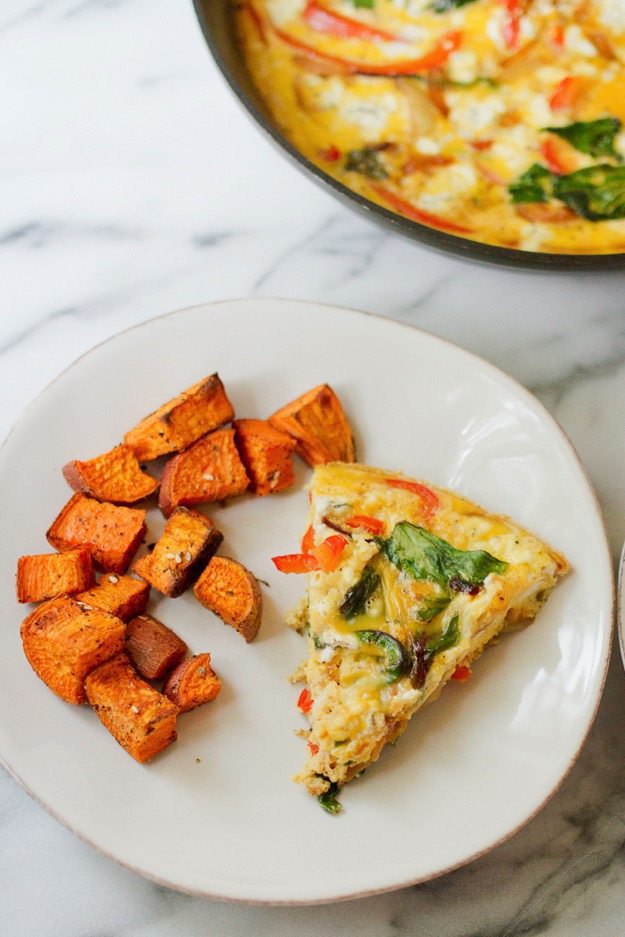 This was just the home-cooked meal we needed after eating out a ton over the past few days. Thanks Megan. 🙂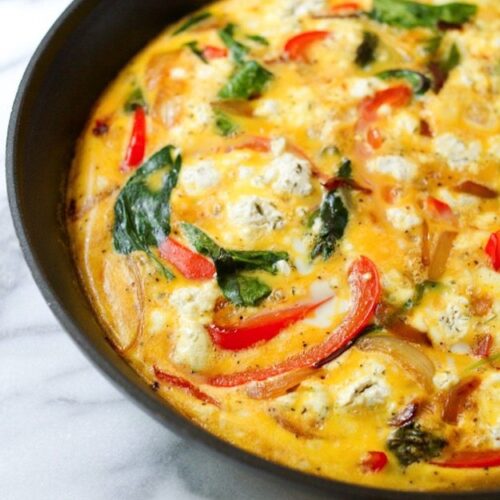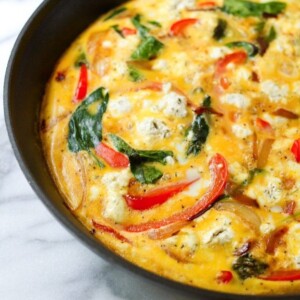 Onion & Red Bell Pepper Frittata
This caramelized onion & red bell pepper frittata  requires only seven ingredients and takes less than 30 mins to prepare. 
Ingredients
1

tablespoon

butter

½

yellow onion

,

thinly sliced

1

red bell pepper

,

cored, seeded, and chopped

1

cup

fresh baby spinach

8

eggs

¼

teaspoon

sea salt

2

ounces

chèvre

,

soft goat cheese
Instructions
Preheat the oven to 400ºF.2. Melt the butter in an ovenproof skillet over medium heat. Add the onion and sauté until tender and golden, 8 to ı0 minutes. Add the bell pepper and sauté for another 5 minutes. Add the spinach and cook for another minute, until just wilted.3. Crack the eggs into a large bowl, add the salt, and beat well with a fork. Pour the beaten eggs into the skillet and use the fork to press the vegetables down into the egg mixture so that the eggs cover the veggies completely. Crumble the chèvre over the top, then place the pan in the oven and bake until the top is set and lightly golden, ı0 to ı5 minutes.4. Cut into wedges and serve warm.
Notes
Reprinted with permission from Everyday Detox, by Megan Gilmore, copyright © 2015, published by Ten Speed Press, an imprint of Penguin Random House LLC. Photographs (except the frittata) copyright © 2015 by Nicole Franzen.
Nutrition
Serving:
1
/4 of recipe
|
Calories:
225
kcal
|
Carbohydrates:
4
g
|
Protein:
16
g
|
Fat:
15
g
|
Sugar:
2
g
Nutrition information is automatically calculated, so should only be used as an approximation.