Here I'm sharing a ton of vegetarian Thanksgiving recipes to inspire you as you plan your Thanksgiving menu this year. From vegetarian mains to sides and desserts!
Thanksgiving is less than a week away!?! That means we have about two weeks to shop for Hanukkah gifts and a little over a month for Christmas. Gah! How did this happen so quickly? I'm baffled, but truth be told I'm also super excited. I LOVE the holidays and I'm totally ready to spend Thanksgiving day with family eating lots of delicious things and then decorating for the holidays all weekend. So ready!
In the meantime I've been planning what to make for the big day, pinning like a madwoman and bookmarking some of my favorite healthy, vegetarian Thanksgiving finds.
From vegetarian mains to flavorful sides, celebratory drinks and desserts… I've got you covered with lots of ideas. Hopefully it will be a help for all of you who are making your Thanksgiving meal plan and shopping this weekend. I'm quite certain something in this post will strike your fancy.
Let's get right to the delicious recipes – all 35 of them!!
Vegetarian Thanksgiving Appetizers
All good Thanksgiving meals start with a few tasty hors d'oeuvres. These light bites will keep everyone from getting ravenous before the main event.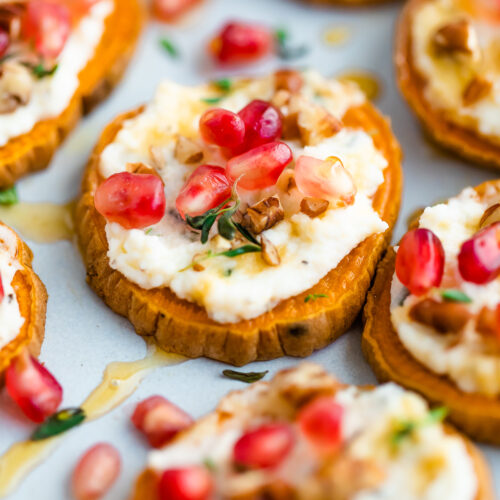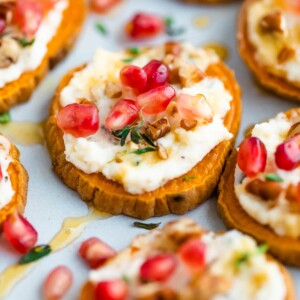 Sweet Potato Bites
These baked sweet potato bites are topped with ricotta cheese, pecans, pomegranate, honey and fresh thyme. They're the perfect blend of sweet and savory and are a quick and easy appetizer that everyone will love!
View Recipe
Vegetarian Thanksgiving Sides
Vegetarians know that Thanksgiving is all about the sides… so why not do it up and make a ton of delicious, veggie-packed sides for the table!
Vegetarian Thanksgiving Soups
Want to start your Thanksgiving meal with a cozy soup? These fall-inspired soups are sure to satisfy.
Vegetarian Thanksgiving Salads
I personally love having something green on the table during our Thanksgiving meal and all of these salads are family-approved. I make the kale and brussels sprout salad every year!
Thanksgiving Breads and Spreads
You can't go wrong with fresh baked bread to round out your Thanksgiving meal. I love making a sweet cornbread or enjoying my mother-in-law's fresh sourdough.
Vegetarian Thanksgiving Mains
Move over Turkey! Here are some ideas for a vegetarian main dish that will look amazing as a centerpiece on your holiday table. All of these options are delish, but my top pick would be the lentil loaf!
Vegetarian Thanksgiving Desserts
One of my favorite parts about Thanksgiving is the desserts and I have so many good dessert recipes to choose from!
Thanksgiving Cocktails
These Festive drinks are perfect to sip while enjoying apps and mingling with family.
More Collections You Might Enjoy