The most amazing vegan broccoli raisin salad made with a rich and creamy cashew dressing instead of mayo. This salad is a total crowd-pleaser and perfect for summer parties!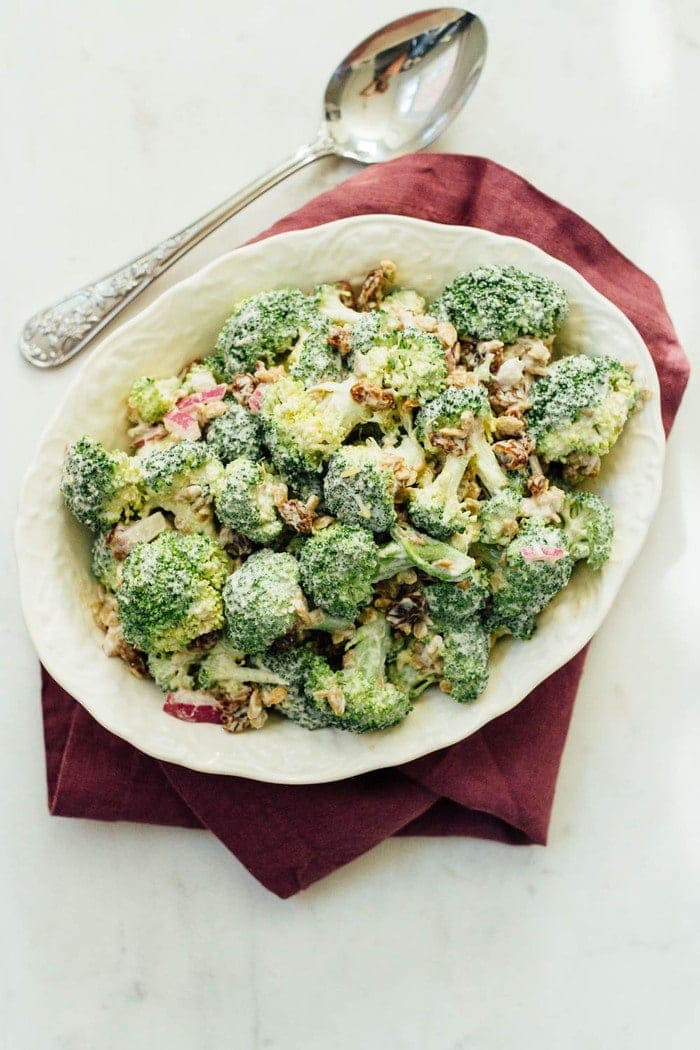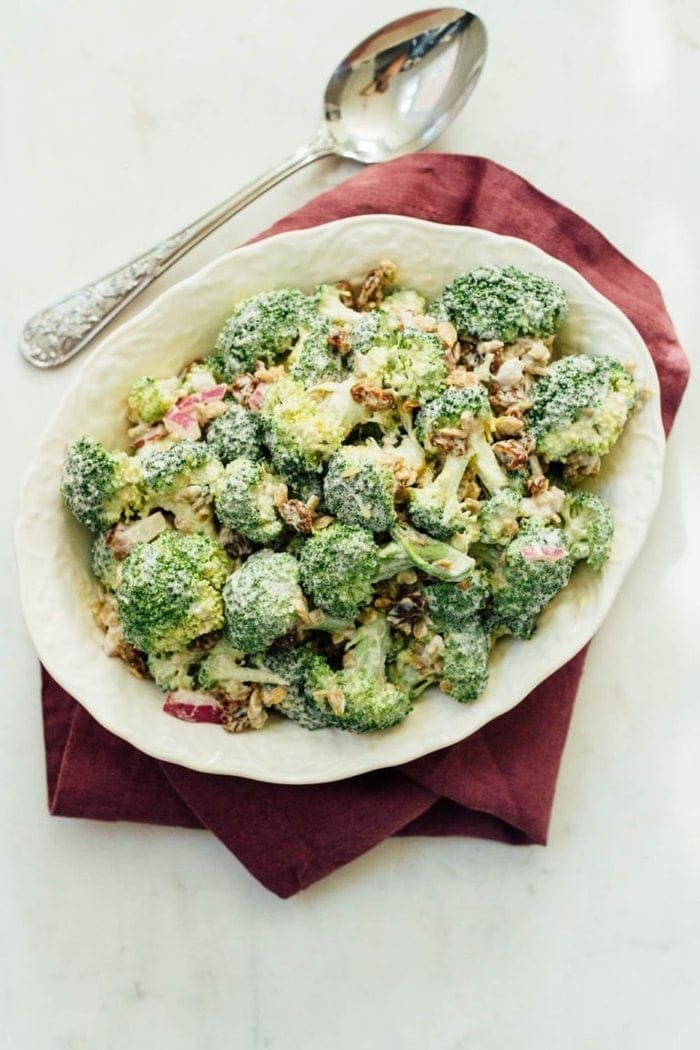 Like many of the recipes you'll find here on EBF, this one is inspired by my mom. She used to make broccoli salad all the time when I was growing up. Her version was sweet, crunchy and a staple dish at all of our summer cookouts. I loved that salad and used to request it frequently. Alas, said salad is like most southern "salads" and has a good amount of mayo, 1/2 cup of sugar and bacon…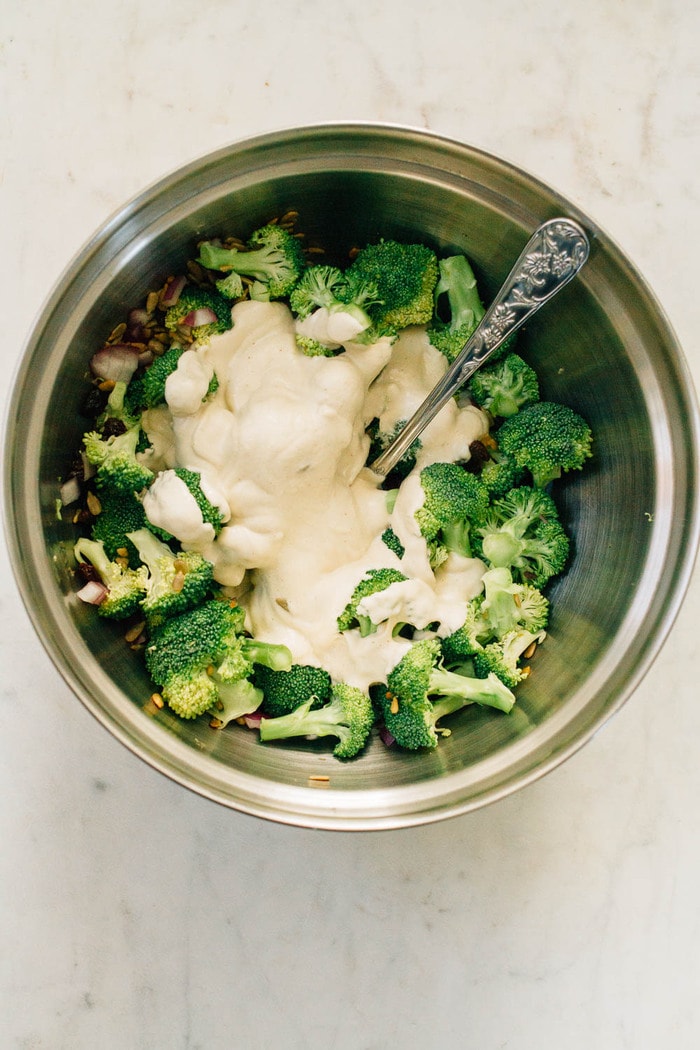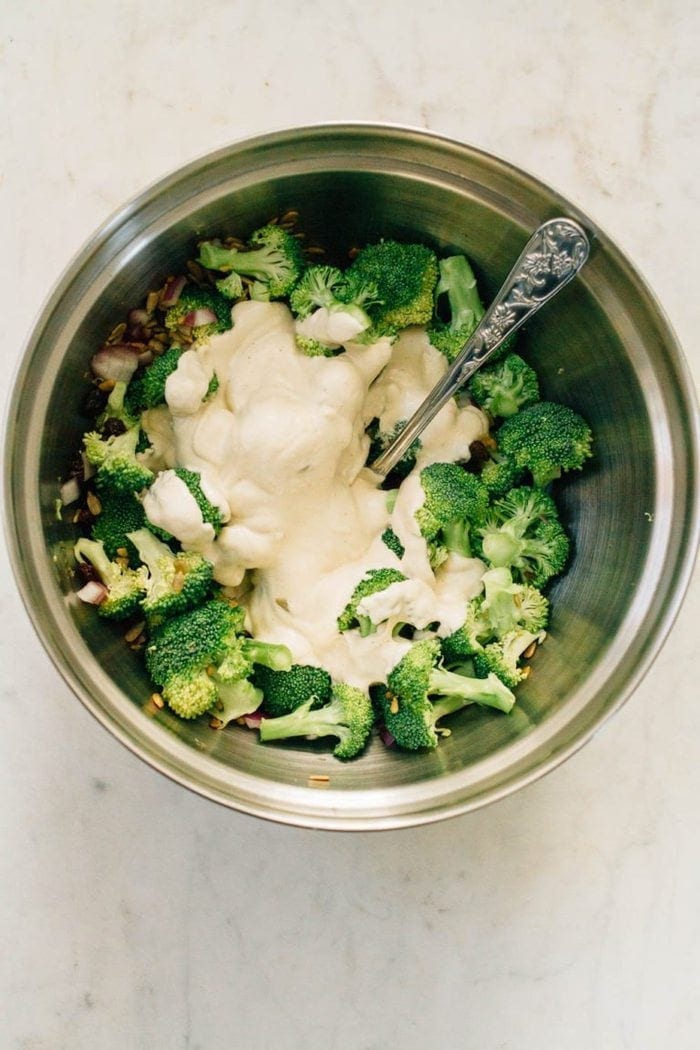 I decided to try my hand at a healthy version of this old favorite — one that still has the crunchy, sweet vibe, but healthier without the added sugar, dairy and meat.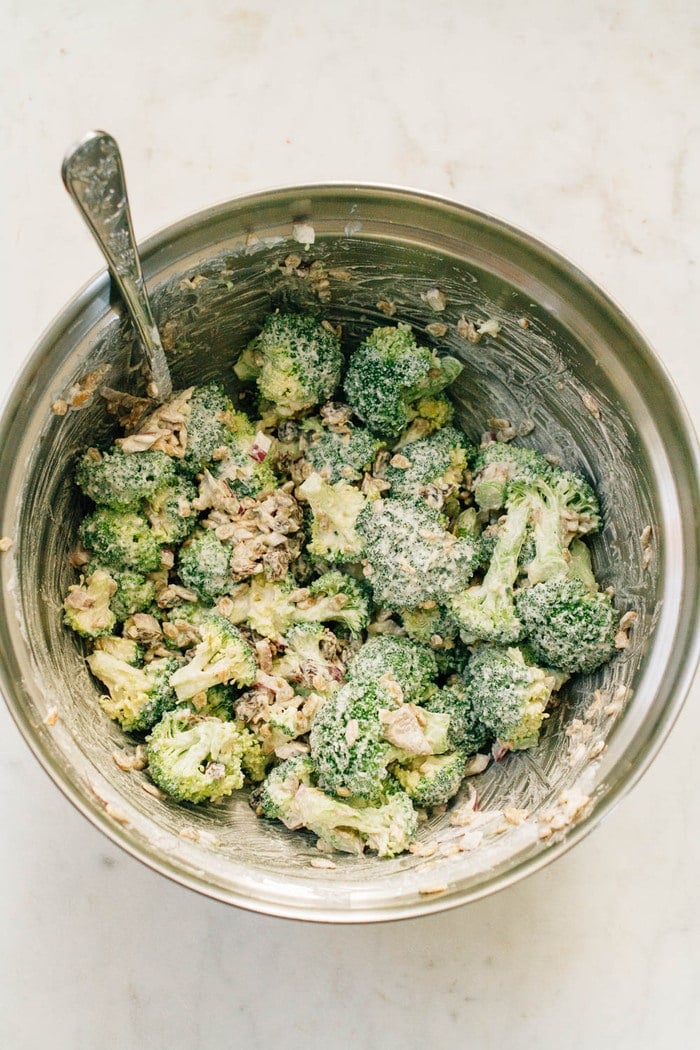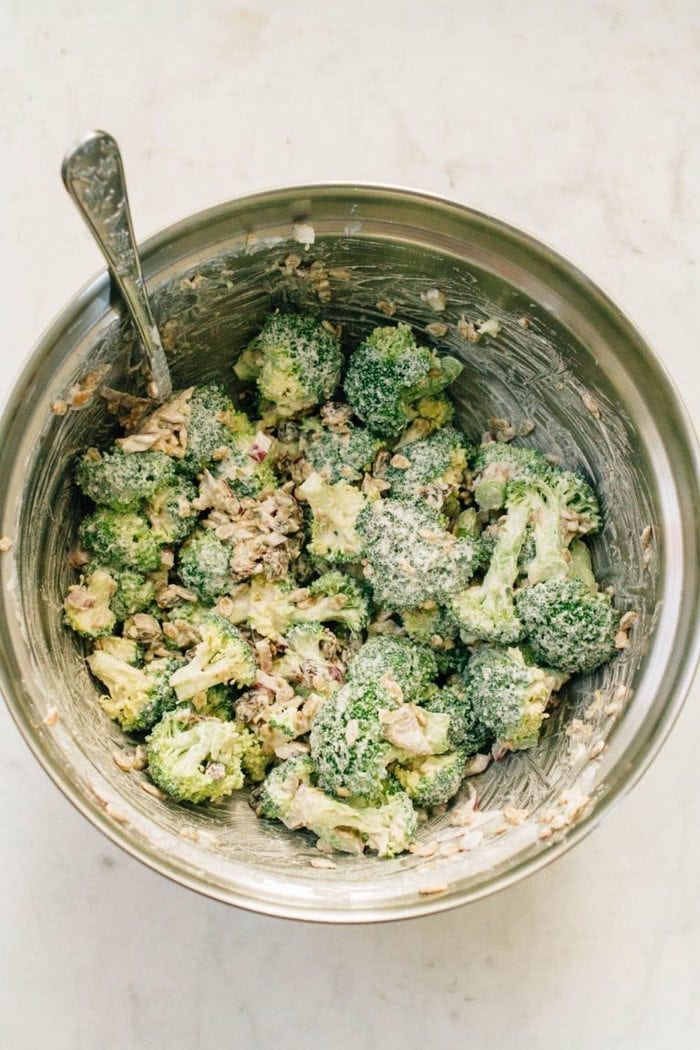 My broccoli raisin salad is crunchy, rich in flavor and sweet, but with much healthier ingredients like raw nuts, seeds and raisins. I even managed to sneak uber-healthy apple cider vinegar into the dressing! I think I'll take it to my next family cookout and see if my version stacks up to mom's.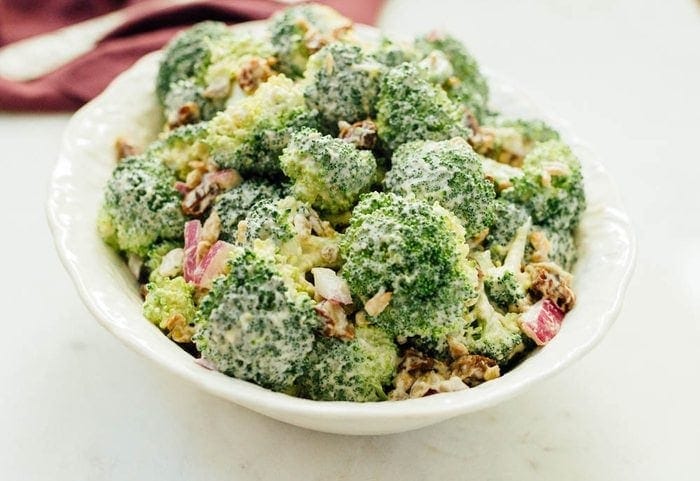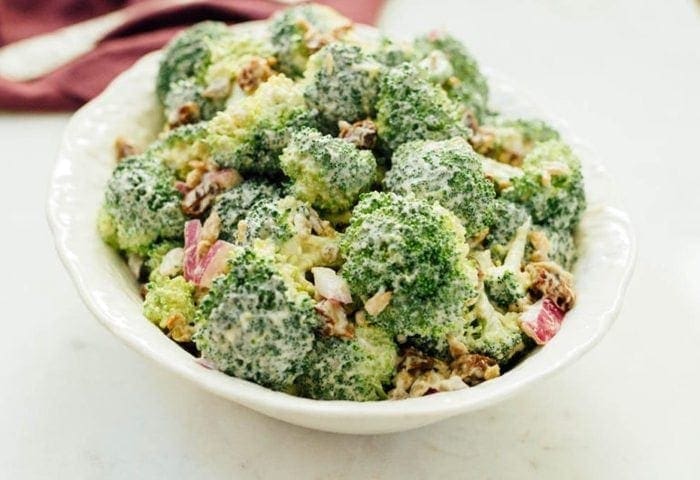 Print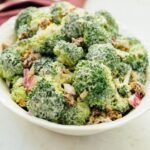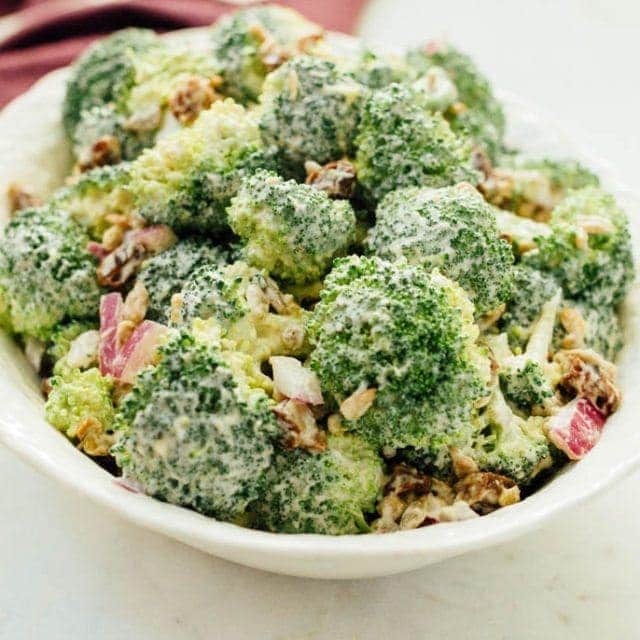 Vegan Broccoli Raisin Salad
Author:

Prep Time:

15 mins

Total Time:

15 mins

Yield:

6
---
Description
Vegan broccoli raisin salad with a rich and creamy cashew dressing instead of mayo. This salad is crunchy, sweet and absolutely delicious, perfect for summer parties.
---
Ingredients
6 cups broccoli (two small to medium sized crowns), chopped into bite-size pieces
1 cup raw sunflower seeds
1/2 cup red onion, finely chopped
1/2 cup raisins
Cashew Dressing
1 cup raw cashews, soaked at least 1- 2 hours
1/3 cup water
1 1/2 Tablespoons apple cider vinegar
1 Tablespoon lemon juice
1 Tablespoon maple syrup
1 Tablespoon shallot, chopped
1 clove garlic, chopped
1/2 teaspoon sea salt
1/2 teaspoon dijon mustard
---
Instructions
Mix together broccoli, sunflower seeds, red onion and raisins.
Make dressing by combining all ingredients in a high powered blender or processor until completely smooth.
Top with dressing and combine until all ingredients are covered. Serve immediately or let chill in the fridge a bit before serving.
---
Nutrition
Serving Size:

1 cup

Calories:

329

Sugar:

14g

Fat:

21g

Carbohydrates:

31g

Fiber:

6g

Protein:

11g

Have a great day. If you're on the east coast, enjoy the beautiful weather! The high is supposed to be in the mid-80's here today, just like yesterday. I'm loving it!!
PS- Did anyone catch Modern Family last night? We missed it so we'll probably watch it tomorrow, but I know it's about Cam and his ex-clown partner so I'm excited.