It's getting chilly here in Richmond. It hasn't really bothered me because I haven't been outside much, but this week seemed like a good week for a hearty bowl of soup. Soup sort of screams healing comfort food to me and that's exactly what I needed…
I didn't have any pumpkin on hand (shocker… I know) so I rolled with parsnips and added a little quinoa to bump up the protein.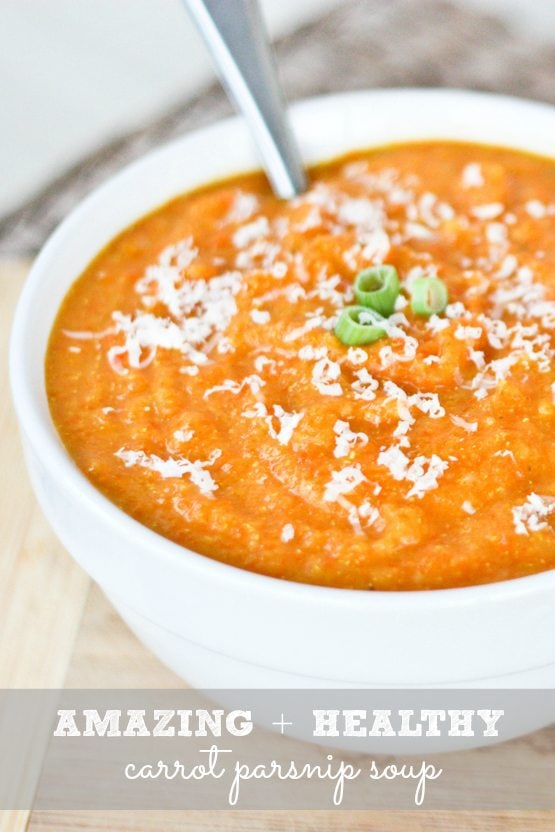 It turned out to be warm, comforting and super delicious. Isaac and I both kept going on and on about how tasty it was the whole time we were eating it.
It's sweet from the carrots, but not too sweet and has a great flavor from all the herbs and spices. Quinoa is the perfect addition as it makes the soup a little heartier so that it can be served as a meal, not just an appetizer or side item.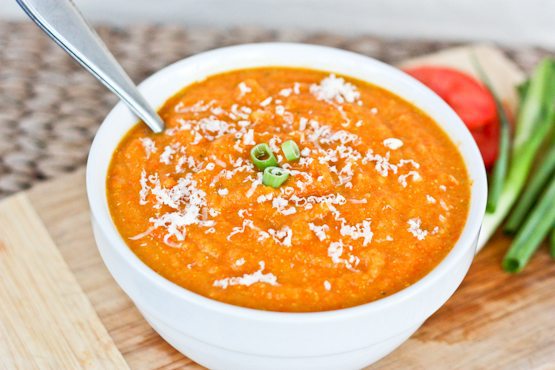 Print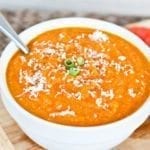 Amazing Carrot and Parsnip Soup
Author:

Prep Time:

15 mins

Cook Time:

40 mins

Total Time:

55 mins

Yield:

4
---
Ingredients
1 Tablespoon coconut oil
1 onion, chopped
1 shallot, chopped finely
1 teaspoon minced garlic
1 lb. carrots, peeled and chopped
1/2 lb. parsnips, peeled and chopped
5 cups of vegetable broth or water
1/3 cup uncooked quinoa, rinsed and drained
1 teaspoon fresh thyme
3 fresh sage leaves, finely chopped
1 teaspoon cumin
1/4 teaspoon turmeric
sprinkle of cayenne pepper
ground black pepper, to taste
1 Tablespoon miso paste, dissolved in 1 Tablespoon warm water
sea salt, to taste
scallions, as garnish
1 ounce gruyere cheese (optional)
---
Instructions
In a large stock pot, heat coconut oil on medium heat. Place onion, shallot and garlic into the pot and sauté for about five to seven minutes or until onions are translucent.
Add herbs and spices (thyme, sage, cumin, turmeric, cayenne pepper and ground pepper) to the pot and stir.
Add chopped carrots, parsnip and quinoa to the pot. Pour in vegetable broth or water. Bring mixture to a boil. Reduce to simmer and cook for about 20-40 minutes until veggies are tender.
Remove from heat and let stand 3-5 minutes until cooled slightly. Using an immersion blender, blend the contents of the pot until a smooth even consistency is reached. If you don't have an immersion blender, you can blend the soup in your blender in small batches.
Dissolve miso in warm water and stir into the soup. Miso gives the soup a wonderful flavor but if you don't have miso, simply season the soup with a little sea salt.
Serve immediately garnished with scallions and shredded gruyere cheese. Enjoy!
---
Notes
Adapted from Tone It Up's Carrot and Pumpkin Soup
Seriously so good!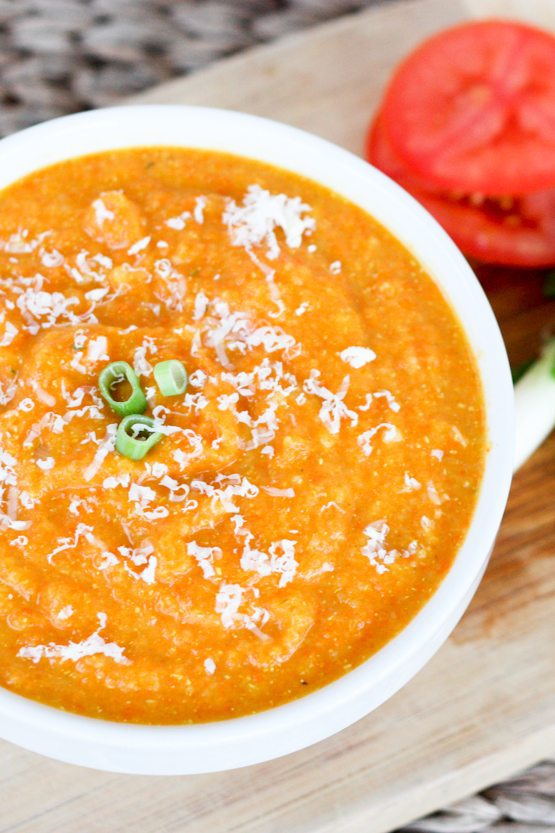 As an update – I had my MRI yesterday and my follow-up appointment with the doc is scheduled for tomorrow. I'm anxious to find out what's going on with my knee and how long it will take to heal. Hoping for some encouraging news tomorrow!
Have a wonderful Thursday friends. And, don't' forget to drink your water – it's thirsty Thursday!!